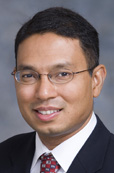 '
Aung Naing, MD, FACP
Present Title & Affiliation
Primary Appointment
Associate Professor, Department of Investigational Cancer Therapeutics, Division of Cancer Medicine, The University of Texas MD Anderson Cancer Center, Houston, TX
Research Interests
Phase 1 studies
Drug development
Office Address
The University of Texas MD Anderson Cancer Center
Department of Investigational Cancer Therapeutics
1515 Holcombe Blvd.
Unit Number: 455
Houston, TX 77030
Room Number: FC8.2026
Phone: 713-563-0181
Fax: 713-792-5576
Email: anaing@mdanderson.org
Education & Training
Degree-Granting Education

1997
Hacettepe University, Faculty of Medicine, Ankara, Turkey, MD, Doctor of Medicine

Postgraduate Training

8/2005-7/2006

Clinical Fellowship, Bone Marrow Transplant, City of Hope Cancer Center, Duarte, CA

7/2002-6/2005

Clinical Fellowship, Hematology, H. Lee Moffitt Cancer Center & Research Institute (University of South Florida, College of Medicine), Tampa, FL

7/2002-6/2005

Clinical Fellowship, Medical Oncology, H. Lee Moffitt Cancer Center & Research Institute (University of South Florida, College of Medicine), Tampa, FL

7/1999-6/2002

Clinical Residency, Internal Medicine, State University of New York, Upstate Medical University, Syracuse, NY
Board Certifications
| | |
| --- | --- |
| 11/2007 | The American Board of Internal Medicine in Medical Oncology |
| 10/2006 | The American Board of Internal Medicine in Hematology |
| 8/2002 | The American Board of Internal Medicine in Internal Medicine |
Experience/Service
Academic Appointments
Assistant Professor, Department of Investigational Cancer Therapeutics, Division of Cancer Medicine, The University of Texas MD Anderson Cancer Center, Houston, TX, 11/2006-8/2013
Institutional Committee Activities
Member, Faculty Senate, 9/2014-8/2017
Member, The Institutional Review Board (IRB), 9/2012-present
Member, Clinical Research Committee, 9/2009-2012
Designated Alternate Member for Investigational Cancer Therapeutics, Credentials Committee of Medical Staff, 7/2008-2012
Honors and Awards
2011-2012

Voted one of The Best Doctors in America

2008-present

Fellow of The American College of Physicians,

American College of Physicians

2006

The ASCO Merit Award 2006,

American Society of Clinical Oncology

2003

Scholarship to attend 10th National Symposium on Basic Aspects of Vaccines,

Walter Reed Army Institute of Research, Silver Spring, MD
Selected Publications
Peer-Reviewed Original Research Articles

1.
Said R, Ye Y, Hong DS, Janku F, Fu S, Naing A, Wheler JJ, Kurzrock R, Thomas C, Palmer GA, Hess KR, Aldape K, Tsimberidou AM. Characteristics and survival of patients with advanced cancer and p53 mutations. Oncotarget 5(11):3871-9, 6/2014. PMCID: PMC4116527.
2.
Tsimberidou AM, Moulder S, Fu S, Wen S, Naing A, Bedikian AY, Daring S, Uehara C, Ng C, Wallace M, Camacho L, Kurzrock R. Phase 1 clinical trial of hepatic arterial infusion of cisplatin in combination with intravenous liposomal doxorubicin in patients with advanced cancer and dominant liver involvement. Cancer Chemother Pharmacol 66(6):1087-93, 11/2010. e-Pub 3/2010. PMID: 20204368.

Abstracts

1.
Naing A, Cheng F, Wang H, Horna P, Suarez I, Brayer J, List AF, Sotomayor EM. Lenalidomide (CC5013), a Thalidomide Analogue with Immunomodulatory Properties, Significantly Enhances the Function of Antigen-Presenting Cells (APCs). Joint Cancer Conference Oncology Young Investigators Forum, 1/2005.
2.
Wang H, Cheng F, Naing A, Atadja AP, Bhalla K, Sotomayor EM. Histone deacetylase (HDAC) inhibitor LAQ842 is a potent inducer of inflammatory antigen-presenting cells (APCs) that effectively prime naïve antigen-specific t-cells and restore the responsiveness of anergic t-cells from tumor bearing hosts. American Society of Hematology (#Poster 124-I), 2003.