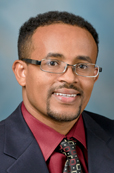 '
Bisrat G Debeb, DVM, PhD
Present Title & Affiliation
Primary Appointment
Assistant Professor, Department of Radiation Oncology - Research, Division of Radiation Oncology, The University of Texas MD Anderson Cancer Center, Houston, TX
Education & Training
Degree-Granting Education

2008
Texas A&M University, College Station, TX, PHD, Stem Cell Biology
2005
Tuskegee University, Tuskegee, AL, MSc, Epidemiology
1999
Addis Ababa University, Addis Ababa, Ethiopia, DVM, High Honors, Veterinary Medicine

Postgraduate Training

1/2008-5/2011

Postdoctoral Fellow, The University of Texas MD Anderson Cancer Center, Houston, TX, Wendy A. Woodward, MD, PhD
Selected Publications
Peer-Reviewed Original Research Articles

1.
Debeb BG, Lacerda L, Xu W, Larson R, Solley T, Atkinson R, Sulman EP, Ueno NT, Krishnamurthy S, Reuben JM, Buchholz TA, Woodward WA. Histone Deacetylase Inhibitors Stimulate Dedifferentiation of Human Breast Cancer Cells through WNT/β-catenin Signaling. Stem Cells 30(11):2366-77, 11/2012. e-Pub 9/7/2012. PMID: 22961641.
2.
Debeb BG, Cohen EN, Boley K, Freiter EM, Li L, Robertson FM, Reuben JM, Cristofanilli M, Buchholz TA, Woodward WA. Pre-clinical studies of notch signaling inhibitor RO4929097 in inflammatory breast cancer cells. Breast Cancer Res Treat 134(2):495-510, 7/2012. e-Pub 5/1/2012. PMID: 22547109.
3.
Klopp AH, Zhang Y, Solley T, Amaya-Manzanares F, Marini F, Andreeff M, Debeb B, Woodward W, Schmandt R, Broaddus R, Lu K, Kolonin MG. Omental adipose tissue-derived stromal cells promote vascularization and growth of endometrial tumors. Clin Cancer Res 18(3):771-82, 2/1/2012. e-Pub 12/13/2011. PMCID: PMC3481843.
4.
Xu W, Debeb BG, Lacerda L, Li J, Woodward WA. Tetrandrine, a compound common in Chinese traditional medicine, preferentially kills breast cancer tumor initiating cells (TICs) in vitro. Cancers (Basel) 3(2):2274-2285, 2011. e-Pub 5/4/2011. PMCID: PMC3757417.
5.
Robertson FM, Ogasawara MA, Ye Z, Chu K, Pickei R, Debeb BG, Woodward WA, Hittelman WN, Cristofanilli M, Barsky SH. Imaging and analysis of 3D tumor spheroids enriched for a cancer stem cell phenotype. J Biomol Screen 15(7):820-9, 8/2010. e-Pub 7/16/2010. PMID: 20639504.
6.
Woodward WA, Debeb BG, Xu W, Buchholz TA. Overcoming radiation resistance in inflammatory breast cancer. Cancer 116(11 Suppl):2840-5, 6/1/2010. PMID: 20503417.
7.
Debeb BG, Xu W, Mok H, Li L, Robertson F, Ueno NT, Reuben J, Lucci A, Cristofanilli M, Woodward WA. Differential radiosensitizing effect of valproic acid in differentiation versus self-renewal promoting culture conditions. Int J Radiat Oncol Biol Phys 76(3):889-95, 3/1/2010. PMCID: PMC2892870.
8.
Debeb BG, Zhang X, Krishnamurthy S, Gao H, Cohen E, Li L, Rodriguez AA, Landis MD, Lucci A, Ueno NT, Robertson F, Xu W, Lacerda L, Buchholz TA, Cristofanilli M, Reuben JM, Lewis MT, Woodward WA. Characterizing cancer cells with cancer stem cell-like features in 293T human embryonic kidney cells. Mol Cancer 9:180, 2010. e-Pub 7/8/2010. PMCID: PMC2915978.
9.
Klopp AH, Lacerda L, Gupta A, Debeb BG, Solley T, Li L, Spaeth E, Xu W, Zhang X, Lewis MT, Reuben JM, Krishnamurthy S, Ferrari M, Gaspar R, Buchholz TA, Cristofanilli M, Marini F, Andreeff M, Woodward WA. Mesenchymal stem cells promote mammosphere formation and decrease E-cadherin in normal and malignant breast cells. PLoS One 5(8):e12180, 2010. e-Pub 8/16/2010. PMCID: PMC2922340.
10.
Galat V, Binas B, Iannaccone S, Postovit LM, Debeb BG, Iannaccone P. Developmental potential of rat extraembryonic stem cells. Stem Cells Dev 18(9):1309-18, 11/2009. PMID: 19480599.
11.
Debeb GB, Binas B. A new enhancer in the flanking region of the gene Pou5f1. Journal of Natural Science and Technology 13:1-6, 5/2009.
12.
Epple-Farmer J, Debeb BG, Smithies O, Binas B. Gender-dependent survival of allogeneic trophoblast stem cells in liver. Cell Transplant 18(7):769-76, 2009. e-Pub 4/29/2009. PMCID: PMC3464099.
13.
Debeb BG, Galat V, Epple-Farmer J, Iannaccone S, Woodward WA, Bader M, Iannaccone P, Binas B. Isolation of Oct4-expressing extraembryonic endoderm precursor cell lines. PLoS One 4(9):e7216, 2009. e-Pub 9/28/2009. PMCID: PMC2747266.
14.
Debeb B Godefay, Molla B. Bacteriological quality of cow's raw milk from four dairy farms and a milk collection center in and around Addis Ababa. Berl Munch Tierartz Wschr 113:276-278, 6/2000.

Invited Articles

1.
Xu W, Debeb BG, Lacerda L, Woodward WA. Potential targets for improving radiosensitivity of breast tumor-initiating cells. Anticancer Agents Med Chem 10(2):152-6, 2/2010. PMID: 20184537.
2.
Debeb BG, Xu W, Woodward WA. Radiation resistance of breast cancer stem cells: understanding the clinical framework. J Mammary Gland Biol Neoplasia 14(1):11-7, 3/2009. e-Pub 2/28/2009. PMID: 19252973.

Abstracts

1.
Woodward WA, Huo L, Li J, Sneige N, Gonzalez-Angulo AM, Debeb BG, Chang C, Hung M, Valero V, Ueno NT. EZH2 expression correlates with locoregional recurrence after radiation in inflammatory breast cancer. Int J Radiat Oncol Biol Phys, Proceedings of ASTRO 84(3S):S714, 11/2012.
Grant & Contract Support
| | |
| --- | --- |
| Title: | Targeting microRNA to alter radiation resistance of breast cancer stem cells |
| Funding Source: | Susan G. Komen Breast Cancer Foundation |
| Role: | Principal Investigator |
| Duration: | 9/1/2010 - 8/31/2013 |
© 2014 The University of Texas MD Anderson Cancer Center