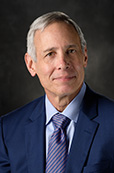 '
Burton F. Dickey
Present Title & Affiliation
Primary Appointment
Professor, Department of Pulmonary Medicine, Division of Internal Medicine, The University of Texas M. D. Anderson Cancer Center, Houston, TX
Dual/Joint/Adjunct Appointment
Adjunct Professor, Center for Inflammation and Infection, Institute of Biosciences and Technology, Texas A&M Health Science Center, Houston, TX
Adjunct Faculty, The University of Texas Graduate School of Biomedical Sciences, Houston, TX
Adjunct Professor, Escuela de Medicina, Tecnologico de Monterrey, Monterrey, Nuevo Leon, Mexico
Research Interests
Epithelial cells of the airways of the lungs show great plasticity in structure, function, and gene expression. In response to allergic inflammation, airway secretory cells produce large quantities of polymeric mucins, and our laboratory studies the molecular mechanism of mucin secretion, focusing on Munc18, Munc13, Syntaxin and Synaptotagmin proteins. Epithelial signaling by the beta-2-adrenoceptor promotes allergic inflammation and mucin production, and we are studying the molecular mechanism of this phenomenon in collaboration with Richard A. Bond of the University of Houston. In response to TLR signaling, airway epithelial cells develop a high level of resistance to microbial infection, and we are studying the molecular mechanism in collaboration with Scott E. Evans of this department, and developing a clinical therapeutic to prevent pneumonia. Airway inflammation also contributes to epithelial carcinogenesis, and we have established mouse models of this phenomenon and are dissecting mechanism in collaboration with Seyed J. Moghaddam of this department. For each of these programs, the laboratory uses primarily a mouse genetic approach, generating knockout and transgenic mice, and analyzing their responses in conditions of pathophysiologic challenge.
Clinical Interests
Inflammatory diseases of the airways, including asthma, obliterative bronchiolitis, bronchiectasis.
Office Address
The University of Texas MD Anderson Cancer Center
1515 Holcombe Blvd.
Unit Number: 1462
Houston, TX 77030
Room Number: Pickens Academic Tower - FCT12.6018
Phone: 713-563-4253
Fax: 713-794-4922
Email: bdickey@mdanderson.org
Education & Training
Degree-Granting Education

1980
University of Connecticut, Farmington, CT, MD, Medicine
1976
Columbia University, New York, NY, BA, Philosophy

Postgraduate Training

7/1985-6/1986

Fellowship, Biochemistry Department, Boston University School of Medicine, Boston, MA, Richard Fine, Ph.D.

7/1983-6/1985

Fellowship, Pulmonary and Critical Care Medicine, Boston University School of Medicine, Boston, MA, Jerome Brody, M.D.

7/1980-6/1983

Residency, Internal Medicine, Temple University Hospital, Philadelphia, PA, Allen Myers, M.D.
Experience/Service
Administrative Appointments/Responsibilities
Department Chair, Department of Pulmonary Medicine, Division of Internal Medicine, The University of Texas M. D. Anderson Cancer Center, Houston, TX, 2001-present
Selected Publications
Peer-Reviewed Original Research Articles

1.
Clement CG, Tuvim MJ, Evans CM, Tuvin DM, Dickey BF, Evans SE. Allergic lung inflammation alters neither susceptibility to Streptococcus pneumoniae infection nor inducibility of innate resistance in mice. Respir Res 10:e70, 2009. PMCID: PMC2724420.
2.
Tuvim MJ, Evans SE, Clement CG, Dickey BF, Gilbert BE. Augmented lung inflammation protects against influenza A pneumonia. PLoS ONE 4:e4176, 2009. PMCID: PMC2613561.
3.
Nguyen LP, Lin R, Parra S, Omoluabi O, Hanania NA, Tuvim MJ, Knoll BJ, Dickey BF, Bond RA. Beta2-adrenoceptor signaling is required for the development of an asthma phenotype in a murine model. Proc Natl Acad Sci U S A 106:2435-2440, 2009. PMCID: PMC2650174.
4.
Moghaddam SJ, Barta P, Mirabolfathinejad SG, Ammar-Aouchiche Z, Garza NT, Vo TT, Newman RA, Aggarwal BB, Evans CM, Tuvim MJ, Lotan R, Dickey BF. Curcumin inhibits COPD-like airway inflammation and lung cancer progression in mice. Carcinogenesis 30:1949-1956, 2009. PMCID: PMC2783007.
5.
Evans CM, Kim K, Tuvim MJ, Dickey BF. Mucus hypersecretion in asthma: causes and effects. Curr Opin Pulm Med 15:4-11, 2009. PMID: 19077699.
6.
Moghaddam SJ, Li H, Cho SN, Dishop MK, Wistuba II, Ji L, Kurie JM, Dickey BF, Demayo FJ. Promotion of lung carcinogenesis by chronic obstructive pulmonary disease-like airway inflammation in a K-ras-induced mouse model. Am J Respir Cell Mol Biol 40:443-53, 2009. PMCID: PMC2660561.
7.
Tuvim MJ, Mospan AR, Burns KA, Chua M, Mohler PJ, Melicoff E, Adachi R, Ammar-Aouchiche Z, Davis CW, Dickey BF. Synaptotagmin 2 couples mucin granule exocytosis to Ca2+ signaling from endoplasmic reticulum. J Biol Chem 284:9781-9787, 2009. PMID: 19208631.
8.
Melicoff E, Sansores-Garcia L, Gomez A, Moreira DC, Datta P, Thakur P, Petrova Y, Siddiqi T, Murthy JN, Dickey BF, Heidelberger R, Adachi R. Synaptotagmin-2 controls regulated exocytosis but not other secretory responses of mast cells. J Biol Chem 284:19445-19451, 2009. PMCID: PMC2740570.
9.
Li H, Cho SN, Evans CM, Dickey BF, Jeong JW, DeMayo FJ. Cre-mediated recombination in mouse Clara cells. Genesis 46:300-7, 2008. PMID: 18543320.
10.
Moghaddam SJ, Clement CG, De la Garza MM, Zou X, Travis EL, Young HW, Evans CM, Tuvim MJ, Dickey BF. Haemophilus influenzae lysate induces aspects of the chronic obstructive pulmonary disease phenotype. Am J Respir Cell Mol Biol 38:629-38, 2008. PMCID: PMC2396243.
11.
Russell BH, Liu Q, Jenkins SA, Tuvim MJ, Dickey BF, Xu Y. In vivo demonstration and quantification of intracellular Bacillus anthracis in lung epithelial cells. Infect Immun 76:3975-83, 2008. PMCID: PMC2519418.
12.
Bashoura L, Gupta S, Jain A, Couriel DR, Komanduri KV, Eapen GA, Safdar A, Broglio KR, Adachi R, Dickey BF. Inhaled corticosteroids stabilize constrictive bronchiolitis after hematopoietic stem cell transplantation. Bone Marrow Transplant 41:63-67, 2008. PMID: 17934530.
13.
Zhu Y, Ehre C, Abdullah LH, Sheehan JK, Roy M, Evans CM, Dickey BF, Davis CW. Munc13-2-/- baseline secretion defect reveals source of oligomeric mucins in mouse airways. J Physiol 586:1977-1992, 2008. PMCID: PMC2375724.
14.
Clement CG, Evans SE, Evans CM, Hawke D, Kobayashi R, Reynolds PR, Moghaddam SJ, Scott BL, Melicoff E, Adachi R, Dickey BF, Tuvim MJ. Stimulation of lung innate immunity protects against lethal pneumococcal pneumonia in mice. Am J Respir Crit Care Med 177:1322-30, 2008. PMCID: PMC2427056.
15.
Mebratu YA, Dickey BF, Evans C, Tesfaigzi Y. The BH3-only protein Bik/Blk/Nbk inhibits nuclear translocation of activated ERK1/2 to mediate IFNgamma-induced cell death. J Cell Biol 183:429-39, 2008. PMCID: PMC2575785.
16.
Hanania NA, Singh S, El-Wali R, Flashner M, Franklin AE, Garner WJ, Dickey BF, Parra S, Ruoss S, Shardonofsky F, O'Connor BJ, Page C, Bond RA. The safety and effects of the beta-blocker, nadolol, in mild asthma: an open-label pilot study. Pulm Pharmacol Ther 21:134-141, 2008. PMCID: PMC2254137.

Invited Articles

1.
Hanania NA, Dickey BF, Bond RA. Clinical implications of the intrinsic efficacy of beta-adrenoceptor drugs in asthma: full, partial and inverse agonism. Curr Opin Pulm Med 16:1-5, 2010. PMID: 19887938.
2.
Evans SE, Xu Y, Dickey BF. Inducible innate resistance of lung epithelium to infection. Annu Rev Physiol 72:413-35, 2010. PMID: 20148683.
3.
Safdar A, Shelburne SA, Evans SE, Dickey BF. Inhaled therapeutics for prevention and treatment of pneumonia. Expert Opin Drug Saf 8:435-49, 2009. PMID: 19538104.
4.
Davis CW, Dickey BF. Regulated airway goblet cell mucin secretion. Annu Rev Physiol 70:487-512, 2008. PMID: 17988208.