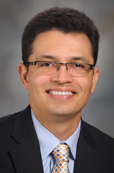 '
Carlos H Barcenas, M.D., M.Sc.
Present Title & Affiliation
Primary Appointment
Assistant Professor, Department of Breast Medical Oncology, Division of Cancer Medicine, The University of Texas MD Anderson Cancer Center, Houston, TX
Dual/Joint/Adjunct Appointment
Clinical Specialist, GIM, AT and EC, Division of Internal Medicine, The University of Texas MD Anderson Cancer Center, Houston, TX
Bio Statement
Dr. Barcenas obtained his M.D. degree from the Pontiificia Universidad Javeriana in Bogota, Colombia in 1992. He specialized and practiced Occupational Medicine in Colombia until 1998. He then moved to Houston in 1999 and worked in the Department of Epidemiology at MD Anderson. He obtained a Master of Science degree in Epidemiology at The University of Texas School of Public Health in 2003. In 2009, he completed his training in the Internal Medicine Residency Program at the Medical College of Georgia, in Augusta. He then completed his Hematology-Medical Oncology Fellowship training at MD Anderson in June of 2013. He was appointed as Assistant Professor, Tenure Track, in the Department of Breast Medical Oncology at MD Anderson Cancer Center in July of 2013.
Research Interests
Dr. Barcenas has a background in Epidemiology, and has worked in the field of Comparative Effectiveness and Health Outcomes Research, conducting various studies that have resulted in publications in several peer-reviewed journals. He has a strong research interest in Cancer Survivorship Research and has proposed studies designed to provide insight on environmental and genetic determinants of disease, to create risk prediction models, to assess the prevalence, mechanisms, risk factors and treatment of long-term treatment effects, with the ultimate purpose of enhancing the quality of life for cancer survivors.
Education & Training
Degree-Granting Education

2003
University of Texas School of Public Health, Houston, TX, M.Sc., Epidemiology
1992
Pontificia Universidad Javeriana, School of Medicine, Bogotá, Colombia, MD, Medicine

Postgraduate Training

7/2010-6/2013

Clinical Fellowship, Oncology, The University of Texas MD Anderson Cancer Center, Houston, TX

7/2006-6/2009

Clinical Internship, Internal Medicine, Medical College of Georgia, Augusta, GA

8/1993-7/1997

Specialist, Occupational Health, Universidad El Bosque, Bogotá, Colombia
Selected Publications
Peer-Reviewed Original Research Articles

1.
Delpech Y, Coutant C, Hsu L, Barranger E, Iwamoto T, Barcenas CH, Hortobagyi GN, Rouzier R, Esteva FJ, Pusztai L. Clinical benefit from neoadjuvant chemotherapy in oestrogen receptor-positive invasive ductal and lobular carcinomas. Br J Cancer 108(2):285-91, 2/5/2013. e-Pub 1/8/2013. PMCID: PMC3566807.
2.
Barcenas CH, Zhang N, Zhao H, Duan Z, Buchholz TA, Hortobagyi GN, Giordano SH. Anthracycline regimen adherence in older patients with early breast cancer. Oncologist 17(3):303-11, 2012. e-Pub 2/27/2012. PMCID: PMC3316913.
3.
Barcenas CH, Wells J, Chong D, French J, Looney SW, Samuel TA. Race as an independent risk factor for breast cancer survival: breast cancer outcomes from the medical college of georgia tumor registry. Clin Breast Cancer 10(1):59-63, 2/2010. PMID: 20133260.
4.
Hernández-Valero MA, Wilkinson AV, Forman MR, Etzel CJ, Cao Y, Bárcenas CH, Strom SS, Spitz MR, Bondy ML. Maternal BMI and country of birth as indicators of childhood obesity in children of Mexican origin. Obesity (Silver Spring) 15(10):2512-9, 10/2007. PMID: 17925478.
5.
Barcenas CH, Wilkinson AV, Strom SS, Cao Y, Saunders KC, Mahabir S, Hernández-Valero MA, Forman MR, Spitz MR, Bondy ML. Birthplace, years of residence in the United States, and obesity among Mexican-American adults. Obesity (Silver Spring) 15(4):1043-52, 4/2007. PMID: 17426341.
6.
Mullen JT, Rodriguez-Bigas MA, Chang GJ, Barcenas CH, Crane CH, Skibber JM, Feig BW. Results of surgical salvage after failed chemoradiation therapy for epidermoid carcinoma of the anal canal. Ann Surg Oncol 14(2):478-83, 2/2007. e-Pub 11/14/2006. PMID: 17103253.
7.
Barcenas CH, Hosain GM, Arun B, Zong J, Zhou X, Chen J, Cortada JM, Mills GB, Tomlinson GE, Miller AR, Strong LC, Amos CI. Assessing BRCA carrier probabilities in extended families. J Clin Oncol 24(3):354-60, 1/20/2006. PMID: 16421416.
8.
Wilkinson AV, Spitz MR, Strom SS, Prokhorov AV, Barcenas CH, Cao Y, Saunders KC, Bondy ML. Effects of nativity, age at migration, and acculturation on smoking among adult Houston residents of Mexican descent. Am J Public Health 95(6):1043-9, 6/2005. PMCID: PMC1449306.
9.
Barcenas CH, Delclos GL, El-Zein R, Tortolero-Luna G, Whitehead LW, Spitz MR. Wood dust exposure and the association with lung cancer risk. Am J Ind Med 47(4):349-57, 4/2005. PMID: 15776474.
Grant & Contract Support
Title:
CERCIT Scholar in the Comparative Effectiveness Research on Cancer in Texas (CERCIT) Training Program
Funding Source:
CERCIT
Role:
Principal Investigator
Duration:
8/1/2013 - 7/31/2014
Title:
T32 Academic Fellowship grant for academic years 2011 through 2013
Funding Source:
NIH/NCI
Role:
Trainee
Principal Investigator:
Waun Ki Hong
Duration:
9/30/1994 - 4/30/2015
© 2010 The University of Texas M. D. Anderson Cancer Center