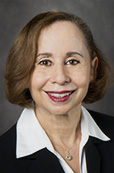 '
Carmen E. Gonzalez, MD, FACP
Present Title & Affiliation
Primary Appointment
Associate Professor, Department of Emergency Medicine, Division of Internal Medicine, The University of Texas MD Anderson Cancer Center, Houston, TX
Education & Training
Degree-Granting Education

1986
University of Puerto Rico, School of Medicine, San Juan, Puerto Rico, MD, Medicine
1982
University of Puerto Rico, Ponce, Puerto Rico, BS, General Sciences

Postgraduate Training

7/1992-6/1994

Clinical Fellowship, Nuclear Medicine, University of Michigan Hospitals, Ann Arbor, MI

7/1986-6/1989

Clinical Residency, Internal Medicine, Damas Hospital, Ponce, Puerto Rico
Board Certifications
| | |
| --- | --- |
| 1/1994 | American Board of Nuclear Medicine |
| 1/1989 | American Board of Internal Medicine |
| 1/1987 | Board of Medical Examiner, Commonwealth of Puerto |
Experience/Service
Academic Appointments
Associate Professor, Department of General Internal Medicine, The University of Texas MD Anderson Cancer Center, Houston, TX, 9/2008-8/2010
Administrative Appointments/Responsibilities
Deputy Department Chair, Department of Emergency Medicine, Division of Internal Medicine, The University of Texas MD Anderson Cancer Center, Houston, TX, 4/2011-present
Quality Officer, Department of Emergency Medicine, Division of Internal Medicine, The University of Texas MD Anderson Cancer Center, Houston, TX, 9/2010-present
Section Chief, Section of Emergency Care, Department of General Internal Medicine, Division of Internal Medicine, The University of Texas MD Anderson Cancer Center, Houston, TX, 1/2009-8/2010
Honors and Awards
2012

3rd Place Poster winner,

DoIM Research Retreat

2009-2012

Multiyear Appointment Award,

The University of Texas MD Anderson Cancer Center
Professional Memberships
American Board of Medical Quality
Member, Board of Directors, 2013-present
Selected Publications
Peer-Reviewed Original Research Articles

1.
Shapiro B, Gonzalez E, Weissman A, McHugh T, Markel SF. Malignant paraganglioma of the prostate: case report, depiction by meta-iodobenzylguanidine scintigraphy and review of the literature. J Med 41(1):36-41, 3/1997. PMID: 9195851.
2.
Gonzalez CE, Fig LM, Cano M, Gross MD, Shapiro B. Technetium-99m-red blood cell scintigraphy in the localization of nonenteric hemorrhage. J Med 35(8):1333-7, 8/1994. PMID: 8046489.
3.
Weissman AF, Gonzalez CE, Shapiro B, Shulkin B, Francis IR, Leach K. Multiple chemodectomas. Carotid body tumor masked by salivary gland uptake on I-123 MIBG scintigraphy. Clinical Nuclear Medicine 19(6):527-31, 6/1994. PMID: 8062474.

Abstracts

1.
Johnson T, Wattari S, Gonzalez CE, Rolston K. Vaccination Rates among Adult Cancer Patients at a Comprehensive Cancer Center. Clinical Microbiology and Infection 18(Supplement 3; R2798), 2012, 2012.

Manuals, Teaching Aids, Other Teaching Publications

1.
Gonzalez, CE. When is an emergency an emergency? A patient's guide for use of MD Anderson Emergency Center Facility. Network Summer, A publication of the Anderson Network, 6-7, 2007.