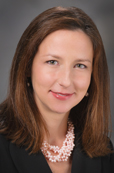 '
Catherine Akay, MD
Present Title & Affiliation
Primary Appointment
Assistant Professor, Department of Surgical Oncology, Division of Surgery, The University of Texas MD Anderson Cancer Center, Houston, TX
Office Address
The University of Texas MD Anderson Cancer Center
Regional Care Center Katy
19770 Kingsland Blvd
Unit Number: 2052
Houston 77094
Phone: 713-563-9600
Fax: 281-646-4320
Education & Training
Degree-Granting Education

2003
Saint Louis University School of Medicine, Saint Louis, MO, MD, Doctor of Medicine
1999
University of Pennsylvania, Philadelphia, PA, BA, Cum Laude, Neuroscience
Board Certifications
| | |
| --- | --- |
| 3/2011 | American Board of Surgery |
Selected Publications
Peer-Reviewed Original Research Articles

1.
Akay CL, Meric-Bernstam F, Hunt KK, Grubbs EG, Bedrosian I, Tucker SL, Kuerer HM, Hoffman KE, Babiera GV, Strom EA, Buchholz TA, Mittendorf EA. Evaluation of the MD Anderson Prognostic Index for local-regional recurrence after breast conserving therapy in patients receiving neoadjuvant chemotherapy. Ann Surg Oncol 19(3):901-7, 3/2012. e-Pub 8/23/2011. PMID: 21861223.
2.
Albo D, Akay CL, Marshall CL, Wilks JA, Verstovsek G, Liu H, Agarwal N, Berger DH, Ayala GE. Neurogenesis in colorectal cancer is a marker of aggressive tumor behavior and poor outcomes. Cancer 117(21):4834-45, 11/1/2011. e-Pub 4/8/2011. PMID: 21480205.
3.
Liebig C, Ayala G, Wilks J, Verstovsek G, Liu H, Agarwal N, Berger DH, Albo D. Perineural invasion is an independent predictor of outcome in colorectal cancer. J Clin Oncol 27(31):5131-7, 11/1/2009. e-Pub 9/8/2009. PMCID: PMC2773472.
4.
Liebig C, Wilks JA, Feig BW, Wang TN, Wilson M, Herdman AV, Albo D. The role of angiocidin in sarcomas. Cancer 115(22):5251-62, 11/15/2009. PMID: 19634159.
5.
Liebig C, Ayala G, Wilks JA, Berger DH, Albo D. Perineural invasion in cancer: a review of the literature. Cancer 115(15):3379-91, 8/1/2009. PMID: 19484787.
6.
Wilks JA, Liebig C, Tasleem SH, Haderxhanaj K, Lee L, Farrow B, Awad S, Berger D, Albo D. Rectal cancer patients benefit from implementation of a dedicated colorectal cancer center in a Veterans Affairs Medical Center. Am J Surg 198(1):100-4, 7/2009. e-Pub 3/6/2009. PMID: 19268899.
7.
Liebig C, Agarwal N, Ayala GE, Verstovsek G, Tuszynski GP, Albo D. Angiocidin inhibitory peptides decrease tumor burden in a murine colon cancer model. J Surg Res 142(2):320-6, 10/2007. e-Pub 8/23/2007. PMID: 17719063.
8.
Akay CL, Bedrosian I, Sahin A, Woodward W, Ueno N, etal. Primary Tumor Resection as a Component of Multimodality Treatment May Improve Survival and Local Disease Control in Stage IV Inflammatory Breast Cancer. Journal of Clinical Oncology. Submitted.

Book Chapters

1.
Akay CL, Kuerer HM, Hwang RF. Sential Lymph Node Biopsy in Breast Cancer: MD Anderson Cancer Center Approach. In: Advanced Therapy of Breast Diseases. Singletary, Robb and Hortobagyi, 2011.
© 2010 The University of Texas M. D. Anderson Cancer Center