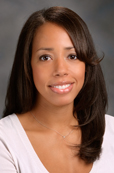 '
Chelsea Pinnix, MD, PhD
Present Title & Affiliation
Primary Appointment
Assistant Professor, Department of Radiation Oncology, Division of Radiation Oncology, The University of Texas MD Anderson Cancer Center, Houston, TX
Education & Training
Degree-Granting Education

2007
University of Pennsylvania, Philadelphia, PA, MD, Medicine
2007
University of Pennsylvania, Philadelphia, PA, PhD, Cell and Molecular Biology
1999
University of Maryland Baltimore County, Baltimore, MD, BS, Magna Cum Laude, Biochemistry

Postgraduate Training

7/2008-6/2012

Clinical Residency, Radiation Oncology, The University of Texas MD Anderson Cancer Center, Houston, TX

7/2007-6/2008

Clinical Internship, Internal Medicine, Johns Hopkins University, Sinai Hospital, Baltimore, MD
Honors and Awards
2012

Trainee Excellence Award,

The University of Texas MD Anderson Cancer Center

2010-2012

Postdoctoral Science Research Fellowship Grant,

United Negro College Fund-Merck

2004

Graduate Student Associations Council Travel Award,

University of Pennsylvania

2003-2005

Minority Scholar in Cancer Research Award,

American Association for Cancer Research

2003-2004

Fontaine Fellow Travel Award,

University of Pennsylvania

2001

Excellence in Leadership and Community Service Award,

National Medical Association

2000-2007

Ruth L. Kirschstein National Research Service Award Fellow,

National Institutes of Health

2000

American Society for Hematology Award,

University of Pennsylvania

1999-2000

Medical Science Training Program Scholar,

National Institutes of Health
Selected Publications
Peer-Reviewed Original Research Articles

1.
Oki Y, Noorani M, Lin P, Davis RE, Neelapu SS, Ma L, Ahmed M, Rodriguez MA, Hagemeister FB, Fowler N, Wang M, Fanale MA, Nastoupil L, Samaniego F, Lee HJ, Dabaja BS, Pinnix CC, Medeiros LJ, Nieto Y, Khouri I, Kwak LW, Turturro F, Romaguera JE, Fayad LE, Westin JR. Double hit lymphoma: the MD Anderson Cancer Center clinical experience. Br J Haematol 166(6):891-901, 9/2014. e-Pub 6/2014. PMID: 24943107.
2.
Voong KR, McSpadden K, Pinnix CC, Shihadeh F, Reed V, Salehpour MR, Arzu I, Wang H, Hodgson D, Garcia J, Aristophanous M, Dabaja BS. Dosimetric advantages of a "butterfly" technique for intensity-modulated radiation therapy for young female patients with mediastinal Hodgkin's lymphoma. Radiat Oncol 9(1). e-Pub 4/2014. PMID: 24735767.
3.
Gomez DR, Poenisch F, Pinnix CC, Sheu T, Chang JY, Memon N, Mohan R, Rozner MA, Dougherty AH. Malfunctions of implantable cardiac devices in patients receiving proton beam therapy: incidence and predictors. Int J Radiat Oncol Biol Phys 87(3):570-575, 11/2013. PMCID: PMC3931127.
4.
Kelly P, Das P, Pinnix CC, Beddar S, Briere T, Pham M, Krishnan S, Delclos ME, Crane CH. Duodenal toxicity after fractionated chemoradiation for unresectable pancreatic cancer. Int J Radiat Oncol Biol Phys 85(3):e143-e149, 3/2013. e-Pub 11/2012. PMID: 23200173.
5.
Likhacheva A, Pinnix CC, Parikh NR, Allen PK, McAleer MF, Chiu MS, Sulman EP, Mahajan A, Guha-Thakurta N, Prabhu SS, Cahill DP, Luo D, Shiu AS, Brown PD, Chang EL. Predictors of survival in contemporary practice after initial radiosurgery for brain metastases. Int J Radiat Oncol Biol Phys 85(3):656-661, 3/2013. e-Pub 8/2012. PMID: 22898384.
6.
Likhacheva A, Pinnix CC, Parikh N, Allen PK, Guha-Thakurta N, McAleer M, Sulman EP, Mahajan A, Shiu A, Luo D, Chiu M, Brown PD, Prabhu SS, Chang EL. Validation of Recursive Partitioning Analysis and Diagnosis-Specific Graded Prognostic Assessment in patients treated initially with radiosurgery alone. J Neurosurg 117 Suppl:38-44, 12/2012. PMID: 23205787.
7.
Pinnix CC, Reed V, Dabaja B. Gastric MALT lymphoma treated with primary radiotherapy in the setting of autoimmune disease. J Natl Compr Canc Netw 10(7):815-819, 7/2012. PMID: 22773797.
8.
Pinnix C, Perkins GH, Strom EA, Tereffe W, Woodward W, Oh JL, Arriaga L, Munsell MF, Kelly P, Hoffman KE, Smith BD, Buchholz TA, Yu TK. Topical hyaluronic acid vs standard of care for the prevention of radiation dermatitis after adjuvant radiotherapy for breast cancer: single-blind randomized phase III clinical trial. Int J Radiat Oncol Biol Phys 83(4):1089-1094, 7/2012. e-Pub 12/2011. PMID: 22172912.
9.
Pinnix CC, Fontanilla HP, Hayes-Jordan A, Subbiah V, Bilton SD, Chang EL, Grosshans DR, McAleer MF, Sulman EP, Woo SY, Anderson P, Green HL, Mahajan A. Whole abdominopelvic intensity-modulated radiation therapy for desmoplastic small round cell tumor after surgery. Int J Radiat Oncol Biol Phys 83(1):317-326, 5/2012. e-Pub 11/2011. PMID: 22104361.
10.
Wang X, Pan T, Pinnix C, Zhang SX, Salehpour M, Sun TL, Gladish G, Strom EA, Perkins GH, Tereffe W, Woodward W, Hoffman KE, Buchholz TA, Yu TK. Cardiac motion during deep-inspiration breath-hold: implications for breast cancer radiotherapy. Int J Radiat Oncol Biol Phys 82(2):708-714, 2/2012. e-Pub 3/2011. PMID: 21444161.
11.
Fontanilla HP, Pinnix CC, Ketonen LM, Woo SY, Vats TS, Rytting ME, Wolff JE, Mahajan A. Palliative reirradiation for progressive diffuse intrinsic pontine glioma. Am J Clin Oncol 35(1):51-57, 2/2012. PMID: 21297433.
12.
Wu PH, Coultrap S, Pinnix C, Davies KD, Tailor R, Ang KK, Browning MD, Grosshans DR. Radiation induces acute alterations in neuronal function. PLoS One 7(5):e37677, 2012. e-Pub 5/2012. PMCID: PMC3360766.
13.
Skinner HD, Garden AS, Rosenthal DI, Ang KK, Morrison WH, Esmaeli B, Pinnix CC, Frank SJ. Outcomes of malignant tumors of the lacrimal apparatus: the University of Texas MD Anderson Cancer Center experience. Cancer 117(12):2801-10, 6/2011. e-Pub 1/2011. PMID: 21656758.
14.
Sharp HJ, Pinnix CC, Jhingran A, Euscher ED, Rohren EM, Ramirez PT. PET/CT in a patient with adenoma malignum of the uterine cervix. Clin Nucl Med 36(6):468-469, 6/2011. PMID: 21552028.
15.
Zreik TG, Mazloom A, Chen Y, Vannucci M, Pinnix CC, Fulton S, Hadziahmetovic M, Asmar N, Munkarah AR, Ayoub CM, Shihadeh F, Berjawi G, Hannoun A, Zalloua P, Wogan C, Dabaja B. Fertility drugs and the risk of breast cancer: a meta-analysis and review. Breast Cancer Res Treat 124(1):13-26, 11/2010. e-Pub 8/2010. PMID: 20809361.
16.
Pinnix CC, Lee JT, Liu ZJ, McDaid R, Balint K, Beverly LJ, Brafford PA, Xiao M, Himes B, Zabierowski SE, Yashiro-Ohtani Y, Nathanson KL, Bengston A, Pollock PM, Weeraratna AT, Nickoloff BJ, Pear WS, Capobianco AJ, Herlyn M. Active Notch1 confers a transformed phenotype to primary human melanocytes. Cancer Res 69(13):5312-5320, 7/2009. e-Pub 6/2009. PMCID: PMC2755513.
17.
Pinnix CC, Herlyn M. The many faces of Notch signaling in skin-derived cells. Pigment Cell Res 20(6):458-465, 12/2007. PMID: 17935489.
18.
Liu ZJ, Xiao M, Balint K, Soma A, Pinnix CC, Capobianco AJ, Velazquez OC, Herlyn M. Inhibition of endothelial cell proliferation by Notch1 signaling is mediated by repressing MAPK and PI3K/Akt pathways and requires MAML1. FASEB J 20(7):1009-1011, 5/2006. e-Pub 3/2006. PMID: 16571776.
19.
Liu ZJ, Xiao M, Balint K, Smalley KS, Brafford P, Qiu R, Pinnix CC, Li X, Herlyn M. Notch1 signaling promotes primary melanoma progression by activating mitogen-activated protein kinase/phosphatidylinositol 3-kinase-Akt pathways and up-regulating N-cadherin expression. Cancer Res 66(8):4182-4190, 4/2006. PMID: 16618740.
20.
Balint K, Xiao M, Pinnix CC, Soma A, Veres I, Juhasz I, Brown EJ, Capobianco AJ, Herlyn M, Liu ZJ. Activation of Notch1 signaling is required for beta-catenin-mediated human primary melanoma progression. J Clin Invest 115(11):3166-3176, 11/2005. e-Pub 10/2005. PMCID: PMC1257536.
21.
Pinnix CC, Kogan M, Herlyn M. Melanoma stem cells: have we overlooked them? The Melanoma Letter 23(3):3-4, 2005.
22.
De Guzman RN, Wu ZR, Stalling CC, Pappalardo L, Borer PN, Summers MF. Structure of the HIV-1 nucleocapsid protein bound to the SL3 psi-RNA recognition element. Science 279(5349):384-388, 1/1998. PMID: 9430589.
© 2014 The University of Texas MD Anderson Cancer Center