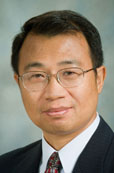 '
Congjun Wang
Present Title & Affiliation
Primary Appointment
Instructor, Department of Radiation Physics, Division of Radiation Oncology, The University of Texas MD Anderson Cancer Center, Houston, TX
Office Address
The University of Texas MD Anderson Cancer Center
1515 Holcombe Boulevard
Unit Number: 94
Houston, TX 77030
Room Number: Y2.5320
Phone: (713) 563-2578
Fax: (713) 563-2545
Education & Training
Degree-Granting Education

2003
Ohio University, Athens, OH, PHD, Physics
1989
Ohio University, Athens, OH, MS, Physics
1985
Huazhong University of Science and Technology, Wuhan, Hubei, China, MS, Optical Engineering
1982
Huazhong University of Science and Technology, Wuhan, Hubei, China, BS, Optical Engineering
Experience/Service
Academic Appointments
Instructor, Physics, Ohio University, Chillicothe, OH, 9/1993-11/1993
Assistant Professor, Department of Optical Engineering, Huazhong University of Science and Technology, Wuhan, Hubei, China, 8/1986-8/1987
Instructor, Department of Optical Engineering, Huazhong University of Science and Technology, Wuhan, Hubei, China, 7/1985-7/1986
Other Appointments/Responsibilities
IT Consultant, Proview, Inc, Houston, TX, 12/2001-9/2002
IT Consultant, BIW, Houston, TX, 5/1998-12/2001
Programmer, Xerox Global Services, Cleveland, OH, 5/1996-7/1997
Programmer/Analyst, Pony Computer, Inc, Cleveland, OH, 11/1994-5/1996
Selected Publications
Peer-Reviewed Original Research Articles

1.
Garcia MK, Chiang JS, Cohen L, Liu M, Palmer JL, Rosenthal DI, Wei Q, Tung S, Wang C, Rahlfs T, Chambers MS. Acupuncture for Radiation-induced Xerostomia in Cancer Patients: A Pilot Study. Head Neck 31(10):1360-8, 10/2009. PMID: 19378325.
2.
Wang H, Shiu A, Wang C, O'Daniel J, Mahajan A, Woo S, Liengsawangwong P, Mohan R, Chang EL. Dosimetric effect of translational and rotational errors for patients undergoing image-guided stereotactic body radiotherapy for spinal metastases. Int J Radiat Oncol Biol Phys 71(4):1261-1271, 7/15/2008. e-Pub 5/15/2008. PMID: 18485614.
3.
Wang C, Shiu A, Lii M, Woo S, Chang EL. Automatic target localization and verification for on-line image-guided stereotactic body radiotherapy of the spine. Technol Cancer Res Treat 6(3):187-96, 6/2007. PMID: 17535027.
4.
Wang C, Shovlin J, Kordesh M. Real-time Observation of CVD Diamond Dissolution and Oxidation Using Photoemission Electron Microscopy. Diamond and Related Materials 3:1066-1071, 1994.
5.
Garcia A, Wang C, Kordesch M. Controlled Deposition and Lateral Growth of and Ordered Monolayer of Carbon on Mo (100) Observed in situ. Appl Phys Lett 61:2984-2986, 1992.
6.
Wang C, Garcia A, Kordesh M. Cold Field Emission From DVD Diamond Films Observed in Emission Electron Microscopy. Electronics Letters 27:1459-1460, 1991.
7.
Wang C, Kordesch E. The Morphology of Carbon Films and Surfaces Studied by Photo-emission Electron Microscopy. Ultromicroscopy 31:154-163, 1991.
8.
Wang C, Stumpf FB. Instructional Laboratory Experiment of the Effect of a Ring Baffle on the Radiation From a Small Sonar Transducer at an Air-Water Surface. J Acoustical Society of America 86:604-1606, 1989.
9.
Ruan Y, Wang C, Lu N. A New way of Establishing 3-D Optical Diffraction Integrals for Focusing Optical Systems. Acta Optica Sinica 8:521-526, 1988.
10.
Wang C, Ruan Y, Zhang P. Calculation of Optical Diffraction Integrals Using Liner Phase and Liner Amplitude Approximations. Appl. Optics, 1988.
11.
Ruan Y, Wang C. 3-D Light Distribution Within the Focused Spot by Large Aperture Objectives for Optical Data Storage. Proceedings 14th Congress of the International Commission for Optics 813:447-448, 1987.
© 2014 The University of Texas MD Anderson Cancer Center