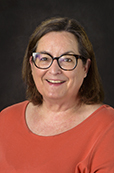 '
Cynthia E. Herzog, MD
Present Title & Affiliation
Primary Appointment
Professor, Department of Pediatrics Patient Care, Division of Pediatrics, The University of Texas MD Anderson Cancer Center, Houston, TX
Education & Training
Degree-Granting Education

1985
University of Texas Medical Branch, Galveston, TX, MD, Medicine
1979
Rice University, Houston, TX, BA, Biochemistry

Postgraduate Training

7/1991-6/1992

Senior Assistant Surgeon, National Cancer Institute, Bethesda, MD, Dr. Philip Pizzo

7/1988-6/1991

Fellow in Pediatric Hematology-Oncology, National Cancer Institute, Bethesda, MD, Dr. Philip Pizzo

7/1985-6/1988

Pediatric Residency, Children's Medical Center, Dallas, TX, Dr. Charles Ginsburg
Experience/Service
Administrative Appointments/Responsibilities
Medical Director, Clinical Research Department, Division of Pediatrics, The University of Texas MD Anderson Cancer Center, Houston, TX, 9/2009-2013
Selected Publications
Peer-Reviewed Original Research Articles

1.
Huh WW, Jaffe N, Durand J-B, Munsell MF, Herzog CE. Comparison of Doxorubicin Cardiotoxicity in. Pediatr Hematol Oncol 27(7):546-57, 10/2010. PMID: 20795769.
2.
Paradela S, Fonseca E, Pita S, Kantrow SM, Goncharuk VN, Ivan D, Herzog CE, Sturgis EM and Prieto VG. Melanoma under 18 years and pregnancy: report of 3 cases. Eur J Dermatol 20(2):186-8, 3/2010. e-Pub 2/2010. PMID: 20153997.
3.
Trippet M, Herzog CE, Whitlock J, Wolff J, Kuttesch J, Bagatell R, Hunger S, Boklan J, Smith A, Arceci R, Katzenstein H, Harbison C, Xiaofei Z, Haolan L, Langer C, Weber M, Gore L. Phase I and Pharmacokinetic Study of Cetuximab and Irinotecan in Children With Refractory Solid Tumors: A Study of the Pediatric Oncology Experimental Therapeutic Investigators' Consortium. J Clin Oncol 27(30):5102-5108, 10/2009.
4.
Zhukovsky DS, Herzog CE, Kaur G, Palmer JL, Bruera E. The Impact of Palliative Care Consultation on Symptom Assessment, Communication Needs and Palliative Interventions in Pediatric Cancer Patients. J Palliative Medicine 12(4):343-349, 2009.
5.
Waguespack SG, Sherman SI, Williams MD, Clayman GL, Herzog CE. The Successful Use of Sorafenib to Treat Pediatric Papillary Thyroid Carcinoma. Thyroid 19(4):407-412, 2009.
6.
Anderson P, Kopp l, Anderson N, Cornelius K, Herzog C, Hughes D, Huh W. Novel bone cancer drugs: investigational agents and control paradigms fo rprimary bone sarcomas (Ewing's sarcoma and osteosarcoma). Informa Healthcare 17(11):1703-1715, 10/2008.
7.
Mahajan A, Woo S, Kornguth DG, Hughes D, Huh W, Chang EL, Herzog CE, Peloski CE, Anderson PM. Multimodality treatment of osteosarcoma: Radiation in a high-risk cohort. Pediataric Blood and Cancer 50(5), 2008. e-Pub 1/2008.

Abstracts

1.
Subbiah V, Varadhachary G, Herzog CE, Huh WW. Gastric Adenocarcinomas in Children and Adolescents: Experience from the University of Texas at M. D. Anderson Cancer Center and Review of Literature. SIOP, 10/2010.
2.
Subbiah V, Rytting M, Wells R, Anderson P, Herzog CE. Thymic Carcinoma in children and young adults: case series report and review of literature. Pediatric Blood & Cancer 52(6):742, 6/2009.
© 2014 The University of Texas MD Anderson Cancer Center