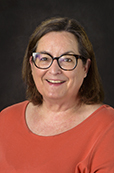 '
Cynthia E. Herzog, MD
Present Title & Affiliation
Primary Appointment
Deputy Division Head, Deputy Division Head ad interim, Division of Pediatrics, The University of Texas MD Anderson Cancer Center, Houston, TX
Professor, Department of Pediatrics Patient Care, Division of Pediatrics, The University of Texas MD Anderson Cancer Center, Houston, TX
Center Medical Director- Child and Adolescent Center, The University of Texas MD Anderson Cancer Center, Houston, TX
Education & Training
Degree-Granting Education

1985
University of Texas Medical Branch, Galveston, TX, MD, Medicine
1979
Rice University, Houston, TX, BA, Biochemistry

Postgraduate Training

7/1991-6/1992

Senior Assistant Surgeon, National Cancer Institute, Bethesda, MD, Dr. Philip Pizzo

7/1988-6/1991

Fellow in Pediatric Hematology-Oncology, National Cancer Institute, Bethesda, MD, Dr. Philip Pizzo

7/1985-6/1988

Pediatric Residency, Children's Medical Center, Dallas, TX, Dr. Charles Ginsburg
Experience/Service
Administrative Appointments/Responsibilities
Section Chief, Department of Pediatrics Patient Care, Division of Pediatrics, The University of Texas MD Anderson Cancer Center, Houston, 6/2013-2/2015
Medical Director, Clinical Research Department, Division of Pediatrics, The University of Texas MD Anderson Cancer Center, Houston, TX, 9/2009-10/2013
Selected Publications
Peer-Reviewed Original Research Articles

1.
Huh WW, Jaffe N, Durand J-B, Munsell MF, Herzog CE. Comparison of Doxorubicin Cardiotoxicity in. Pediatr Hematol Oncol 27(7):546-57, 10/2010. PMID: 20795769.
2.
Paradela S, Fonseca E, Pita S, Kantrow SM, Goncharuk VN, Ivan D, Herzog CE, Sturgis EM and Prieto VG. Melanoma under 18 years and pregnancy: report of 3 cases. Eur J Dermatol 20(2):186-8, 3/2010. e-Pub 2/2010. PMID: 20153997.
3.
Anderson P, Kopp l, Anderson N, Cornelius K, Herzog C, Hughes D, Huh W. Novel bone cancer drugs: investigational agents and control paradigms for primary bone sarcomas (Ewing's sarcoma and osteosarcoma). Informa Healthcare 17(11):1703-1715, 10/2008.
4.
Mahajan A, Woo S, Kornguth DG, Hughes D, Huh W, Chang EL, Herzog CE, Peloski CE, Anderson PM. Multimodality treatment of osteosarcoma: Radiation in a high-risk cohort. Pediataric Blood and Cancer 50(5), 2008. e-Pub 1/2008.

Abstracts

1.
Subbiah V, Varadhachary G, Herzog CE, Huh WW. Gastric Adenocarcinomas in Children and Adolescents: Experience from the University of Texas at M. D. Anderson Cancer Center and Review of Literature. SIOP, 10/2010.