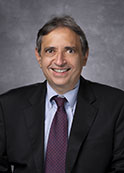 '
Demetrios Petropoulos
Present Title & Affiliation
Primary Appointment
Associate Professor, Department of Pediatrics Patient Care, Division of Pediatrics, The University of Texas MD Anderson Cancer Center, Houston, TX
Education & Training
Degree-Granting Education

1986
University of Athens Medical School, Athens, Greece, MD, Medicine

Postgraduate Training

7/1993-7/1997

Fellowship, Pediatric Hematology/Oncology, Pediatrics Hematology Oncology, Division of Pediatrics, The University of Texas MD Anderson Cancer Center, Houston, TX

7/1990-6/1993

Residency, Pediatrics, Pediatrics, University of Texas Health Science Center, Houston, TX

2/1989-11/1989

Residency, Internal Medicine, Internal Medicine, 401 General Army Hospital, Athens, Greece
Experience/Service
Academic Appointments
Assistant Professor, Department of Pediatrics Patient Care, Division of Pediatrics, The University of Texas MD Anderson Cancer Center, Houston, TX, 10/2002-8/2011
Selected Publications
Peer-Reviewed Original Research Articles

1.
Komanduri KV, St John LS, de Lima M, McMannis J, Rosinski S, McNiece I, Bryan SG, Kaur I, Martin S, Wieder ED, Worth L, Cooper LJ, Petropoulos D, Molldrem JJ, Champlin RE, Shpall EJ. Delayed immune reconstitution after cord blood transplantation is characterized by impaired thymopoiesis and late memory T cell skewing. Blood 110(13):4543-51, 12/2007. e-Pub 8/2007. PMCID: PMC2234787.
2.
Safdar A, Rodriguez GH, De Lima MJ, Petropoulos D, Chemaly RF, Worth LL, Shpall EJ, Rolston KV, Raad II, Chan KW, Champlin RE. Infections in 100 cord blood transplantations: spectrum of early and late posttransplant Infections in adult and pediatric patients 1996-2005. Medicine (Baltimore) 86(6):324-33, 11/2007. PMID: 18004177.
3.
Costelloe CM, Eftekhari F, Petropoulos D. Radiography of successful bone marrow transplantation for osteopetrosis. Skeletal Radiol 36 Suppl. 1:34-7, 6/2007. e-Pub 6/2006. PMID: 16799785.

Abstracts

1.
Petropoulos D, Giralt SA, Andersson BS, Chan KW, Rondon G, Popat UR, Hosing C, Alousi AM, Champlin RE, de Lima MJ. Central Nervous System (CNS) Involvement at Diagnosis does not Adversely Affect the Outcome of High-Dose Chemotherapy and Transplant for Patients with Acute Myeloid Leukemia (AML). Biol Blood Marrow Transplant 14(2 (Suppl 1)):61-62 (Abst 165), 2/2008.
2.
Carstens KA, Ortiz JM, Koontz SE, Worth LL, Petropoulos D, Lee DA, de Lima MJ, Shpall E, Cooper LJ. Double Cord Blood Transplants in Pediatric Patients: Implications for Nurses – what is all the Hype about?. Biol Blood Marrow Transplant 14(2):161 (Abst 454), 2/2008.
3.
Saliba RM, Couriel D, Komanduri K, Patah P, Westin J, Giralt S, Cooper L, Petropoulos D, Worth L, Safdar A, Champlin RE, Shpall EJ, de Lima M. Incidence and Risk Factors for Chronic Graft-Versus-Host Disease (cGVHD) after Cord Blood Transplantation(CBT). Biol Blood Marrow Transplant 14(2 (Suppl 1)):132-33 (Abst 362), 2/2008.
4.
Bertin HD, Koontz SE, Petropoulos D, Worth LL, Lee DA, Cooper LJ. Plasma B-type Natriuretic Peptide: Its Role in Pediatric Hematopoietic Stem Cell Transplantation and Implications for Nurses. Biol Blood Marrow Transplant 14(2 (Suppl 1)):160 (Abst 452), 2/2008.
5.
Silva L, Patah P, Szewczyk N, Saliba RM, Gilman L, Gulbis A, Neumann J, Walker JA, Petropoulos D, El-Zimaity M, Anderlini P, Tarrand J, Ciurea SO, Shpall E, Popat U, Jones R, Giralt S, Champlin RE,de Lima M. A Prospective Evaluation of the Effect of Polyoma (BK)Virus Infection on the Incidence of Hemorrhagic Cystitis (HC) after Unrelated Donor Allogeneic Hematopoietic Stem Cell Transplantation (UD HSCT). Biol Blood Marrow Transplant 14(2 (Suppl 1)):102-3 (Abst 277), 2008.