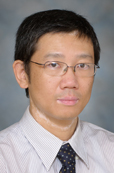 '
Donghang Cheng, Ph.D.
Present Title & Affiliation
Primary Appointment
Research Assistant Professor, Department of Molecular Carcinogenesis, Science Park, The University of Texas MD Anderson Cancer Center, Smithville, TX
Research Interests
Studies indicate that arginine methylation is an important posttranslational modification that has been implicated in nuclear export, mRNA splicing, transcriptional control and DNA repair. Recently, more evidence has linked this modification to carcinogenesis and metastasis. The focus of my research is to investigate the biological role of arginine methylation and develop specific protein arginine methyltransferase inhibitors as valuable tools for probing protein functions and therapeutic agents. Thus, my research is divided into three projects: 1) Functional analysis of coactivator associated arginine methyltransferase 1 (CARM1), 2) Characterizing the role of the transcriptional regulator PRMT6 in tumorigenesis, and 3) Identifying and characterizing CARM1 and PRMT6 specific inhibitors for cancer treatment and prevention.
Education & Training
Degree-Granting Education

2001
National Center for Drug Screening Shanghai Institute of Materia Medica, Shanghai, China, PHD, Pharmacology
1997
Shanghai Institute of Materia Medica Chinese Academy of Sciences, Shanghai, China, MS, Pharmacology
1990
Liaoning University, Shenyang, China, BS, Biology

Postgraduate Training

9/2001-9/2004

Research Fellowship, The University of Texas MD Anderson Cancer Center Science Park-Research Division, Smithville, TX
Selected Publications
Peer-Reviewed Original Research Articles

1.
Cheng D, Valente S, Castellano S, Sbardella G, Di Santo R, Costi R, Bedford MT, Mai A. Novel 3,5-Bis(bromohydroxybenzylidene)piperidin-4-ones as Coactivator-associated Arginine Methyltransferase 1 Inhibitors: Enzyme Selectivity and Cellular Activity. J Med Chem. e-Pub 5/2011. PMID: 21612300.
2.
Cheng D and Bedford MT. Xenoestrogens Regulate the activity of Arginine Methyltransferases. Chembiochem 12(2):323-9, 1/2011. PMID: 21243720.
3.
Iberg AN, Espejo A, Cheng D, Kim D, Michaud-Levesque J, Richard S, Bedford MT. Arginine methylation of the histone H3 tail impedes effector binding. J Biol Chem 283(6):3006-10, 2/2008. e-Pub 12/2007. PMID: 18077460.
4.
Yadav N, Cheng D, Richard S, Morel M, Iyer VR, Aldaz CM, Bedford MT. CARM1 promotes adipocyte differentiation by coactivating PPARgamma. EMBO Rep 9(2):193-8, 2/2008. e-Pub 1/2008. PMCID: PMC2246418.
5.
Swiercz R, Cheng D, Kim D, Bedford MT. Ribosomal protein rpS2 is hypomethylated in PRMT3-deficient mice. J Biol Chem 282(23):16917-23, 6/2007. e-Pub 4/2007. PMID: 17439947.
6.
Cheng D, Cote J, Shaaban S, Bedford MT. The arginine methyltransferase CARM1 regulates the coupling of transcription and mRNA processing. Mol Cell 25(1):71-83, 1/2007. PMID: 17218272.
7.
Cheng D, Yadav N, King RW, Swanson MS, Weinstein EJ, Bedford MT. Small molecule regulators of protein arginine methyltransferases. J Biol Chem 279(23):23892-9, 6/2004. e-Pub 3/2004. PMID: 15056663.

Book Chapters

1.
Cheng D, Vemulapalli V, Bedford MT. Methods applied to the study of protein arginine methylation. In: Methods Enzymol. 512, 71-92, 2012. ISBN: 22910203.
© 2010 The University of Texas M. D. Anderson Cancer Center