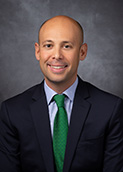 '
Eduardo Vilar-Sanchez, MD, PhD
Present Title & Affiliation
Primary Appointment
Assistant Professor, Department of Clinical Cancer Prevention, Division of OVP, Cancer Prevention and Population Sciences, The University of Texas MD Anderson Cancer Center, Houston, TX
Dual/Joint/Adjunct Appointment
Assistant Professor, Department of Gastrointestinal (GI) Medical Oncology, Division of Cancer Medicine, The University of Texas MD Anderson Cancer Center, Houston, TX
Affiliate Faculty, Clinical Cancer Genetics Program, The University of Texas MD Anderson Cancer Center, Houston, TX
Regular Member, Human and Molecular Genetics Graduate Program, The University of Texas Graduate School of Biomedical Sciences, Houston, TX
Research Interests
Molecular biology of colorectal cancer and the adenoma to carcinoma sequence.
My major field of interest is the molecular biology involved in the carcinogenic progress of colorectal cancer which is illustrated by the adenoma to carcinoma progression model. A more detailed understanding of the molecular biology of this sequence will provide us with opportunities to develop targeted therapeutic interventions at different steps of the progress.

Microsatellite instable colorectal cancers and Lynch Syndrome-related tumors.
The most frequent genetic syndrome predisposing to colorectal cancer is the Lynch Syndrome. My research interest is focused on those patients diagnosed with Lynch Syndrome with the main goal of developing chemopreventive interventions for this high-risk population. In addition, a better understanding of the molecular biology of tumors arising on the basis of this genetic condition will provide us with insights on the sporadic version of Microsatellite Instable colorectal cancers. It is known that approximately 15% of sporadic colorectal cancers display Microsatellite Instability from the epigenetic silencing of MLH1. Therefore, there is also a potential impact on developing targeted therapeutic strategies for this colorectal tumor subtype.

Targeted Chemoprevention and Therapeutics.
I have participated in several clinical trials with targeted therapies, mainly against the EGFR and the mTOR pathway, but also with other small molecules targeting different kinases. This experience has provided me with the background to develop research projects that look for biomarkers to predict response using targeted therapies and implement them in cancer chemoprevention studies.
Office Address
The University of Texas MD Anderson Cancer Center
1155 Pressler St
Unit Number: 1360
Houston, TX 77030
Room Number: CPB6.3526
Education & Training
Degree-Granting Education

2009
University Miguel Hernandez, Alicante, Spain, PHD, Cum Laude, Honors, Molecular Biology
2007
Spanish National Cancer Center (CNIO), Madrid, Spain, MS, Molecular Oncology
2002
University Miguel Hernandez Medical School, Alicante, Spain, MD, Medicine

Postgraduate Training

12/2009-12/2011

Clinical Fellowship, Hematology/Oncology, University of Michigan, Ann Arbor, MI, Francis P. Worden, MD

7/2007-11/2009

Research Fellowship, Molecular Medicine & Genetics, University of Michigan, Ann Arbor, MI, Stephen B. Gruber, MD, PhD, MPH

6/2004-6/2007

Clinical Residency, Medical Oncology, Vall d'Hebron University Hospital, Barcelona, Spain, Javier Cortes, MD, PhD

6/2003-6/2004

Clinical Internship, Internal Medicine, Vall d'Hebron University Hospital, Barcelona, Spain, Javier Cortes, MD, PhD
Honors and Awards
2011-2012

Young Investigator Award,

American Society of Clinical Oncology

2011

Extraordinary Award for PhD dissertations,

Miguel Hernandez University, Alicante, Spain

2010

Excellence in Research Award,

Hematology/Oncology Fellowship Program, University of Michigan

2009

Merit Award,

American Society of Clinical Oncology

2009

Outstanding Research Award,

Internal Medicine Research Symposium, University of Michigan

2008

Merit Award,

American Society of Clinical Oncology

2007-2009

'la Caixa' Fellowship,

'la Caixa' Foundation, Barcelona, Spain

2002

Academic Grant for Undergraduate Students,

Department of Anatomy & Histology, Miguel Hernandez University, Alicante, Spain
Selected Publications
Peer-Reviewed Original Research Articles

1.
Vilar E, Grünwald V, Schöffski P, Singer H, Salazar R, Iglesias JL, Casado E, Cullell-Young M, Baselga J, Tabernero J. A phase I dose-escalating study of ES-285, a marine sphingolipid-derived compound, with repeat dose administration in patients with advanced solid tumors. Invest New Drugs 30(1):299-305, 2/2012. e-Pub 9/2010. PMID: 20820909.
2.
Vilar E, Tabernero J, Gruber SB. Micromanaging the classification of colon cancer: the role of the microRNAome. Clin Cancer Res 17(23):7207-9, 2011, 12/2011. e-Pub 10/2011. PMCID: PMCPMC3422018.
3.
Vilar E, Bartnik CM, Stenzel SL, Raskin L, Ahn J, Moreno V, Mukherjee B, Iniesta MD, Morgan MA, Rennert G, Gruber SB. MRE11 deficiency increases sensitivity to poly(ADP-ribose) polymerase inhibition in microsatellite unstable colorectal cancers. Cancer Res 71(7):2632-42, 2011, 4/2011. e-Pub 2/2011. PMCID: PMCPMC3407272.
4.
Vilar E, Perez-Garcia J, Tabernero J. Pushing the envelope in the mTOR pathway: the second generation of inhibitors. Mol Cancer Ther 10(3):395-403, 2011, 3/2011. e-Pub 1/2011. PMCID: PMCPMC3413411.
5.
Garcia-Carbonero R, Capdevila J, Crespo-Herrero G, Díaz-Pérez JA, Martínez Del Prado MP, Alonso Orduña V, Sevilla-García I, Villabona-Artero C, Beguiristain-Gómez A, Llanos-Muñoz M, Marazuela M, Alvarez-Escola C, Castellano D, Vilar E, Jiménez-Fonseca P, Teulé A, Sastre-Valera J, Benavent-Viñuelas M, Monleon A, Salazar R. Incidence, patterns of care and prognostic factors for outcome of gastroenteropancreatic neuroendocrine tumors (GEP-NETs): results from the National Cancer Registry of Spain (RGETNE). Ann Oncol 21(9):1794-803, 2010, 9/2010. e-Pub 2/2010. PMID: 20139156.
6.
Vilar E, Gruber SB. Microsatellite instability in colorectal cancer-the stable evidence. Nat Rev Clin Oncol 7(3):153-62, 2010, 3/2010. e-Pub 2/2010. PMCID: PMCPMC3427139.
7.
Vilar E, Mukherjee B, Kuick R, Raskin L, Misek DE, Taylor JM, Giordano TJ, Hanash SM, Fearon ER, Rennert G, Gruber SB. Gene expression patterns in mismatch repair-deficient colorectal cancers highlight the potential therapeutic role of inhibitors of the phosphatidylinositol 3-kinase-AKT-mammalian target of rapamycin pathway. Clin Cancer Res 15(8):2829-39, 2009, 4/2009. e-Pub 4/2009. PMCID: PMCPMC3425357.
8.
Vilar E, Scaltriti M, Balmaña J, Saura C, Guzman M, Arribas J, Baselga J, Tabernero J. Microsatellite instability due to hMLH1 deficiency is associated with increased cytotoxicity to irinotecan in human colorectal cancer cell lines. Br J Cancer 99(10):1607-12, 2008, 11/2008. e-Pub 10/2008. PMCID: PMC2584960.
9.
Durán I, Salazar R, Casanovas O, Arrazubi V, Vilar E, Siu LL, Yao J, Tabernero J. New drug development in digestive neuroendocrine tumors. Ann Oncol 18(8):1307-13, 8/2007. e-Pub 2/2007. PMID: 17301070.
10.
Vilar E, Salazar R, Pérez-García J, Cortes J, Oberg K, Tabernero J. Chemotherapy and role of the proliferation marker Ki-67 in digestive neuroendocrine tumors. Endocr Relat Cancer 14(2):221-32, 2007, 6/2007. PMID: 17639039.
Grant & Contract Support
Title:
Discovering new Targets for Chemoprevention in Familial Adenomatous Polyposis
Funding Source:
Duncan Family Institute
Role:
Principal Investigator
Duration:
8/1/2013 - 7/31/2015
Title:
Research Initiation Funds
Funding Source:
U.T. - M.D. Anderson Cancer Center
Role:
Principal Investigator
Duration:
1/1/2012 - 8/1/2016
Title:
Developing Targeted Therapies for Microsatellite Instable Colorectal Cancers
Funding Source:
American Society of Clinical Oncology (ASCO)
Role:
Principal Investigator
Duration:
1/1/2012 - 12/30/2012
Title:
Discovering new drugs to target Microsatellite Instable Colorectal Cancer using connections between gene expression profiles
Funding Source:
Michigan Institute for Clinical and Health Research (MICHR) CTSA Pilot and Collaborative Grant Program
Role:
Co-Investigator
Principal Investigator:
Gruber
Duration:
2008 - 2009
© 2010 The University of Texas M. D. Anderson Cancer Center