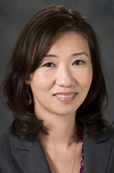 '
Eileen H. Shinn
Present Title & Affiliation
Primary Appointment
Assistant Professor, Department of Behavioral Science, Division of OVP, Cancer Prevention and Population Sciences, The University of Texas MD Anderson Cancer Center, Houston, TX
Bio Statement
Eileen Shinn, PhD, is an Assistant Professor in the Department of Behavioral Science at The University of Texas M. D. Anderson Cancer Center. Her research interests include health behaviors and health outcomes, adherence and coping with cancer treatment and prevention of late-term effects, stress-mediated cancer outcomes, and dissemination of efficacious screening and diagnostic technologies in cancer.
Education & Training
Degree-Granting Education

1998
Ohio University, Athens, OH, PHD, Clinical Psychology
1996
Baylor College of Medicine, Houston, TX, Clinic Psychology Resident, Clinical Psychology
1993
Ohio University, Athens, OH, MS, Clinical Psychology
1989
Amherst College, Amherst, MA, BS, Psychology
Honors and Awards
2011

Head and Neck Cancer Alliance New Investigator Award,

American Speech Language Hearing Association, Division 13

2003-2008

NCI K07 Career Development Award,

National Institute of Health

2001

Media Article of the Month,

American Journal of Hypertension, July

2000-2004

NCI R25 Cancer Prevention Training Fellowship,

M. D. Anderson Cancer Center Department of Behavioral Science

1990-1991

Patricia R. Harris Fellowship,

Ohio University Clinical Psychology
Selected Publications
Peer-Reviewed Original Research Articles

1.
Buys TP, Cantor SB, Guillaud M, Adler-Storthz K, Cox DD, Okolo C, Arulogon O, Oladepo O, Basen-Engquist K, Shinn E, Yamal JM, Beck JR, Scheurer ME, van Niekerk D, Malpica A, Matisic J, Staerkel G, Atkinson EN, Bidaut L, Lane P, Benedet JL, Miller D, Ehlen T, Price R, Adewole IF, MacAulay C, Follen M. Optical Technologies and Molecular Imaging for Cervical Neoplasia: A Program Project Update. Gend Med 9(1 Suppl):S7-24, 2/2012. e-Pub 9/22/2011. PMCID: PMC3289763.
2.
Shinn E, Qazi U, Gera S, Brodovsky J, Simpson J, Follen M, Basen-Engquist K, Macaulay C. Physician attitudes toward dissemination of optical spectroscopy devices for cervical cancer control: an industrial-academic collaborative study. Gend Med 9(1 Suppl):S67-77; quiz 77.e1-6, 2/2012. e-Pub 2011. PMCID: PMC3292768.
3.
Cantor SB, Yamal JM, Guillaud M, Cox DD, Atkinson EN, Benedet JL, Miller D, Ehlen T, Matisic J, van Niekerk D, Bertrand M, Milbourne A, Rhodes H, Malpica A, Staerkel G, Nader-Eftekhari S, Adler-Storthz K, Scheurer ME, Basen-Engquist K, Shinn E, West LA, Vlastos AT, Tao X, Beck JR, Macaulay C, Follen M. Accuracy of optical spectroscopy for the detection of cervical intraepithelial neoplasia: Testing a device as an adjunct to colposcopy. Int J Cancer 128(5):1151-68, 3/1/2011. e-Pub 11/9/2010. PMCID: PMC3015005.
4.
Shinn EH, Swartz RJ, Thornton BB, Spiess PE, Pisters LL, Basen-Engquist KM. Testis cancer survivors' health behaviors: comparison with age-matched relative and demographically-matched population controls. J Clin Oncol 28(13):2274-2279, 5/1/2010. e-Pub 4/5/2010. PMCID: PMC2860440.
5.
Shinn EH, Taylor CL, Kilgore K, Valentine A, Bodurka DC, Kavanagh J, Sood A, Li Y, Basen-Engquist K. Associations with Worry about Dying and Hopelessness in Ambulatory Ovarian Cancer Patients. Palliat Support Care 7(3):299-306, 9/2009. PMCID: PMC3265166.
6.
Lamkin DM, Spitz DR, Shahzad MM, Zimmerman B, Lenihan DJ, Degeest K, Lubaroff DM, Shinn EH, Sood AK, Lutgendorf SK. Glucose as a prognostic factor in ovarian carcinoma. Cancer 115(5):1021-27, 3/1/2009. PMCID: PMC2649990.
7.
Basen-Engquist K, Hughes D, Perkins H, Shinn E, Taylor CC. Dimensions of physical activity and their relationship to physical and emotional symptoms. J Cancer Surviv 2(4):253-61, 12/2008. e-Pub 10/16/2008. PMCID: PMC3076788.
8.
Shinn EH, Basen-Engquist K, Thornton B, Spiess PE, Pisters L. Health behaviors and depressive symptoms in testicular cancer survivors. Urology 69(4):748-53, 4/2007. PMCID: PMC2674069.
9.
Basen-Engquist K, Fouladi RT, Cantor SB, Shinn E, Sui D, Sharman M, Follen M. Patient assessment of tests to detect cervical cancer. Int J Technol Assess Health Care 23(2):240-247, 2007. PMID: 17493310.
10.
Basen-Engquist K, Taylor CL, Rosenblum C, Smith MA, Shinn EH, Greisinger A, Gregg X, Massey P, Valero V, Rivera E. Randomized pilot test of a lifestyle physical activity intervention for breast cancer survivors. Patient Educ Couns 64(1-3):225-34, 12/2006. e-Pub 7/14/2006. PMID: 16843633.
11.
Shinn E, Basen-Engquist K, Le T, Hansis-Diarte A, Bostic D, Martinez-Cross J, Santos A, Follen M. Distress after an abnormal Pap smear result: scale development and psychometric validation. Prev Med 39(2):404-12, 8/2004. PMID: 15226053.
12.
Carmack Taylor CL, Basen-Engquist K, Shinn EH, Bodurka DC. Predictors of sexual functioning in ovarian cancer patients. J Clin Oncol 22(5):881-9, 3/1/2004. PMID: 14990644.
13.
Basen-Engquist K, Shinn EH, Warneke C, de Moor C, Le T, Richards-Kortum R, Follen M. Patient distress and satisfaction with optical spectroscopy in cervical dysplasia detection. Am J Obstet Gynecol 189(4):1136-42, 10/2003. PMID: 14586367.
14.
Shinn EH, Poston WS, Kimball KT, St Jeor ST, Foreyt JP. Blood pressure and symptoms of depression and anxiety: a prospective study. Am J Hypertens 14(7 Pt 1):660-4, 7/2001. PMID: 11482304.

Invited Articles

1.
Shinn EH, Le T, Gallegos J, Basen-Engquist K. A pilot analysis of multispectral digital colposcopy for women with HGSIL pap smear results. Gynecologic Oncology 107(1 Supp 1):S83-5, 10/2007.
2.
Shinn E, Basen-Engquist K, Crain B, Follen M. A theory-aided dissemination strategy for emerging technologies in cervical cancer screening. Gynecol Oncol 107(1 Supp 1):S 35-9, 10/2007. e-Pub 9/17/2007. PMID: 17870151.
3.
Shinn E. Commentary on Yan LL, Liu K, Mathews KA, et al, Cohort study finds that impatience and hostility in young adults are linked with long term risk of hypertension. JAMA 2003. 290: 2138-2148. Evidence-based Cardiovascular Medicine 8:36-37, 2004.
4.
Shinn E, Basen-Engquist K. Guest editor commentary on Alderman AK, Wilkins EG, Lowery JC, et al. Determinants of patient satisfaction in postmastectomy breast reconstruction. Plast Reconstr Surg 106:769-776, Sep 2000. Breast Diseases, a Yearbook Quarterly 12:236-237, 2001.
Grant & Contract Support
Title:
CYCORE: Cyberinfrastructure for Cancer Comparative Effectiveness Research
Funding Source:
University of California San Diego
Role:
Co-Investigator
Principal Investigator:
Kevin Patrick
Duration:
4/1/2014 - 3/31/2019
Title:
Sensor-assisted prevention of dehydration in head and neck cancer patients
Funding Source:
NIH/NCI
Role:
Multiple-Principle Investigator
Principal Investigator:
Peterson
Duration:
9/1/2013 - 8/31/2016
Title:
Consortium To Study Long-Term Survivors of Ovarian Cancer
Funding Source:
Department of Defense (DOD)
Role:
Co-Investigator
Principal Investigator:
Anil Sood
Duration:
8/15/2013 - 8/14/2015
Title:
Adherence to Swallowing Rehabilitation Exercises in Head and Neck Cancer
Funding Source:
NIH/NCI
Role:
Principal Investigator
Duration:
9/1/2012 - 8/31/2013
Title:
Adherence to Swallowing Rehabilitation Exercises in Head and Neck Cancers
Funding Source:
NIH/NIDCR
Role:
Principal Investigator
Duration:
9/18/2009 - 8/31/2015
Title:
Modeling Adherence to Swallowing and Dental Regimens in Head and Neck Cancer
Funding Source:
NIH/NIDCR
Role:
Principal Investigator
Duration:
8/1/2009 - 10/15/2012
Title:
Increasing Adherence to Swallowing Rehabilitation Exercises in Head and Neck Cancer
Funding Source:
American Cancer Society (ACS)
Role:
Principal Investigator
Duration:
7/1/2009 - 6/30/2013
Title:
Take Heart: Exercise & Diet Intervention for Heart Failure in Cancer Survivors
Funding Source:
NIH/NCI
Role:
Co-Investigator
Principal Investigator:
Basen-Engquist, K
Duration:
3/13/2009 - 2/28/2013
Title:
Optical Technologies for Cervical Neoplasia
Funding Source:
NIH/NCI
Role:
Project 4 Co-Project Director
Principal Investigator:
Follen, Michele
Duration:
9/1/2005 - 11/30/2008
© 2014 The University of Texas MD Anderson Cancer Center