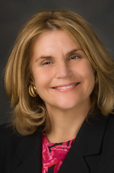 '
Elizabeth J. Shpall, MD
Present Title & Affiliation
Primary Appointment
Director, Cell Therapy Laboratory, Department of Stem Cell Transplantation, Division of Cancer Medicine, The University of Texas MD Anderson Cancer Center, Houston, TX
Professor, Department of Stem Cell Transplantation, Division of Cancer Medicine, The University of Texas MD Anderson Cancer Center, Houston, TX
Deputy Department Chair, Department of Stem Cell Transplantation, Division of Cancer Medicine, The University of Texas MD Anderson Cancer Center, Houston, TX
Director, Cord Blood Bank, Department of Stem Cell Transplantation, Division of Cancer Medicine, University of Texas MD Anderson Cancer Center, Houston, TX
Bio Statement
As a nationally recognized expert in stem cell transplantation, Medical Director of the GMP Cell Therapy Laboratory since 2002, and the Director of the Cord Blood Bank (CBB) at M. D. Anderson Cancer Center since 2004, Dr. Shpall's research covers a range of applications, among them: leukemia, lymphoma treatment, anti-tumor immunity enhancement, and tissue repair. Many of her studies are designed to address the safety and efficacy of stem cell transplantation for patients.
It is, however, Dr. Shpall's leadership in the area of umbilical cord blood collection, banking and transplantation that has helped to move M. D. Anderson to the forefront in this new and important field. Under her watch, the CBB has collected over 15,000 cord blood units from voluntary donations since its establishment in April 2005, coordinating these efforts with several hospitals in Houston. The MD Anderson Stem Cell Transplant Program has transplanted more than 200 patients with cord blood using novel strategies such as ex vivo expansion of the cord blood cells before infusion, to make it work better in patients.
Dr. Shpall's influence is felt beyond the Texas Medical Center. She is the current vice-president of FACT – Netcord, having chaired their Cord Blood Standards Committee since 1999, and she was the founding president and has been a board member of the Foundation Accreditation of Hematopoietic Cell Therapy since 1995. Internationally, she has been a member of the International Association for Breast Cancer Research (1992-2000) and the International Society for Cellular Therapy (1992-present).
Dr. Shpall's academic career started with an undergraduate degree from Brown University in 1976, Dr. Shpall completed her medical degree at the University of Cincinnati College of Medicine in 1980. She was a resident at Beth Israel Medical Center in New York for three years. From 1983 through 1985, she was a fellow in the Department of Neoplastic Diseases at Mount Sinai Medical Center, also in New York, serving as chief fellow in her final year. Before coming to M. D. Anderson in 2002, she was the director of the Cord Blood Bank at the University of Colorado Health Sciences Center, a program she started. She has authored or co-authored hundreds of research abstracts, articles and editorials.
Research Interests
Hematopoietic progenitor cell transplantation patients with hematologic malignancies.
Office Address
The University of Texas MD Anderson Cancer Center
Stem Cell and Transplantation & Cellular Therapy
1515 Holcombe Boulevard
Unit Number: 423
Houston, TX 77030
Room Number: FC5.3050
Fax: 713-794-4902
Email: eshpall@mdanderson.org
Education & Training
Degree-Granting Education

1980
University of Cincinnati College of Medicine, Cincinnati, OH, MD, Medicine
1976
Brown University, Providence, RI, BA Equivalent, Biology and French

Postgraduate Training

1/1984-6/1985

Clinical Fellowship, Mount Sinai Medical Center, New York, NY

1/1980-6/1983

Clinical Residency, Beth Israel Hospital, New York, NY
Board Certifications
| | |
| --- | --- |
| 1/1987 | American Board of Medical Oncology |
| 1/1983 | American Board of Internal Medicine |
Experience/Service
Endowed Positions
Ashbel Smith Professor, Department of Stem Cell Transplantation, Division of Cancer Medicine, The University of Texas MD Anderson Cancer Center, Houston, TX, 2008-2013
Institutional Committee Activities
Member, Faculty Senate, 1/2004-1/2007
Honors and Awards
2016-2017

The R. Lee Clark Prize for Excellence-Clinical Faculty,

MD Anderson Cancer Center

2014-present

Howard and Lee Smith Chair in Cancer Research

2008-2013

Ashbel Smith Professor,

MD Anderson Cancer Center

2007-2008

Clinical Physician,

Texas Federation of Business and Professional Women's Club (BPW)

2001-present

Best Doctor in America,

America's Top Doctor

1989

ACS Career Development Award

1987

ACS Institutional Research Grant Award,

Institutional Research Grant Award

1987

American Board of Medical Oncology

1983

American Board of Internal Medicine
Selected Publications
Peer-Reviewed Original Research Articles

1.
Scaradavou A, Brunstein CG, Eapen M, Le-Rademacher J, Barker JN, Chao N, Cutler C, Delaney C, Kan F, Isola L, Karanes C, Laughlin MJ, Wagner JE, Shpall EJ. Double Unit Grafts Successfully Extend the Application of Umbilical Cord Blood Transplantation in Adults with Acute Leukemia. Blood 121(5):752-8, 1/31/2013. e-Pub 12/9/2012. PMCID: PMC3563363.
2.
de Lima M, McNiece I, Robinson SN, Munsell M, Eapen M, Horowitz M, Alousi A, Saliba R, McMannis JD, Kaur I, Kebriaei P, Parmar S, Popat U, Hosing C, Champlin R, Bollard C, Molldrem JJ, Jones RB, Nieto Y, Andersson BS, Shah N, Oran B, Cooper LJ, Worth L, Qazilbash MH, Korbling M, Rondon G, Ciurea S, Bosque D, Maewal I, Simmons PJ, Shpall EJ. Cord Blood Engraftment With Ex-vivo Mesenchymal Cell Co- Culture. N Engl J Med 367(24):2305-15, 12/13/2012. PMID: 23234514.
3.
Hanley PJ, Cruz CR, Savoldo B, Leen AM, Stanojevic M, Khalil M, Decker W, Molldrem JJ, Liu H, Gee AP, Rooney CM, Heslop HE, Dotti G, Brenner MK, Shpall EJ, Bollard CM. Functionally active virus-specific T-cells that target CMV, adenovirus and EBV can be expanded from naive T-cell populations in cord blood and will target a range of viral epitopes. Blood 114(9):1958-67, 8/27/2009. e-Pub 5/14/2009. PMCID: PMC2738578.
4.
Popat U, Saliba R, Thandi R, Hosing C, Qazilbash M, Anderlini P, Shpall E, McMannis J, Körbling M, Alousi A, Andersson B, Nieto Y, Kebriaei P, Khouri I, de Lima M, Weber D, Thomas S, Wang M, Jones R, Champlin R, Giralt S. Impairment of filgrastim-induced stem cell mobilization after prior lenalidomide in patients with multiple myeloma. Biol Blood Marrow Transplant 15(6):718-23, 6/2009. e-Pub 4/8/2009. PMID: 19450756.
5.
Decker WK, Xing D, Li S, Robinson SN, Yang H, Steiner D, Komanduri KV, Shpall EJ. Th-1 polarization is regulated by dendritic cell comparison of MHC class I and class II antigens. Blood 113(18):4213-23, 4/2009. e-Pub 1/2009. PMCID: PMC2676083.
6.
Komanduri KV, St John LS, de Lima M, McMannis J, Rosinski S, McNiece I, Bryan SG, Kaur I, Martin S, Wieder ED, Worth L, Cooper LJ, Petropoulos D, Molldrem JJ, Champlin RE, Shpall EJ. Delayed immune reconstitution after cord blood transplantation is characterized by impaired thymopoiesis and late memory T cell skewing. Blood 110(13):4543-51, 12/15/2007. e-Pub 8/1/2007. PMCID: PMC2234787.
7.
Safdar A, Rodriguez GH, De Lima MJ, Petropoulos D, Chemaly RF, Worth LL, Shpall EJ, Rolston KV, Raad II, Chan KW, Champlin RE. Infections in 100 cord blood transplantations: spectrum of early and late posttransplant infections in adult and pediatric patients 1996-2005. Medicine 86(6):324-333, 11/2007. PMID: 18004177.
8.
Decker WK, Xing D, Li S, Robinson SN, Yang H, Yao X, Segall H, McMannis JD, Komanduri KV, Champlin RE, Shpall EJ. Double loading of dendritic cell MHC class I and MHC class II with an AML antigen repertoire enhances correlates of T-cell immunity in vitro via amplification of T-cell help. Vaccine 24(16):3203-16, 4/12/2006. e-Pub 1/23/2006. PMID: 16480795.
9.
Thall PF, Wooten LH, Shpall EJ. A Geometric Approach to Comparing Treatments for Rapidly Fatal Diseases. Biometrics 62:193-201, 3/2006. PMID: 16542246.
10.
Robinson SN, Ng J, Niu T, Yang H, McMannis JD, Karandish S, Kaur I, Fu P, Del Angel M, Messinger R, Flagge F, de Lima M, Decker W, Xing D, Champlin R, Shpall EJ. Superior ex vivo cord blood expansion following co-culture with bone marrow-derived mesenchymal stem cells. Bone Marrow Transplant 37(4):359-66, 2/2006. PMCID: PMC1885539.
11.
Weinberg A, Enomoto L, Li S, Shen D, Coll J, Shpall EJ. Risk of transmission of herpesviruses through cord blood transplantation. Biol Blood Marrow Transplant 11(1):35-8, 1/2005. PMID: 15625542.
12.
McNiece IK, Almeida-Porada G, Shpall EJ, Zanjani E. Ex vivo expanded cord blood cells provide rapid engraftment in fetal sheep but lack long-term engrafting potential. Exp Hematol 30(6):612-6, 6/2002. PMID: 12063029.
13.
Hogan CJ, Shpall EJ, Keller G. Differential long-term and multilineage engraftment potential from subfractions of human CD34+ cord blood cells transplanted into NOD/SCID mice. Proc Natl Acad Sci U S A 99(1):413-8, 1/2002. PMCID: PMC117574.
14.
Shpall EJ, Quinones R, Giller R, Zeng C, Baron AE, Jones RB, Bearman SI, Nieto Y, Freed B, Madinger N, Hogan CJ, Slat-Vasquez V, Russell P, Blunk B, Schissel D, Hild E, Malcolm J, Ward W, McNiece IK. Transplantation of ex vivo expanded cord blood. Biol Blood Marrow Transplant 8(7):368-76, 2002. PMID: 12171483.
15.
McNiece I, Jones R, Bearman SI, Cagnoni P, Nieto Y, Franklin W, Ryder J, Steele A, Stoltz J, Russell P, McDermitt J, Hogan C, Murphy J, Shpall EJ. Ex vivo expanded peripheral blood progenitor cells provide rapid neutrophil recovery after high-dose chemotherapy in patients with breast cancer. Blood 96(9):3001-7, 11/2000. PMID: 11049977.
Grant & Contract Support
Title:
Clinical Safety and Efficacy of Third party, fucosylated, cord blood derived regulatory T cells to prevent graft versus host disease
Funding Source:
Cancer Prevention & Research Institute of Texas (CPRIT)
Role:
Co-Investigator
Principal Investigator:
Parmar
Duration:
3/1/2016 - 2/28/2019
Title:
Strategic Alliance- Cytomx CAR NK Cells-Project 1
Funding Source:
CYTOMX
Role:
Co-Principal Investigator
Principal Investigator:
Rezvani/Shpall
Duration:
11/2/2015 - 10/31/2018
Title:
CMV Adoptive T cell Therapy for GBM patients
Funding Source:
The GBM Moonshot
Role:
Co-Investigator
Principal Investigator:
Rezvani
Duration:
9/1/2014 - 8/31/2016
Title:
MDS/AML Moonshot Cell Therapy Project
Funding Source:
UTMDACC
Role:
Co-Investigator
Principal Investigator:
Rezvani
Duration:
9/1/2014 - 8/31/2016
Title:
Extracorporeal Thermo-ablation of Circulating Cancer Cells/Stem Cells Using Targe
Funding Source:
NIH/NCI
Role:
Co-Investigator
Principal Investigator:
Coleman
Duration:
12/1/2008 - 11/30/2010