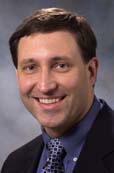 '
Eric P. Tamm, M.D.
Present Title & Affiliation
Primary Appointment
Professor, Department of Diagnostic Radiology, Division of Diagnostic Imaging, The University of Texas MD Anderson Cancer Center, Houston, TX
Dual/Joint/Adjunct Appointment
Associate Professor, The University of Texas Medical School at Houston, Houston, TX
Bio Statement
Dr. Tamm completed as residency in Diagnostic Radiology, and subsequent Body Imaging Fellowship, at Johns Hopkins. After an initial appointment as an Assistant Professor at UT-Hermann-Memorial Hospital, he then joined MD Anderson in October, 2000. Dr. Tamm c a Fellow of the Society of Abdominal Radiology (SAR) and of the Society of Computed Body Tomography and Magnetic Resonance (SCBTMR). He currently chairs committees of the Radiological Society of North America (RSNA) and the SCBTMR. His primary clinical focus is the imaging of tumors originating in the abdomen and pelvis, with a particular focus in imaging of pancreatic oncology. He has contributed to consensus statements for staging of pancreatic cancer from the National Cancer Center Network, and consensus articles on this topic published in Radiology and Gastroenterology. He is a reviewer for several radiology journals. He has made recent presentations at national meetings of the RSNA, American Roentgen Ray Society (ARRS), the Society of Surgical Oncologists (SSO), American Society of Clinical Oncology (ASCO), the SAR, and the SCBTMR. Dr. Tamm has had articles on oncologic imaging published in multiple journals including radiology's leading journals, Radiology, the American Journal of Roentgenology (AJR), Abdominal Imaging, and the Journal of Computerized Axial Tomography (JCAT). He is the lead radiologist for the Pancreatic Cancer Multidisciplinary Group. He has provided radiology support for clinical trials, and is involved in research in imaging of abdominal tumors, particularly pancreatic oncology in such modalities as CT and MRI.
Research Interests
Imagining of tumors originating in the abdomen and pelvis with a particular focus in pancreatic oncology
Education & Training
Degree-Granting Education

1991
University of Medicine and Dentistry of New Jersey, Robert Wood Johnson Medical School, Piscataway, NJ, MD, Medicine
1987
Rutgers University, New Brunswick, NJ, BA, Biology
Board Certifications
| | |
| --- | --- |
| 1996 | American Board of Radiology |
Selected Publications
Peer-Reviewed Original Research Articles

1.
Canto MI, Hruban RH, Fishman EK, Kamel IR, Schulick R, Zhang Z, Topazian M, Takahashi N, Fletcher J, Petersen G, Klein AP, Axilbund J, Griffin C, Syngal S, Saltzman JR, Mortele KJ, Lee J, Tamm E, Vikram R, Bhosale P, Margolis D, Farrell J, Goggins M, American Cancer of the Pancreas Screening (CAPS) Consortium. Frequent detection of pancreatic lesions in asymptomatic high-risk individuals. Gastroenterology 142(4):796-804, 4/2012. e-Pub 1/2012. PMID: 22245846.
2.
Dakik HK, Moskovic DJ, Carlson PJ, Tamm EP, Qiao W, Wolff RA, Abbruzzese JL, Fogelman DR. The use of GTX as second-line and later chemotherapy for metastatic pancreatic cancer: a retrospective analysis. Cancer Chemother Pharmacol 69(2):425-30, 2012 Feb, 2/2012. PMID: 21850466.
3.
Tan CH, Tamm EP, Marcal L, Balachandran A, Charnsangavej C, Vikram R, Bhosale P. Imaging features of hematogenous metastases to the pancreas: pictorial essay. Cancer Imaging 1(11):9-15, Mar, 3/2011. PMID: 21367687.
4.
Bhosale P, Balachandran A, Tamm E. Imaging of benign and malignant cystic pancreatic lesions and a strategy for follow up. World J Radiol 2(9):345-353, Sep, 9/2010. PMCID: PMC2999337.
5.
Bose D, Tamm E, Liu J, Marcal L, Balachandran A, Bhosale P, Fleming JB, Lee JE, Evans DB, Hwang RF. Multidisciplinary management strategy for incidental cystic lesions of the pancreas. J Am Coll Surg 211(2):205-215, Aug, 8/2010. PMID: 20670858.
6.
Ozkan E, Balachandran A, Bhosale PR, Tamm EP, Marcal LP, Szklaruk J. Pictorial essay: multimodality imaging of metastases from pancreatic ductal adenocarcinoma. Clin Imaging 34(4):277-287, Jul-Aug, 7/2010. PMID: 20630340.
7.
Katz MH, Varadhachary GR, Fleming JB, Wolff RA, Lee JE, Pisters PW, Vauthey JN, Abdalla EK, Sun CC, Wang H, Crane CH, Lee JH, Tamm EP, Abbruzzese JL, Evans DB. Serum CA 19-9 as a marker of resectability and survival in patients with potentially resectable pancreatic cancer treated with neoadjuvant chemoradiation. Ann Surg Oncol 17(7):1794-1801, Jul, 7/2010. PMCID: PMC2889288.
8.
Leung KK, Ross WA, Evans D, Fleming J, Lin E, Tamm EP, Lee JH. Pancreatic cystic neoplasm: the role of cyst morphology, cyst fluid analysis, and expectant management. Ann Surg Oncol 16(10):2818-2824, 10/2009. PMID: 19536601.
9.
Vikram R, Balachandran A, Bhosale PR, Tamm EP, Marcal LP, Charnsangavej C. Pancreas: peritoneal reflections, ligamentous connections, and pathways of disease spread. Radiographics 29(2):e34, Mar-Apr, 3/2009. PMID: 19168761.
10.
Katz MH, Mortenson MM, Wang H, Hwang R, Tamm EP, Staerkel G, Lee JH, Evans DB, Fleming JB. Diagnosis and management of cystic neoplasms of the pancreas: an evidence-based approach. J Am Coll Surg 207(1):106-120, Jul, 7/2008. PMID: 18589369.
11.
Varadhachary GR, Wolff RA, Crane CH, Sun CC, Lee JE, Pisters PW, Vauthey JN, Abdalla E, Wang H, Staerkel GA, Lee JH, Ross WA, Tamm EP, Bhosale PR, Krishnan S, Das P, Ho L, Xiong H, Abbruzzese JL, Evans DB. Preoperative gemcitabine and cisplatin followed by gemcitabine-based chemoradiation for resectable adenocarcinoma of the pancreatic head. J Clin Oncol 26(21):3487-3495, Jul, 7/2008. PMID: 18640929.
12.
Hwang RF, Wang H, Lara A, Gomez H, Chang T, Sieffert N, Moon Y, Ram S, Zimmerman S, Lee JH, Pisters PW, Tamm EP, Fleming JB, Abbruzzese JL, Evans DB. Development of an integrated biospecimen bank and multidisciplinary clinical database for pancreatic cancer. Ann Surg Oncol 15(5):1356-1366, May, 5/2008. PMID: 18256882.
13.
Tamm EP, Loyer EM, Faria SC, Evans DB, Wolff RA, Charnsangavej C. Retrospective analysis of dual-phase MDCT and follow-up EUS/EUS-FNA in the diagnosis of pancreatic cancer. Abdom Imaging 32(5):660-667, Sep-Oct, 9/2007. PMID: 17712589.
14.
Tamm EP, Loyer EM, Faria S, Raut CP, Evans DB, Wolff RA, Crane CH, Dubrow RA, Charnsangavej C. Staging of pancreatic cancer with multidetector CT in the setting of preoperative chemoradiation therapy. Abdom Imaging 31(5):568-574, Sep-Oct, 9/2006. PMID: 16465578.
15.
Crane CH, Ellis LM, Abbruzzese JL, Amos C, Xiong HQ, Ho L, Evans DB, Tamm EP, Ng C, Pisters PW, Charnsangavej C, Delclos ME, O'Reilly M, Lee JE, Wolff RA. Phase I trial evaluating the safety of bevacizumab with concurrent radiotherapy and capecitabine in locally advanced pancreatic cancer. J Clin Oncol 24(7):1145-1151, Mar, 3/2006. PMID: 16505434.

Invited Articles

1.
Tamm EP, Balachandran A, Bhosale P, Szklaruk J. Update on 3D and multiplanar MDCT in the assessment of biliary and pancreatic pathology. Abdom Imaging 34(1):64-74, Jan-Feb, 1/2009. PMID: 18483805.
2.
Tamm EP, Balachandran A, Bhosale P, Marcal L. Primary pancreatic adenocarcinoma. Appl Radiol 37(6):26-34, Jun, 6/2008.
3.
Tamm EP, Balachandran A, Bhosale P, Szklaruk J. Three-D techniques showcase the pancreas and biliary tree. Diagn Imaging 30(2):6S, Feb, 2/2008.
4.
Tamm EP, Bhosale PR, Lee JH. Pancreatic ductal adenocarcinoma: ultrasound, computed tomography and magnetic resonance imaging features. Semin Ultrasound CT MR 28(5):330-338, Oct, 10/2007. PMID: 17970550.
5.
Tamm EP, Kim EE, Ng CS. Imaging of neuroendocrine tumors. Hematol Oncol Clin North Am 21(3):409-432; vii, Jun, 6/2007. PMID: 17548032.
6.
Tseng JF, Tamm EP, Lee JE, Pisters PW, Evans DB. Venous resection in pancreatic cancer surgery. Best Pract Res Clin Gastroenterol 20(2):349-364, Apr, 4/2006. PMID: 16549332.
7.
Varadhachary GR, Tamm EP, Crane C, Evans DB, Wolff RA. Borderline resectable pancreatic cancer. Curr Treat Options Gastroenterol 8(5):377-384, Oct, 10/2005. PMID: 16162303.
8.
Faria SC, Tamm EP, Loyer EM, Szklaruk J, Choi H, Charnsangavej C. Diagnosis and staging of pancreatic tumors. Semin Roentgenol 39(3):397-411, Jul, 7/2004. PMID: 15372753.

Book Chapters

1.
Tamm EP, Fleming JB, Varadhachary GR. Pancreatic ductal adenocarcinoma. In: Oncologic Imaging: A Multidisciplinary Approach, 1st. Ed(s) P Silverman. Elsevier/Saunders: Philadelphia, 153-171, 2012. ISBN: 978-1-4377-2232-1.
2.
Tamm EP, Balachandran, A, Bhosale, P, Marcale, L. MRI and MRCP of pancreatic cancer. In: Pancreatic Cancer, 1st Edition. Ed(s) JP Neoptolemos, R Urrutia, JL Abbruzzese, MW Buckler. Springer Science and Business Media: New York City, 731-761, 2010.
3.
Mortenson M, Kennamer DL, Tamm EP, Wang H, Evans DB. Pancreatic carcinoma. In: Surgery of the Pancreas and Spleen: Handbooks in General Surgery. Ed(s) K Bland, MG Sarr, MW Buechler, A Csendes, O Garden, J Wong. Springer-Verlag: London, 2010. ISBN: 9781849963688.
4.
Lee JH, Tamm EP. Pancreatic carcinoma: detection and staging. In: EUS Pathology with Digital Anatomy Correlation Textbook and Atlas. Ed(s) MS Bhutani, J Deutsch. People's Medical Publishing House-USA: Shelton, CT, 149-161, 2010. ISBN: 9781607950288.
5.
Raut CP, Varadhachary G, Wang H, Tamm EP, Fleming JB, Evans DB. Margin status following pancreaticoduodenectomy for pancreatic adenocarcinoma: implications of R status. In: Diseases of the Pancreas: Current Surgical Therapy. Ed(s) HG Beger, S Matsuno, JL Cameron. Springer: New York, 611-625, 2008. ISBN: 9783540286554.
6.
Varadhachary G, Crane CH, Tamm EP, Wang H, Wolff RA, Evans DB. Neoadjuvant treatment of pancreatic cancer: borderline resectable disease. In: The Pancreas: An Integrated Textbook of Basic Science, Medicine and Surgery, 2nd Edition. Ed(s) HG Beger, M Buckler, R Kozarek, M Lerch, J Neoptoleomos, A Warshaw, D Whitcomb, K Shiratori. Wiley-Blackwell: Hoboken, 727-741, 2008. ISBN: 978-1-4051-4664-7.
7.
Phillips K, Fleming J, Tamm EP, Evans DB. Unusual pancreatic tumors. In: Current Surgical Therapy, 9th Edition. Ed(s) JJ Cameron. Elsevier Mosby: Amsterdam, 524-529, 2007.
8.
Evans DB, Lee JE, Tamm EP, Pisters PW. Pancreaticoduodenectomy (Whipple operation) and total pancreatectomy for cancer. In: Mastery of Surgery, 5th Edition. Ed(s) JE Fischer, KI Bland. Lippincott: Philadelphia, 1299-1317, 2006.
9.
Tamm EP, Szklaruk J, Loyer E, Faria SC, Charnsangavej C. Radiographic imaging: CT/MR/PET. In: Pancreatic Cancer. Ed(s) DD Von Hoof, DB Evans, RH Hruban. Jones and Barlett: Sudbury, 165-180, 2004. ISBN: 9780763721787.
10.
West OC, Tamm EP. Abdomen: nontraumatic emergencies. In: Radiology of Emergency Medicine, 4th Edition. Ed(s) C Oktay, J Fowler. Lippincott, Williams & Wilkins: Philadelphia, 583-658, 2000.
11.
Tamm EP. Peripheral vascular injury. In: Manual of Radiology. Ed(s) J Eng. Lippincott-Raven: Philadelphia, 223-225, 1997.
© 2014 The University of Texas MD Anderson Cancer Center