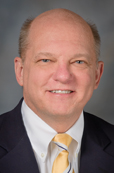 '
Ernest Hawk, MD, MPH
Present Title & Affiliation
Primary Appointment
Vice President, Division of OVP, Cancer Prevention and Population Sciences, The University of Texas MD Anderson Cancer Center, Houston, TX
Division Head, Division of OVP, Cancer Prevention and Population Sciences, The University of Texas MD Anderson Cancer Center, Houston, TX
Executive Director, Duncan Family Institute for Cancer Prevention and Risk Assessment, Division of OVP, Cancer Prevention and Population Sciences, The University of Texas MD Anderson Cancer Center, Houston, TX
Boone Pickens Distinguished Chair for Early Prevention of Cancer, Department of Cancer Prevention, Division of OVP, Cancer Prevention and Population Sciences, The University of Texas MD Anderson Cancer Center, Houston, TX
Dual/Joint/Adjunct Appointment
Professor, Department of Clinical Cancer Prevention, Division of OVP, Cancer Prevention and Population Sciences, The University of Texas MD Anderson Cancer Center, Houston, TX
Bio Statement
Ernest Hawk, MD, MPH, is vice president and division head for Cancer Prevention and Population Sciences at The University of Texas MD Anderson Cancer Center and holds the T. Boone Pickens Distinguished Chair for Early Prevention of Cancer. Additional responsibilities include leadership of the Duncan Family Institute for Cancer Prevention and Risk Assessment, and co-leadership of MD Andersonís Cancer Prevention and Control Platform which advances community health promotion and cancer control through evidence-based public policy, public and professional education, and community-based service implementation and dissemination. A native of Detroit, MI, Dr. Hawk earned his bachelorís and medical degrees at Wayne State University and his master of public health degree at Johns Hopkins University. He completed an internal medicine internship and residency at Emory University, a medical oncology clinical fellowship at the University of California, San Francisco and a cancer prevention fellowship at the National Cancer Institute (NCI).Prior to his appointment at MD Anderson in December 2007, Dr. Hawk held several positions at the NCI in Bethesda, MD. He most recently served as director of the Office of Centers, Training and Resources, responsible for the NCIís cancer centers program, a major translational science program (i.e., the SPORE program), the NCIís extramural training enterprise, and its extramural disparities portfolio. His prior NCI posts included Chief and medical officer in the Gastrointestinal and Other Cancers Research Group, medical officer in the Chemoprevention Branch, and chair of the Translational Research Working Group.

Dr. Hawk has been involved in a wide range of preclinical and clinical chemoprevention research, including developmental studies of nonsteroidal anti-inflammatory drugs, COX-2 inhibitors, and preventive agent combinations in high-risk cohorts. He earned numerous awards for his work, including the NCI Research Award for Distinguished Achievement in Cancer Prevention and the Distinguished Alumnus Award. Most recently, his interests have broadened to include improvement of minority and underserved populationsí participation in clinical research, and the integration of risk assessment, behavioral science, and preventive strategies developed through sequential clinical trials for application in clinical or public health settings. He has published more than 175 scientific articles and book chapters, edited three books, and serves as the senior deputy editor for Cancer Prevention Research, and on the editorial board of Cancer Medicine.

For more information or to discuss issues related to any of Hawkís areas of responsibility, you may contact him by calling 713-792-3900. You may also arrange a meeting through his executive assistant Cheri McClellan, by calling 713-745-0176 or via e-mail to cjmcclel@mdanderson.org
Research Interests
Cancer Prevention and Control
Translational Research
Molecular Intersections between Cancer and Other Diseases
Education & Training
Degree-Granting Education

1994
Johns Hopkins University School Of Hygiene & Pub Health, Baltimore, MD, MPH, Epidemiology/Biostatistics
1985
Wayne State University School of Medicine, Detroit, MI, MD, Medicine
1981
Wayne State University, Detroit, MI, BS, Biological Sciences

Postgraduate Training

1993-1996

Research Fellowship, Cancer Prevention Fellowship, National Cancer Institute, Bethesda, MD, Douglas Weed, MD, MPH, PhD

1991-1993

Clinical Fellowship, Medical Oncology Clinical Fellowship, University Of California, San Francisco, San Francisco, CA, Marc Shuman, MD & I. Craig Henderson, MD

1985-1988

Clinical Internship, Internal Medicine Internship/Residency, Emory University Affiliated Hospitals, Atlanta, GA, J. Willis Hurst, MD & Juha P. Kokko, MD, PhD
Board Certifications
| | |
| --- | --- |
| 11/2013 | American Board of Internal Medicine - Recertification in Medical Oncology |
| 2003 | American Board of Internal Medicine - Recertification in Medical Oncology |
| 1993 | American Board of Internal Medicine - Diplomate in Medical Oncology |
| 1988 | American Board of Internal Medicine - Diplomate in Internal Medicine |
| 1986 | National Board of Medical Examiners - Diplomate |
Experience/Service
Other Appointments/Responsibilities
Member / External Scientific Advisory Board, Ohio State University Comprehensive Cancer Center - James Cancer Hospital, Columbus, OH, 9/2008-present
Member / External Advisory Board, Kansas University Cancer Center, Kansas City, KS, 9/2008-present
Member / External Advisory Board, University of Utah - Huntsman Cancer Center, Salt Lake City, UT, 6/2008-present
Member / External Advisory Board, Roswell Park Cancer Institute, Buffalo, NY, 5/2008-present
Member / Scientific Advisory Committee, Harris County-Hospital and University National Children's Study, Houston, TX, 4/2008-present
Member / External Advisory Board, Mayo Clinic Cancer Center, Rochester, MN, 1/2008-present
Institutional Committee Activities
Member, International Advisory Board, 3/2014-present
Member, Institutional Research Executive Committee (IREC), 12/2013-present
Honors and Awards
2015

ASCO/American Cancer Society Award and Lecture

2014

Cancer Prevention Fellowship Distinguished Alumni Award,

National Cancer Institute, Department of Health & Human Services

2011

Outstanding Leading Mentor in Cancer Prevention,

Division of Cancer Prevention and Population Sciences, The University of Texas MD Anderson Cancer Center

2007

The Nancy Terner Behrman Lecture in Honor of Betty Flehinger, PhD,

Weill Cornell Medical School, NYC
Professional Memberships
American Association for Cancer Research, Philadelphia, PA
Member, 1993-present
American College of Physicians
Member, 1986-present
American Public Health Association
Member, 2/2013-present
American Society of Clinical Oncology
Member, 1996-present
American Society of Preventive Oncology
Member, 2008-present
Member, 1996-2000
Selected Publications
Peer-Reviewed Original Research Articles

1.
Hawk ET, Habermann EB, Ford JG, Wenzel JA, Brahmer JR, Chen MS, Jones LA, Hurd TC, Rogers LM, Nguyen LH, Ahluwalia JS, Fouad M, Vickers SM. Five National Cancer Institute-designated cancer centers' data collection on racial/ethnic minority participation in therapeutic trials: A current view and opportunities for improvement. Cancer 120 Suppl S7:1113-1121, 4/2014. PMID: 24643649.
2.
Hassan MM, Kaseb A, Etzel CJ, El-Serag H, Spitz MR, Chang P, Hale KS, Liu M, Rashid A, Shama M, Abbruzzese JL, Loyer EM, Kaur H, Hassabo HM, Vauthey JN, Wray CJ, Hassan BS, Patt YZ, Hawk E, Soliman KM, Li D. Genetic variation in the PNPLA3 gene and hepatocellular carcinoma in USA: Risk and prognosis prediction. Mol Carcinog 52 Suppl 1:139-47, 11/2013. e-Pub 6/2013. PMCID: PMC3808509.
3.
Wu X, Ajani JA, Gu J, Chang DW, Tan W, Hildebrandt MA, Huang M, Wang KK, Hawk E. MicroRNA Expression Signatures during Malignant Progression from Barrett's Esophagus to Esophageal Adenocarcinoma. Cancer Prev Res (Phila) 6(3):196-205, 3/2013. PMCID: PMC3608471.
4.
Kumar NB, Dhurandhar M, Aggarwal B, Anant S, Daniel K, Deng G, Djeu J, Dou J, Hawk E, Jayaram B, Jia L, Joshi R, Kararala M, Karunagaran D, Kucuk O, Kumar L, Malafa M, Samathanam GJ, Sarkar F, Siddiqi M, Singh RP, Srivastava A, White JD. Proceedings of the Indo-U.S. bilateral workshop on accelerating botanicals/biologics agent development research for cancer chemoprevention, treatment, and survival. Cancer Med 2(1):108-15, 2/2013. PMCID: PMC3797562.
5.
Wen CP, Lin J, Yang YC, Tsai MK, Tsao CK, Etzel C, Huang M, Hsu CY, Ye Y, Mishra L, Hawk E, Wu X. Hepatocellular carcinoma risk prediction model for the general population: the predictive power of transaminases. J Natl Cancer Inst 104(20):1599-611, 10/2012. PMCID: PMC3692381.
6.
Dai J, Gu J, Huang M, Eng C, Kopetz ES, Ellis LM, Hawk E, Wu X. GWAS-identified colorectal cancer susceptibility loci associated with clinical outcomes. Carcinogenesis 33(7):1327-31, 7/2012. e-Pub 4/2012. PMCID: PMC4072910.
7.
Lin M, Eng C, Hawk ET, Huang M, Lin J, Gu J, Ellis LM, Wu X. Identification of polymorphisms in ultraconserved elements associated with clinical outcomes in locally advanced colorectal adenocarcinoma. Cancer 118(24). e-Pub 6/2012. PMCID: PMC3465518.
8.
Cialdella-Kam L, Sabado P, Bispeck MK, Silverman S, Bernstein L, Krawiec V, Hawk E, O'Donnell JF. Implementing Cancer Prevention into Clinical Practice. J Cancer Educ 27(Suppl 2):S136-43, 5/2012. e-Pub 2/2012. PMCID: PMC4126604.
9.
Ross W, Lynch P, Raju G, Rodriguez A, Burke T, Hafemeister L, Hawk E, Wu X, Dubois RN, Mishra L. Biomarkers, bundled payments, and colorectal cancer care. Genes Cancer 3(1):16-22, 1/2012. PMCID: PMC3415669.
10.
Andriole GL, Crawford ED, Grubb RL, Buys SS, Chia D, Church TR, Fouad MN, Isaacs C, Kvale PA, Reding DJ, Weissfeld JL, Yokochi LA, O'Brien B, Ragard LR, Clapp JD, Rathmell JM, Riley TL, Hsing AW, Izmirlian G, Pinsky PF, Kramer BS, Miller AB, Gohagan JK, Prorok PC, PLCO Project Team. Prostate cancer screening in the randomized Prostate, Lung, Colorectal, and Ovarian Cancer Screening Trial: mortality results after 13 years of follow-up. J Natl Cancer Inst 104(2):125-32, 1/2012. e-Pub 1/2012. PMCID: PMC3260132.
11.
Chan AT, Hsu M, Zauber AG, Hawk ET, Bertagnolli MM. The Influence of UGT1A6 Variants and Aspirin Use in a Randomized Trial of Celecoxib for Prevention of Colorectal Adenoma. Cancer Prev Res (Phila) 5(1):61-72, 1/2012. e-Pub 11/2011. PMCID: PMC3252487.
12.
Chan AT, Sima CS, Zauber AG, Ridker PM, Hawk ET, Bertagnolli MM. C-reactive Protein and Risk of Colorectal Adenoma According to Celecoxib Treatment. Cancer Prev Res (Phila) 4(8):1172-80, 8/2011. PMCID: PMC3151679.
13.
Buys SS, Partridge E, Black A, Johnson CC, Lamerato L, Isaacs C, Reding DJ, Greenlee RT, Yokochi LA, Kessel B, Crawford ED, Church TR, Andriole GL, Weissfeld JL, Fouad MN, Chia D, O'Brien B, Ragard LR, Clapp JD, Rathmell JM, Riley TL, Hartge P, Pinsky PF, Zhu CS, Izmirlian G, Kramer BS, Miller AB, Xu JL, Prorok PC, Gohagan JK, Berg CD, PLCO Project Team. Effect of screening on ovarian cancer mortality: the Prostate, Lung, Colorectal and Ovarian (PLCO) Cancer Screening Randomized Controlled Trial. JAMA 305(22):2295-303, 6/2011. PMID: 21642681.
14.
Gu J, Ajani JA, Hawk ET, Ye Y, Lee JH, Bhutani MS, Hofstetter WL, Swisher SG, Wang KK, Wu X. Chromosomal Aberrations Predict Malignant Progression of Esophageal Adenocarcinoma: a Genome-wide High-Density SNP Array Analysis. Cancer Prev Res (Phila) 3(9):1176-86, 9/2010. e-Pub 7/22/2010. PMCID: PMC3932797.
15.
Lynch PM, Ayers GD, Hawk E, Richmond E, Eagle C, Woloj M, Church J, Hasson H, Patterson S, Half E, Burke CA. The safety and efficacy of celecoxib in children with familial adenomatous polyposis. Am J Gastroenterol 105(6):1437-43, 6/2010. e-Pub 3/2010. PMID: 20234350.
16.
Bertagnolli MM, Hsu M, Hawk ET, Eagle CJ, Zauber AG. Statin Use and Colorectal Adenoma Risk: Results from the Adenoma Prevention with Celecoxib Trial. Cancer Prev Res (Phila Pa) 3(5):588-96, 5/2010. e-Pub 4/2010. PMCID: PMC2990920.
17.
Lippman SM, Hawk ET. Cancer prevention: from 1727 to milestones of the past 100 years. Cancer Res 69(13):5269-84, 7/2009. e-Pub 6/2009. PMID: 19491253.
18.
Bertagnolli MM, Eagle CJ, Zauber AG, Redston M, Breazna A, Kim K, Tang J, Rosenstein RB, Umar A, Bagheri D, Collins NT, Burn J, Chung DC, Dewar T, Foley TR, Hoffman N, Macrae F, Pruitt RE, Saltzman JR, Salzberg B, Sylwestrowicz T, Hawk ET. Five-year efficacy and safety analysis of the Adenoma Prevention with Celecoxib Trial. Cancer Prev Res (Phila Pa) 2(4):310-21, 4/2009. e-Pub 3/2009. PMCID: PMC2976587.
19.
Hawk ET, Matrisian LM, Nelson WG, Dorfman GS, Stevens L, Kwok J, Viner J, Hautala J, Grad O, Translational Research Working Group. The Translational Research Working Group developmental pathways: introduction and overview. Clin Cancer Res 14(18):5664-71, 9/2008. e-Pub 7/2008. PMID: 18612047.
20.
Meyskens FL, McLaren CE, Pelot D, Fujikawa-Brooks S, Carpenter PM, Hawk E, Kelloff G, Lawson MJ, Kidao J, McCracken J, Albers CG, Ahnen DJ, Turgeon DK, Goldschmid S, Lance P, Hagedorn CH, Gillen DL, Gerner EW. Difluoromethylornithine Plus Sulindac for the Prevention of Sporadic Colorectal Adenomas: A Randomized Placebo-Controlled, Double-Blind Trial. Cancer Prev Res (Phila Pa) 1(1):32-38, 6/2008. PMCID: PMC2562024.
21.
Solomon SD, Wittes J, Finn PV, Fowler R, Viner J, Bertagnolli MM, Arber N, Levin B, Meinert CL, Martin B, Pater JL, Goss PE, Lance P, Obara S, Chew EY, Kim J, Arndt G, Hawk E, Cross Trial Safety Assessment Group. Cardiovascular Risk of Celecoxib in 6 Randomized Placebo-Controlled Trials The Cross Trial Safety Analysis. Circulation 117(16):2104-13, 4/2008. e-Pub 3/2008. PMCID: PMC2965408.
22.
Solomon SD, Pfeffer MA, McMurray JJ, Fowler R, Finn P, Levin B, Eagle C, Hawk E, Lechuga M, Zauber AG, Bertagnolli MM, Arber N, Wittes J, APC and PreSAP Trial Investigators. Effect of celecoxib on cardiovascular events and blood pressure in two trials for the prevention of colorectal adenomas. Circulation 114(10):1028-1035, 9/2006. PMID: 16943394.
23.
Bertagnolli MM, Eagle CJ, Zauber AG, Redston M, Solomon SD, Kim K, Tang J, Rosenstein RB, Wittes J, Corle D, Hess TM, Woloj GM, Boisserie F, Anderson WF, Viner JL, Bagheri D, Burn J, Chung DC, Dewar T, Foley TR, Hoffman N, Macrae F, Pruitt RE, Saltzman JR, Salzberg B, Sylwestrowicz T, Gordon GB, Hawk ET, APC Study Investigators. Celecoxib for the prevention of sporadic colorectal adenomas. N Engl J Med 355(9):873-84, 8/2006. PMID: 16943400.
24.
Solomon SD, McMurray JJ, Pfeffer MA, Wittes J, Fowler R, Finn P, Anderson WF, Zauber A, Hawk E, Bertagnolli M, Adenoma Prevention with Celecoxib (APC) Study Investigators. Cardiovascular risk associated with celecoxib in a clinical trial for colorectal adenoma prevention. N Engl J Med 352(11):1071-1080, 3/2005. e-Pub 2/2005. PMID: 15713944.
25.
Hawk ET, Levin B. Colorectal cancer prevention. J Clin Oncol 23(2):378-91, 1/2005. PMID: 15637400.
26.
Hawk ET, Umar A, Viner JL. Colorectal cancer chemoprevention--an overview of the science. Gastroenterology 126(5):1423-47, 5/2004. PMID: 15131803.
27.
Lam S, MacAulay C, Le Riche JC, Dyachkova Y, Coldman A, Guillaud M, Hawk E, Christen MO, Gazdar AF. A randomized phase IIb trial of anethole dithiolethione in smokers with bronchial dysplasia. J Natl Cancer Inst 94(13):1001-9, 7/2002. PMID: 12096085.
28.
Steinbach G, Lynch PM, Phillips RK, Wallace MH, Hawk E, Gordon GB, Wakabayashi N, Saunders B, Shen Y, Fujimura T, Su LK, Levin B. The effect of celecoxib, a cyclooxygenase-2 inhibitor, in familial adenomatous polyposis. N Engl J Med 342(26):1946-52, 6/2000. PMID: 10874062.
29.
Hawk E, Lubet R, Limburg P. Chemoprevention in hereditary colorectal cancer syndromes. Cancer 86(11 Suppl):2551-63, 12/1999. PMID: 10630181.
30.
Lam S, leRiche JC, Zheng Y, Coldman A, MacAulay C, Hawk E, Kelloff G, Gazdar AF. Sex-related differences in bronchial epithelial changes associated with tobacco smoking. J Natl Cancer Inst 91(8):691-6, 4/1999. PMID: 10218506.
Grant & Contract Support
Title:
Improving Cervical Cancer Screening and Prevention in the Lower Rio Grande Valley Through Public Outreach, Patient Navigation, and Telementoring
Funding Source:
Cancer Prevention & Research Institute of Texas (CPRIT)
Role:
Co-Program Director
Principal Investigator:
Kathleen Schmeler
Duration:
12/1/2014 - 11/30/2017
Title:
Genome-Wide Association Study in Hepatocellular Carcinoma (GWAS Study)
Funding Source:
NIH/NCI
Role:
Co-Investigator (Year 5)
Principal Investigator:
Manal Hassan
Duration:
9/1/2014 - 8/31/2019
Title:
Discovering New Targets for Chemoprevention in FAP
Funding Source:
NIH/NCI
Role:
Significant Contributor
Principal Investigator:
Eduardo Vilar-Sanchez
Duration:
3/1/2014 - 2/29/2016
Title:
A Double-Blind, Randomized, Phase III Trial of the Safety and Efficacy of CPP-1X/Sulindac Compared with CPP-1X, Sulindac as Single Agents in Patients with FAP and Attenuated FAP
Funding Source:
Cancer Prevention Pharmaceuticals
Role:
Co-Principal Investigator
Principal Investigator:
Patrick Lynch
Duration:
10/1/2013 - 9/30/2016
Title:
Aspirin-PC for Chemoprevention of Colorectal Cancer
Funding Source:
NIH/NCI
Role:
Consultant
Principal Investigator:
Lenard Lichtenberger
Duration:
5/3/2013 - 4/30/2015
Title:
Cancer Prevention Agent Development Program: Early Phase Clinical Research
Funding Source:
NIH/NCI
Role:
Co-Investigator
Principal Investigator:
Powel Brown
Duration:
9/1/2012 - 8/31/2018
Title:
Enhancing Minority Participants in Clinical Trials (EMPaCT): Phase II
Funding Source:
NIH/NIMH
Role:
Co-Principal Investigator
Principal Investigator:
Selwyn Vickers
Duration:
9/19/2011 - 5/31/2016
Title:
Cellular and Molecular Mechanisms of Gastrointestinal Cancers
Funding Source:
NIH/NCI
Role:
Co-Investigator
Principal Investigator:
Lopa Mishra
Duration:
9/10/2008 - 8/31/2015
Title:
Cancer Center Support Grant
Funding Source:
NIH/NCI
Role:
Member, CCSG Executive Committee/Associate Director Population Sciences; Co-Leader GI Program
Principal Investigator:
Ronald DePinho
Duration:
9/4/1998 - 6/30/2018
© 2014 The University of Texas MD Anderson Cancer Center