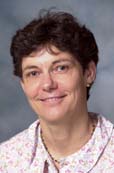 '
Evelyne M. Loyer, MD
Present Title & Affiliation
Primary Appointment
Professor, Department of Diagnostic Radiology, Division of Diagnostic Imaging, The University of Texas MD Anderson Cancer Center, Houston, TX
Bio Statement
Dr. Evelyne Loyer is a Professor of Radiology and a board-certified radiologist in the Department of Diagnostic Radiology at MD Anderson Cancer Center. Dr. Loyer has served as a radiologist with MD Anderson Cancer Center since 1990.
Dr. Loyer's clinical research focuses on the imaging of hepatobiliary malignancies particularly, preoperative staging and assessment of the response to chemotherapy. Dr. Loyer developed non size based criteria of response to bevacizumab, which correlate with the pathologic response in patients with metastatic colorectal carcinoma. Radiographic observations have also lead to the development of the new pathologic indicator of response in the same patient's population.
Research Interests
Colorectal Liver Metastases
Office Address
The University of Texas MD Anderson Cancer Center
1400 Pressler Street
Houston, TX 77030
Education & Training
Degree-Granting Education

1978
Medical School Paris V, Paris, France, MD, Medicine
1971
Lycee D'Etat Mixte De Chantilly, Paris, France, BS, General Studies

Postgraduate Training

1987-1990

Clinical Fellowship, Cross Sectional Imaging, The University of Texas MD Anderson Cancer Center, Houston, TX

1985-1987

Clinical Fellowship, Children's Hospital National Medical Center, Washington, DC

1981-1984

Radiology Residency, Medical School Paris V, Paris, France

1980-1981

Clinical Residency, Medical School Paris V, Paris, France

1980

Clinical Residency, Nominated Interne des Hopitaux, Paris, Prives de Paris, France
Board Certifications
| | |
| --- | --- |
| 1992 | American Board of Radiology |
Selected Publications
Peer-Reviewed Original Research Articles

1.
Mise Y, Zimmitti G, Shindoh J, Kopetz S, Loyer EM, Andreou A, Cooper AB, Kaur H, Aloia TA, Maru DM, Vauthey JN. RAS mutations predict radiologic and pathologic response in patients treated with chemotherapy before resection of colorectal liver metastases. Ann Surg Oncol 22(3):834-842, 3/2015. e-Pub 9/2014. PMCID: PMC4318708.
2.
Peungjesada S, Chuang HH, Prasad SR, Choi H, Loyer EM, Bronstein Y. Evaluation of cancer treatment in the abdomen: Trends and advances. World J Radiol 5(3):126-142, 3/2013. PMCID: PMC3650203.
3.
Shindoh J, Loyer EM, Kopetz S, Boonsirikamchai P, Maru DM, Chun YS, Zimmitti G, Curley SA, Charnsangavej C, Aloia TA, Vauthey JN. Optimal morphologic response to preoperative chemotherapy: an alternate outcome end point before resection of hepatic colorectal metastases. J Clin Oncol 30(36):4566-4572, 12/2012. PMCID: PMC3518730.
4.
Adam R, De Gramont A, Figueras J, Guthrie A, Kokudo N, Kunstlinger F, Loyer EM, Poston G, Rougier P, Rubbia-Brandt L, Sobrero A, Tabernero J, Teh C, Van Cutsem E, Jean-Nicolas Vauthey of the EGOSLIM (Expert Group on OncoSurgery management of LIver Metastases) group. The oncosurgery approach to managing liver metastases from colorectal cancer: a multidisciplinary international consensus. Oncologist 17(10):1225-1239, 10/2012. PMCID: PMC3481888.
5.
Boonsirikamchai P, Asran MA, Maru DM, Vauthey JN, Kaur H, Kopetz S, Loyer EM. CT findings of response and recurrence, independent of change in tumor size, in colorectal liver metastasis treated with bevacizumab. AJR Am J Roentgenol 197(6):W1060-W1066, 12/2011. PMID: 22109320.
6.
Maru DM, Kopetz S, Boonsirikamchai P, Agarwal A, Chun YS, Wang H, Abdalla EK, Kaur H, Charnsangavej C, Vauthey JN, Loyer EM. Tumor thickness at the tumor-normal interface: a novel pathologic indicator of chemotherapy response in hepatic colorectal metastases. Am J Surg Pathol 34(9):1287-1294, 9/2010. PMID: 20697255.
7.
Chun YS, Vauthey JN, Boonsirikamchai P, Maru DM, Kopetz S, Palavecino M, Curley SA, Abdalla EK, Kaur H, Charnsangavej C, Loyer EM. Association of computed tomography morphologic criteria with pathologic response and survival in patients treated with bevacizumab for colorectal liver metastases. JAMA 302(21):2338-2344, 12/2009. PMID: 19952320.
© 2014 The University of Texas MD Anderson Cancer Center