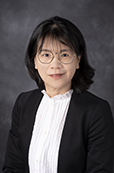 '
Guang Peng, M.D.,Ph.D.
Present Title & Affiliation
Primary Appointment
Assistant Professor, Department of Clinical Cancer Prevention - Research, Division of OVP, Cancer Prevention and Population Sciences, The University of Texas MD Anderson Cancer Center, Houston, TX
Dual/Joint/Adjunct Appointment
Instructor, Department of Systems Biology, Division of Cancer Medicine, The University of Texas MD Anderson Cancer Center, Houston, TX
Regular Member, The University of Texas Graduate School of Biomedical Sciences (GSBS), Houston, TX
Professor, Oncology, Tongji Medical University, Huazhong University of Science and Technology, Wuhan, P.R., China
Bio Statement
The overall goal of my laboratory is to apply the basic knowledge of genome maintenance mechanisms to early detection and cancer prevention. More specifically, by understanding and targeting the DNA repair network, our research aim to address two key questions: (1) Can we identify genetic alterations in the DNA repair network at early stages of carcinogenesis, particularly during the transition from premalignant lesions to cancer? (2) Can we identify targeted prevention strategies for the premalignant lesions with particular genetic alterations? Recent work in my laboratory explores the following directions.
1. Identify genetic alterations in the DNA repair network that occur at early stage of carcinogenesis
We aim to investigate the novel functions of chromatin remodeling complex SWI/SNF, human nucleases/helicases DNA2 and mutational enzyme APOBEC3B in promoting tumorigenesis by both in vitro and in vivo studies, which may lead to identification of new strat for early detection and intervention. We are also work to understand how environmental and endogenous factors reshape the landscape of cellular genome by targeting epigenetic regulatory machineries.
2. Discover novel agents targeting the DNA repair network by genetic and chemical approaches
We aim to utilize chemical screening and bioinformatics' tools as our drug-discovery platforms to systematically identify chemical compounds that target the DNA repair network. We will determine whether the reduction of cellular tolerance to replication stress by modulating DNA repair process would lead a synthetic lethality interaction in premalignant cells with hyperactive DNA replication. These candidate compounds will be tested for their cancer preventive and therapeutic effects.
3. Develop systems biology approaches to understand the dynamics of the DNA repair network in tumor evolution
We aim to utilize network-based mathematical modeling and molecular biology approaches to understand and target the DNA repair network. These new interdisciplinary approaches will offer a revolutionary conceptual framework to determine the compound effect of the DNA repair network rather than focusing on an individual repair gene's function in tumorigenesis.
Office Address
The University of Texas MD Anderson Cancer Center
Basic Science Research Building
1515 Holcombe Blvd.
Unit Number: 1013
Houston, TX 77030
Room Number: S7.8336B
Phone: 713-834-6151
Fax: 713-834-6350
Email: gpeng@mdanderson.org
Education & Training
Degree-Granting Education

2005
University of South Carolina School of Medicine, Columbia, SC, PHD, Biomedical Sciences
2002
Tongji Medical University, Wuhan, China, MD, Medicine

Postgraduate Training

10/2006-6/2011

Research Fellowship, Systems Biology, The University of Texas MD Anderson Cancer Center, Houston, TX, Dr. Shiaw-Yih Lin

5/2005-9/2006

Research Fellowship, Human Genetics, Fox Chase Cancer Center, Philadelphia, PA, Dr. Davide Ruggero
Experience/Service
Other Appointments/Responsibilities
Advisory Committee, Cancer Prevention Research Training Program, Houston, TX, 2011-present
Advisory Committee, NCI R25E Cancer Prevention Education: Student Research Experience, Houston, TX, 2011-present
Advisory Committee, NCI R25T Postdoctoral and Predoctoral Fellowship in Cancer Prevention, Houston, TX, 2011-present
Selected Publications
Peer-Reviewed Original Research Articles

1.
Zhang Y, Wang H, & Peng G. Identify key links in the DNA repair network regulated by tumor suppressors PTEN and BRCA1 through maximum flow analysis. Far East Journal of Mathematical Sciences (FJMS). In Press.
2.
Peng G, Chun-Jen Lin C, Mo W, Dai H, Park YY, Kim SM, Peng Y, Mo Q, Siwko S, Hu R, Lee JS, Hennessy B, Hanash S, Mills GB, Lin SY. Genome-wide transcriptome profiling of homologous recombination DNA repair. Nat Commun 5:3361, 2014. PMCID: PMC4017859.
3.
Meng L, Lin T, Peng G, Hsu JK, Lee S, Lin SY, & Tsai RY. Nucleostemin deletion reveals an essential mechanism that maintains the genomic stability of stem and progenitor cells. Proc Natl Acad Sci U S A 110(28):11415-20, 2013, 7/2013. PMCID: PMCPMC3710807.
4.
Zhang, B, Wang, E, Dai, H, Hu, R, Liang, Y, Li, K, Wang, G, Peng G, & Lin, SY. BRIT1 regulates p53 stability and functions as a tumor suppressor in breast cancer. Carcinogenesis, 6/2013. e-Pub 6/2013. PMID: 23729656.
5.
Wan G, Zhang X, Langley RR, Liu Y, Hu X, Han C, Peng G, Ellis LM, Jones SN, Lu X. DNA damage-induced nuclear export of precursor microRNAs is regulated by the ATM-AKT pathway. Cell Rep 3(6):2100-12, 6/2013. e-Pub 6/2013. PMCID: PMC3796289.
6.
Wang H, Peng G. Mathematical Model of Dynamic Protein Interactions Regulating p53 Protein Stability for Tumor Suppression. Comput Math Methods Med 2013:358980, 2013. e-Pub 12/2013. PMCID: PMC3888710.
7.
Peng G, Dai H, Zhang W, Hsieh HJ, Pan MR, Park YY, Tsai RY, Bedrosian I, Lee JS, Ira G, Lin SY. Human nuclease/helicase DNA2 alleviates replication stress by promoting DNA end resection. Cancer Res 72(11):2802-13, 6/2012. e-Pub 4/2012. PMCID: PMC3367086.
8.
Pan MR, Hsieh HJ, Dai H, Hung WC, Li K, Peng G, Lin SY. Chromodomain helicase DNA-binding protein 4 (CHD4) regulates homologous recombination DNA repair and its deficiency sensitizes cells to poly (ADP-ribose) polymerase (PARP) inhibitor treatment. J Biol Chem 287(9):6764-72, 2/2012. e-Pub 1/2012. PMCID: PMC3307306.
9.
Zhang W, Peng G, Lin SY, Zhang P. DNA damage response is suppressed by high CDK1 activity in mitotic mammalian cells. J Biol Chem 286(41). e-Pub 8/2011. PMCID: PMCPMC3195557.
10.
Pan MR, Peng G, Hung WC, Lin SY. Monoubiquitination of H2AX Protein Regulates DNA Damage Response Signaling. J Biol Chem 286(32):28599-607, 8/2011. e-Pub 6/2011. PMCID: PMC3151101.
11.
Hu R, Peng G, Dai H, Breuer EK, Stemke-Hale K, Li K, González-Angulo AM, Mills GB, Lin SY. ZNF668 functions as a tumor suppressor by regulating p53 stability and function in breast cancer. Cancer Res 71:6524-6534, 2011. e-Pub 8/2011. PMCID: PMCPMC3193577.
12.
Tian L, Peng G, Parant JM, Leventaki V, Drakos E, Zhang Q, Parker-Thornburg J, Shackleford TJ, Dai H, Lin SY, Lozano G, Rassidakis GZ, Claret FX. Essential roles of Jab1 in cell survival, spontaneous DNA damage and DNA repair. Oncogene. e-Pub 8/2010. PMID: 20802511.
13.
Liang Y, Gao H, Lin SY, Peng G, Huang X, Zhang P, Goss JA, Brunicardi FC, Multani AS, Chang S, Li K. BRIT1/MCPH1 is essential for mitotic and meiotic recombination DNA repair and maintaining genomic stability in mice. PLoS Genet 6(1):e1000826, 2010. PMCID: PMC2809772.
14.
Peng G, Yim EK, Dai H, Jackson AP, Burgt I, Pan MR, Hu R, Li K, Lin SY. BRIT1/MCPH1 links chromatin remodelling to DNA damage response. Nat Cell Biol 11(7):865-72, 7/2009. e-Pub 6/2009. PMCID: PMC2714531.
15.
Yim EK,Peng G, Dai H, Hu R, Li K, Lu Y, Mills GB, Meric-Bernstam F, Hennessy BT, Craven RJ, Lin SY. Rak functions as a tumor suppressor by regulating PTEN protein stability and function. Cancer Cell 15(4):304-14, 4/2009. PMCID: PMC2673492.
16.
Yoon A, Peng G, Brandenburger Y, Brandenburg Y, Zollo O, Xu W, Rego E, Ruggero D. Impairments in IRES-mediated translational control underlie X-linked dyskeratosis congenita. Science 312(5775):902-906, 5/2006. PMID: 16690864.
Grant & Contract Support
Title:
Targeting the DNA Repair Network as a Novel Approach for Cancer Research
Funding Source:
American Association for Cancer Research (AACR)
Role:
Principal Investigator
Duration:
7/1/2012 - 6/30/2014
Title:
Understanding & Targeting the DNA Repair Network in Cancer
Funding Source:
NIH/NCI
Role:
Principal Investigator
Duration:
7/1/2011 - 6/30/2016
© 2014 The University of Texas MD Anderson Cancer Center