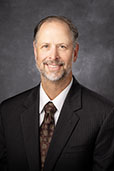 '
James A Bankson, PhD
Present Title & Affiliation
Primary Appointment
Associate Professor, Department of Imaging Physics, Division of Diagnostic Imaging, The University of Texas MD Anderson Cancer Center, Houston, TX
Bio Statement
Dr. Bankson leads the Magnetic Resonance Engineering Laboratory at The University of Texas MD Anderson Cancer Center, and he is Deputy Director of the Small Animal Imaging Facility. His research is focused on the use of engineering principles (RF engineering, systems engineering, electromagnetics, signal and image processing) to refine, optimize, and extend methods to characterize disease non-invasively using magnetic resonance imaging, spectroscopy, and spectroscopic imaging
Research Interests
Magnetic Resonance Imaging (MRI)
Phased Arrays
Parallel MRI and fast acquisition techniques
Education & Training
Degree-Granting Education

2001
Texas A&M University, College Station, TX, PHD, Electrical Engineering
1994
Texas A&M University, College Station, TX, BS, Electrical Engineering
Experience/Service
Academic Appointments
Assistant Professor, Department of Imaging Physics, Division of Diagnostic Imaging, The University of Texas MD Anderson Cancer Center, Houston, TX, 2003-2011
Selected Publications
Peer-Reviewed Original Research Articles

1.
Bankson JA, Griswold MA, Wright SM, Sodickson DK. SMASH imaging with an eight element multiplexed RF coil array. MAGMA 10(2):93-104, 6/2000. PMID: 10873199.
2.
Bankson JA, Wright SM. Simulation-based analysis of partially parallel imaging using a linear array at high accelerations. Magn Reson Med 47(4):777-786, 4/2002. PMID: 11948740.
3.
Bankson JA, Stafford RJ, Hazle JD. Partially parallel imaging with phase-sensitive data: increased temporal resolution for MR temperature imaging. Magn Reson Med 53(3):658-665, 3/2005. PMID: 15723414.
4.
Thaker PH, Han LY, Kamat AA, Arevalo JM, Takahashi R, Lu C, Jennings NB, Armaiz-Pena G, Bankson JA, Ravoori M, Merritt WM, Lin YG, Mangala LS, Kim TJ, Coleman RL, Landen CN, Li Y, Felix E, Sanguino AM, Newman RA, Lloyd M, Gershenson DM, Kundra V, Lopez-Berestein G, Lutgendorf SK, Cole SW, Sood AK. Chronic stress promotes tumor growth and angiogenesis in ovarian carcinoma. Nat Med 12(8):939-44, 8/2006. e-Pub 7/23/2006. PMID: 16862152.
5.
Ramirez MS, Ragan DK, Kundra V, Bankson JA. Feasibility of multiple-mouse dynamic contrast-enhanced MRI. Magn Reson Med 58(3):610-615, 9/2007. PMID: 17763350.
6.
Orth RC, Bankson JA, Price R, Jackson EF. Comparison of single- and dual-tracer pharmacokinetic modeling of dynamic contrast-enhanced magnetic resonance imaging data using low, medium, and high molecular weight contrast agents. Magn Reson Med 58(4):705-16, 2007. PMID: 17899608.
7.
Fernández A, Sanguino A, Peng Z, Ozturk E, Chen J, Crespo A, Wulf S, Shavrin A, Qin C, Ma J, Trent J, Lin Y, Han HD, Mangala LS, Bankson JA, Gelovani J, Samarel A, Bornmann W, Sood AK, Lopez-Berestein G. An anticancer C-Kit kinase inhibitor is reengineered to make it more active and less cardiotoxic. J Clin Invest 117(12):4044-54, 12/2007. PMCID: PMC2104494.
8.
Bankson JA, Ji L, Ravoori M, Han L, Kundra V. Echo-planar imaging improves MRI evaluation of intrathoracic tumors in murine models of lung cancer. J Magn Reson Imaging 27(1):57-62, 1/2008. PMID: 18058933.
9.
Chintalgattu V, Ai D, Langley RR, Zhang J, Bankson JA, Shih TL, Reddy AK, Coombes KR, Daher IN, Pati S, Patel SS, Pocius JS, Taffet GE, Buja LM, Entman ML, Khakoo AY. Cardiomyocyte PDGFR-beta signaling is an essential component of the mouse cardiac response to load-induced stress. J Clin Invest 120(2):472-84, 2/2010. e-Pub 1/11/2010. PMCID: PMC2810076.
10.
Ramirez MS, Esparza-Coss E, Bankson JA. Multiple-mouse MRI with multiple arrays of receive coils. Magn Reson Med 63(3):803-10, 3/2010. PMCID: PMC2901989.
11.
Schwartz DL, Bankson JA, Lemos R, Lai SY, Thittai AK, He Y, Hostetter G, Demeure MJ, Von Hoff DD, Powis G. Radiosensitization and stromal imaging response correlates for the HIF-1 inhibitor PX-478 given with or without chemotherapy in pancreatic cancer. Mol Cancer Ther 9(7):2057-67, 7/2010. e-Pub 6/29/2010. PMCID: PMC2935253.
12.
Ragan DK, Lai SY, Bankson JA. Fast, reproducible measurement of the vascular input function in mice using constrained reconstruction and cardiac sampling. NMR Biomed 24(4):373-84, 5/2011. e-Pub 9/22/2010. PMCID: PMC3033468.
13.
Ragan DK, Bankson JA. Suppression of vascular enhancement artifacts through the use of a multiband, selectively spoiled radiofrequency excitation pulse. J Magn Reson Imaging 33(5):1256-61, 5/2011. PMCID: PMC3081517.
14.
Sandulache VC, Skinner HD, Wang Y, Chen Y, Dodge CT, Ow TJ, Bankson JA, Myers JN, Lai SY. Glycolytic inhibition alters anaplastic thyroid carcinoma tumor metabolism and improves response to conventional chemotherapy and radiation. Mol Cancer Ther 11(6):1373-80, 6/2012. e-Pub 5/9/2012. PMID: 22572813.
15.
Ramirez MS, Lai SY, Bankson JA. A throughput-optimized array system for multiple-mouse MRI. NMR Biomed 26(3):237-47, 3/2013. e-Pub 8/10/2012. PMCID: PMC3543508.