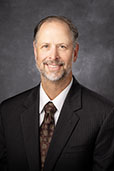 '
James A Bankson, Ph.D.
Present Title & Affiliation
Primary Appointment
Associate Professor, Department of Imaging Physics, Division of Diagnostic Imaging, The University of Texas MD Anderson Cancer Center, Houston, TX
Bio Statement
Dr. Bankson leads the Magnetic Resonance Engineering Laboratory at The University of Texas MD Anderson Cancer Center, and he is Deputy Director of the Small Animal Imaging Facility. His research is focused on the use of engineering principles (RF engineering, systems engineering, electromagnetics, signal and image processing) to refine, optimize, and extend methods to characterize disease non-invasively using magnetic resonance imaging, spectroscopy, and spectroscopic imaging
Research Interests
Magnetic Resonance Imaging (MRI)
Phased Arrays
Parallel MRI and fast acquisition techniques
Office Address
The University of Texas MD Anderson Cancer Center
Department of Imaging Physics - Unit 1902
1881 East Road
Houston, TX 77054-6011
Room Number: 3SCR2.3608
Phone: (713) 792-4273
Fax: (713) 745-9236
Email: jbankson@mdanderson.org
Education & Training
Degree-Granting Education

2001
Texas A&M University, College Station, TX, PHD, Electrical Engineering
1994
Texas A&M University, College Station, TX, BS, Electrical Engineering
Experience/Service
Academic Appointments
Assistant Professor, Department of Imaging Physics, Division of Diagnostic Imaging, The University of Texas MD Anderson Cancer Center, Houston, TX, 2003-2011
Selected Publications
Peer-Reviewed Original Research Articles

1.
Ravoori MK, Singh SP, Lee J, Bankson JA, Kundra V. In Vivo Assessment of Ovarian Tumor Response to Tyrosine Kinase Inhibitor Pazopanib using Hyperpolarized 13C-Pyruvate MRS and 18F-FDG PET/CT Imaging in a Mouse Model. Radiology. In Press.
2.
Ravoori M, Singh S, Bhavane R, Sood AK, Anvari B, Bankson J, Annapragada A, Kundra V. Multimodal Magnetic Resonance and Near-Infrared Fluorescent Imaging of Intraperitoneal Ovarian Cancer Using a Dual-Mode/Dual-Gadolinium Liposomal Contrast Agent. Scientific Reports. In Press.
3.
Benito J, Ramirez MS, Millward NZ, Velez J, Harutyunyan KG, Lu H, Shi YX, Matre P, Jacamo R, Ma H, Konoplev S, McQueen T, Volgin A, Protopopova M, Mu H, Lee J, Bhattacharya PK, Marszalek JR, Davis RE, Bankson JA, Cortes JE, Hart CP, Andreeff M, Konopleva M. Hypoxia-activated prodrug TH-302 targets hypoxic bone marrow niches in pre-clinical leukemia models. Clin Cancer Res 22(7):1687-98, 4/2016. e-Pub 11/2015. PMCID: PMC4818660.
4.
Walker CM, Chen Y, Lai SY, Bankson JA. A novel perfused Bloch-McConnell simulator for analyzing the accuracy of dynamic hyperpolarized MRS. Med Phys 43(2):854, 2/2016. PMCID: PMC4723412.
5.
Redis RS, Vela LE, Lu W, Ferreira de Oliveira J, Ivan C, Rodriguez-Aguayo C, Adamoski D, Pasculli B, Taguchi A, Chen Y, Fernandez AF, Valledor L, Van Roosbroeck K, Chang S, Shah M, Kinnebrew G, Han L, Atlasi Y, Cheung LH, Huang GY, Monroig P, Ramirez MS, Catela Ivkovic T, Van L, Ling H, Gafà R, Kapitanovic S, Lanza G, Bankson JA, Huang P, Lai SY, Bast RC, Rosenblum MG, Radovich M, Ivan M, Bartholomeusz G, Liang H, Fraga MF, Widger WR, Hanash S, Berindan-Neagoe I, Lopez-Berestein G, Ambrosio AL, Gomes Dias SM, Calin GA. Allele-Specific Reprogramming of Cancer Metabolism by the Long Non-coding RNA CCAT2. Mol Cell 61(4):520-34, 2/2016. e-Pub 2/2016. PMID: 26853146.
6.
Walker CM, Merritt M, Wang JX, Bankson JA. Use of a Multi-compartment Dynamic Single Enzyme Phantom for Studies of Hyperpolarized Magnetic Resonance Agents. J Vis Exp(110), 2016. e-Pub 4/2016. PMID: 27166971.
7.
Lee J, Ramirez MS, Walker CM, Chen Y, Yi S, Sandulache VC, Lai SY, Bankson JA. High-throughput hyperpolarized (13)C metabolic investigations using a multi-channel acquisition system. J Magn Reson 260:20-27, 11/2015. e-Pub 9/2015. PMCID: PMC4628838.
8.
Bankson JA, Walker CM, Ramirez MS, Stefan W, Fuentes D, Merritt ME, Lee J, Sandulache VC, Chen Y, Phan L, Chou PC, Rao A, Yeung SC, Lee MH, Schellingerhout D, Conrad CA, Malloy C, Sherry AD, Lai SY, Hazle JD. Kinetic modeling and constrained reconstruction of hyperpolarized 1-13C-pyruvate offers improved metabolic imaging of tumors. Cancer Res 75(22):4708-17, 11/2015. e-Pub 9/2015. PMCID: PMC4651725.
9.
Sandulache VC, Chen Y, Skinner HD, Lu T, Feng L, Court LE, Myers JN, Meyn RE, Fuller CD, Bankson JA, Lai SY. Acute tumor lactate perturbations as a biomarker of genotoxic stress: development of a biochemical model. Mol Cancer Ther. e-Pub 9/2015. PMID: 26376962.
10.
Ramirez MS, Lee J, Walker CM, Chen Y, Kingsley CV, De La Cerda J, Maldonado KL, Lai SY, Bankson JA. Feasibility of multianimal hyperpolarized (13) C MRS. Magn Reson Med 73(5):1726-32, 5/2015. e-Pub 6/2014. PMCID: PMC4257893.
11.
Venkatanarayan A, Raulji P, Norton W, Chakravarti D, Coarfa C, Su X, Sandur SK, Ramirez MS, Lee J, Kingsley CV, Sananikone EF, Rajapakshe K, Naff K, Parker-Thornburg J, Bankson JA, Tsai KY, Gunaratne PH, Flores ER. IAPP-driven metabolic reprogramming induces regression of p53-deficient tumours in vivo. Nature 517(7536):626-30, 1/2015. e-Pub 11/2014. PMCID: PMC4312210.
12.
Ng CS, Wei W, Bankson JA, Ravoori MK, Han L, Brammer DW, Klumpp S, Waterton JC, Jackson EF. Dependence of DCE-MRI biomarker values on analysis algorithm. PLoS One 10(7):e0130168, 2015. e-Pub 7/2015. PMCID: PMC4514853.
13.
Phan L, Chou PC, Velazquez-Torres G, Samudio I, Parreno K, Huang Y, Tseng C, Vu T, Gully C, Su CH, Wang E, Chen J, Choi HH, Fuentes-Mattei E, Shin JH, Shiang C, Grabiner B, Blonska M, Skerl S, Shao Y, Cody D, Delacerda J, Kingsley C, Webb D, Carlock C, Zhou Z, Hsieh YC, Lee J, Elliott A, Ramirez M, Bankson J, Hazle J, Wang Y, Li L, Weng S, Rizk N, Wen YY, Lin X, Wang H, Wang H, Zhang A, Xia X, Wu Y, Habra M, Yang W, Pusztai L, Yeung SC, Lee MH. The cell cycle regulator 14-3-3σ opposes and reverses cancer metabolic reprogramming. Nat Commun 6:7530, 2015. e-Pub 7/2015. PMCID: PMC4507299.
14.
Ravoori MK, Nishimura M, Singh SP, Lu C, Han L, Hobbs BP, Pradeep S, Choi HJ, Bankson JA, Sood AK, Kundra V. Tumor T1 Relaxation Time for Assessing Response to Bevacizumab Anti-Angiogenic Therapy in a Mouse Ovarian Cancer Model. PLoS One 10(6):e0131095, 2015. e-Pub 6/2015. PMCID: PMC4476738.
15.
Bhatnagar P, Alauddin M, Bankson JA, Kirui D, Seifi P, Huls H, Lee DA, Babakhani A, Ferrari M, Li KC, Cooper LJ. Tumor lysing genetically engineered T cells loaded with multi-modal imaging agents. Sci Rep 4:4502, 2014. e-Pub 3/2014. PMCID: PMC3968458.
Grant & Contract Support
| | |
| --- | --- |
| Title: | P5: Novel MRI and MRS Methods for Imaging Cancer Metabolism |
| Funding Source: | Cancer Prevention & Research Institute of Texas (CPRIT) |
| Role: | Principal Investigator |
| Duration: | 3/1/2014 - 8/29/2016 |