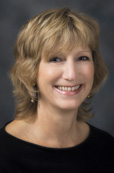 '
Janice A Blalock, Ph.D.
Present Title & Affiliation
Primary Appointment
Associate Professor, Department of Behavioral Science, Division of OVP, Cancer Prevention and Population Sciences, University of Texas MD Anderson Cancer Center, Houston, TX
Bio Statement
Janice A. Blalock, Ph.D. is a clinical psychologist with 19 years research experience in treatments for depression and anxiety disorders, and nicotine dependence. Her research area of interest is development of smoking cessation treatments for smokers with comorbid psychiatric and medical disorders. She was the Co-P.I. on a recently completed study evaluating a depression and smoking cessation intervention for pregnant smokers. She is currently conducting a NIMH-funded study evaluating the efficacy of a combined depression and smoking cessation intervention for smokers with chronic forms of depressive disorders who enter treatment with unremitted depressive episodes. Dr. Blalock also serves as the Assistant Director for the University of Texas M. D. Anderson Cancer Centerís Tobacco Treatment Program, which provides tobacco cessation services to all M.D. Anderson cancer patients. She has interest in evaluating smoking cessation treatments that are specifically tailored to meet the needs of cancer patients who have difficulty quitting following diagnosis and has several grant submissions under review that are focused on this topic; including a NCI funded study evaluating the efficacy of a novel smoking cessation intervention for cancer patients. She has published a number of articles evaluating the impact of clinical depression on withdrawal and abstinence outcomes among smokers with current depressive disorders, and the effect of psychiatric disorders on abstinence outcomes in cancer patients.
Education & Training
Degree-Granting Education

1992
Virginia Polytechnic Institute & State University, Blacksburg, VA, PHD, Clinical Psychology
1991
Medical University of South Carolina, Charleston, SC, Internship, Psychology
1987
University of the Pacific, Stockton, CA, MA, Psychology
1980
Southwest Texas State University, San Marcos, TX, BS, Psychology
Selected Publications
Peer-Reviewed Original Research Articles

1.
Karam-Hage M, Oughli HA, Rabius V, Beneventi D, Wippold RC, Blalock JA, Cinciripini PM. Tobacco Cessation Treatment Pathways for Patients With Cancer: 10 Years in the Making. J Natl Compr Canc Netw 14(11):1469-1477, 11/2016. PMID: 27799514.
2.
Farris SG, Robinson JD, Zvolensky MJ, Hogan J, Rabius V, Cinciripini PM, Karam-Hage M, Blalock JA. Panic attacks and smoking cessation among cancer patients receiving smoking cessation treatment. Addict Behav 61:32-9, 10/2016. e-Pub 5/13/2016. PMID: 27235990.
3.
Cox-Martin E, Basen-Engquist K, Cox MG, Lyons L, Carmack CL, Blalock JA, Demark-Wahnefried W. Interest in Health Behavior Intervention Delivery Modalities Among Cancer Survivors: A Cross-Sectional Study. Journal of Medical Internet Research Cancer 2(1/e1), http://cancer.jmir.org/2016/1/e1, 2016.
4.
Bluethmann SM, Basen-Engquist K, Vernon SW, Cox M, Gabriel KP, Stansberry SA, Carmack CL, Blalock JA, Demark-Wahnefried W. Grasping the 'teachable moment': time since diagnosis, symptom burden and health behaviors in breast, colorectal and prostate cancer survivors. Psychooncology. e-Pub 6/8/2015. PMCID: PMC4698101.
5.
Parrott CE, Rathnayaka N, Blalock JA, Minnix JA, Cinciripini PM, Vincent JP, Wetter DW, Green C. Examination of the Wisconsin Inventory of Smoking Dependence Motives (WISDM-68) Factor structure in a sample of pregnant smokers. Nicotine Tob Res 17(6):653-60, 6/2015. e-Pub 12/2014. PMID: 25475086.
6.
Wippold R, Karam-Hage M, Blalock J, Cinciripini P. Selection of optimal tobacco cessation medication treatment in patients with cancer. Clin J Oncol Nurs 19(2):170-5, 4/2015. PMID: 25840382.
7.
Stotts AL, Northrup TF, Cinciripini PM, Minnix JA, Blalock JA, Mullen PD, Pedroza C, Blackwell S. Randomized, controlled pilot trial of bupropion for pregnant smokers: Challenges and future directions. Am J Perinatol 32(4):351-6, 3/2015. e-Pub 8/2014. PMID: 25111040.
8.
Lin J, Blalock JA, Chen M, Ye Y, Gu J, Cohen L, Cinciripini PM, Wu X. Depressive symptoms and short telomere length are associated with increased mortality in bladder cancer patients. Cancer Epidemiol Biomarkers Prev 24(2):336-43, 2/2015. e-Pub 11/2014. PMCID: PMC4332382.
9.
Farris SG, Zvolensky MJ, Blalock JA, Schmidt NB. Negative affect and smoking motives sequentially mediate the effect of panic attacks on tobacco-relevant processes. American Journal of Drug and Alcohol Abuse 40(3):230-239, 5/2014. e-Pub 4/2014. PMID: 24720260.

Editorials

1.
Rabius V, Karam-Hage M, Blalock JA, Cinciripini PM. "Meaningful use" provides a meaningful opportunity. Cancer 120(4):464-468, 2/2014. e-Pub 10/2013. PMCID: PMC4054930.
Other Articles
1.
Almirall D, Blalock JA. Summary of the SRNT treatment network Webinar: getting SMART about developing individualized sequences of health interventions. Nicotine Tob Res 16(2):252, 2/2014. e-Pub 12/2013. PMID: 24302636.
Grant & Contract Support
Title:
Optimizing Effectiveness of Smoking Cessation Invention During LDCT screening for Lung Cancer
Funding Source:
NIH/NCI
Role:
Co-Investigator
Principal Investigator:
Paul Cinciripini
Duration:
9/1/2016 - 8/31/2021
Title:
Integrated care-versus quitline interventions for smokers with mental health conditions
Funding Source:
NIH/NCI
Role:
Multiple PI
Principal Investigator:
Paul Cinciripini & Janice Blalock
Duration:
9/1/2016 - 8/31/2020
Title:
Personalized feedback for smokers with elevated anxiety sensitivity
Funding Source:
NIH/NIDA
Role:
Mentor
Principal Investigator:
Lorra Garey
Duration:
9/1/2016 - 8/31/2019
Title:
Cancer Control Moonshot Platform: Certified Tobacco Treatment Specialist Training Program
Funding Source:
UT MD Anderson Cancer Center: Moon Shot Certified Tobacco Treatment Specialist Training
Role:
Co-Principal Investigator
Principal Investigator:
Paul Cinciripini & Janice Blalock
Duration:
9/1/2016 - 8/31/2017
Title:
ENDependence
Funding Source:
Arnold Foundation
Role:
Co-Investigator
Principal Investigator:
Alex Prokhorov
Duration:
4/20/2016 - 4/20/2020
Title:
Promoting Long-term Abstinence from Smoking Among Cancer Patients
Funding Source:
NIH
Role:
Co-Investigator
Principal Investigator:
Paul Cinciripini
Duration:
4/1/2016 - 3/31/2021
Title:
Postpartum Intervention for Pregnant Smokers: Feasibility of Smartphone Delivery
Funding Source:
NIH/NIDA
Role:
Principal Investigator
Duration:
4/1/2016 - 3/31/2019
Title:
Development of a Transdiagnostic Emotional Vulnerability Smoking Cessation Intervention for Cancer Patients
Funding Source:
Duncan Family Institute Seed-funding Research Program
Role:
Principal Investigator
Duration:
12/1/2015 - 11/30/2017
Title:
Reducing tobacco-related health disparities: A focus on mental health
Funding Source:
American Cancer Society (ACS)
Role:
Co-Mentor
Principal Investigator:
Virmarie Correa-Fernandez
Duration:
7/1/2015 - 6/30/2020
Title:
Varenicline and combined NRT for initial smoking cessation and rescue treatment in smokers: A randomized pilot trial
Funding Source:
Cancer Prevention & Research Institute of Texas (CPRIT)
Role:
Co-Principal Investigator
Principal Investigator:
Paul Cinciripini
Duration:
3/1/2015 - 2/28/2018
Title:
Cancer Control Moonshot Platform Proposal: Project TEACH
Role:
Co-Principal Investigator
Principal Investigator:
Paul Cinciripiini
Duration:
9/1/2014 - 8/31/2017
Title:
Lung Moon Shot Adult Cessation Project
Role:
Co-Investigator
Principal Investigator:
Paul Cinciripini
Duration:
9/1/2013 - 8/31/2017