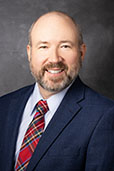 '
Jason D. Robinson, Ph.D.
Present Title & Affiliation
N/A
Bio Statement
I am an Assistant Professor in the Department of Behavioral Science at the University of Texas MD Anderson Cancer Center and a member of its Tobacco Research and Treatment Program. As a clinical psychologist with over 15 years of experience as a human psychophysiologist, I am an expert in the use of ERP, EEG, cardiovascular, skin conductance, and EMG methodology to study affective and attentional processes impacted by nicotine dependence and withdrawal. My research interests are centered on identifying the neurobehavioral adaptations that result from smoking, identifying the individual, genetic, and developmental differences that influence these neurobehavioral adaptations, and modifying these neurobehavioral adaptations using novel pharmacological and non-pharmacological approaches. Understanding the neurobehavioral adaptations to nicotine dependence is vital to developing more effective smoking cessation therapies and thus advancing the cause of cancer prevention. I have also pursued research in the use of genetics to identify nicotine dependence phenotypes, the stress hormone response to smoking, the treatment of nicotine dependence among at-risk populations, and new drug development for the treatment of nicotine dependence. I have extensive experience working within a multidisciplinary environment, an environment increasingly necessary for furthering our understanding of the complexities of nicotine dependence and to translating this understanding to more effective cessation treatments.

Education & Training
Degree-Granting Education

2002
Purdue University, West Lafayette, IN, PHD, Clinical Psychology
Experience/Service
Academic Appointments
Assistant Professor, Department of Behavioral Science, Division of OVP, Cancer Prevention and Population Sciences, The University of Texas MD Anderson Cancer Center, Houston, TX, 8/2008-8/2015
Selected Publications
Peer-Reviewed Original Research Articles

1.
Schwantes-An TH, Zhang J, Chen LS, Hartz SM, Culverhouse R, Chen X, Coon H, Frank J, Kamens H, Konte B, Kovanen L, Latvala A, Legrand L, Maher B, Melroy W, Nelson E, Reid M, Robinson JD, Shen PH, Yang BZ, Andrews J, Aveyard P, Beltcheva O, Brown S, Cannon D, Cichon S, Corley R, Dahmen N, Degenhardt L, Foroud T, Gaebel W, Giegling I, Glatt S, Grucza R, Hardin J, Hartmann A, Heath A, Herms S, Hodgkinson C, Hoffmann P, Hops H, Huizinga D, Ising M, Johnson E, Johnstone E, Kaneva R, Kendler K, Kiefer F, Kranzler H, Krauter K, Levran O, Lucae S, Lynskey M, Maier W, Mann K, Martin N, Mattheisen M, Montgomery G, Müller-Myhsok B, Murphy M, Neale M, Nikolov M, Nishita D, Nöthen M, Nurnberger J, Partonen T, Pergadia M, Reynolds M, Ridinger M, Rose R, Rouvinen-Lagerström N, Scherbaum N, Schmäl C, Soyka M, Stallings M, Steffens M, Treutlein J, Tsuang M, Wall T, Wodarz N, Yuferov V, Zill P, Bergen A, Chen J, Cinciripini PM, Edenberg H, Ehringer M, Ferrell R, Gelernter J, Goldman D, Hewitt J, Hopfer C, Lacono W, Kaprio J, Kreek MJ, Kremensky I, Madden P, McGue M, Munafò M, Philibert R, Rietschel M, Roy A, Rujescu D, Saarikoski S, Swan G, Todorov A, Vanyukov M, Weiss R, Bierut L, Saccone N. Association of the OPRM1 variant rs1799971 (A118G) with non-specific liability to substance dependence in a collaborative de novo meta-analysis of European-ancestry cohorts. Behavior Genetics. In Press.
2.
Donny EC, Denlinger RL, Tidey JW, Koopmeiners JS, Benowitz NL, Vandrey RG, al'Absi M, Carmella SG, Cinciripini PM, Dermody SS, Drobes DJ, Hecht SS, Jensen J, Lane T, Le CT, McLernon FJ, Montoya ID, Murphy SE, Robinson JD, Stitzer ML, Strasser AA, Tindle H, Hatsukami DK. Reduced Nicotine Standards for Cigarettes: A Randomized Trial. New Engl J Med. In Press.
3.
Robinson JD, Versace F, Engelmann JM, Cui Y, Slapin A, Oum R, Cinciripini PM. The motivational salience of cigarette-related stimuli among former, never, and current smokers. Exp Clin Psychopharmacol 23(1):37-48, 2/2015. e-Pub 12/2014. PMCID: PMC4314387.
4.
Cui Y, Robinson JD, Engelmann JM, Lam CY, Minnix JA, Karam-Hage M, Wetter DW, Dani JA, Kosten TR, Cinciripini PM. Reinforcement Sensitivity Underlying Treatment-Seeking Smokers' Affect, Smoking Reinforcement Motives, and Affective Responses. Psychol Addict Behav. e-Pub 1/2015. PMCID: PMC4469611.
5.
Robinson JD, Engelmann JM, Cui Y, Versace F, Waters AJ, Gilbert DG, Gritz ER, Cinciripini PM. The effects of nicotine dose expectancy and motivationally relevant distracters on vigilance. Psychol Addict Behav 28(3):752-760, 9/2014. e-Pub 5/2014. PMID: 24841184.
6.
Versace F, Engelmann JM, Robinson JD, Jackson EF, Green CE, Lam CY, Minnix JA, Karam-Hage MA, Brown VL, Wetter DW, Cinciripini PM. Pre-quit fMRI responses to pleasant cues and cigarette-related cues predict smoking cessation outcome. Nicotine Tob Res 16(6):697-708, 6/2014. e-Pub 12/2013. PMCID: PMC4015090.
7.
Karam-Hage M, Robinson JD, Lodhi A, Brower KJ. Bupropion-SR for smoking reduction and cessation in alcohol-dependent outpatients: A naturalistic, open-label study. Curr Clin Pharmacol 9(2):123-129, 5/2014. e-Pub 11/2013. PMCID: PMC4056335.
8.
Waters AJ, H Szeto E, Wetter DW, Cinciripini PM, Robinson JD, Li Y. Cognition and craving during smoking cessation: An ecological momentary assessment study. Nicotine Tob Res 16(Supplement 2):S111-S118, 5/2014. PMCID: PMC3977632.
9.
Mathew AR, Robinson JD, Norton PJ, Cinciripini PM, Brown RA, Blalock JA. Affective trajectories before and after a quit attempt in smokers with current depressive disorders. Nicotine Tob Res 15(11):1807-1815, 11/2013. PMCID: PMC3790623.
10.
Robinson JD, Versace F, Lam CY, Minnix JA, Engelmann JM, Cui Y, Karam-Hage M, Shete SS, Tomlinson GE, Chen TT, Wetter DW, Green CE, Cinciripini PM. The CHRNA3 rs578776 variant is associated with an intrinsic reward sensitivity deficit in smokers. Frontiers in Psychiatry 4:114, 9/2013. e-Pub 9/2013. PMCID: PMC3779859.
11.
Minnix JA, Versace F, Robinson JD, Lam CY, Engelmann JM, Cui Y, Brown VL, Cinciripini PM. The late positive potential (LPP) in response to varying types of emotional and cigarette stimuli in smokers: A content comparison. Int J Psychophysiol 89(1):18-25, 7/2013. e-Pub 5/2013. PMCID: PMC3771859.
12.
Cui Y, Versace F, Engelmann JM, Minnix JA, Robinson JD, Lam CY, Karam-Hage M, Brown VL, Wetter DW, Dani JA, Kosten TR, Cinciripini PM. Alpha oscillations in response to affective and cigarette-related stimuli in smokers. Nicotine Tob Res 15(5):917-924, 5/2013. e-Pub 10/2012. PMCID: PMC3621581.
13.
Cinciripini PM, Robinson JD, Karam-Hage M, Minnix JA, Lam C, Versace F, Brown VL, Engelmann JM, Wetter DW. The effects of varenicline and bupropion-SR plus intensive counseling on prolonged abstinence from smoking, depression, negative affect and other symptoms of nicotine withdrawal. JAMA Psychiatry 70(5):522-533, 5/2013. e-Pub 3/2013. PMCID: PMC4128024.
14.
Versace F, Engelmann JM, Jackson EF, Costa VD, Robinson JD, Lam CY, Minnix JA, Brown VL, Wetter DW, Cinciripini PM. Do brain responses to emotional images and cigarette cues differ? An fMRI study in smokers. Eur J Neurosci 34(12):2054-2063, 12/2011. e-Pub 11/2011. PMCID: PMC3237919.
15.
Cinciripini PM, Green CE, Robinson JD, Karam-Hage M, Engelmann J, Minnix J, Wetter D, Versace F. Benefits of varenicline vs. bupropion for smoking cessation among those with high cigarette reward sensitivity. Nicotine & Tobacco Research. Submitted.
16.
Deweese MM, Robinson JD, Cinciripini PM, Versace F. Conditioned cortical reactivity to cues predicting cigarette-related or pleasant images. International Journal of Psychophysiology. Submitted.
17.
Farris SG, Robinson JD, Zvolensky MJ, Hogan J, Rabius V, Cinciripini PM, Karam-Hage M, Blalock JA. Panic attacks and smoking cessation among cancer patients receiving smoking cessation treatment. Psycho-Oncology. Submitted.
Grant & Contract Support
Title:
Evaluating Concomitant Use of Very Low Nicotine Content Cigarettes and E-cigarettes Among Daily and Non-Daily Smokers
Funding Source:
NIH/NIDA
Role:
Co-Principal Investigator
Principal Investigator:
Paul Cinciripini
Duration:
9/1/2015 - 8/31/2020
Title:
Intrinsic Reward Sensitivity & Smoking Cessation with Varenicline or Patch NRT
Funding Source:
Cancer Prevention & Research Institute of Texas (CPRIT)
Role:
Co-Investigator
Principal Investigator:
Paul Cinciripini
Duration:
9/1/2014 - 8/30/2017
Title:
Evaluating New Nicotine Standards for Cigarettes - Project 2
Funding Source:
NIH/NIDA
Role:
Site Co-Principal Investigator
Principal Investigator:
Eric Donny & Dorothy Hatsukami
Duration:
9/1/2014 - 8/31/2016
Title:
Smartphone delivered attentional bias modification training for smokers
Funding Source:
NIH/NCI
Role:
Principal Investigator
Duration:
8/1/2014 - 7/31/2018
Title:
Using Deep Sequencing Technology to Study Genes & Behavioral Phenotypes Related to Smoking Cessation, Negative Affect & Nicotine Withdrawal
Funding Source:
Cancer Prevention & Research Institute of Texas (CPRIT)
Role:
Co-Investigator
Principal Investigator:
Cinciripini
Duration:
6/1/2013 - 5/31/2016
Title:
Identifying topiramate's therapeutic mechanisms through motivational salience
Funding Source:
NIH/NIDA
Role:
Principal Investigator
Duration:
9/1/2012 - 8/31/2017
© 2014 The University of Texas MD Anderson Cancer Center