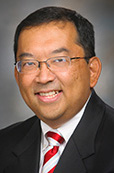 '
Javier A. Adachi, M.D., FACP, FIDSA
Present Title & Affiliation
Dual/Joint/Adjunct Appointment
Clinical Adjunct Associate Professor, Department of Medicine, Division of Infectious Diseases, The University of Texas Health Science Center at Houston Medical School, Houston, TX
Education & Training
Degree-Granting Education

1992
Alberto Hurtado Medical School, Universidad Peruana Cayetano Heredia, Lima, MD, Medicine

Postgraduate Training

9/2006-1/2007

Clinical Safety & Effectiveness Education Program, The University of Texas MD Anderson Cancer Center, Houston, TX

7/1996-3/2000

Fellowship, Division of Infectious Diseases, The University of Texas Health Science Center at Houston Medical School, Houston, TX

7/1996-3/2000

Research Fellowship, Center for Infectious Diseases, The University of Texas Health Science Center at Houston Medical School and School of Public Health, Houston, TX

7/1993-6/1996

Residency Program, Department of Internal Medicine, Henry Ford Hospital, Detroit, MI
Board Certifications
| | |
| --- | --- |
| 2006 | American Board of Internal Medicine - Internal Medicine Specialty Board |
Experience/Service
Academic Appointments
Assistant Professor, Department of Infectious Diseases, Infection Control and Employee Health, The University of Texas MD Anderson Cancer Center, Houston, TX, 2003-8/2010
Administrative Appointments/Responsibilities
Associate Director, Infectious Diseases Fellowship Program, The University of Texas MD Anderson Cancer Center and Baylor College of Medicine, Houston, TX, 2007-2011
Director of Academic Training Programs, Department of Infectious Diseases, Infection Control and Employee Health, The University of Texas MD Anderson Cancer Center, Houston, TX, 2005-2011
Selected Publications
Peer-Reviewed Original Research Articles

1.
Vigil KJ, Mulanovich VE, Chemaly RF, Tarrand J, Raad I, Adachi JA. Severe parainfluenza virus type 2 supreglottitis in an immunocompetent adult host: An unusual case of a parainfluenza viral infection. J Intern Med 265(3):397-400, 2009.
2.
Adachi JA, Perego C, Graviss L, Dvorak T, Hachem R, Chemaly RF, Raad II. The role of interventional molecular epidemiology in controlling clonal clusters of multidrug-resistant Pseudomonas aeruginosa in critically ill cancer patients. Am J Infect Control 37(6):442-6, Aug, 2009. PMID: 19118923.
3.
Georgescu G, Isola IM, Youssef S, Adachi J, Rolston K. Disseminated salmonellosis in a patient treated with temozolomide. J Infect 57(5). e-Pub 8/2008. PMID: 18715650.
4.
Youssef S, Hachem R, Chemaly RF, Adachi J, Ying J, Rolston K, Raad I. The role of vitamin B6 in the prevention of haematological toxic effects of linezolid in patients with cancer. J Antimicrob Chemother 61(2):421-4, 2008. PMID: 18174198.