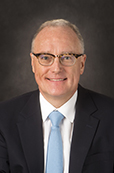 '
Jean-Nicolas Vauthey, MD
Present Title & Affiliation
Primary Appointment
Professor, Department of Surgical Oncology, Division of Surgery, The University of Texas MD Anderson Cancer Center, Houston, TX
Chief, Hepato-Pancreato-Biliary Section, Department of Surgical Oncology, The University of Texas MD Anderson Cancer Center, Houston, TX
Bessie McGoldrick Professor in Clinical Cancer Research, Department of Surgical Oncology, Division of Surgery, The University of Texas MD Anderson Cancer Center, Houston, TX
Bio Statement
Dr. Vauthey's clinical research focuses on methods to measure and to improve outcome after hepatic resection for hepatobiliary malignancies. Dr. Vauthey proposed a standardized method for calculating the volume of the anticipated liver remnant prior to liver surgery. This method of measurement is used to compare patients prior to liver resection to determine the need for preoperative portal vein embolization. Dr. Vauthey critically analyzed the staging system for hepatocellular carcinoma and based on his work, the American Joint Committee on Cancer and the International Union Against Cancer adopted a new simplified staging systems for hepatocellular carcinoma. Dr. Vauthey is Chair of The American Joint Committee on Cancer Hepatobiliary Task Force for the 7th Edition of the Manual for Staging Cancer. Dr. Vauthey has evaluated the use of preoperative chemotherapy in the multidisciplinary treatment of patients with hepatic colorectal metastases. He is the author of a treatment algorithm for hepatic colorectal liver metastases.

Dr. Vauthey organized and chaired symposia at national and international meetings. Dr. Vauthey is the immediate past President of the Americas Hepato-Pancreato-Biliary Association. Dr Vauthey is on the Board of Trustees of the Society for Surgery of the Alimentary Tract. Dr. Vauthey co-authored more than 300 publications in peer-reviewed journals and more than 85 reviews and book chapters in major textbooks. Dr. Vauthey is editor of major textbooks devoted to hepatobiliary cancers. Dr. Vauthey is on the editorial board of the Journal of the American College of Surgeons, Surgery, Annals of Surgery, Annals of Surgical Oncology and the Journal of Gastrointestinal Surgery.

Dr. Vauthey is the recipient of the prestigious 2011 Faculty Achievement Award in Patient Care for his commitment to the mission of The University of Texas MD Anderson Cancer.
Education & Training
Degree-Granting Education

1983
Lausanne University Medical School, Lausanne, Switzerland, MD, Medical Doctor Thesis
1979
Lausanne University Medical School, Lausanne, Switzerland, MD, Swiss Federal Medical Diploma
1973
Gymnase of Vevey, Vevey, Switzerland, BA, Physics and Biology
Board Certifications
| | |
| --- | --- |
| 12/2008 | American Board of Surgery |
Experience/Service
Other Appointments/Responsibilities
Chair, Hepatobiliary Expert Panel, AJCC Cancer Staging Manual 8th Edition, Chicago, IL, 8/2013-present
Honors and Awards
2012

Cancer Fighters' Eagle Award,

Cancer Fighters of Houston, Inc.

2011

Apple Award,

MD Anderson Patient Education Office and the Health Education Week 2011 Committee

2011

Faculty Achievement Award in Patient Care,

The University of Texas MD Anderson Cancer Center
Selected Publications
Peer-Reviewed Original Research Articles

1.
Tzeng CWD, Katz MHG, Fleming JB, Lee JE, Pisters PWT, Holmes HM, Varadhachary GR, Wolff RA, Abbruzzese JL, Vauthey JN, Aloia TA. Morbidity and mortality after pancreaticoduodenectomy in patients with borderline resectable type C clinical classification. J Gastrointest Surg 18(1):146-156, 1/2014. PMCID: PMC24129825.
2.
Shindoh J, Tzeng CWD, Aloia TA, Curley SA, Huang, Mahvash A, Gupta S, Wallace MJ, Vauthey JN. Safety and efficacy of portal vein embolization before planned major or extended hepatectomy: an institutional experience of 358 patients. J Gastrointest Surg 18(1):45-51, January 2014, 1/2014. PMCID: PMC24129824.
3.
Tzeng CW, Tran Cao HS, Le3e JE, Pisters PW, Varadhachary GR, Wolff RA, Abbruzzese JL, Crane CH, Evans DB, Wang H, Abbott DE, Vauthey JN, Aloia TA, Fleming JB, Katz MH. Treatment sequencing for resectable pancreatic cancer: influence of early metastases and surgical complications on multimodality therapy completion and survival. J Gastrointest Surg 18(1):16-24, 2014. PMCID: PMC24241967.
4.
Shindoh J, Truty MJ, Aloia tA, Curley SA, Zimmitti G, Huang SY, Mahvash A, Gupta S, Wallace MJ, Vauthey JN. Kinetic growth rate after portal vein embolization predicts posthepatectomy outcome: toward zero liver-related mortality in patients with colorectal liver metastases and small future liver remnant. J Am Coll Surg 216(2):201-209, 12/2013.
5.
Hassan MM, Etzel CJ, Kaseb A, El-Serag H, Spitz MR, Chang P, Hale KS, Liu M, Rashid A, Shama M, Abbruzzese JL, Loyer EM, Kaur H, Vauthey JN, Wray CJ, Hassan BS, Soliman KM, Li D. Genetic variation in the PNPLA3 gene and hepatocellular carcinoma in USA: risk and prognosis prediction. Mol Carcinog 52(Suppl 1):E139-47, 6/2013.
6.
Torzilli G, Belghiti J, Kokudo N, Takayama T, Capussotti L, Nuzzo G, Vauthey JN, Choti MA, De Santibanes E, Donadon M, Morenghi E, Makuuchi M`. Reply to the Letter to the Editor entitled "A snapshot of the effective indications and results of surgery for hepatocellular carcinoma in tertiary referral centers: Is it adherent to the EASL/AASLD recommendations? An observational study of the HCC East-West Study Group: When the study setting "Ignores" the patients. Ann Surg 257(5):929-937, 03/22/2013, 2/2013. e-Pub 2/2013.
7.
Brouquet A, Andreou A, Shindoh J, Vauthey JN. Methods to improve resectability of hepatocellular carcinoma. Recent Results Cancer Res 190:57-67, 1/2013.
8.
Shindoh J, Kaseb A, Vauthey JN. Surgical strategy for liver cancers in the era of effective chemotherapy. Liver Cancer 2(1):47-54, 1/2013.
9.
Adams R, Aloia TA, Pawlik T, Taouli B, Vauthey JN. Selection for hepatic resection of colorectal liver metastases: expert consensus statement. HPB 15(2):91-103, 2013.
10.
Shindoh J,Tzeng CWD, Vauthey JN. Portal vein embolization for hepatocellular carcinoma. Liver Cancer 1(3):159-167, 11/2012.
11.
Andreou A, Kopetz S, Maur DM, Chen SS, Zimmitti G, Brouquet A, Shindoh J, Curley SA, Garrett C, Overman MJ, Aloia TA, Vauthey JN. Adjuvant chemotherapy with FOLFOX for primary colorectal cancer is associated with increased somatic gene mutations and inferior survival in patients undergoing hepatectomy for metachronous liver metastases. Ann Surg 256(4):642-650, 10/2012.
12.
Jones RP, Vauthey JN, Adam R, Rees M, Berry D, Jackson R, Grimes N, Fenwick SW, Poston GJ, Malik HZ. Effect of specialist decision-making on treatment strategies for colorectal liver metastases. Br J Surg 99(9):1283-1289, 9/2012. e-Pub 8/2012.
13.
Glazer ES, Liu P, Abdalla EK, Vauthey JN, Curley SA. Neither neoadjuvant nor adjuvant therapy increases survival after biliary tract cancer resection with wide negative margins. J Gastrointest Surg 16(9):1666-1671, 7/2012.
14.
Truty MJ, Thomas RM, Katz MH, Vauthey JN, Crane C, Varadhachary GR, Wolff RA, Abbruzzese JL, Lee JE, Flemgin JB. Multimodality therapy offers a chance for cure in patients with pancreatic adenocarcinoma deemed unresectable at first operative exploration. J Am Coll Surg 215(1):41-52, 5/2012. e-Pub 5/2012.
15.
Thomas RM, Truty MJ, Nogueras-Gonzalez GM, Flelming JB, Vauthey JN, Pisters PWT, Lee JE, Rice DC, Hofstetter WL, Wolff RA, Varadhachary GR, Wang H, Katz MHG. Selective reoperation for locally recurrent or metastatic pancreatic ductal adenocardinoma following primary pancreatic resection. J Gastrointest Surg 16(9):1696-1704, 5/2012.
16.
Tzeng CWD, Fleming JB, Lee J, WAng X, Pisters PWPT, Vauthey JN, Vardhachary GR, Wolff RA, Katz MH. Yield of clinical and radiographic surveillance in patients with resected pancreatic adenocarcinoma following multimodality therapy. HPB (Oxford) 14(6):365-172, 5/2012.
17.
Andreou A, Aloia TA, Brouquet A, Vauthey JN. Recent advances in the curative treatment of colorectal liver metastases. Gastrointest Cancer Res 4(4 Suppl 1):S2-8, 3/2012.
18.
Tzeng CW, Fleming JB, Lee JE, Xiao L, Pisters PW, Vauthey JN, Abdalla EK, Wolff RA, Varadhachary GR, Fogelman DR, Crane CH, Balachandran A, Katz MH. Defined clinical classifications are associated with outcome of patients with anatomically resectable pancreatic adenocarcinoma treated with neoadjuvant therapy. Ann Surg Oncol 19(6):2045-2053, 2/2012.
19.
Janne d'Othee B, Solocieous CT, Hanna N,k Lewandowski RJ, Soulen MC, Vauthey JN, Cohen SJ, Venook A, Johnson M, Kennedy A, Murthy R, Geschwind JF, Kee ST. Development of a research agenda for the management of metastatic colorectal cancer: Proceedings from a multidiscliplinay research consensus panel. J Vasc Interv Radiol 23(2):153-163, 1/2012.
20.
Abbott DE, Brouquet A, Mitendorf EA, Andreou A, Meric-Bernstam F, Valero V, Green MC, Kuerer HM, Curley SA, Abdalla EK, Hunt KK, Vauthey JN. Resection of liver metastases from breast cancer: estrogen receptor status and response to chemotherapy prior to surgery define outcome. Surgery 151(5):710-716, 1/2012.
21.
Vauthey JN, Dixon E, Abdalla EK, Helton WS, Pawlik TM, Taouli B, Brouquet A, Adams RB. Pretreatment assessment of hepatocellular carcinoma: expert consensus statement. HPB (Oxford) 12(5):289-299, 6/2010.
22.
Truty, MJ, Vauthey JN. Surgical resection of high-risk hepatocellular carcinoma: patient selection, preoperative considerations, and operative technique. Ann Surg Oncol 17(5):1219-1225, 4/2010.
23.
Kishi Y, Kopetz S, Chun YS, Aballa E, Vauthey JN. Blood neutrophil-to-lymphocyte ratio predicts survival in patients with colorectal liver metastases treated with systemic chemotherapy. Ann Surg Oncol 16(3):614-622, 3/2009.
24.
Chun YS, Laurent A, Maru D, Vauthey JN. Management of chemotherapy-associated hepatotoxicity in colorectal liver metastases. Lancet Oncol 10(3):278-286, 3/2009.
25.
Vauthey JN, Pawlik TM, Ribero D, Wu TT, Zorzi D, Hoff PM, Xiong HQ, Eng C, Lauwers GY, Mino-Kenudson M, Risio M, Muratore A, Capussotti L, Curley SA, Abdalla EK. Chemotherapy regimen predicts steatohepatitis and an increase in 90-day mortality after surgery for hepatic colorectal metastases. J Clin Oncol 24:2065-72, 5/2006. PMID: 16648507.
26.
Vauthey JN, Zorzi D, Pawlik TM. Making unresectable hepatic colorectal metastases resectable--does it work? Semin Oncol 32(6 Suppl 9):S118-22, 12/2005. PMID: 16399448.

Editorials

1.
Conrad C, Vauthey JN. Resection of hepatocellular carcinoma with macroscopic vascular invasion, by Sanan Roayale et al. "When does invasion mean the war was logs?". Ann Surg Oncol 20(12):3709-3711, 10/2013.
2.
Kopetz S, Vauthey JN. Incidence and prognostic impact of KRAS and BRAF mutation in patients undergoing liver surgery for colorectal metastases. Cancer. e-Pub 8/2013.
3.
Tzeng CW, Vauthey JN. Postoperative complications and oncologic outcomes after resection of colorectal liver metastases: the importance of staying on track. Ann Surg Oncol 20(8):2457-2459, 4/2013.
4.
Vauthey JN, Zimmitti G, Shindo J. From Couinaud to Molecular Biology: The Seven Virtues of HPB Surgery. HPB(14):493-499, 7/2012.
5.
Vauthey JN. Colorectal liver metastases: treat effectively upfront and consider the borderline resectable. J Clin Oncol 25(29):4524-4525, 11/2007.

Book Chapters

1.
Contreras CM, Brouquet A, Maru DM, Vauthey JN. Hepatic steatosis, steatohepatitis, and chemotherapy-related liver injury. In: Blumgart's Surgery of the Liver, Biliary Tract, and Pancreas. 2, 5th. Ed(s) Belghiti J, Buchler MW, Chapman WC, D'Angelica MI, DeMatteo RP, Hann LE. Elsevier-Saunders: Philadelphia, 999-1005, 2012.

Letters to the Editor

1.
Vauthey JN, Kopetz S, Aloia TA, Andreou A. KRAS Mutation in colorectal cancer metastases after adjuvant FOLFOX for the primary. Br J Cancer 107(8):1442-1443, 9/2012. e-Pub 9/2012.
© 2014 The University of Texas MD Anderson Cancer Center