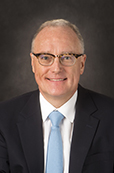 '
Jean-Nicolas Vauthey, MD
Present Title & Affiliation
Primary Appointment
Professor, Department of Surgical Oncology, Division of Surgery, The University of Texas MD Anderson Cancer Center, Houston, TX
Chief, Liver Service, Department of Surgical Oncology, The University of Texas MD Anderson Cancer Center, Houston, TX
Bessie McGoldrick Professor in Clinical Cancer Research, Department of Surgical Oncology, Division of Surgery, The University of Texas MD Anderson Cancer Center, Houston, TX
Bio Statement
Dr. Vauthey's clinical research focuses on methods to measure and to improve outcome after hepatic resection for hepatobiliary malignancies. Dr. Vauthey proposed a standardized method for calculating the volume of the anticipated liver remnant prior to liver surgery. This method of measurement is used to compare patients prior to liver resection to determine the need for preoperative portal vein embolization. Dr. Vauthey critically analyzed the staging system for hepatocellular carcinoma and based on his work, the American Joint Committee on Cancer and the International Union Against Cancer adopted a new simplified staging systems for hepatocellular carcinoma. Dr. Vauthey is Chair of The American Joint Committee on Cancer Hepatobiliary Task Force for the 7th Edition of the Manual for Staging Cancer. Dr. Vauthey has evaluated the use of preoperative chemotherapy in the multidisciplinary treatment of patients with hepatic colorectal metastases. He is the author of a treatment algorithm for hepatic colorectal liver metastases.

Dr. Vauthey organized and chaired symposia at national and international meetings. Dr. Vauthey is the immediate past President of the Americas Hepato-Pancreato-Biliary Association. Dr Vauthey is on the Board of Trustees of the Society for Surgery of the Alimentary Tract. Dr. Vauthey co-authored more than 300 publications in peer-reviewed journals and more than 85 reviews and book chapters in major textbooks. Dr. Vauthey is editor of major textbooks devoted to hepatobiliary cancers. Dr. Vauthey is on the editorial board of the Journal of the American College of Surgeons, Surgery, Annals of Surgery, Annals of Surgical Oncology and the Journal of Gastrointestinal Surgery.

Dr. Vauthey is the recipient of the prestigious 2011 Faculty Achievement Award in Patient Care for his commitment to the mission of The University of Texas MD Anderson Cancer.
Education & Training
Degree-Granting Education

1983
Lausanne University Medical School, Lausanne, Switzerland, MD, Medical Doctor Thesis
1979
Lausanne University Medical School, Lausanne, Switzerland, MD, Swiss Federal Medical Diploma
1973
Gymnase of Vevey, Vevey, Switzerland, BA, Physics and Biology
Board Certifications
| | |
| --- | --- |
| 12/2008 | American Board of Surgery |
Experience/Service
Other Appointments/Responsibilities
Chair, Hepatobiliary Expert Panel, AJCC Cancer Staging Manual 8th Edition, Chicago, IL, 8/2013-present
Selected Publications
Peer-Reviewed Original Research Articles

1.
Zimmitti G, Roses RE, Andreou A, Shindoh J, Curley SA, Aloia TA, Vauthey JN. Greater complexity of liver surgery is not associated with an increased incidence of liver related complications except for bile leak: an experience with 2,628 consecutive resections. J Gastrointest Surg 17(1):57-64, 2013.
2.
Andreou A, Kopetz S, Maur DM, Chen SS, Zimmitti G, Brouquet A, Shindoh J, Curley SA, Garrett C, Overman MJ, Aloia TA, Vauthey JN. Adjuvant chemotherapy with FOLFOX for primary colorectal cancer is associated with increased somatic gene mutations and inferior survival in patients undergoing hepatectomy for metachronous liver metastases. Ann Surg 256(4):642-650, 10/2012.
3.
Jones RP, Vauthey JN, Adam R, Rees M, Berry D, Jackson R, Grimes N, Fenwick SW, Poston GJ, Malik HZ. Effect of specialist decision-making on treatment strategies for colorectal liver metastases. Br J Surg 99(9):1283-1289, 9/2012. e-Pub 8/2012.
4.
Brouquet A, Abdalla EK, Kopetz S, Garrett C, Overman M, Eng C, Loyer EM, Madoff DC, Curley SA, Vauthey JN. High survival rate after two-stage resection of advanced colorectal liver metastases: response-based selection and complete resection define outcome. J Clin Oncol 28(8):1083-1090, 3/2011. PMCID: PMC3068054.
5.
Vauthey JN, Dixon E, Abdalla EK, Helton WS, Pawlik TM, Taouli B, Brouquet A, Adams RB. Pretreatment assessment of hepatocellular carcinoma: expert consensus statement. HPB (Oxford) 12(5):289-299, 6/2010.
6.
Truty, MJ, Vauthey JN. Surgical resection of high-risk hepatocellular carcinoma: patient selection, preoperative considerations, and operative technique. Ann Surg Oncol 17(5):1219-1225, 4/2010.
7.
Chun Y, Vauthey JN, Boonsirikamchai P, Maru DP, Kopetz S, Palavecino J. Curley SA, Abdalla EK, Kaur H, Charnsangavej C, Loyer EM. Association of computed tomography morphological criteria with pathologic response and survival in patients treated with bevacizumab for colorectal liver metastases. JAMA 302(21):2338-2344, 12/2009.
8.
Kishi Y, Kopetz S, Chun YS, Aballa E, Vauthey JN. Blood neutrophil-to-lymphocyte ratio predicts survival in patients with colorectal liver metastases treated with systemic chemotherapy. Ann Surg Oncol 16(3):614-622, 3/2009.
9.
Chun YS, Laurent A, Maru D, Vauthey JN. Management of chemotherapy-associated hepatotoxicity in colorectal liver metastases. Lancet Oncol 10(3):278-286, 3/2009.
10.
Chun YS, Vauthey JN. Risks of neoadjuvant chemotherapy for resectable colorectal carcinoma liver metastases. Current Colorectal Cancer Reports 4(2):87-92, 4/2008.
11.
Blazer DG, Kishi Y, Maru M, Kopetz S, Chun YS, Overman MJ, Fogelman D, Eng C, Chang DZ, Wang H, Zorzi D, Ribero D, Ellis LM, Glover KY, Wolff RA, Curley SA, Abdalla EK, Vauthey JN. Pathologic response to preoperative chemotherapy: a new outcome end point after resection of hepatic colorectal metastases. J Clin Oncol 26(33):5344-5351, 2008.
12.
Vauthey JN, Pawlik TM, Ribero D, Wu TT, Zorzi D, Hoff PM, Xiong HQ, Eng C, Lauwers GY, Mino-Kenudson M, Risio M, Muratore A, Capussotti L, Curley SA, Abdalla EK. Chemotherapy regimen predicts steatohepatitis and an increase in 90-day mortality after surgery for hepatic colorectal metastases. J Clin Oncol 24:2065-72, 5/2006. PMID: 16648507.
13.
Vauthey JN, Zorzi D, Pawlik TM. Making unresectable hepatic colorectal metastases resectable--does it work? Semin Oncol 32(6 Suppl 9):S118-22, 12/2005. PMID: 16399448.
14.
Pawlik TM, Scoggins CR, Zorzi D, Abdalla EK, Andres A, Eng C, Curley SA, Loyer EM, Muratore A, Mentha G, Capussotti L, Vauthey JN. Effect of surgical margin status on survival and site of recurrence after hepatic resection for colorectal metastases. Ann Surg 241(5):715-22, discussion 722-4, 5/2005. PMID: 15849507.
15.
Vauthey JN, Pawlik TM, Abdalla EK, Arens JF, Nemr RA, Wei SH, Kennamer DL, Ellis LM, Curley SA. Is extended hepatectomy for hepatobiliary malignancy justified? Ann Surg 239(5):722-30; discussion 730-2, 5/2004. PMID: 15082977.
16.
Vauthey JN, Abdalla EK, Doherty DA, Gertsch P, Fenstermacher MJ, Loyer EM, Lerut J, Materne R, Wang X, Encarnacion A, Herron D, Mathey C, Ferrari G, Charnsangavej C, Do KA, Denys A. Body surface area and body weight predict total liver volume in Western adults. Liver Transpl 8(3):233-40, 3/2002. PMID: 11910568.
17.
Vauthey JN, Lauwers GY, Esnaola NF, Do KA, Belghiti J, Mirza N, Curley SA, Ellis LM, Regimbeau JM, Rashid A, Cleary KR, Nagorney DM. Simplified staging for hepatocellular carcinoma. J Clin Oncol 20(6):1527-36, 3/2002. PMID: 11896101.
18.
Vauthey JN, Chaoui A, Do KA, Bilimoria MM, Fenstermacher MJ, Charnsangavej C, Hicks M, Alsfasser G, Lauwers G, Hawkins IF, Caridi J. Standardized measurement of the future liver remnant prior to extended liver resection: methodology and clinical associations. Surgery 127(5):512-9, 5/2000. PMID: 10819059.

Editorials

1.
Vauthey JN, Zimmitti G, Shindo J. From Couinaud to Molecular Biology: The Seven Virtues of HPB Surgery. HPB(14):493-499, 7/2012.
2.
Kopetz S, Vauthey JN. Perioperative chemotherapy in patients with resectable hepatic colorectal metastasis. Lancet 371(9617):963-965, Mar 22, 4/2008.
3.
Vauthey JN. Colorectal liver metastases: treat effectively upfront and consider the borderline resectable. J Clin Oncol 25(29):4524-4525, 11/2007.
© 2010 The University of Texas M. D. Anderson Cancer Center