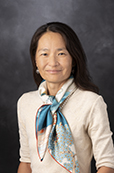 '
Jessica P. Hwang, MD, MPH
Present Title & Affiliation
Primary Appointment
Associate Professor, Tenured, Department of General Internal Medicine, Division of Internal Medicine, The University of Texas MD Anderson Cancer Center, Houston, TX
Education & Training
Degree-Granting Education

1996
The University of Texas Medical School, Houston, TX, MD, Internal Medicine
1996
Emory University, Rollins School of Public Health, Atlanta, GA, MPH, Epidemiology and International Health
1991
The University of Texas, Austin, TX, BA, French Studies

Postgraduate Training

4/2010-9/2010

Clinical Safety and Effectiveness (CS&E) Program, "Patient Scheduling and Appointment Cycle Time in the Ambulatory Treatment Center", The University of Texas MD Anderson Cancer Center, Houston, TX

7/1996-12/2000

Residency, The University of Texas Medical School, Houston, TX, Mark A. Farnie, MD

6/1995-8/1995

William and Flora Hewlett Internship, Carter Presidential Center, Atlanta, GA, William H. Foege, MD
Board Certifications
| | |
| --- | --- |
| 2013 | Internal Medicine Recertification |
| 2002 | Internal Medicine |
Experience/Service
Academic Appointments
Assistant Professor, Tenure track, Department of General Internal Medicine, Division of Internal Medicine, The University of Texas MD Anderson Cancer Center, Houston, TX, 9/2005-8/2012
Assistant Professor, Non-tenure track, Department of General Internal Medicine, Division of Internal Medicine, The University of Texas MD Anderson Cancer Center, Houston, TX, 1/2001-8/2005
Other Appointments/Responsibilities
Study Chair, Southwest Oncology Group (SWOG) S1204: Sero-epidemiologic Survey and Cost-effectiveness Study of Screening for HIV, HBV, and HCV among Newly Diagnosed Cancer Patients, Seattle, WA, 7/2013-present
Member, Community Clinical Oncology Program Research Base Steering Committee, The University of Texas MD Anderson Cancer Center, Houston, TX, 2012
Honors and Awards
2011

"Reactivation of Hepatitis B Infection Among Patients with Cancer," selected as one of the Best AASLD Abstracts at the British Association for the Study of the Liver Annual Meeting,

British Association for the Study of the Liver

2011

Cyrus Scholar Award for Clinical Research Division of Internal Medicine, The University of Texas MD Anderson Cancer Center

2011

Fellow, American College of Physicians

2010

"Reactivation of Hepatitis B Infection Among Patients with Cancer," selected as one of the Best of ASCO Abstracts at Multinational Association of Supportive Care in Cancer Annual Meeting,

Multinational Association of Supportive Care in Cancer

2008-2011

National Institutes of Health Loan Repayment Program in Health Disparities,

Loan Repayment Program, NIH
Professional Memberships
American Association for the Study of Liver Diseases
Member, 2008-present
American Association for the Study of Liver Diseases - Hepatitis B Special Interest Group
Member, 2011-present
American Medical Association
Member, 1999-present
American Public Health Association
Reviewer, 2002-present
American Society of Clinical Oncology
Member, 2002-present
Harris County Medical Association
Member, 1999-present
Multinational Association of Supportive Care in Cancer
Member, 2008-present
Society of General Internal Medicine
Member, 2002-present
Texas Medical Association
Member, 1999-present
Selected Publications
Peer-Reviewed Original Research Articles

1.
Hwang JP, Lok, AS. Management of patients with hepatitis B who require immunosuppressive therapy. Nat Rev Gastroenterol Hepatol(4):209-19, 4/2014. e-Pub 11/2013. PMCID: PMC4170710.
2.
Yi JK, Lackey SC, Zahn MP, Castaneda J, Hwang JP. Human Papillomavirus Knowledge and Awareness Among Vietnamese Mothers. J Comm Health, 6/2013. PMCID: PMC3823738.
3.
Mahale P, Kontoyiannis DP, Chemaly RF, Jiang Y, Hwang JP, Davila M, Torres HA. Acute exacerbation and reactivation of chronic hepatitis C virus infection in cancer patients. J Hepatol 57(6):1177-85, 12/2012. e-Pub 8/2012. PMID: 22871500.
4.
Hwang JP, Vierling JM, Zelenetz AD, Lackey SC, Loomba R. Hepatitis B virus management to prevent reactivation after chemotherapy: a review. Support Care Cancer 20(11):2999-3008, 11/2012. e-Pub 8/2012. PMCID: PMC3469760.
5.
Hwang JP, Roundtree AK, Giralt SA, Suarez Almazor M. Late effects and healthcare needs of survivors of allogeneic stem cell transplantation: a qualitative study. BMJ Support Palliat Care, 11/2012. e-Pub 8/2012.
6.
Majumdar A, Curley S, Wu X, Brown P, Hwang JP, Shetty K, Yao Z, He AR, Li S, Katz L, Farci P, Mishra L.. Hepatic stem cells: transforming growth factor-b in hepatocellular carcinoma. Nat Rev Gastroenterol Hepatol 9(9):530-8, 9/2012. e-Pub 6/2012. PMCID: PMC3745216.
7.
Hwang JP, Fisch MJ, Zhang H, Kallen M, Routbort M, Lal L, Vierling JM, Suarez-Almazor M. Low Rates of Hepatitis B Virus Screening at the Onset of Chemotherapy (selected by editorial office for 8/2012 podcast interview). J Oncol Pract 8(4):e32-39, 7/2012. e-Pub 6/2012. PMCID: PMC3396827.
8.
Hwang JP, Roundtree AK, Suarez-Almazor M. Attitudes toward Hepatitis B Virus among Vietnamese, Chinese and Korean Americans in the Houston Area, Texas. J Comm Health 37(5):1091-1100, 2/2012. PMID: 22302653.
9.
Kallen MA, Terrell JA, Lewis-Patterson P, Hwang JP. Improving wait time for chemotherapy in an outpatient clinic at a comprehensive cancer center (selected by editorial office for 3/2012 podcast interview). J Oncol Pract 8(1):1-7, 1/2012. PMCID: PMC3266321.
10.
Choi JY, Hwang JP, Yi JK. Acculturation, Body Perception, Health Behaviors and Weight Status amoung Vietnamese. J Immigr Minor Health 13(6):1116-1124, 12/2011. PMID: 21487778.
11.
Hwang JP, Holmes HM, Kallen MA, Ensor J, Etchegaray J, Saab R, Arbuckle RB, King KM, Escalante CP. Accuracy of reporting current medications by cancer patients presenting to an emergency center. Support Care Cancer 18(10):1347-54, 10/2010. PMID: 19838868.
12.
Hwang JP, Mohseni M, Gor BJ, Wen S, Guerrero H, Vierling JM. Hepatitis B and hepatitis C prevalence and treatment referral among Asian Americans undergoing community-based hepatitis screening. Am J Public Health 100 Suppl 1:S118-24, 4/2010. e-Pub 2/2010. PMCID: PMC2837431.
13.
Hwang JP, Roundtree AK, Engebretson JC, Suarez-Almazor ME. Medical care of hepatitis B among Asian American populations: perspectives from three provider groups. J Gen Intern Med 25(3):220-7, 3/2010. e-Pub 1/2010. PMCID: PMC2839343.
14.
Hwang JP, Patlan J, de Achaval S, Escalante CP. Survival in cancer patients after out-of-hospital cardiac arrest. Support Care Cancer 18(1):51-5, 1/2010. e-Pub 4/2009. PMID: 19350284.
15.
Hwang JP, Hassan MM. Survival and hepatitis status among Asian Americans with hepatocellular carcinoma treated without liver transplantation. BMC Cancer(9):46, 2/2009. PMCID: PMC2644315.
16.
Zhukovsky DS, Hwang JP, Palmer JL, Willey J, Flamm AL, Smith ML. Wide variation in content of inpatient do-not-resuscitate order forms used at National Cancer Institute-designated cancer centers in the United States. Support Care Cancer 17(2):109-15, 2/2009. e-Pub 8/2008. PMID: 18682989.
17.
Hwang JP, Huang CH, Yi JK. Knowledge about hepatitis B and predictors of hepatitis B vaccination among Vietnamese American college students. J Am Coll Health 56(4):377-82, Jan-Feb, 1/2008. PMID: 18316280.
18.
Gor BJ, Jones LA, Hwang JP, Wei Q, Hoang T. Houston AANCART best practices: from vision to synergy to reality. Cancer 104(12 Suppl):2909-15, 12/2005. PMCID: PMC1704079.
19.
Hwang JP, Smith ML, Flamm AL. Challenges in outpatient end-of-life care: wishes to avoid resuscitation. J Clin Oncol 22(22):4643-5, 11/2004. PMID: 15542814.
20.
Hwang JP, Lam TP, Cohen DS, Donato ML, Geraci JM. Hematopoietic stem cell transplantation among patients with leukemia of all ages in Texas. Cancer 101(10):2230-8, 11/2004. PMID: 15484218.
Grant & Contract Support
Title:
Widespread vs. selective screening for hepatitis B infection prior to chemotherapy, CA167202-01A1
Funding Source:
NIH/NCI R21
Role:
Principal Investigator
Duration:
1/10/2013 - 12/31/2015
Title:
HBV reactivation among cancer patients receiving chemotherapy
Funding Source:
NIH/NCI K07 Career Development Award
Role:
Principal Investigator
Duration:
6/1/2010 - 5/31/2016
Title:
UT MD Anderson Cancer Center CCOP Research Center
Funding Source:
NIH
Role:
Program Collaborator
Principal Investigator:
Michael Fisch
Duration:
4/10/2007 - 3/31/2015