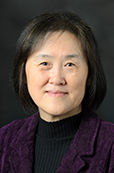 '
Jian Kuang, PhD
Present Title & Affiliation
Primary Appointment
Associate Professor (tenured), Department of Experimental Therapeutics, Division of Cancer Medicine, The University of Texas MD Anderson Cancer Center, Houston, TX
Research Interests
My research program has been centered on the molecular mechanisms and signaling pathways that control cell proliferation and transformation. My current studies are focused on two areas: (i) mechanisms that regulate the G2 to M phase (G2/M) transition in the cell cycle; and (iii) biological functions and regulation of the adaptor protein ALIX. The textbook model on mitotic control has significant conceptual gaps. Our goals are to identify the missing links and gain a more complete understanding of the regulatory system that controls entry and exit of mitosis. Achievement of these goals will provide a solid basis for elucidating the difference between normal and tumor cells in the cell cycle control and designing strategies to specifically abrogate the protective G2 checkpoint in cancer cells in cancer therapy. Our current focus is on the control of Cdc25C activation during G2/M transition. ALIX is a widely expressed adaptor protein, which my group cloned first in frogs as Xp95 and then in human as Hp95. Because ALIX overexpression in highly malignant HeLa cells inhibits various malignant phenotypes, ALIX must be at nexus of multiple signaling pathways that control cell transformation. We want are to define various biological functions of ALIX, identify the ones that are responsible for the malignancy inhibitory functions, and understand the molecular mechanisms that regulate ALIX functions. Our long-term goal is to develop drugs that enhance/restore these functions in cancer cells and use them in cancer therapy.
Education & Training
Degree-Granting Education

1990
The University of Texas-Houston Graduate School of Biomedical Sciences, Houston, TX, PHD, Biochemistry and Cell Biology
1981
Beijing Normal University, Beijing, China, MS, Cell Biology
1977
Beijing Teacher's College, Beijing, China, BS, Biology

Postgraduate Training

6/1990-8/1992

Research Fellowship, Departments of Medical Oncology and Biochemistry, The University of Texas MD Anderson Cancer Center, Houston, TX, Drs. Potu N. Rao and Grady F Saunders
Selected Publications
Peer-Reviewed Original Research Articles

1.
Sun S, Zhou X, Zhang W, Gallick GE, Kuang J. Unraveling the pivotal role of ALIX in MVB sorting and silencing of activated EGFR. Biochemical Journal 466(3):475-487, 3/2015.
2.
Wu CF, Liu S, Lee YC, Wang R, Sun S, Yin F, Bornmann WG, Yu-Lee LY, Gallick GE, Zhang W, Lin SH, Kuang J.. RSK promotes G2/M transition through activating phosphorylation of Cdc25A and Cdc25B. Oncogene 33(18):2385-94, 5/2014. e-Pub 5/2013. PMCID: PMC4026278.
3.
Zhang S, Mercado-Uribe I, Xing Z, Sun B, Kuang J, Liu J. Generation of cancer stem-like cells through the formation of polyploid giant cancer cells. Oncogene 33(116-128), 1/2014. e-Pub 3/2013. PMCID: PMC3844126.
4.
Boyan Zhang, Ou Wang, Jingchao Qin1, Shuaishuai Liu, Sheng Sun, Huitu Liu, Jian Kuang, Guohua Jiang and Wei Zhang. cis-Acting elements and trans-acting factors in the transcriptional regulation of raf kinase inhibitory protein expression. Plos One 8(12):e83097, 12/2013. PMCID: PMC3873293.
5.
Lee YC, Bilen MA, Yu G, Lin SC, Huang CF, Ortiz A, Cho H, Song JH, Satcher RL, Kuang J, Gallick GE, Yu-Lee LY, Huang W, Lin SH. Inhibition of cell adhesion by a cadherin-11 antibody thwarts bone metastasis. Mol Cancer Res 11(11):1401-11, 11/2013. e-Pub 8/2013. PMCID: PMC3834228.
6.
He G, Kuang J, Koomen J, Kobayashi R, Khokhar AR, Siddik ZH.. Recruitment of trimeric proliferating cell nuclear antigen by G1-phase cyclin-dependent kinases following DNA damage with platinum-based antitumour agents. Br J Cancer 109(9):2378-2388, 10/2013. e-Pub 10/2013. PMCID: PMC3817341.
7.
Zhang X, Cao Q, Liu X, Liu S, Wang J, Sun S, Wang O, Tian Z, Liu H, Kuang J, Zhang W. Molecular and cellular evidence for malignancy inhibitor functions of p15RS. Cell Cycle 11(10):1988-98, 5/2012. e-Pub 5/2012. PMCID: PMCN/A.
8.
He G, Kuang J, Khokhar AR, Siddik ZH. The impact of S- and G2-checkpoint response on the fidelity of G1-arrest by cisplatin and its comparison to a non-cross-resistant platinum(IV) analog. Gynecol Oncol 122(2):402-9, 8/2011. e-Pub 5/2011. PMCID: PMC3601787.
9.
Zhou X, Si J, Corvera J, Gallick GE, Kuang J. Decoding the Intrinsic Mechanism that Prohibits ALIX Interaction with ESCRT and Viral Proteins. Biochem J 432(3):525-34, 12/15/2010. e-Pub 10/2010. PMID: 20929444.
10.
Wang R, Jung SY, Wu CF, Qin J, Kobayashi R, Gallick GE, Kuang J. Direct roles of RSK2 in Cdc25C activation in Xenopus oocyte maturation. Proc Natl Acad Sci U S A 107(46):19885-90, 11/16/2010. e-Pub 11/1/2010. PMCID: PMC2993414.
11.
Ji P, Smith SM, Wang Y, Jiang R, Song SW, Li B, Sawaya R, Bruner JM, Kuang J, Yu H, Fuller GN, Zhang W. Inhibition of gliomagenesis and attenuation of mitotic transition by MIIP. Oncogene 29(24):3501-8, 6/17/2010. e-Pub 4/26/2010. PMID: 20418911.
12.
Wu CF, Wang R, Liang Q, Liang J, Li W, Jung SY, Qin J, Lin SH, Kuang J. Dissecting the M phase-specific phosphorylation of serine-proline or threonine-proline motifs. Mol Biol Cell 21(9):1470-81, 5/1/2010. e-Pub 3/10/2010. PMCID: PMC2861607.
13.
Zhou X, Pan S, Sun L, Corvera J, Lee YC, Lin SH, Kuang J. The CHMP4b and Src docking sites in the Bro1 domain are autoinhibited in the native state of Alix. Biochem J 418(2):277-384, 3/1/2009. PMID: 19016654.
14.
Zhou X, Pan S, Sun L, Corvera J, Lin SH, Kuang J. The HIV-1 p6/EIAV p9 docking site in Alix is autoinhibited as revealed by a conformation-sensitive anti-Alix monoclonal antibody. Biochem J 414(2):215-220, 9/1/2008. e-Pub 8/2008. PMID: 18476810.
15.
Pan S, Wang R, Zhou X, Corvera J, Kloc M, Sifers R, Gallick GE, Lin SH, Kuang J. Extracellular Alix regulates integrin-mediated cell adhesions and extracellular matrix assembly. EMBO J 27(15):2077-2090, 8/6/2008. e-Pub 7/17/2008. PMCID: PMC2516883.
16.
Zhao Y, Haccard O, Wang R, Yu J, Kuang J, Jessus C, Goldberg ML. Roles of Greatwall Kinase in the Regulation of Cdc25 Phosphatase. Mol Biol Cell 19(4):1317-27, 4/2008. e-Pub 1/16/2008. PMCID: PMC2291418.
17.
Feng Z, Wu CF, Zhou X, Kuang J. Alternative polyadenylation produces two major transcripts of Alix. Arch Biochem Biophys 465(2):328-35, 9/15/2007. e-Pub 7/1/2007. PMID: 17673164.
18.
Wu CF, Delsert C, Faure S, Traverso EE, Kloc M, Kuang J, Etkin LD, Morin N. Tumorhead Distribution to Cytoplasmic membrane of Neural Plate Cells is Positively Regulated by Xenopus p21 - Activated Kinase 1 (X-PAK1). Dev Biol 308(1):169-186, 8/1/2007. e-Pub 5/24/2007. PMID: 17560976.
19.
Wang R, He G, Nelman-Gonzalez M, Ashorn CL, Gallick GE, Stukenberg PT, Kirschner MW, Kuang J. Regulation of Cdc25C by Erk-MAP kinases during the G2/M transition. Cell 128(6):1119-32, 3/23/2007. PMID: 17382881.
20.
Dejournett RE, Kobayashi R, Pan S, Wu C, Etkin LD, Clark RB, Bögler O, Kuang J. Phosphorylation of the proline-rich domain of Xp95 modulates Xp95 interaction with partner proteins. Biochem J 401(2):521-31, 1/15/2007. PMCID: PMC1820820.
21.
He G, Kuang J, Huang Z, Koomen J, Kobayashi R, Khokhar AR, Siddik ZH. Upregulation of p27 and its inhibition of CDK2/cyclin E activity following DNA damage by a novel platinum agent are dependent on the expression of p21. Br J Cancer 95(11):1514-24, 12/4/2006. e-Pub 11/7/2006. PMCID: PMC2360737.
22.
Pan S, Wang R, Zhou X, He G, Koomen J, Kobayashi R, Sun L, Corvera J, Gallick GE, Kuang J. Involvement of the conserved adaptor protein Alix in actin cytoskeleton assembly. J Biol Chem 281(45):34640-50, 11/10/2006. e-Pub 9/10/2006. PMID: 16966331.
23.
He G, Siddik ZH, Huang Z, Wang R, Koomen J, Kobayashi R, Khokhar AR, Kuang J. Induction of p21 by p53 following DNA damage inhibits both Cdk4 and Cdk2 activities. Oncogene 24(18):2929-43, 4/21/2005. PMID: 15735718.

Book Chapters

1.
Kuang J, Wang R. Mechanism of G2 Phase Arrest in DNA Damage-Induced Checkpoint Response. In: Checkpoint Controls and Targets in Cancer Therapy, First Edition. Humana Press: New Jersey, 2009.