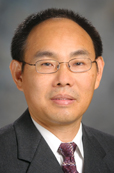 '
Jianjun Gao, MD, PhD
Present Title & Affiliation
Primary Appointment
Assistant Professor, Department of Genitourinary Medical Oncology, Division of Cancer Medicine, The University of Texas MD Anderson Cancer Center, Houston, TX
Office Address
The University of Texas MD Anderson Cancer Center
1155 Pressler St.
Unit Number: 1374
Houston, TX 77030
Room Number: CPB7.3510
Phone: 713-792-2830
Fax: 713-745-1625
Email: jgao1@mdanderson.org
Education & Training
Degree-Granting Education

2006
University of Kansas School of Medicine, Kansas City, KS, MD, Medicine
1997
University of Kansas, Kansas City, KS, PHD, Molecular Immunology
1993
Fudan University, China, MS Candidate, Genetics
1990
Nanjing Normal University, China, BS, Biology

Postgraduate Training

7/2010-6/2013

Clinical Fellowship, Medical Oncology, UT MD Anderson Cancer Center, Houston, TX

7/2006-2/2010

Clinical Residency, Internal Medicine, University of Wisconsin, Madison, WI
Board Certifications
| | |
| --- | --- |
| 2011 | American Board of Internal Medicine |
| 2006 | Wisconsin Physician License |
Honors and Awards
2014

American Society of Clinical Oncology Career Development Award (returned due to concurrent NIH K-12 award)

2013

MD Anderson Cancer Center Bladder Cancer SPORE Career Development Award,

MD Anderson Cancer Center

2013

MD Anderson Division of Cancer Medicine Hematology/Oncology Fellowship Program Achievement in Basic Science Research Award

2013

Stand Up To Cancer and the Cancer Research Institute Young Investigator Award

2013

The Paul Calabresi Clinical Oncology (NCI K-12) Award,

NCI

2013

The Sheikh Khalifa Bin Zayed Al Nahyan Scholar and Fellow,

MD Anderson Cancer Center

2013

The William L. Pippin Jr. Fellowship Award in Genitourinary Cancer Research

2012

American Association of Cancer Research Aflac Scholar-in-Training Award

2012

American Association of Cancer Research Highly Ranked Abstract Award

2012

American Society of Clinical Oncology Young Investigator Award

2012

National Institute of Health Loan Repayment Award

2012

Texas Society of Clinical Oncology Award of Excellence

2012

The Lupe C. Garcia Fellowship Award in Cancer Research

2011

Americn Society of Clinical Oncology Merit Award

2011

MD Anderson Cancer Center NIH T32 Trainee Award

2006

Helmuth Sprinz Award, University of Kansas Medical Center (KUMC)

2006

KUMC The Person Who Best Exemplifies the Attributes You Want in a Physician Award

2004

KUMC Doctor's Doctor Award

2003

KUMC Most Valuable Player of the Class Award

2003

National Institute of Health New Investigator Award

2002

University of Kansas Cultural Diversity Scholarship

2001

American Heart Association Beginning-Grant-in-Aid

1997

Kansas Health Foundation Fellowship Award
Selected Publications
Peer-Reviewed Original Research Articles

1.
Malouf G, Su X, Yao H, Gao JJ, Xiong L, He Q, Comperat E, Couturier J, Molinie V, Escudier B, Comparo P, Doss D, Thompson E, Khayat D, Wood C, Yu W, Teh BT, Weinstein J, Tannir N. Next generation sequencing of translocation renal carcinomas reveals novel RNA splicing partners and frequent mutations of chromatin remodeling genes. Clin Cancer Res. e-Pub 6/2014.
2.
Chen H, Fu T, Suh WK, Tsavachidou D, Wen S, Gao J, Tang DN, He Qiuming, Sun J, Sharma P. CD4 cells require ICOS-mediated P13K-signaling to increase T-bet expression in the setting of anti-CTLA therapy. Cancer Immunol Res 2(2):167-76, 2/2014. PMID: 24778280.
3.
Gou HF, Li X, Qiu M, Cheng K, Li LH, Dong H, Chen Y, Tang Y, Gao F, Zhao F, Men HT, Ge J, Su JM, Xu F, Bi F, Gao JJ, Liu JY. Epidermal growth factor receptor (EGFR)-RAS signaling pathway in penile squamous cell carcinoma. PLoS One 8(4):e62175, 2013. e-Pub 4/24/2013. PMCID: PMC3634795.
4.
Gao JJ, Maricque BB, Morse MD, Huang W, McNeel DG. Identification of autoantibodies in a patient with testicular cancer and concurrent inflammatory bowel disease. J Clin Oncol 28(33):e680-3, 11/2010. e-Pub 8/2010. PMID: 20805455.
5.
Gao JJ, Shen J, Kolbert C, Raghavakaimal S, Papasian CJ, Qureshi AA, Vogel SN, Morrison DC, Qureshi N. The proteasome regulates bacterial CpG DNA-induced signaling pathways in murine macrophages. Shock 34(4):390-401, 10/2010. PMCID: PMC2943147.
6.
Shen J, Gao JJ, Zhang G, Tan X, Morrison DC, Papasian C, Vogel SN, Qureshi N. Proteasome-mediated regulation of CpG DNA- and peptidoglycan-induced cytokines, inflammatory genes, and mitogen-activated protein kinase activation. Shock 25(6):594-9, 6/2006. PMID: 16721267.
7.
Lei MG, Gao JJ, Morrison DC, Qureshi N. Pathogenesis of sepsis: current concepts and emerging therapies. Mo Med 100(5):524-9, Sep-Oct, 9/2003. PMID: 14601445.
8.
Gao JJ, Diesl V, Wittmann T, Morrison DC, Ryan JL, Vogel SN, Follettie MT. Bacterial LPS and CpG DNA differentially induce gene expression profiles in mouse macrophages. J Endotoxin Res 9(4):237-43, 2003. PMID: 12935354.
9.
Papasian CJ, Silverstein R, Gao JJ, Bamberger DM, Morrison DC. Anomalous role of tumor necrosis factor alpha in experimental enterococcal infection. Infect Immun 70(12):6628-37, 12/2002. PMID: 12438335.
10.
Gao JJ, Diesl V, Wittmann T, Morrison DC, Ryan JL, Vogel SN, Follettie MT. Regulation of gene expression in mouse macrophages stimulated with bacterial CpG-DNA and lipopolysaccharide. J Leukoc Biol 72(6):1234-45, 12/2002. PMID: 12488506.
11.
Gao JJ, Xue Q, Papasian CJ, Morrison DC. Bacterial DNA and lipopolysaccharide induce synergistic production of TNF-alpha through a post-transcriptional mechanism. J Immunol 166(11):6855-60, 6/2001. PMID: 11359845.
12.
Chi L, Li Y, Stehno-Bittel L, Gao J, Morrison DC, Stechschulte DJ, Dileepan KN. Interleukin-6 production by endothelial cells via stimulation of protease-activated receptors is amplified by endotoxin and tumor necrosis factor-alpha. J Interferon Cytokine Res 21(4):231-40, 4/2001. PMID: 11359654.
13.
Gao JJ, Xue Q, Zuvanich EG, Haghi KR, Morrison DC. Commercial preparations of lipoteichoic acid contain endotoxin that contributes to activation of mouse macrophages in vitro. Infect Immun 69(2):751-7, 2/2001. PMCID: PMC97948.
14.
Gao JJ, Filla MB, Lorsbach RB, Pace JL, Crespo A, Russell SW, Murphy WJ. Prolonged exposure of mouse macrophages to IFN-beta suppresses transcription of the inducible nitric oxide synthase gene: altered availability of transcription factor Stat1alpha. Eur J Immunol 30(6):1551-61, 6/2000. PMID: 10898490.
15.
Chu W, Gao J, Murphy WJ, Hunt JS. A candidate interferon-gamma activated site (GAS element) in the HLA-G promoter does not bind nuclear proteins. Hum Immunol 60(11):1113-8, 11/1999. PMID: 10600009.
16.
Gao JJ, Zuvanich EG, Xue Q, Horn DL, Silverstein R, Morrison DC. Cutting edge: bacterial DNA and LPS act in synergy in inducing nitric oxide production in RAW 264.7 macrophages. J Immunol 163(8):4095-9, 10/1999. PMID: 10510342.
17.
Gao JJ, Filla MB, Fultz MJ, Vogel SN, Russell SW, Murphy WJ. Autocrine/paracrine IFN-alphabeta mediates the lipopolysaccharide-induced activation of transcription factor Stat1alpha in mouse macrophages: pivotal role of Stat1alpha in induction of the inducible nitric oxide synthase gene. J Immunol 161(9):4803-10, 11/1998. PMID: 9794412.
18.
Gao J, Morrison DC, Parmely TJ, Russell SW, Murphy WJ. An interferon-gamma-activated site (GAS) is necessary for full expression of the mouse iNOS gene in response to interferon-gamma and lipopolysaccharide. J Biol Chem 272(2):1226-30, 1/1997. PMID: 8995425.

Invited Articles

1.
Gao J, Bernatchez C, Sharma P, Radvanyi LG, Hwu P. Advances in the development of cancer immunotherapies. Trends Immunol 34(2):90-8, 2/2013. e-Pub 9/2012. PMID: 23031830.
2.
Lizée G, Overwijk WW, Radvanyi L, Gao J, Sharma P, Hwu P. Harnessing the power of the immune system to target cancer. Annu Rev Med 64:71-90, 2013. e-Pub 10/2012. PMID: 23092383.
© 2014 The University of Texas MD Anderson Cancer Center