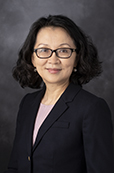 '
Jing Li, M.D., Ph.D.
Present Title & Affiliation
Primary Appointment
Assistant Professor, Department of Radiation Oncology, Division of Radiation Oncology, The University of Texas MD Anderson Cancer Center, Houston, TX
Education & Training
Degree-Granting Education

2006
University of Wisconsin School of Medicine and Public Health, Madison, WI, MD, Medicine
1995
University of Wisconsin School of Medicine and Public Health, Dept. of Biomolecular Chemistry, Madison, WI, PHD, Role of EGFR in Cell Adhesion and Motility
Honors and Awards
2008

Resident Research Award,

Sino-American Network for Therapeutic Radiology and Oncology (SANTRO) Symposium

2006

Award for Excellence in Quality of Life Research,

11th Annual Meeting of the Society for Neuro-Oncology

2006

Herman and Gwen Shapiro Senior Research Award,

University of Wisconsin

2005

Lewis E. and Edith Phillips Scholarship,

University of Wisconsin

2003

Dr. Otto Mortensen Scholarship for Excellence in Gross Anatomy

2003

Summer Scholarship for Internal Medicine,

American College of Physicians

2002-2006

Merit Scholarship,

University of Wisconsin

2000-2001

NIH Postdoctoral Research Fellowship,

NIH

1997-1998

NIH Predoctoral Research Fellowship,

NIH

1988-1992

Dean's List,

University of Science and Technology of China
Selected Publications
Peer-Reviewed Original Research Articles

1.
Wang X, Posenisch F, Narayan S, Zhu R, Lii M, GIllin M, Li J, Grosshans D. Spot scanning proton therapy minimizes neutron dose in the setting of radiation therapy administered during pregnancy: a real case study. J Appl Clin Med Phys. In Press.
2.
Bernstein MB, Chang EL, Amini B, Pan H, Cabanillas M, Wang XA, Allen PK, Rhines LD, Tatsui C, Li J, Brown PD, Ghia AJ. SPINE STEREOTACTIC RADIOSURGERY FOR PATIENTS WITH METASTATIC THYROID CANCER - Secondary analysis of Phase I/II trials. Thyroid. e-Pub 6/22/2016. PMID: 27334245.
3.
Ho JC, Tang C, Deegan BJ, Allen PK, Jonasch E, Amini B, Wang XA, Li J, Tatsui CE, Rhines LD, Brown PD, Ghia AJ. The use of spine stereotactic radiosurgery for oligometastatic disease. J Neurosurg Spine. e-Pub 4/1/2016. PMID: 27035507.
4.
Ghia AJ, Rebueno NC, Li J, Brown PD, Rhines LD, Tatsui CE. The use of image guided laser interstitial thermotherapy to supplement spine stereotactic radiosurgery to manage metastatic epidural spinal cord compression: Proof of concept and dosimetric analysis. Pract Radiat Oncol 6(2):e35-8, Mar-Apr, 3/2016. e-Pub 11/11/2015. PMID: 26577007.
5.
Walker G, Zhao Z, Tsai J, Wang X, Lang F. Mahajan A, Brown PD, McAleer MF, Li J. Dose painting with Gamma Knife: Two techniques for delivering different doses to areas of recurrent or residual tumor after resection of brain metastases. Practical Radiation Oncology 5(6):390-397, 2015 Nov-Dec, 11/2015. e-Pub 8/2015.
6.
Amini B, Beaman CB, Madewell JE, Allen PK, Rhines LD, Tatsui CE, Tannir, NM, Li J, Brown PD, Ghia AJ. Osseous Pseudoprogression in Vertebral Bodies Treated with Stereotactic Radiosurgery: A Secondary Analysis of Prospective Phase I/II Clinical Trials. AJNR, 10/2015. e-Pub 10/2015.
7.
Strickland B, Cachia D, Jalali A, Cykowski M, Panes-Prado M, Langford L, Li J, Shah K, Weinberg J. Spinal anaplastic oligodendroglioma with oligodendrogliomatosis: molecular markers and management. J Neurosurgery, 9/2015. PMID: 26352098.
8.
Bishop AJ, Tao R, Rebueno NC, Christensen EN, Allen PK, Wang XA, Amini B, Tannir NM, Tatsui CE, Rhines LD, Li J, Chang EL, Brown PD, Ghia AJ. Outcomes for Spine Stereotactic Body Radiation Therapy and an Analysis of Predictors of Local Recurrence. Int J Radiat Oncol Biol Phys 92(5):1016-26, 8/1/2015. e-Pub 4/4/2015. PMID: 26025777.
9.
Edson MA, Fuller GN, Allen PK, Levine NB, Ghia AJ, Mahajan A, Brown PD, Demonte F, Li J. Outcomes after surgery and radiotherapy for papillary tumor of the pineal region. World Neurosurgery 84(1):76-81, 7/2015. e-Pub 3/2015. PMID: 25749579.
10.
Tatsui CE. Utilization of laser interstitial thermotherapy guided with real time thermal MRI as an alternative to separation surgery in the management of spine metastasis. Neurosurgery Spine. e-Pub 7/2015. PMID: 26140398.
11.
Takiar V, Ma D, Ang KK, Garden AS, Li J, Rosenthal DI, Beadle BM, Frank SJ, Fuller CD, Gunn GB, Morrison WH, Hutcheson K, El-Naggar AK, Gold KA, Kupfermann ME, Phan J. Disease control and toxicity outcomes for T4 carcinoma of nasopharynx treated with intensity modulated radiotherapy. Head and Neck. e-Pub 5/2015. PMID: 25994561.
12.
Voong R, Farnia B, Wang Q, Luo D, Rao G, Guha-Thakurta, Likhacheva A, Ghia A, Brown P, Li J. Gamma knife stereotactic radiosurgery in the treatment of brainstem metastases: the MD Anderson experience neuro-oncology practice. Neurooncol Pract 2(1):40-47, 3/2015. e-Pub 3/2015. PMCID: PMCPMC4369709.
13.
Huo L, Wang X, Allen PK, Wang L, Liao Y, Han Z, Shen L, Tu Q, Zhong M, Zhaung Y, Li J, Hong J. Predictors of long-term survival following postoperative radiochemotherapy for pathologically confirmed suprasellar germ cell tumors. Molecular and Clinical Oncology 3(2):430-434, http://www.spandidos-publications.com/mco/3/2/430?text=fulltext, March, 2015, 3/2015. e-Pub 11/2014. PMCID: PMCPMC4360867.
14.
Sellin JN, Suki D, Rhines LD, Settle SH, Brown PD, Li J, Rao G, Chang EL, Reichardt W, Tatsui CE. Factors affecting survival in 37 consecutive patients undergoing stereotactic radiosurgery for single site of vertebral body metastasis from Renal Cell Carcinoma. Journal of Neurosurgery: Spine 22(1):52 - 59, 2015 Jan, 1/2015.
15.
Farnia B, Allen PK, Brown PD, Khatua S, Levine NB, Li J, Penas-Prado M, Mahajan A, Ghia AJ. Clinical outcomes and patterns of failure in pineoblastoma: a 30-year single institution retrospective review. World Neurosurg 82(6):1232-1241, 12/2014. e-Pub 7/18/2014. PMID: 25045788.
16.
Weber DC, Wang Y, Miller R, Villà S, Zaucha R, Pica A, Poortmans P, Anacak Y, Ozygit G, Baumert B, Haller G, Preusser M, Li J. Long term outcome of patients with spinal myxopapillary ependymoma: treatment results from the MD Anderson Cancer Center and institutions from the Rare Cancer Network. Neuro Oncol. e-Pub 10/9/2014. PMID: 25301811.
17.
Tsai CJ, Wang Y, Allen PK, Mahajan A, McCutcheon IE, Rao G, Rhines LD, Tatsui CE, Armstrong TS, Maor MH, Chang EL, Brown PD, Li J. Outcomes after surgery and radiotherapy for spinal myxopapillary ependymoma: update of the MD Anderson Cancer Center experience. Neurosurgery 75(3):205-14; discussion 213-4, 9/2014. PMID: 24818785.
18.
Tsai CJ, Li J, Gonzalez-Angulo AM, Allen PK, Woodward WA, Ueno NT, Lucci A, Krishnamurthy S, Gong Y, Yang W, Cristofanilli M, Valero V, Buchholz TA. Outcomes after multidisciplinary treatment of inflammatory breast cancer in the era of neoadjuvant HER2-directed therapy. Am J Clin Oncol. e-Pub 5/2013. PMCID: PMC3880388.
19.
Walker GV, Li J, Mahajan A, McAleer MF, de Groot JF, Azeem SS, Brown PD. Decreasing radiation therapy utilization in adult patients with glioblastoma multiforme: a population-based analysis. Cancer 118(18):4538-4544, 9/15/2012. e-Pub 2/22/2012. PMID: 22359097.
20.
Li J, Wang M, Won M, Shaw EG, Coughlin C, Curran WJ, Mehta MP. Validation and simplification of the Radiation Therapy Oncology Group recursive partitioning analysis classification for glioblastoma multiforme. Int J Radiat Oncol Biol Phys 81(3):623-630, 11/1/2011. e-Pub 10/1/2010. PMCID: PMC3783211.
21.
Li J, Dabaja B, Reed V, Allen PK, Cai H, Amin MV, Garcia JA, Cox JD. Rationale for and preliminary results of proton beam therapy for malignant mediastinal lymphoma. Int J Radiat Oncol Biol Phys 81(1):167-174, 9/1/2011. e-Pub 7/17/2010. PMID: 20643518.
22.
Li J, Gonzalez-Angulo AM, Allen PK, Yu TK, Woodward WA, Ueno NT, Lucci A, Krishnamurthy S, Gong Y, Bondy ML, Yang W, Willey JS, Cristofanilli M, Valero V, Buchholz TA. Triple-negative/basal subtype predicts poor overall survival and high locoregional relapse in inflammatory breast cancer. Oncologist 16(12):1675 - 1683, 2011. e-Pub 12/6/2011. PMCID: PMC3248766.
23.
Li J, Bentzen SM, Li J, Renschler M, Mehta MP. Relationship between neurocognitive function and quality of life following whole brain irradiation in patients with brain metastases. Int J Radiat Oncol Biol Phys 71(1):64-70, 5/1/2008. PMID: 18406884.
24.
Li J, Bentzen SM, Renschler M, Mehta MP. Regression after whole-brain radiation therapy for brain metastases correlates with survival and improved neurocognitive function. J Clin Oncol 25(10):1260-1266, 4/1/2007. PMID: 17401015.
25.
Li J, Huang S, Armstrong EA, Fowler JF, Harari PM. Angiogenesis and radiation response modulation after vascular endothelial growth factor receptor-2 (VEGFR2) blockade. Int J Radiat Oncol Biol Phys 62(5):1477-1485, 8/1/2005. PMID: 16029810.
26.
Huang SM, Li J, Armstrong EA, Harari PM. Modulation of radiation response and tumor-induced angiogenesis after EGFR inhibition by ZD1839 (Iressa). Cancer Res 62(15):4300-4306, 8/1/2002. PMID: 12154033.
27.
Huang SM, Li J, Harari PM. Molecular inhibition of angiogenesis and metastatic potential in human squamous cell carcinomas after epidermal growth factor receptor blockade. Mol Cancer Ther 1(17):507-514, 5/2002. PMID: 12479268.
28.
Li J, Kim YN, Bertics PJ. PDGF-stimulated migration of murine fibroblasts is associated with EGF receptor expression and tyrosine phosphorylation. J Biol Chem 275(4):2951-2958, 1/2000. PMID: 10644765.
29.
Li J, Lin ML, Wiepz GJ, Guadarrama AG, Bertics PJ. Integrin-mediated migration of murine B82L fibroblasts is dependent on the expression of an intact epidermal growth factor receptor. J Biol Chem 274(16):11209-11219, 4/16/1999. PMID: 10196208.