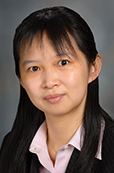 '
Jing Ning
Present Title & Affiliation
Primary Appointment
Assistant Professor, Department of Biostatistics, Division of Quantitative Sciences, The University of Texas MD Anderson Cancer Center, Houston, TX
Dual/Joint/Adjunct Appointment
Assistant Professor, School of Public Health, Biostatistics, The University of Texas, Houston, TX
Research Interests
Design and analysis of clinical trials

Joint modeling of disease recurrence and survival

Joint modeling of longitudinal measurements and recurrent events

Nonparametric and semi-parametric statistical methods

Univariate and multivariate survival analysis
Office Address
The University of Texas MD Anderson Cancer Center
1400 Pressler St
Unit Number: 1411
Houston, TX 77030
Room Number: FCT4. 6006
Phone: 713-792-5310
Fax: 713-563-4242
Email: jning@mdanderson.org
Education & Training
Degree-Granting Education

2008
Johns Hopkins University, Baltimore, MD, PHD, Biostatistics
2002
University of Science and Technology of China, Hefei, Anhui, China, MS, Probability and Statistics
1999
University of Science and Technology of China, Hefei, Anhui, China, BS, Statistics

Postgraduate Training

9/2007-6/2009

Postdoctoral Fellow, Department of Biostatistics, The University of Texas MD Anderson Cancer Center, Houston, TX
Honors and Awards
2003

Faculty Award for Outstanding Academic Achievement,

Johns Hopkins University

2002

"Shing-Tung Yau" Award in Recognition of Excellent Research Achievements,

University of Science and Technology of China

1997

Award for Global Top Five Scores in Exam 100 by Society of Actuaries,

Society of Actuaries
Professional Memberships
American Statistical Association
Member, 2005-present
Eastern North American Region (ENAR), International Biometric Society
Member, 2005-present
Institute of Mathematical Statistics
Member, 2011-present
International Chinese Statistical Association
Member, 2011-present
Selected Publications
Peer-Reviewed Original Research Articles

1.
Ning J, Bandeen-Roche K. Estimation of time-dependent association for bivariate failure times in the presence of a competing risk. Biometrics 70(1):10-20, 3/2014. e-Pub 12/18/2013. PMCID: PMC3954442.
2.
Huang X, Ning J, Wahed AS. Optimization of individualized dynamic treatment regimes for recurrent diseases. Stat Med. e-Pub 2/9/2014. PMID: 24510534.
3.
Ning J, Qin J, Shen Y. Semiparametric accelerated failure time model for length-biased data with application to dementia study. Stat Sin 24(1):313-333, 1/1/2014. PMCID: PMC3903417.
4.
Liu S, Ning J. A bayesian dose-finding design for drug combination trials with delayed toxicities. Bayesian Analysis 8(3):703-722, 2013.
5.
Ning J, Qin J, Asgharian M, Shen Y. Empirical likelihood-based confidence intervals for length-biased data. Stat Med 32(13):2278-91, 6/2013. e-Pub 10/2012. PMID: 23027662.
6.
Hwang KO, Ning J, Trickey AW, Sciamanna CN. Website usage and weight loss in a free commercial online weight loss program: retrospective cohort study. J Med Internet Res 15(1):e11, 2013. e-Pub 1/2013. PMCID: PMC3636231.
7.
Liu S, Cai C, Ning J. Up-and-down designs for phase I clinical trials. Contemp Clin Trials 36(1). e-Pub 7/2013. PMID: 23856381.
8.
Takahashi K, Pemmaraju N, Strati P, Nogueras-Gonzalez G, Ning J, Bueso-Ramos C, Luthra R, Pierce S, Cortes J, Kantarjian H, Garcia-Manero G. Clinical characteristics and outcomes of therapy-related chronic myelomonocytic leukemia. Blood 122(16):2807-11, 10/17/2013. e-Pub 7/29/2013. PMCID: PMC3798995.
9.
Badgwell B, Stanley J, Chang GJ, Katz MH, Lin HY, Ning J, Klimberg SV, Cormier JN. Comprehensive geriatric assessment of risk factors associated with adverse outcomes and resource utilization in cancer patients undergoing abdominal surgery. J Surg Oncol 108(3):182-6, 9/2013. e-Pub 6/2013. PMID: 23804149.
10.
Rahbar MH, del Junco DJ, Huang H, Ning J, Fox EE, Zhang X, Schreiber MA, Brasel KJ, Bulger EM, Wade CE, Cotton BA, Phelan HA, Cohen MJ, Myers JG, Alarcon LH, Muskat P, Holcomb JB, PROMMTT Study Group. A latent class model for defining severe hemorrhage: experience from the PROMMTT study. J Trauma Acute Care Surg 75(1 Suppl 1):S82-8, 7/2013. PMCID: PMC3744183.
11.
Zhou JH, Kim KB, Myers JN, Fox PS, Ning J, Bassett RL, Hasanein H, Prieto VG. Immunohistochemical expression of hormone receptors in melanoma of pregnant women, non-pregnant women and men. Am J Dermatopathol. e-Pub 6/27/2013. PMCID: PMC3795893.
12.
Trickey AW, Fox EE, Del Junco DJ, Ning J, Holcomb JB, Brasel KJ, Cohen MJ, Schreiber MA, Bulger EM, Phelan HA, Alarcon LH, Myers JG, Muskat P, Cotton BA, Wade CE, Rahbar MH. The impact of missing trauma data on predicting massive transfusion. J Trauma Acute Care Surg 75:S68-S74, 7/2013. PMCID: PMC3736742.
13.
Huang X, Ning J. Analysis of multi-stage treatments for recurrent diseases. Stat Med 31(24):2805-21, 10/30/2012. e-Pub 7/24/2012. PMCID: PMC3500149.
14.
Shen Y, Ning J, Qin J. Likelihood approaches for the invariant density ratio model with biased-sampling data. Biometrika 99(2):363-378, 6/2012. e-Pub 3/30/2012. PMCID: PMC3635710.
15.
Rahbar MH, Chen Z, Jeon S, Gardiner JC, Ning J. A nonparametric test for equality of survival medians. Stat Med 31(9):844-54, 4/2012. e-Pub 2/2012. PMID: 22302559.
16.
Diao G, Ning J, Qin J. Maximum likelihood estimation for semiparametric density ratio model. Int J Biostat 8(1), 2012. e-Pub 6/2012. PMID: 22745024.
17.
Qin J, Ning J, Liu H, Shen Y. Maximum likelihood estimations and EM algorithms with length-biased data. J Am Stat Assoc 106(496):1434-1449, 12/2011. PMCID: PMC3273908.
18.
Ning J, Qin J, Shen Y. Buckley-James-type estimator with right-censored and length-biased data. Biometrics 67(4):1369-1378, 12/2011. e-Pub 3/2011. PMCID: PMC3137763.
19.
Ning J, Qin J, Shen Y. Nonparametric tests for right-censored data with biased sampling. J R Stat Soc Series B Stat Methodol 72(5):609-630, 11/2010. PMCID: PMC2963462.
20.
Ning J, Huang X. Response-adaptive randomization for clinical trials with adjustment for covariate imbalance. Stat Med 29(17):1761-8, 7/2010. PMCID: PMC2911996.
21.
Shen Y, Ning J, Qin J. Analyzing length-biased data with semiparametric transformation and accelerated failure time models. J Am Stat Assoc 104(487):1192-1202, 9/2009. PMCID: PMC2972554.
22.
Huang X, Ning J, Li Y, Estey E, Issa JP, Berry DA. Using short-term response information to facilitate adaptive randomization for survival clinical trials. Stat Med 28(12):1680-9, 5/2009. PMCID: PMC2883264.
23.
Bandeen-Roche K, Ning J. Non-parametric estimation of bivariate failure time associations in the presence of a competing risk. Biometrika 95(1):221-232, 3/2008. PMCID: PMC2841410.
24.
Hui J, Miao B, Ning J, Peng H. Nonparametric estimation for contamination distribution. Applied Mathematics 23(2):175-182, 2008.
25.
Lei M, Miao B, Ning J. Study of Shanghai stock index and the policy effect with survival analysis. Application of Statistics and Management 22(6):46-50, 2003.
26.
Li H, Ning J, Fang Z. Logistic model for the questionnaire about environment protecting consciousness. Application of Statistics and Management 21(3):6-10, 2002.
27.
Miao B, Ning, J, Xiao J, Dai X. Statistical Analysis and amendment of evaluation data. Journal of University of Science and Technology of China 32(1):56-61, 2/2002.
28.
Ning J, Xiao J, Miao B. Analysis of fatty liver and its influencing factors. Application of Statistics and Management 12(3):9-12, 2001.
29.
Miao B, Xiao J, Ning J, Zhang W. Statistics Analysis and prediction on the market of cement industry. Operations Research and Management Science 10(4):120-125, 2001.
30.
Miao B, Ning J, Xiao J. The application of principal component and factor analysis in analyzing physical examination data. Application of Statistics and Management 19(6):16-19, 2000.
31.
Tang X, Alatrash G, Ning J, Jakher H, Stafford P, Zope M, Shpall EJ, Jones RB, Champlin RE, Thall PF, Andersson BS. Increasing Chimerism Following Allogeneic Stem Cell Transplantation is Associated with Longer Survival Time. Biol Blood Marrow Transplant. e-Pub 4/2014. PMID: 24727332.
32.
Hao Liu, Yu Shen, Jing Ning, Jing Qin. Sample Size Calculations for Prevalent Cohort Designs. Statistical Methods in Medical Research. In Press.
33.
Jing Ning, Jing Qin, Yu Shen. Score Estimating Equations from Embedded Likelihood Functions under Accelerated Failure Time Model. Journal of the American Statistical Association. In Press.

Abstracts

1.
Li, Q., Ning, J., Bandeen-Roche, K., Fallin, M.D. Associating haplotypes with trajectories from longitudinal studies. GENETIC EPIDEMIOLOGY 31(5):457, 7/2007.
Grant & Contract Support
Title:
Cancer Center Support Grant - Biostatistics Shared Resource (PPSR-21)
Funding Source:
NIH/NCI
Role:
Statistician
Principal Investigator:
Ronald DePinho
Duration:
9/6/2013 - 6/30/2018
Title:
Statistical Methodology Development in Blood Transfusion Protocol Research
Funding Source:
NIH (Subcontract from UT Health Science Center)
Role:
Co-Principal Investigator
Principal Investigator:
M. Hossein Rahbar & Jing Ning
Duration:
7/15/2013 - 4/30/2014
Title:
Cincinnati Center for Clinical and Translational Sciences and Training
Funding Source:
NIH/NCI (Subcontract from the University of Cincinnati)
Role:
Co-Investigator
Principal Investigator:
Christopher Lindsell
Duration:
10/1/2011 - 3/31/2012
Title:
PROSPECTIVE, RANDOMIZED OPTIMAL PLATETS & PLASMA RATIOS
Funding Source:
NIH/NHLBI
Role:
Co-Investigator
Principal Investigator:
Barbara C. Tilley
Duration:
9/1/2010 - 8/31/2011
Title:
TCD WITH TRANSFUSIONS CHANGING TO HYDROXYUREA
Funding Source:
NIH/NHLBI
Role:
Biostatistician
Principal Investigator:
Russell E. Ware
Duration:
8/21/2010 - 8/31/2011
Title:
Statistical Methods for Breast Cancer Prevention and Treatment Studies
Funding Source:
NIH/NCI
Role:
Co-Investigator
Principal Investigator:
Yu Shen
Duration:
8/1/1999 - 4/30/2015
© 2014 The University of Texas MD Anderson Cancer Center