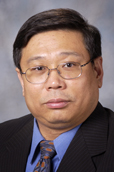 '
Jing Wang, PhD
Present Title & Affiliation
Primary Appointment
Associate Professor, Department of Bioinformatics and Computational Biology, Division of Quantitative Sciences, The University of Texas MD Anderson Cancer Center, Houston, TX
Education & Training
Degree-Granting Education

1998
The University of Manitoba, National Research Council of Canada, Winnipeg, MB, Canada, PHD, Biophysics
1992
The University of Manitoba, Winnipeg, MB, Canada, MS, Physics
1989
The University of Winnipeg, Winnipeg, MB, Canada, BS, Physics
Experience/Service
Academic Appointments
Assistant Professor, Division of Quantitative Sciences, The University of Texas MD Anderson Cancer Center, Houston, TX, 9/2010
Instructor, Department of Bioinformatics and Computational Biology, Division of Quantitative Sciences, University of Texas MD Anderson Cancer Center, Houston, TX, 1/2004-8/2010
Research Associate, Department of Biostatistics, University of Texas M.D. Anderson Cancer Center, Houston, TX, 8/2000-1/2004
Postdoctoral Research Fellow, Vascular Cell Biology Lab, Texas Heart Institute/ University of Texas Houston Medical School, Houston, TX, 2/1999-7/2000
Technical Officer, Institute for Biodiagnostics, National Research Council of Canada, Winnipeg, Canada, 2/1994-2/1999
Instructor II, Department of Physics, University of Winnipeg, Manitoba, Canada, 9/1992-4/1993
Teaching Assistant, Department of Physics, University of Winnipeg, Manitoba, MB, Canada, 9/1989-4/1992
Teaching Assistant, Department of Physics, University of Winnipeg, Manitoba, MB, Canada, 9/1986-4/1989
Honors and Awards
2002

Best Presentation,

CAPDA 2002

2002

Best Presentation,

CAMDA 2002

2001

Best Presentation,

CAMDA 2001

1995

Best Presentation,

American College of Surgeons, Manitoba Chapter
Selected Publications
Peer-Reviewed Original Research Articles

1.
Wan X, Liu J, Lu JF, Tzelepi V, Yang J, Starbuck MW, Diao L, Wang J, Efstathiou E, Vazquez ES, Troncoso P, Maity SN, Navone NM. Activation of β-catenin signaling in androgen receptor-negative prostate cancer cells. Clin Cancer Res 18(3):726-36, 2/1/2012. PMCID: PMC3271798.
2.
Ihle NT, Byers LA, Kim ES, Saintigny P, Lee JJ, Blumenschein GR, Tsao A, Liu S, Larsen JE, Wang J, Diao L, Coombes KR, Chen L, Zhang S, Abdelmelek MF, Tang X, Papadimitrakopoulou V, Minna JD, Lippman SM, Hong WK, Herbst RS, Wistuba II, Heymach JV, Powis G. Effect of KRAS oncogene substitutions on protein behavior: implications for signaling and clinical outcome. J Natl Cancer Inst 104(3):228-39, 2/8/2012. e-Pub 1/13/2012. PMCID: PMC3274509.
3.
He Y, Zhou Z, Hofstetter WL, Zhou Y, Hu W, Guo C, Wang L, Guo W, Pataer A, Correa AM, Lu Y, Wang J, Diao L, Byers LA, Wistuba II, Roth JA, Swisher SG, Heymach JV, Fang B. Aberrant expression of proteins involved in signal transduction and DNA repair pathways in lung cancer and their association with clinical parameters. PLoS One 7(2):e31087, 2012. e-Pub 2/10/2012. PMCID: PMC3277494.
4.
Agrawal N, Frederick MJ, Pickering CR, Bettegowda C, Chang K, Li RJ, Fakhry C, Xie TX, Zhang J, Wang J, Zhang N, El-Naggar AK, Jasser SA, Weinstein JN, Treviño L, Drummond JA, Muzny DM, Wu Y, Wood LD, Hruban RH, Westra WH, Koch WM, Califano JA, Gibbs RA, Sidransky D, Vogelstein B, Velculescu VE, Papadopoulos N, Wheeler DA, Kinzler KW, Myers JN. Exome Sequencing of Head and Neck Squamous Cell Carcinoma Reveals Inactivating Mutations in NOTCH1. Science 333(6046):1154-7, 8/26/2011. e-Pub 7/28/2011. PMCID: PMC3162986.
5.
Kim YW, Liu TJ, Koul D, Tiao N, Feroze AH, Wang J, Powis G, Yung WK. Identification of novel synergistic targets for rational drug combinations with PI3 kinase inhibitors using siRNA synthetic lethality screening against GBM. Neuro Oncol 13(4):367-75, 4/2011. PMCID: PMC3064700.
6.
Wang J, Wen S, Symmans WF, Pusztai L, Coombes KR. The Bimodality Index: A Criterion for Discovering and Ranking Bimodal Signatures from Cancer Gene Expression Profiling Data. Cancer Inform 7:199-216, 2009. PMCID: PMC2730180.
7.
Li ZG, Mathew P, Yang J, Starbuck MW, Zurita AJ, Liu J, Sikes C, Multani AS, Efstathiou E, Lopez A, Wang J, Fanning TV, Prieto VG, Kundra V, Vazquez ES, Troncoso P, Raymond AK, Logothetis CJ, Lin SH, Maity S, Navone NM. Androgen receptor-negative human prostate cancer cells induce osteogenesis in mice through FGF9-mediated mechanisms. J Clin Invest 118(8):2697-710, 8/2008. PMCID: PMC2447924.
8.
Tordai A, Wang J, Andre F, Liedtke C, Yan K, Sotiriou C, Hortobagyi GN, Symmans WF, Pusztai L. Evaluation of biological pathways involved in chemotherapy response in breast cancer. Breast Cancer Res 10(2):R37, http://breast-cancer-research.com/, 4/2008. e-Pub 4/2008. PMCID: PMC2397539.
9.
Esteva FJ, Wang J, Lin F, Mejia JA, Yan K, Altundag K, Valero V, Buzdar AU, Hortobagyi GN, Symmans WF, Pusztai L. CD40 Signaling Predicts Response to Preoperative Trastuzumab and Concomitant Paclitaxel Followed by 5-Fluorouracil, Epirubicin, and Cyclophosphamide in HER-2-Overexpressing Breast Cancer. Breast Cancer Res 9(6):R87, 2007. PMCID: PMC2246190.
10.
Abruzzo LV, Wang J, Kapoor M, Medeiros LJ, Keating MJ, Edward Highsmith W, Barron LL, Cromwell CC, Coombes KR. Biological validation of differentially expressed genes in chronic lymphocytic leukemia identified by applying multiple statistical methods to oligonucleotide microarrays. J Mol Diagn 7(3):357-67, 8/2005. PMCID: PMC1867538.
11.
Stec J, Wang J, Coombes K, Ayers M, Hoersch S, Gold D, Ross J, Hess K, Tirrell S, Linette G, Hortobagyi G, Symmans W, Pusztai L. Cross platform comparison of multi-gene predictors of response to neoadjuvant paclitaxel/FAC chemotherapy in breast cancer generated by cDNA arrays and Affymetrix GeneChips from the same RNA. J Mol Diagn 7:337-45, 2005. PMID: 16049308.
12.
Hu L, Wang J, Baggerly K, Wang H, Fuller GN, Hamilton SR, Coombes KR, Zhang W. Obtaining reliable information from minute amounts of RNA using cDNA microarrays. BMC Genomics 3(1):1-8, 6/2002. e-Pub 6/2002. PMCID: PMC117130.

Abstracts

1.
Wang J, Do K, Wen S, Tsavachidis S, McDonnell T, Coombes K. Correlating microarray gene expression measurements with Gleason scores and identifying biomarkers to distinguish prostate cancer stages: A meta-analysis approach. Eastern North American Regional/International Biometric Society (ENAR) 2005, Austin, TX, 2005.
Grant & Contract Support
Title:
"(PQD4) Molecular Profiles of Airway Field Cancerization in Lung Tumorigenesis"
Funding Source:
NIH/NCI
Role:
Co-Investigator
Principal Investigator:
Humam Kadara
Duration:
3/1/2015 - 2/28/2019
Title:
Mechanisms and Consequences of NOTCH Dysfunction in Head and Neck Cancer
Funding Source:
NIH
Role:
Co-Investigator
Principal Investigator:
Mitchell Frederick
Duration:
1/1/2015 - 12/31/2018
Title:
Progression and Metastasis of Oral Tongue Cancer
Funding Source:
NIH
Role:
Co-Investigator
Principal Investigator:
Jeffrey N. Myers
Duration:
1/1/2015 - 12/31/2018
Title:
3D Model of Human Ewing Sarcoma
Funding Source:
Rice University
Role:
Co-Investigator
Principal Investigator:
Joseph Ludwig
Duration:
9/1/2014 - 8/31/2015
Title:
Next Generation Sequencing and Transcriptome Profiling of Oral Potentially Malignant Lesions to Identify Markers of Cancer Risk and Targets for Chemoprevention
Funding Source:
Cancer Prevention & Research Institute of Texas (CPRIT)
Role:
Co-Investigator
Principal Investigator:
Wiliam Williams
Duration:
8/31/2014 - 8/30/2017
Title:
Developing New Rational, Personalized Medicine for Lung Cancer Based on Understanding of Lung Cancer Molecular and Cellular Biology
Funding Source:
UT Southwestern Medical Center
Role:
Co-Investigator
Principal Investigator:
John Minna
Duration:
7/1/2014 - 6/30/2019
Title:
A Therapeutic Approach for Lung Cancer Chemoprevention
Funding Source:
Cancer Prevention & Research Institute of Texas (CPRIT)
Role:
Collaborator
Principal Investigator:
Xiangwei Wu
Duration:
12/1/2013 - 11/30/2014
Title:
Investigation of predictive biomarkers for amuvatinib in patients with refractory small cell lung cancer(SCLC)
Funding Source:
Astex Therapeutics
Role:
Co-Investigator
Principal Investigator:
Lauren Byers
Duration:
5/23/2013 - 4/30/2014
Title:
Identification of molecular targets and pathways that contribute to drug sensitivity or resistance to the MEK inhibitor AZD6244 alone or in combination with PI3k/AKT inhibitors in NSCLC
Funding Source:
AstraZeneca
Role:
Co-Investigator
Principal Investigator:
John Victor Heymach
Duration:
9/1/2012 - 8/31/2014
Title:
PARP1 as a Novel Therapeutic Target in SCLC
Funding Source:
LUNGevity Foundation
Role:
Co-Investigator
Principal Investigator:
Lauren Averett Byers
Duration:
7/15/2012 - 7/14/2015
Title:
Markers and Therapeutic Strategies for Overcoming Chemoradiotherapy Resistance
Funding Source:
NIH/NCI
Role:
Co-Investigator
Principal Investigator:
John Heymach
Duration:
9/26/2011 - 7/31/2016
Title:
Cancer Center Support Grant - Bioinformatics Shared Resources (PP-SR22)
Funding Source:
NIH/NCI
Role:
Co-Investigator
Principal Investigator:
Ronald DePinho
Duration:
9/6/2010 - 6/30/2015
Title:
University of Texas SPORE in Lung Cancer - "PARP Inhibition to Overcome Radiation Resistance in Small Cell Lung Cancer - (CL 30696)" PP-CDP 17
Funding Source:
NIH/NCI
Role:
Investigator
Principal Investigator:
John Minna
Duration:
9/1/2010 - 4/30/2011
Title:
Comprehensive Analysis of Genetic and Epigenetic Changes in Oral Cancer
Funding Source:
Cancer Prevention & Research Institute of Texas (CPRIT)
Role:
Collaborator
Principal Investigator:
Jeffrey Myers
Duration:
8/1/2010 - 7/31/2013
Title:
Comprehensive Analysis of Genetic Alterations in Oral Cancer
Funding Source:
NIH/NIDCR
Role:
Collaborator
Principal Investigator:
Jeffrey Myers
Duration:
10/1/2009 - 8/31/2012
Title:
PROSPECT (Profiling of Resistance Patterns & Oncogenic Signaling Pathways in Evalutation of Cancers of the Thorax and Therapeutic Target identification) PC-B
Funding Source:
Department of Defense (DOD)
Role:
Bioinformatician
Principal Investigator:
Waun K Hong
Duration:
6/1/2007 - 6/30/2012
Title:
Deciphering synergistic combinatorial targets in glioma
Funding Source:
NIH/NCI
Role:
Collaborator
Principal Investigator:
W K Alfred Yung
Duration:
9/8/2006 - 6/30/2011