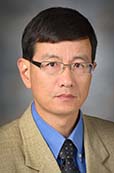 '
Jingfei Ma, Ph.D.
Present Title & Affiliation
N/A
Research Interests
magnetic resonance imaging
fast imaging chemical shift imaging
image quality
Education & Training
Degree-Granting Education

1991
University of Pennsylvania, Philadelphia, PA, PHD, Physics
1986
University of Louvain, Louvain-la-Neuve, Belgium, MS, Physics
1983
Beijing University, Beijing, China, BS, Physics
Board Certifications
| | |
| --- | --- |
| 2003 | American Board of Radiology |
Experience/Service
Academic Appointments
Associate Professor, Department of Imaging Physics, Division of Diagnostic Imaging, University of Texas MD Anderson Cancer Center, Houston, TX, 5/2005-8/2011
Selected Publications
Peer-Reviewed Original Research Articles

1.
Ahmad M, Slavens ZW, Low R, Merkle E, Hwang KP, Vu A, Ma J. A method for automatic identification of water and fat images from a symmetrically-sampled dual-echo Dixon technique. Magn Reson Imaging 28(3):427-433, 2010.
2.
Ma J, Costelloe CM, Madewell JE, Hortobagyi GN, Green MC,Cao G, Sun F, Kundra VF. Fast Dixon-based multi-sequence and multi-planner MRI for whole body detection of cancer metastases. J Magn Reson Imaging 29:1154-1162, 2009.
3.
Ma J, Jackson EF, Kumar AJ, Ginsberg LE. Improving fat-suppressed T2-weighted imaging of head and neck with two fast spin echo Dixon techniques: initial experiences. Am J Neuroradiology 30:42-45, 2009.
4.
Bhosale P, Ma J, Choi H. Utility of the FIESTA pulse sequence in body oncologic imaging review. Am J Roentgenology Integrative Imaging: Review 192(S83-S93), 2009.
5.
Ma J. A single-point Dixon technique for fat-suppressed fast 3D gradient-echo imaging with a flexible echo time. J Magn Reson Imaging 27(4):881-890, 4/2008. PMID: 18302201.
6.
Ma J, Vu AT, Son JB, Choi H, Hazle JD. Fat-suppressed three-dimensional dual echo Dixon technique for contrast agent enhanced MRI. J Magn Reson Imaging 23(1):36-41, 2006. PMID: 16315212.
7.
Ma J. Breathhold water and fat imaging using a dual-echo two-point Dixon technique with an efficient and robust phase correction algorithm. Magn. Reson. Med. 52:415, 2004. PMID: 15282827.
© 2014 The University of Texas MD Anderson Cancer Center