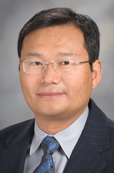 '
Jiusheng Yan, PhD
Present Title & Affiliation
Primary Appointment
Assistant Professor, Department of Anesthesiology and Perioperative Medicine - Research, Division of Anesthesiology and Critical Care, The University of Texas MD Anderson Cancer Center, Houston, TX
Education & Training
Degree-Granting Education

2004
Purdue University, West Lafayette, IN, PHD, Biochemistry & Molecular Biology
2000
Institute of Botany, Chinese Academy of Sciences, Beijing, China, MS, Botany
1996
Wuhan University, Wuhan, China, BS, Biology

Postgraduate Training

2007-2012

Research Fellowship, University of Texas at Austin, Austin, TX

2005-2007

Research Fellowship, University of California at Davis, Davis, CA
Experience/Service
Other Appointments/Responsibilities
Research Associate, Section of Neurobiology, School of Biological Sciences, The University of Texas, Austin, TX, 8/2010-4/2012
Postdoctoral Research Felllow, Section of Neurobiology, School of Biological Sciences, University of Texas, Austin, TX, 8/2007-7/2010
Postdoctoral Research Fellow, Department of Pharmacology, School of Medicine, University of California, Davis, CA, 8/2005-7/2007
Postdoctoral Research Associate, Department of Biological Sciences, Purdue University, West Lafayette, IN, 1/2005-7/2005
Honors and Awards
2008-2010

AHA Postdoctoral Fellowship,

American Heart Association
Selected Publications
Peer-Reviewed Original Research Articles

1.
Yan J, Aldrich RW. BK potassium channel modulation by leucine-rich repeat-containing proteins. Proc Natl Acad Sci U S A 109(20):7917-22, 5/2012. e-Pub 4/2012. PMID: 22547800.
2.
Yan J, Aldrich RW. LRRC26 auxiliary protein allows BK channel activation at resting voltage without calcium. Nature 466(7305):513-6, 7/2010. e-Pub 7/2010. PMID: 20613726.
3.
Yan J, Olsen JV, Park KS, Li W, Bildl W, Schulte U, Aldrich RW, Fakler B, Trimmer JS. Profiling the phospho-status of the BKCa channel alpha subunit in rat brain reveals unexpected patterns and complexity. Mol Cell Proteomics 7(11):2188-98, 11/2008. e-Pub 6/2008. PMCID: PMC2577206.
4.
Yan J, Dashdorj N, Baniulis D, Yamashita E, Savikhin S, Cramer WA. On the structural role of the aromatic residue environment of the chlorophyll a in the cytochrome b6f complex. Biochemistry 47(12):3654-61, 3/2008. e-Pub 2/2008. PMID: 18302324.
5.
Adams KL, Tsoi S, Yan J, Durbin SM, Ramdas AK, Cramer WA, Sturhahn W, Alp EE, Schulz C. Fe vibrational spectroscopy of myoglobin and cytochrome f. J Phys Chem B 110(1):530-6, 1/2006. PMID: 16471565.
6.
Yan J, Kurisu G, Cramer WA. Intraprotein transfer of the quinone analogue inhibitor 2,5-dibromo-3-methyl-6-isopropyl-p-benzoquinone in the cytochrome b6f complex. Proc Natl Acad Sci U S A 103(1):69-74, 1/2006. e-Pub 12/2005. PMCID: PMC1324977.
7.
Kim H, Dashdorj N, Zhang H, Yan J, Cramer WA, Savikhin S. An anomalous distance dependence of intraprotein chlorophyll-carotenoid triplet energy transfer. Biophys J 89(4):L28-30, 10/2005. e-Pub 7/2005. PMCID: PMC1366788.
8.
Dashdorj N, Zhang H, Kim H, Yan J, Cramer WA, Savikhin S. The single chlorophyll a molecule in the cytochrome b6f complex: unusual optical properties protect the complex against singlet oxygen. Biophys J 88(6):4178-87, 6/2005. e-Pub 3/2005. PMCID: PMC1305648.
9.
Yan J, Cramer WA. Molecular control of a bimodal distribution of quinone-analogue inhibitor binding sites in the cytochrome b(6)f complex. J Mol Biol 344(2):481-93, 11/2004. PMID: 15522300.
10.
Yan J, Cramer WA. Functional insensitivity of the cytochrome b6f complex to structure changes in the hinge region of the Rieske iron-sulfur protein. J Biol Chem 278(23):20925-33, 6/2003. e-Pub 4/2003. PMID: 12672829.
11.
Yan J, Liu Y, Mao D, Li L, Kuang T. The presence of 9-cis-beta-carotene in cytochrome b(6)f complex from spinach. Biochim Biophys Acta 1506(3):182-8, 11/2001. PMID: 11779551.
12.
Li X, Li Z, Yan J, Li H, Han B, Hu K, Wang A. Investigation of structural change of purple membrane in storage by transmission electron microscope and atomic force microscope. Chinese Science Bulletin 46:1753-56, 2001.
13.
Sun Q, Li L, Yan J, Kuang T, Li B. Effects of light and temperature on the expression of the Lhcb2 gene in pea. Acta Bontanica Sinica 42:258-62, 2000.
14.
Yan J, Mao D, Chen H, Kuang T, Li B. Effects of membrane lipids on the electron transfer activity of cytochrome b6f complex from spinach. Acta Botanica Sinica 42:1267-70, 2000.
15.
Mao D, Yan J, Zhai X, Sun Q, Li l. A new method for purifying Cyt b6f protein complex. Acta Botanica Sinica 40:1022-27, 1998.
Grant & Contract Support
Title:
BK channel regulation by auxillary LRR proteins
Funding Source:
NIH/NINDS
Role:
Principal Investigator
Duration:
8/1/2012 - 5/31/2017
Funding Source:
UT MD Anderson Cancer Center
Role:
Principal Investigator
Duration:
5/1/2012 - 4/30/2017
Title:
Delineation of a LRR family of BK channel auxillary subunits
Funding Source:
NIH/NINDS
Role:
Principal Investigator
Duration:
7/1/2011 - 6/30/2013
Funding Source:
American Heart Association
Role:
Principal Investigator
Duration:
7/1/2008 - 6/30/2010