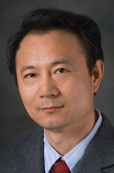 '
Jiyong Liang, MD, PhD
Present Title & Affiliation
Primary Appointment
Assistant Professor, Department of Systems Biology, Division of Cancer Medicine, University of Texas MD Anderson Cancer Center, Houston, TX
Education & Training
Degree-Granting Education

2004
University of Toronto, Toronto, Ontario, Canada, PHD, Medical Biophysics
1990
Nanjing Medical University, Nanjing, Jiangsu, China, MS, Medical Sciences
1983
Yangzhou Medical School, Yangzhou, Jiangsu, China, MD, Medicine
Experience/Service
Other Appointments/Responsibilities
Postdoctoral Fellow, The University of Texas MD Anderson Cancer Center, Houston, TX, 3/2007-12/2007
Odyssey Fellow, The University of Texas MD Anderson Cancer Center, Houston, TX, 4/2004-3/2007
Research Associate, University of Maryland Dentistry School, Baltimore, MD, 3/1997-7/1999
Visiting Scholar, University of Maryland at Baltimore, Baltimore, MD, 3/1996-3/1997
Lecturer, Jiangnan University, Wuxi, Jiangsu, China, 8/1990-3/1996
Selected Publications
Peer-Reviewed Original Research Articles

1.
Wang Y, Wang JW, Xiao X, Shan Y, Xue B, Jiang G, He Q, Chen J, Xu HG, Zhao RX, Werle KD, Cui R, Liang J, Li YL, Xu ZX. Piperlongumine Induces Autophagy by Targeting p38 Signaling. Cell Death & Diseases. In Press.
2.
Liang J, Mills GB. AMPK: a contextual oncogene or tumor suppressor? Cancer Res 73(10):2929-35, 5/2013. PMID: 23644529.
3.
Park YY, Kim SB, Han HD, Sohn BH, Kim JH, Liang J, Lu Y, Mills GB, Sood AK, Lee JS. TARDBP regulates glycolysis in hepatocellular carcinomaby regulating PFKP through miR-520. Hepatology. e-Pub 2/6/2013. PMID: 23389994.
4.
Guo H, Gao M, Lu Y, Liang J, Lorenzi PL, Bai S, Hawke DH, Li J, Dogruluk T, Scott KL, Jonasch E, Mills GB, Ding Z. Coordinate phosphorylation of multiple residues on single AKT1 and AKT2 molecules. Oncogene, 2013. PMID: 23912456.
5.
Gao M, Liang J, Lu Y, Guo H, German P, Bai S, Jonasch E, Yang X, Mills GB, Ding Z. Site specific activation of AKT protects cells from death induced by glucose deprivation. Oncogene, 2013. PMID: 23396361.
6.
Xiao X, He Q, Lu C, Werle KD, Zhao RX, Chen J, Davis BC, Cui R, Liang J, Xu ZX. Metformin impairs the growth of Liver Kinase B1-intact cervical cancer cells. Gynecol Oncol 127(1):249-55, 10/2012. PMCID: PMC3432698.
7.
Wang S, Wang H, Davis BC, Liang J, Cui R, Chen SJ, Xu ZX. PARP1 inhibitors attenuate AKT phosphorylation via the upregulation of PHLPP1. Biochem Biophys Res Commun 412(2). e-Pub 7/2011. PMID: 21821012.
8.
Cheong JH, Park ES, Liang J, Dennison JB, Tsavachidou D, Nguyen-Charles C, Cheng KW, Hall H, Zhang D, Lu Y, Ravoori M, Kundra V, Ajani JA, Lee JS, Hong WK, Mills GB. Dual inhibition of Tumor Energy Pathway by 2-deoxy glucose and metformin Is Effective Against a Broad Spectrum of Preclinical Cancer Models. Mol Cancer Ther, 2011. PMID: 21992792.
9.
Short JD, Dere R, Houston KD, Cai SL, Kim J, Bergeron JM, Shen J, Liang J, Bedford MT, Mills GB, Walker CL. AMPK-mediated phosphorylation of murine p27 at T197 promotes binding of 14-3-3 proteins and increases p27 stability. Mol Carcinog 49(5):429-39, 5/2010. PMID: 20146253.
10.
Ding Z, Liang J, Li J, Lu Y, Ariyaratna V, Lu Z, Davies MA, Westwick JK, Mills GB. Physical association of PDK1 with AKT1 is sufficient for pathway activation independent of membrane localization and phosphatidylinositol 3 kinase. PLoS One 5(3):e9910, 2010. PMCID: PMC2845649.
11.
Larrea MD, Liang J, Da Silva T, Hong F, Shao SH, Han K, Dumont D, Slingerland JM. Phosphorylation of p27Kip1 regulates assembly and activation of cyclin D1-Cdk4. Mol Cell Biol 28(20):6462-72, 10/2008. PMCID: PMC2577417.
12.
Xu ZX, Liang J, Haridas V, Gaikwad A, Connolly FP, Mills GB, Gutterman JU. A plant triterpenoid, avicin D, induces autophagy by activation of AMP-activated protein kinase. Cell Death Differ 14(11):1948-57, 11/2007. PMID: 17690712.
13.
Liang J, Shao SH, Xu ZX, Hennessy B, Ding Z, Larrea M, Kondo S, Dumont DJ, Gutterman JU, Walker CL, Slingerland JM, Mills GB. The energy sensing LKB1-AMPK pathway regulates p27kip1 phosphorylation mediating the decision to enter autophagy or apoptosis. Nat Cell Biol 9(2):218-24, 2/2007. PMID: 17237771.
14.
Ding Z, Liang J, Lu Y, Yu Q, Songyang Z, Lin SY, Mills GB. A retrovirus-based protein complementation assay screen reveals functional AKT1-binding partners. Proc Natl Acad Sci U S A 103(41):15014-9, 10/2006. PMCID: PMC1636760.
15.
Rai R, Dai H, Multani AS, Li K, Chin K, Gray J, Lahad JP, Liang J, Mills GB, Meric-Bernstam F, Lin SY. BRIT1 regulates early DNA damage response, chromosomal integrity, and cancer. Cancer Cell 10(2):145-157, 8/2006. PMID: 16872911.
16.
Sheng W, Wang G, Wang Y, Liang J, Wen J, Zheng PS, Wu Y, Lee V, Slingerland J, Dumont D, Yang BB. The roles of versican V1 and V2 isoforms in cell proliferation and apoptosis. Mol Biol Cell 16(3):1330-1340, 3/2005. PMID: 15635104.
17.
Rao JN, Liang J, Chakraborti P, Feng P. Effect of thyroid hormone on the development and gene expression of hormone receptors in rat testes in vivo. Journal of Endocrinology Investigation 26/5:435-443, 5/2003.
18.
Liang J, Zubovitz J, Petrocelli T, Kotchetkov R, Connor MK, Han K, Lee JH, Ciarallo S, Catzavelos C, Beniston R, Franssen E, Slingerland JM. PKB/Akt phosphorylates p27, impairs nuclear import of p27 and opposes p27-mediated G1 arrest. Nat Med 8(10):1153-60, 10/2002. PMID: 12244302.
19.
Feng P, Liang J, Li TL, Guan ZX, Zou J, Franklin R, Costello LC. Zinc Induces Mitochondria Apoptogenesis in Prostate Cells. Mol Urol 4/1:31-36, 3/2000.
20.
Liang J, Liu YY, Zou J, Franklin RB, Costello LC, Feng P. Inhibitory effect of zinc on human prostatic carcinoma cell growth. The Prostate 40/3:200-207, 8/1999.
21.
Liang J, Fontana JA, Rao JN, Ordonez JV, Dawson MI, Shroot B, Wilber JF, Feng P. Synthetic retinoid CD437 induces S-phase arrest and apoptosis in human prostate cancer cells LNCaP and PC-3. The Prostate 38/3:228-236, 2/1999.

Invited Articles

1.
Liang J, Slingerland JM. Multiple roles of the PI3K/PKB (Akt) pathway in cell cycle progression. Cell Cycle 2(4):339-45, Jul-Aug, 7/2003. PMID: 12851486.
Grant & Contract Support
Title:
Mechanisms underlying delayed recurrence of ER positive breast cancer: a critical step in the development of effective biomarkers and therapies
Funding Source:
Cancer Prevention & Research Institute of Texas (CPRIT)
Role:
Co-Investigator
Principal Investigator:
Gordon B. Mills
Duration:
5/1/2010 - 4/30/2013
Title:
Activation of PI3K/PKB signaling in breast cancer may inhibit TGF (beta)-induced G1 arrest through changes in p27 function
Funding Source:
U.S. Army (DOD)
Role:
Principal Investigator
Duration:
12/30/2000 - 12/30/2003
© 2014 The University of Texas MD Anderson Cancer Center