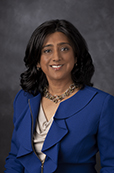 '
Joya Chandra, Ph.D.
Present Title & Affiliation
Primary Appointment
Associate Professor, Department of Pediatrics - Research, Division of Pediatrics, The University of Texas MD Anderson Cancer Center, Houston, TX
Dual/Joint/Adjunct Appointment
Adjunct, Associate Professor, Department of Epigenetics and Molecular Carcinogenesis, The University of Texas MD Anderson Cancer Center, Smithville, TX
Bio Statement
Research in the Chandra lab is directed towards understanding the oxidative environment of cancer cells and then using this knowledge to develop therapeutic strategies that will eliminate cancer cells.
One feature common to numerous cancer cell types is alterations in the intracellular oxidative environment. The oxidative environment is constantly negotiated and represents a balance between the level of ROS (reactive oxygen species) and the antioxidant systems that disarm or inactivate ROS. Since ROS are generated as a result of cellular respiration or other normal metabolic processes, intricate networks of antioxidant enzymes are in place and are carefully regulated.
ROS are versatile in influencing cell outcome. While high doses of ROS cause cell death, low to intermediate levels can urge cells to grow. Our lab is exploring both of these endpoints. Model systems studied in the lab include leukemias (the most common pediatric cancer) and brain tumors (the deadliest pediatric malignancy). One of the leukemia model systems we study are Philadelphia chromosome positive leukemias. The Philadelphia chromosome is another name for the translocation that yields a fusion gene called BCR/ABL. The protein product of BCR/ABL is a kinase and in the past decade giant strides in improving patient outcome for Philadelphia positive leukemia patients have been made by better understanding and molecularly targeting the BCR/ABL kinase. Our lab is specifically interested in BCR/ABL's ability to alter the oxidative environment of cells. We are working to understand how that happens and the consequences of this alteration, particularly in terms of cell signaling.
Recent years have seen the development of a body of clinically relevant biologically targeted agents including proteasome inhibitors, histone deacetylase inhibitors, and various kinase inhibitors. Many of these drugs are currently being tested in the clinic or are being used in patients with hematological malignancies. The mechanism of action of some of these drugs is attributable in part to raising ROS levels in the cell. Examples are adaphostin (a kinase inhibitor), NPI-0052 (a proteasome inhibitor), SNDX-275 and PCI-24781 (HDAC inhibitors). We are studying the source and consequences of ROS generation by these agents and will use these compounds as tools with which to better understand the biology of pediatric leukemias. We are also addressing the preclinical efficacy of these agents in leukemia model systems using primary specimens from patients and animal models.
Education & Training
Degree-Granting Education

1998
University of Texas Graduate School of Biomedical Sciences and M.D. Anderson Cancer Center, Houston, TX, PhD, Cancer Biology and Immunology
1993
Louisiana State University, Baton Rouge, LA, BS, Major: Microbiology, Minors: English and Spanish

Postgraduate Training

2002

Postdoctoral Fellowship, Drug development, Apoptosis, Leukemia Therapy, Division of Oncology Research, Mayo Clinic, Rochester, MN, Scott Kaufmann, MD, PhD

2000

Postdoctoral Fellowship, Apoptosis, Oxidative stress, Division of Toxicology, Institute for Environmental Medicine, Karolinska Institute, Stockholm, Sweden, Sten Orrenius, MD
Experience/Service
Other Appointments/Responsibilities
Judge and Chair, Graduate Student Basic Science Category, Trainee Research Day, Houston, TX, 6/2013
Member, Medical Advisory Board, TeamConnor Cancer Foundation, Dallas, 2011-present
Institutional Committee Activities
Member, The University of Texas MD Anderson Graduate Education Committee, 10/2012-9/2015
Honors and Awards
2014-present

Texas Business Women's Award

2014-2015

Faculty Leadership Academy

2013

Faculty Educator of the Month (April),

The University of Texas MD Anderson Cancer Center

2012

John P. McGovern Outstanding Teacher Award,

GSBS Graduate Student Association

2009

Faculty Educator of the Month (May),

The University of Texas MD Anderson Cancer Center

2004-2007

Leukemia SPORE Career Development Award

2004

Texas Federation of Business and Professional Women's Club Award

2003-2004

Children's Oncology Group Young Investigator Award

2001-2003

NIH NRSA Individual (F32) Training Grant

2001

AACR-AFLAC Scholar-in-Training Award

2000-2001

NIH NRSA Institutional (T32) Training Grant

1999-2000

Karolinska Institute Fellowship for Visiting Scientists

1997-1998

American Legion Auxiliary Fellowship

1997-1998

Andrew Sowell-Wade Huggins Endowed Scholarship

1997

AACR-AFLAC Young Investigator Award

1996

Rhone-Poulenc Rorer Travel Award from American Association for Cancer Research (AACR)
Professional Memberships
American Association for Cancer Research
Member, 1996-present
American Association for the Advancement of Science
Member, 1997-1999
American Society of Hematology
Member, 2003-present
Children's Oncology Group
Member, 2003-present
Women in Cancer Research
Member, 1997-present
Selected Publications
Peer-Reviewed Original Research Articles

1.
Le R, Raber M, Mejia L, Domenech M, Brewster A, Swartz MC, Strong L, Chandra J. Development and Feasibility of a Culturally Sensitive Cooking and Physical Activity Program Designed for Obese Hispanic Families. Infant, Child, & Adolescent Nutrition 20(10):1-8, 4/2015.
2.
Li R, Raber M, Chandra J. Developing a healthy web-based cookbook for pediatric cancer patients and survivors: rational and methods. JMIR Research Protocols 4(1), 3/2015. PMCID: PMC4397390.
3.
Corrales-Medina FF, Manton CA, Orlowski RZ, Chandra J. Efficacy of panobinostat and marizomib in acute myeloid leukemia and bortezomib-resistant models. Leukemia Research 39(3):371-9, 3/2015. PMCID: PMC4420632.
4.
Braun FK, Mathur R, Sehgal L, Wilkie-Grantham R, Chandra J, Berkova Z, Samaniego F. Inhibition of methyltransferases accelerates degradation of cFLIP and sensitizes B-cell lymphoma cells to TRAIL-induced apoptosis. PLOS ONE 10(3), 3/2015. PMCID: PMC4349737.
5.
Singh MM, Johnson B, Venkatarayan A, Flores ER, Zhang J, Su X, Barton M, Lang F, Chandra J. Preclinical activity of combined HDAC and KDM1A inhibition in glioblastoma. Neuro-Oncology, 3/2015. PMID: 25795306.
6.
Santa Maria D, Swartz M, Markham C, Chandra J, McCurdy S, Basen-Engquist K. Exploring Parental Factors Related to Weight Management in Survivors of Childhood CNS Tumors. Journal of Pediatric Oncology Nursing 31(2):89-84, 3/2014. PMID: 24608701.
7.
Beltran A, Li R, Ater J, Baranowski J, Buday R, Thompson D, Chandra J, Baranowski T. Adapting A Videogame to the Needs to Pediatric Cancer Patients and Survivors. Games for Health Journal 2(4):213-221, 8/2013.
8.
Irwin ME, Nelson LD, Santiago-O'Farrill JM, Knouse PD, Miller CP, Palla SL, Siwak DR, Mills GB, Estrov Z, Li S, Hughes DP, Chandra J. Small Molecule ErbB Inhibitors Decrease Proliferative Signaling and Promote Apoptosis in Philadelphia Chromosome-Positive Acute Lymphoblastic Leukemia. Plos One 8(8):e70608, 8/2013. PMCID: PMC3731286.
9.
Papke CL, Cao J, Kwartler CS, Villamizar C, Byanova KL, Lim SM, Sreenivasappa H, Fischer G, Pham J, Rees M, Wang M, Chaponnier C, Gabbiani G, Khakoo AY, Chandra J, Trache A, Zimmer W, Milewicz DM. Smooth muscle hyperplasia due to loss of smooth muscle a-actin is driven by activation of focal adhesion kinase, altered p53 localization and increased levels of platelet-derived growth factor receptor-B. Hum Mol Genet 22(15):3123-31, 8/2013. PMCID: PMC3699068.
10.
Badr H, Chandra J, Paxton RJ, Ater JL, Urbauer D, Cruz CS, Demark-Wahnefried W. Health-related quality of life, lifestyle behaviors, and intervention preferences of survivors of childhood cancer. Journal of Cancer Survivorship 7(4). e-Pub 6/2013. PMCID: PMC3825822.
11.
Dent SY, Chandra J. The lasting influence of LSD1 in the blood. Elife 2(e00963):(e00963), 6/2013. PMCID: PMC3687340.
12.
Singh MM, Howard A, Irwin ME, Gao Y, Lu X, Multani A, Chandra J. Expression and activity of Fyn mediate proliferation and blastic features of chronic myelogenous leukemia. Plos One 7(12):e51611, 7/2012. PMCID: PMC3524192.
13.
Singh MM, Irwin ME, Gao Y, Ban K, Shi P, Arlinghaus RB, Amin HM, Chandra J. Inhibition of the NADPH oxidase regulates heme oxygenase 1 expression in chronic myeloid leukemia. Cancer 118(13):3433-45, 7/2012. PMCID: PMC3297684.
14.
Miller CP, Manton C, Hale R, DeBose L, Macherla VR, Potts BC, Palladino MA, and Chandra J. Specific and prolonged proteasome inhibition dictates apoptosis induction by marizomib and its analogs. Chemico-Biological Interactions 194(2011):58-68, 10/2011. PMCID: PMC3186881.
15.
Singh M, Manton C, Bhat K, Tsai W-W, Aldape K, Barton M, Chandra J. Inhibition of LSD1 sensitizes glioblastoma cells to histone deacetylase inhibitors. Neuro-Oncology 13(8):894-903, 8/2011. PMCID: PMC3145466.
16.
Hu J, Liu X, Hughes D, Esteva FJ, Liu B, Chandra J, and Li S. Herceptin conjugates linked by EDC boost direct tumor cell death via programmed tumor cell necrosis. PLoS ONE(8):e23270, 6/2011. PMCID: PMC3154407.
17.
Shi P, Chandra J, Sun X, Gergely M, Cortes JE, Garcia-Manero G, Arlinghaus RB, Lai R, Amin HM. Inhibition of IGF-IR tyrosine kinase induces apoptosis and cell cycle arrest in imatinib-resistant chronic myeloid leukemia cells. J Cell Mol Med 14(6B):1777-92, 6/2010. PMCID: PMC3444523.
18.
Rivera-Del Valle N, Gao S, Miller CP, Fulbright J, Gonzales C, Sirisawad M, Steggerda S, Wheler J, Balasubramanian S, Chandra J. PCI-24781, a novel hydroxamic acid HDAC inhibitor, exerts cytotoxicity and histone alterations via caspase-8 and FADD in leukemia cells. Int J Cell Biol. e-Pub 1/2010. PMCID: PMC2817379.
19.
Howard AN, Bridges KA, Meyn RE, Chandra J. ABT-737, a BH3 mimetic, induces glutathione depletion and oxidative stress. Cancer Chemother Pharmacol 65(1):41-54, 12/2009. PMID: 19404643.
20.
Merritt WM, Danes CG, Shahzad MM, Lin YG, Kamat AA, Han LY, Spannuth WA, Nick AM, Mangala LS, Stone RL, Kim HS, Gershenson DM, Jaffe RB, Coleman RL, Chandra J, Sood AK. Anti-angiogenic Properties of Metronomic Topotecan in Ovarian Carcinoma. Cancer Biol Ther 8(16):1596-1603, 8/2009. PMCID: PMC3916970.
21.
Kopetz S, Lesslie DP, Dallas NA, Park SI, Johnson M, Parikh NU, Kim MP, Abbruzzese JL, Ellis LM, Chandra J, Gallick GE. Synergistic Activity of the Src Family Kinase Inhibitor Dasatinib and Oxaliplatin in Colon Carcinoma Cells is Mediated by Oxidative Stress. Cancer Res 69(9):3842-9, 5/2009. PMCID: PMC2709758.
22.
Miller CP, Rudra S, Keating MJ, Wierda WG, Palladino M, Chandra J. Caspase-8 dependent histone acetylation by a novel proteasome inhibitor, NPI-0052: a mechanism for synergy in leukemia cells. Blood 113(18):4289-99, 4/2009. PMCID: PMC2676087.
23.
Gao Y, Howard A, Ban K, Chandra J. Oxidative stress promotes transcriptional upregulation of Fyn in BCR-ABL1 expressing cells. J Biol Chem 284(11):7114-25, 3/2009. PMCID: PMC2652262.
24.
Ban K, Gao Y, Amin HM, Howard A, Miller C, Lin Q, Leng X, Munsell M, Bar-Eli M, Arlinghaus RB, Chandra J. BCR-ABL1 mediates up-regulation of Fyn in chronic myelogenous leukemia. Blood 111(5):2904-8, 2008. PMCID: PMC2254539.
25.
Gao S, Mobley A, Miller C, Boklan J, Chandra J. Potentiation of reactive oxygen species is a marker for synergistic cytotoxicity of MS-275 and 5-azacytidine in leukemic cells. Leuk Res 32(5):771-80, 2008. PMCID: PMC2320596.
26.
Miller CP, Ban K, Dujka ME, McConkey DJ, Munsell M, Palladino M, Chandra J. NPI-0052, a novel proteasome inhibitor, induces caspase-8 and ROS -dependent apoptosis alone and in combination with HDAC inhibitors in leukemia cells. Blood 110(1):267-277, 7/2007. PMCID: PMC1896116.
27.
Long J, Manchandia T, Ban K, Gao S, Miller C, Chandra J. Adaphostin cytoxicity in glioblastoma cells is ROS-dependent and is accompanied by upregulation of heme oxygenase-1. Cancer Chemother & Pharmaco 59(4):527-535, 3/2007. PMID: 16924499.
28.
Orsolic N, Golemovic M, Quintas-Cardama A, Scappini B, Manshouri T, Chandra J, Basic I, Giles F, Kantarjian H, Verstovsek S. Adaphostin has significant and selective activity against chronic and acute myeloid leukemia cells. Cancer Science 97(9):952-960, 9/2006. PMID: 16822295.
29.
Ruiz S, Krupnik Y, Keating M, Chandra J, Palladino M, McConkey D. The proteasome inhibitor NPI-0052 is a more effective inducer of apoptosis than bortezomib in lymphocytes from patients with chronic lymphocytic leukemia. Molecular Cancer Therapeutics 5(7):1836-1843, 7/2006. PMID: 16891470.
30.
Chandra J, Tracy J, Loegering D, Flatten K, Verstovsek S, Beran M, Gorre M, Estrov Z, Donato N, Talpaz M, Sawyers C, Bhalla K, Karp J, Sausville E, Kaufmann SH. Adaphostin-induced oxidative stress overcomes BCR/ABL mutation-dependent and -independent imatinib resistance. Blood 107:2501-2506, 2006. PMCID: PMC1895739.
31.
Meng XW, Chandra J, Loegering D, Van Becelaere K, Kottke TJ, Gore SD, Karp JE, Sebolt-Leopold J, Kaufmann SH. Central role of Fas-associated death domain protein in apoptosis induction by the mitogen-activated protein kinase kinase inhibitor CI-1040 (PD184352) in acute lymphocytic leukemia cells in vitro. J Biol Chem 278:47326-47339, 2003. PMID: 12963734.
32.
Chandra J, Hackbarth J, Le S, Loegering D, Bone N, Bruzek LM, Narayanan VL, Adjei AA, Kay NE, Tefferi A, Karp JE, Sausville EA, Kaufmann SH. Involvement of reactive oxygen species in adaphostin-induced cytotoxicity in human leukemia cells. Blood 102:4512-4519, 2003. PMID: 12920036.
33.
Kagan VE, Gleiss B, Tyurina YY, Tyurin VA, Elenstrom-Magnusson C, Liu SX, Serinkan FB, Arroyo A, Chandra J, Orrenius S, Fadeel B. A role for oxidative stress in apoptosis: oxidation and externalization of phosphatidylserine is required for macrophage clearance of cells undergoing Fas-mediated apoptosis. J Immunol 169:487-499, 2002. PMID: 12077280.
34.
Nutt LK, Chandra J, Pataer A, Fang B, Roth JA, Swisher SG, O'Neil RG, McConkey DJ. Bax-mediated Ca2+ mobilization promotes cytochrome c release during apoptosis. J Biol Chem 277:20301-8, 2002. PMID: 11909872.
35.
Mow BM, Chandra J, Svingen PA, Hallgren CG, Weisberg E, Kottke TJ, Narayanan VL, Litzow MR, Griffin JD, Sausville EA, Tefferi A, Kaufmann SH. Effects of the Bcr/abl kinase inhibitors STI571 and adaphostin (NSC 680410) on chronic myelogenous leukemia cells in vitro. Blood 99:664-671, 2002. PMID: 11781252.
36.
Chandra J, Mansson E, Gogvadze V, Kaufmann SH, Albertioni F, Orrenius S. Resistance of leukemic cells to 2-chlorodeoxyadenosine is due to a lack of calcium-dependent cytochrome c release. Blood 99:655-663, 2002. PMID: 11781251.
37.
Lundberg M, Johansson C, Chandra J, Enoksson M, Jacobsson G, Ljung J, Johansson M, Holmgren A. Cloning and expression of a novel human glutaredoxin (Grx2) with mitochondrial and nuclear isoforms. J Biol Chem 276:26269-26275, 2001. PMID: 11297543.
38.
Chandra J, Yang SN, Kohler M, Zaitsev S, Juntti-Berggren L, Berggren PO, Zhivotovsky B, Orrenius S. Effects of serum from patients with type 1 diabetes on primary cerebellar granule cells. Diabetes 50 Suppl 1:S77-S81, 2001. PMID: 11272207.
39.
Lotfi K, Mansson E, Chandra J, Wang Y, Xu D, Knaust E, Spasokoukotskaja T, Liliemark E, Eriksson S, Albertioni F. Pharmacological basis for cladribine resistance in a human acute T lymphoblastic leukaemia cell line selected for resistance to etoposide. Br J Haematol 113:339-346, 2001. PMID: 11380397.
40.
Chandra J, Zhivotovsky B, Zaitsev S, Juntti-Berggren L, Berggren PO, Orrenius S. Role of apoptosis in pancreatic beta-cell death in diabetes. Diabetes 50 Suppl 1:S44-S47, 2001. PMID: 11272200.
41.
Multani AS, Ozen M, Narayan S, Kumar V, Chandra J, McConkey DJ, Newman RA, Pathak S. Caspase-dependent apoptosis induced by telomere cleavage and TRF2 loss. Neoplasia 2:339-345, 2000. PMCID: PMC1550291.
42.
Chandra J, Samali A, Orrenius S. Triggering and modulation of apoptosis by oxidative stress. Free Radic Biol Med 29:323-333, 2000. PMID: 11035261.
43.
Multani AS, Chandra J, McConkey J, Sen S, Cabral TF, Pathak S. Cell death in paclitaxel-dependent Chinese hamster ovary cells is initiated by the loss of telomeric DNA repeats. Oncol Res 11:455-460, 1999. PMID: 10850886.
44.
Bold RJ, Chandra J, McConkey DJ. Gemcitabine-induced programmed cell death (apoptosis) of human pancreatic carcinoma is determined by Bcl-2 content. Ann Surg Oncol 6:279-285, 1999. PMID: 10340887.
45.
Fadeel B, Gleiss B, Hogstrand K, Chandra J, Wiedmer T, Sims PJ, Henter JI, Orrenius S, Samali A. Phosphatidylserine exposure during apoptosis is a cell-type-specific event and does not correlate with plasma membrane phospholipid scramblase expression. Biochem Biophys Res Commun 266:504-511, 1999. PMID: 10600532.
46.
Bouvet M, Bold RJ, Lee J, Evans DB, Abbruzzese JL, Chiao PJ, McConkey DJ, Chandra J, Chada S, Fang B, Roth JA. Adenovirus-mediated wild-type p53 tumor suppressor gene therapy induces apoptosis and suppresses growth of human pancreatic cancer. Ann Surg Oncol 5:681-688, 1998. PMID: 9869513.
47.
Chandra J, Niemer I, Gilbreath J, Kliche KO, Andreeff M, Freireich EJ, Keating M, McConkey DJ. Proteasome inhibitors induce apoptosis in glucocorticoid-resistant chronic lymphocytic leukemic lymphocytes. Blood 92:4220-4429, 1998. PMID: 9834227.
48.
Balasubramanian K, Chandra J, Schroit AJ. Immune clearance of phosphatidylserine-expressing cells by phagocytes. The role of beta2-glycoprotein I in macrophage recognition. J Biol Chem 272:3113-3117, 1997. PMID: 9388264.
49.
Chandra J, Gilbreath J, Freireich EJ, Kliche KO, Andreeff M, Keating M, McConkey DJ. Protease activation is required for glucocorticoid-induced apoptosis in chronic lymphocytic leukemic lymphocytes. Blood 90:3673-3681, 1997. PMID: 9345052.
50.
McConkey DJ, Chandra J, Wright S, Plunkett W, McDonnell TJ, Reed JC, Keating M. Apoptosis sensitivity in chronic lymphocytic leukemia is determined by endogenous endonuclease content and relative expression of BCL-2 and BAX. J Immunol 156:2624-2630, 1996. PMID: 8786328.

Invited Articles

1.
Irwin ME, Rivera-Del Valle N, Chandra J. Redox Control of Leukemia: From Molecular Mechanisms to Therapeutic Opportunities. Antioxidants & Redox Signaling 18(11):1349-83, 4/2013. PMCID: PMC3584825.
2.
Co-Reyes E, Li R, Huh W, Chandra J. Malnutrition and Obesity in Pediatric Cancer Patients: Causes, Consequences, and Interventions. Pediatric Blood & Cancer 59(7):1160-1167, 12/2012. PMCID: PMC3468697.
3.
Potts BC, Albitar MX, Anderson KC, Baritaki S, Berkers C, Bonavida B, Chandra J, Chauhan, D, Cusack Jr JC, Fenical W, Ghobrial IM, Groll M, Jensen PR, Lam KS, Lloyd GK, McBride W, McConkey DJ, Miller C, Neuteboom STC, Ovaa H, Pajonk F, Roccaro AM, Sloss CM, Spear MA, Valash E, Younes A and Palladine MA. Marizomib, a Proteasome Inhibitor for All Seasons: Preclinical Profile and a Framework for Clinical Trials. Current Cancer Drug Targets 11(3):254-284, 2011.
4.
Miller CP, Singh MM, Rivera-Del Valle N, Manton CA, Chandra J (corresponding author). Therapeutic strategies to enhance the anticancer efficacy of histone deacetylase inibitors. Journal of Biomedicine and Biotechnology, 2011. PMCID: PMC3134392.
5.
Fulbright JM, Huh W, Anderson P, Chandra J. Can anthracycline therapy for pediatric malignancies be less cardiotoxic? Current Oncology Reports 12(6):411-9, 11/2010. PMID: 20820959.
6.
Chandra J. Oxidative stress by targeted agents promotes cytotoxicity in hematological malignancies. Antioxid Redox Signal 11(5):1123-1127, 5/2009. PMCID: PMC2842131.
© 2014 The University of Texas MD Anderson Cancer Center