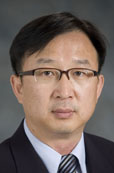 '
Ju-Seog Lee, PhD
Present Title & Affiliation
Primary Appointment
Associate Professor, Department of Systems Biology, Division of Cancer Medicine, The University of Texas MD Anderson Cancer Center, Houston, TX
Education & Training
Degree-Granting Education

1999
University of Texas, Dallas, TX, PHD, Molecular and Cell Biology
1994
University of Texas, Dallas, TX, MS, Molecular and Cell Biology
1988
Kyunghee University, Seoul, Korea, Republic of, BS, Biology
Experience/Service
Academic Appointments
Assistant Professor, Systems Biology, Division of Cancer Medicine, The University of Texas MD Anderson Cancer Center, Houston, TX, 8/2006-8/2012
Other Appointments/Responsibilities
Research Fellow, National Institutes of Health, Bethesda, MD, 10/2005-7/2006
CRTA Fellow, National Institutes of Health, Bethesda, MD, 2001-2005
Graduate Research Assistant, University of Texas at Dallas, Dallas, TX, 1997-1998
Honors and Awards
2009

Waun Ki Hong Award for Excellence in Team Science,

UT MD Anderson Cancer Center

2007-2009

V. Scholar Award,

V Foundation

2005

Incorporated Scholar-in-Training Award,

AACR-AFLAC

2005

Johng S. Rhim Young Investigator Award,

Society for Biomedical Research

2004

Fellow Award for Research Excellence,

National Institutes of Health

2002

Fellow Award for Research Excellent,

National Institutes of Health

2001

Technology Transfer Award,

National Cancer Institute
Selected Publications
Peer-Reviewed Original Research Articles

1.
Kim K, Chadalapaka G, Lee SO, Yamada D, Sastre-Garau X, Defossez PA, Park YY, Lee JS, Safe S. Identification of Oncogenic MicroRNA-17-92/ZBTB4/Specificity Protein Axis in Breast Cancer. Oncogene 31(8):1034-44, 2/2012. e-Pub 7/2011. PMCID: PMC3288192.
2.
Park YY, Kim K, Kim SB, Hennessy BT, Kim SM, Park ES, Lim JY, Li J, Lu Y, Gonzalez-Angulo AM, Jeong W, Mills GB, Safe S, Lee JS. Reconstruction of nuclear receptor network reveals that NR2E3 is a novel upstream regulator of ESR1 in breast cancer. EMBO Mol Med 4(1):52-67, 1/2012. e-Pub 12/2011. PMCID: PMC3376834.
3.
Kim SM, Leem S-H, Chu I-S, Park Y-Y, Kim S-C, Kim S-B, Park E-S, Lim J-Y, Heo J, Kim YJ, Kim D-G, Kaseb A, Park NY, Wang XW, Thorgeirsson SS, and Lee JS. 65-gene based risk score predicts overall survival in hepatocellular carcinoma. Hetatology, 11/2011.
4.
Cho JY, Lim JY, Cheong JH, Park YY, Yoon SL, Kim SM, Kim SB, Kim H, Hong SW, Park YN, Noh SH, Park ES, Chu IS, Hong WK, Ajani JA, Lee JS. Gene expression signature-based prognostic risk score in gastric cancer. Clin Cancer Res 17(7):1850-7, 4/2011. e-Pub 3/2011. PMCID: PMC3078023.
5.
Lu C, Han HD, Mangala LS, Ali-Fehmi R, Newton CS, Ozbun L, Armaiz-Pena GN, Hu W, Stone RL, Munkarah A, Ravoori MK, Shahzad MM, Lee JW, Mora E, Langley RR, Carroll AR, Matsuo K, Spannuth WA, Schmandt R, Jennings NB, Goodman BW, Jaffe RB, Nick AM, Kim HS, Guven EO, Chen YH, Li LY, Hsu MC, Coleman RL, Calin GA, Denkbas EB, Lim JY, Lee JS, Kundra V, Birrer MJ, Hung MC, Lopez-Berestein G, Sood AK. Regulation of tumor angiogenesis by EZH2. Cancer Cell 18(2):185-97, 8/2010. PMCID: PMC2923653.
6.
Lee JS, Leem SH, Lee SY, Kim SC, Park ES, Kim SB, Kim SK, Kim YJ, Kim WJ, Chu IS. Expression Signature of E2F1 and Its Associated Genes Predict Superficial to Invasive Progression of Bladder Tumors. J Clin Oncol 28(16):2660-7, 6/2010. e-Pub 4/2010. PMID: 20421545.
7.
Lu L, Li Y, Kim SM, Bossuyt W, Liu P, Qiu Q, Wang Y, Halder G, Finegold MJ, Lee JS, Johnson RL. Hippo signaling is a potent in vivo growth and tumor suppressor pathway in the mammalian liver. Proc Natl Acad Sci U S A 107(4):1437-42, 1/2010. e-Pub 1/2010. PMCID: PMC2824398.
8.
Woo HG, Park ES, Lee JS, Lee YH, Ishikawa T, Kim YJ, Thorgeirsson SS. Identification of potential driver genes in human liver carcinoma by genome-wide screening. Cancer Res 69(9):4059-4066, 5/2009. e-Pub 4/2009. PMCID: PMC2750086.
9.
Woo HG, Park ES, Cheon JH, Kim JH, Lee JS, Park BJ, Kim W, Park SC, Chung YJ, Kim BG, Yoon JH, Lee HS, Kim CY, Yi NJ, Suh KS, Lee KU, Chu IS, Roskams T, Thorgeirsson SS, Kim YJ. Gene expression based recurrence prediction of HBV-related human hepatocellular carcinoma. Clin. Cancer Res 14(7):2056-2064, 2008.
10.
Lee JS, Heo J, Libbrecht L, Chu IS, Kaposi-Novak P, Calvisi DC, Mikaelyan A, Roberts LR, Demetris AJ, Sun Z, Nevens F, Roskams T, and Thorgeirsson SS. A novel prognostic subclass of hepatocellular carcinoma derived from hepatic stem cells. Nature Medicine 12(4):410-416, 2006.
11.
Kaposi-Novak P, Lee JS, Gomez-Quiroz L, Coulouran C, Factor VM Thorgeirsson SS. Hepatocyte growthfactor/c-Met expression signature defines a subgroup of human hepatocellular carcinoma with poor prognosis and aggressive phenotype. J of Clinical Investigation 116(6):1582-1595, 2006.
12.
Lee JS, Chu IS, Mikaelyan A, Calvisi DF, Heo J, Reddy JK, and Thorgeirsson SS. Application of comparative functional genomics to identify best-fit mouse models to study human cancer. Int J Cancer 36(12):1306-1311, 2004.
13.
Lee JS, Chu IS, Heo J, Calvisi DF, Sun Z, Roskams T, Durnez A, Demetris AJ, and Thorgeirsson SS. Classification and survival prediction of hepatocellular carcinoma by gene expression profiling. Hepatology 40(3):667-676, 2004.

Invited Articles

1.
Ajani JA, Izzo JG, Lee JS. Chemotherapy and radiotherapy resistance: complexity, reality, and promise. J Clin Oncol 27(1):162-163, 1/2009. e-Pub 12/2008. PMID: 19047300.
Grant & Contract Support
Title:
WNT/BETA-CATENIN PATHWAY IN HEPATOCELLULAR CARCINOMA
Funding Source:
NIH/NCI
Role:
Principal Investigator
Duration:
4/1/2014 - 3/31/2019
Title:
CHEMORESISTANCE OF BRAIN-METASTASIZED BREAST CANCER CELLS
Funding Source:
Department of Defense (DOD)
Role:
Principal Investigator
Duration:
3/1/2014 - 2/28/2017
Title:
Hippo pathway in Hepatocellular Carcinoma
Funding Source:
UT MDACC
Role:
Principal Investigator
Duration:
9/1/2012 - 8/31/2014
Title:
Validation of prognostic markers in advanced hepatocellular carcinoma and identification of potential serological prognostic markers.
Funding Source:
UT MDACC
Role:
Principal Investigator
Duration:
8/1/2011 - 7/31/2013
Title:
Development and validation of prognostic model for gastric cancer
Funding Source:
NIH/NCI
Role:
Principal Investigator
Duration:
4/1/2010 - 3/31/2014
© 2014 The University of Texas MD Anderson Cancer Center