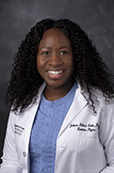 '
Julianne M. Pollard, Ph.D.
Present Title & Affiliation
N/A
Education & Training
Degree-Granting Education

2008
University of California, Los Angeles, Los Angeles, CA, PHD, Biomedical Physics
2007
University of California, Los Angeles, Los Angeles, CA, MS, Biomedical Physics
Board Certifications
| | |
| --- | --- |
| 5/2011 | American Board of Radiology |
Experience/Service
Academic Appointments
Instructor, Department of Radiation Physics - Patient Care, Division of Radiation Oncology, The University of Texas MD Anderson Cancer Center, Houston, TX, 12/2010-8/2012
Other Appointments/Responsibilities
Radiation Physicist Resident, The University of Texas MD Anderson Cancer Center, Houston, TX, 9/2008-11/2010
Graduate Student Researcher, University of California, Los Angeles, Los Angeles, CA, 9/2002-8/2008
Physics Tutor, University of Miami, Miami, FL, 9/2001-5/2002
Honors and Awards
2007

Oral Presentation Award, UCLA Biomedical Physics Interdepartmental Program

2005

Ford Predoctoral Fellowship Honorable Mention

2001

Eugene Cota Robles Fellowship,

Eugene Cota Robles Fellowship

2000

Student's Honor Award,

Sigma Pi Sigma
Professional Memberships
American Association of Physicists in Medicine, Philadelphia, PA
Member, 2004-present
Selected Publications
Peer-Reviewed Original Research Articles

1.
Kim K, Pollard JM, Norris AJ, McDonald JT, Sun Y, Micewicz E, Pettijohn K, Damoiseaux R, Iwamoto KS, Sayre JW, Price BD, Gatti RA, McBride WH. High-throughput screening identifies two classes of antibiotics as radioprotectors: tetracyclines and fluoroquinolones. Clin Cancer Res 15(23):7238-45, 12/2009. e-Pub 11/2009. PMCID: PMC2787903.
2.
Du L, Damoiseaux R, Nahas S, Gao K, Hu H, Pollard JM, Goldstine J, Jung ME, Henning SM, Bertoni C, Gatti RA. Nonaminoglycoside compounds induce readthrough of nonsense mutations. J Exp Med 206(10):2285-97, 9/2009. e-Pub 9/2009. PMCID: PMC2757881.
3.
Pollard JM, Gatti RA. Clinical radiation sensitivity with DNA repair disorders: an overview. Int J Radiat Oncol Biol Phys 74(5):1323-31, 8/2009. PMCID: PMC2725446.
4.
Pollard JM, Reboucas JS, Durazo A, Kos I, Fike F, Panni M, Gralla EB, Valentine JS, Batinic-Haberle I, Gatti RA. Radioprotective effects of manganese-containing superoxide dismutase mimics on ataxia-telangiectasia cells. Free Radic Biol Med 47(3):250-60, 8/2009. e-Pub 4/2009. PMID: 19389472.
5.
Reliene R, Pollard JM, Sobol Z, Trouiller B, Gatti RA, Schiestl RH. N-acetyl cysteine protects against ionizing radiation-induced DNA damage but not against cell killing in yeast and mammals. Mutat Res 665(1-2):37-43, 6/2009. e-Pub 3/2009. PMID: 19427509.
6.
Du L, Pollard JM, Gatti RA. Correction of prototypic ATM splicing mutations and aberrant ATM function with antisense morpholino oligonucleotides. Proc Natl Acad Sci U S A 104(14):6007-12, 4/2007. e-Pub 3/2007. PMCID: PMC1832221.

Abstracts

1.
Pollard JM, Kirsner S, Mason B, Bloom E, Gifford K. Evaluation of Two Brachytherapy Planning Methods for Accelerated Partial Breast Irradiation using MammoSite. IJROBP 78(3):S840, 11/2010.
2.
Pollard JM, Poenisch F, Sahoo N, Zhu X, Gillin M. Verification of the Accuracy of the Proton Range Compensator Scatter Factor and Dose within Inhomogeneity Calculations using the Eclipse Treatment Planning System. Med Phys 37:3260, 2010.
3.
Pollard JM, Angel E, McNitt-Gray M, Gatti, RA. Evaluation of diagnostic exposure risks for a radiosensitive patient. Medical Physics 34(6):2450, June 2007, 2007.
© 2014 The University of Texas MD Anderson Cancer Center