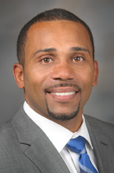 '
Justin E Bird, MD
Present Title & Affiliation
Primary Appointment
Assistant Professor, Department of Orthopedic Oncology, Division of Surgery, The University of Texas MD Anderson Cancer Center, Houston, TX
Office Address
The University of Texas MD Anderson Cancer Center
1400 Pressler Street
PO BOX 301402
Unit Number: 1448
Houston, TX 77030
Room Number: FCT10.5054
Phone: 713-794-5170
Fax: 713-792-8448
Education & Training
Degree-Granting Education

2004
Mount Sinai School of Medicine of New York University, New York, NY, MD, Distinction in Research, Medicine
1993
Cornell University, Ithaca, NY, BA, Africana Studies

Postgraduate Training

8/2011-7/2012

Clinical Fellowship, Orthopaedic Spine Surgery, University of Texas Health Science Center at Houston, Houston, TX, Rex A. W. Marco, MD

8/2010-7/2011

Clinical Fellowship, Musculoskeletal Oncology, UT MD Anderson Cancer Center, Houston, TX, Valerae O. Lewis, MD

7/2004-6/2009

Clinical Residency, Orthopaedic Surgery, The Mount Sinai Hospital, New York, NY, Evan Flatow, MD
Experience/Service
Administrative Appointments/Responsibilities
Director, Orthopaedic Outcomes Research Program, Department of Orthopedic Oncology, Division of Surgery, The University of Texas MD Anderson Cancer Center, Houston, TX, 2014-present
Consultantships
Chief Consultant, Department of Orthopaedic Surgery, John F. Kennedy Hospital, Monrovia, Liberia, 9/2009-6/2010
Locum Tenens, Corning Hospital, Corning, New York, 7/2009-7/2010
Institutional Committee Activities
Member, UT MDACC Post-Operative Pain Algorithm, 2013
Member, Global Academic Program - African Committee, 2012-present
Member, UT MDACC Ad Hoc Fluoroscopy Privileging Committee, 2012-2013
Member, UT MDACC SSAC-Rapid Transfusion Subcommittee, 2012-2013
Honors and Awards
2013

Apple Award for Patient Care,

University of Texas MD Anderson Cancer Center

2010-present

Commander, Order of the Star of Africa,

Republic of Liberia, West Africa

2004

Eugene Friedman, MD Award for Clinical Excellence in Surgery

2003-2004

Academic Medicine Fellow,

Bristol-Meyers Squibb Academic Medicine Fellowship

2000-2001

President, Student National Medical Association,

Mt. Sinai Chapter

2000-2001

W.B. Saunders Award for Outstanding Second Year Medical Student,

W.B. Saunders

1999-2000

National Medical Fellowship Scholar
Professional Memberships
American Association of Orthopaedic Surgeons, AAOS, Rosemont, IL
Member, 5/2009-present
Health Education and Relief through Teaching, HEARTT, Stanford, CT
Member, 5/2009-present
Musculoskeletal Tumor Society, MSTS, Alexandria, VA
Candidate Member, 10/2010-present
North American Spine Society, NASS, Washington, DC
Member, 9/2012-present
Orthopaedic Overseas, Washington, DC
Member, 6/2009-present
Western Orthopaedic Association - WOA, Towson, MD
Member, 3/2013-present
Selected Publications
Peer-Reviewed Original Research Articles

1.
Bird JE, Wang WL, Madewell JE, Lewis VO. Enchondroma with secondary aneurysmal bone cyst. Skeletal Radiology 41(11):1475-8, 2012 Nov;41(11):1475-8. Epub 2012 May 26., 11/2012.
2.
Qureshi SA, Koehler SM, Lin JD, Bird JE, Garcia, RM, Hecht AC. An evaluation of information on the internet of a new device: The cervical artificial disc replacement. Spine 37(10):881-3, 2012 May 1;37(10):881-3, 5/2012.
3.
Colvin AC, Koehler SM, Bird JE. Can the change in center-edge angle during pincer trimming be reliably predicted? Clinical Orthopaedics and Related Research 469(4):1071-4, 2011 Apr;469(4):1071-4., 4/2011.
4.
Bishop J, Lo IK, Klepps SJ, Bird JE, Gladstone J, and Flatow EL.. Cuff Integrity following arthroscopy versus open rotator cuff repair: A prospective study. Journal of Shoulder and Elbow Surgery 15(3):290-9, 2009 May-Jun: 15(3):290-9., 5/2006.
5.
Parsons BO, Klepps SJ, Miller S, Bird JE, Gladstone J, Flatow E. Reliability and reproducibility of radiographs of greater tuberosity displacement. A cadaveric study. J Bone Joint Surg Am 87(1):58-65, 1/2005. PMID: 15634814.

Invited Articles

1.
Bird JE. Soft Tissue Sarcoma. Orthopaedic Knowledge Update, 2013.

Abstracts

1.
Kawaguchi S, Austin M, Vaprociyan A, Nguyen A, Bird JE,. 3D Computer-Assisted Multilevel Spinal Osteotomies Using Ultrasonic Osteotome Integrated Navigation for En Bloc Resection of Thoracic Ewing Sarcoma, 2013.

Book Chapters

1.
Bird JE, Marco RA. Metastatic disease to the cervical spine. In: The Cervical Spine, 1. Elsevier, 228-234, 2015.
2.
Bird JE. Surgical Management of Soft-Tissue Sarcomas. In: Orthopaedic Knowledge Update: Musculoskeletal Tumors 3, 307-315, 2014.
3.
Bird JE, Marco RA. Anterior retroperitoneal approach to the lumbar spine. In: Surgical Anatomy and Techniques of the Spine. Ed(s) Kim, 2013.

Manuals, Teaching Aids, Other Teaching Publications

1.
Bird JE, and Hecht AC. Bone biology and principles of fusion. Interactive Educational Program for Spine: San Diego, CA, www.spine-iep.com. e-Pub 2008.