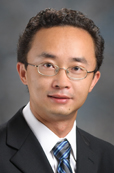 '
Ken Chen, Ph.D.
Present Title & Affiliation
Primary Appointment
Associate Professor, Department of Bioinformatics and Computational Biology, Division of Quantitative Sciences, The University of Texas MD Anderson Cancer Center, Houston, TX
Director of Bioinformatics, Sheikh Khalifa Bin Zayed Al Nahyan Institute for Personalized Cancer Therapy, Houston, TX
Dual/Joint/Adjunct Appointment
Regular Member, Graduate School of Biomedical Sciences, University of Texas Health Science Center, Houston, TX
Assistant Professor, Computer Science, Rice University, Houston, TX
Bio Statement
Dr. Chen received his B.E. from Tsinghua University (Beijing), Ph.D. from University of Illinois at Urbana-Champaign, and postdoctoral training from University of California at San Diego. From 2005 to 2011, he worked for Washington University School of Medicine in St. Louis as a senior scientist and a research faculty. Having a background in machine learning, statistical signal processing, and cancer genomics, his primary goal is to develop computational tools to analyze and interpret human genomics and clinical data towards the realization of genomic medicine. Dr. Chen has designed, developed, and co-developed a set of computational tools such as BreakDancer, TIGRA, CREST, BreakTrans, BreakFusion, PolyScan, SomaticSniper, and VarScan that have been widely applied to characterize individual and population genomics in various large-scale next-generation sequencing projects such as those in the Cancer Genome Atlas (TCGA) and the 1000 Genomes Project. He is particularly interested in comprehensively and accurately constructing the genomes and the transcriptomes of various cancer cell populations towards understanding the heterogeneity and the evolution of cancer as a consequence of genetics and environment. He is also interested in developing integrative approaches to identify biomarkers that are useful for diagnosis and prognosis. More information about his research group is available here.
Education & Training
Degree-Granting Education

2004
University of Illinois, Urbana-Champaign, IL, PHD, Electrical and Computer Engineering
1996
Tsinghua University, Beijing, China, BE, Precision Instruments

Postgraduate Training

2004-2005

Research Fellowship, Biochemistry and Biophysics, University of California, San Diego, CA
Experience/Service
Academic Appointments
Assistant Professor, Division of Quantitative Sciences, The University of Texas MD Anderson Cancer Center, Houston, TX, 8/2011-8/2016
Research Instructor, Department of Genetics, Washington University, St. Louis, MO, 2009-2011
Other Appointments/Responsibilities
Senior Scientist, The Genome Institute at Washington University School of Medicine, St. Louis, MO, 2005-2011
Intern, Microsoft Research Asia, Beijing, China, 5/2001-8/2001
Honors and Awards
2016-2018

Andrew Sabin Family Fellow

2016

Nominee, Robert M. Chamberlain Distinguished Mentor Award

2014

Best performer in ICGC-TCGA DREAM 8.5 Somatic Mutation Calling Challenge,

dreamchallenge.org

2003

Phi Kappa Phi,

University of Illinois at Urbana-Champaign
Professional Memberships
American Association for Cancer Research
Active Member, 2/2012-present
Institute of Electrical and Electronics Engineers
Senior Member, 2009
International Society for Computational Biology
Member, 9/2011-present
Selected Publications
Peer-Reviewed Original Research Articles

1.
Liu P, Yuan B, Carvalho CM, Wuster A, Walter K, Zhang L, Gambin T, Chong Z, Campbell IM, Coban Akdemir Z, Gelowani V, Writzl K, Bacino CA, Lindsay SJ, Withers M, Gonzaga-Jauregui C, Wiszniewska J, Scull J, Stankiewicz P, Jhangiani SN, Muzny DM, Zhang F, Chen K, Gibbs RA, Rautenstrauss B, Cheung SW, Smith J, Breman A, Shaw CA, Patel A, Hurles ME, Lupski JR. An Organismal CNV Mutator Phenotype Restricted to Early Human Development. Cell 168(5):830-842.e7, 2/2017. PMID: 28235197.
2.
Fan X, Chaisson M, Nakhleh L, Chen K. HySA: A Hybrid Structural variant Assembly approach using next generation and single-molecule sequencing technologies. Genome Res, doi: 10.1101/gr.214767.116. e-Pub 1/2017. PMID: 28104618.
3.
Chong Z, Ruan J, Gao M, Zhou W, Chen T, Fan X, Ding L, Lee AY, Boutros P, Chen J, Chen K. novoBreak: local assembly for breakpoint detection in cancer genomes. Nat Methods 14(1):65-67, 1/2017. e-Pub 11/2016. PMCID: PMC5199621.
4.
Zafar H, Wang Y, Nakhleh L, Navin N, Chen K. Monovar: single nucleotide variant detection in single cells. Nat Methods 13(6):505-7, 6/2016. e-Pub 4/2016. PMCID: PMC4887298.
5.
Meric-Bernstam F, Brusco L, Daniels M, Wathoo C, Bailey A, Strong L, Shaw K, Lu K, Qi Y, Zhao H, Lara-Guerra H, Litton J, Arun B, Eterovic AK, Aytac U, Routbort M, Subbiah V, Janku F, Davies MA, Kopetz S, Mendelsohn J, Mills GB, Chen K. Incidental germline variants in 1000 advanced cancers on a prospective somatic genomic profiling protocol. Ann Oncol. e-Pub 1/2016. PMID: 26787237.
6.
Tsang YH, Dogruluk T, Tedeschi PM, Wardwell-Ozgo J, Lu H, Espitia M, Nair N, Minelli R, Chong Z, Chen F, Chang QE, Dennison JB, Dogruluk A, Li M, Ying H, Bertino JR, Gingras MC, Ittmann M, Kerrigan J, Chen K, Creighton CJ, Eterovic K, Mills GB, Scott KL. Functional annotation of rare gene aberration drivers of pancreatic cancer. Nat Commun 7:10500, 2016. e-Pub 1/2016. PMCID: PMC4737758.
7.
Chen T, Wang Z, Zhou W, Chong Z, Meric-Bernstam F, Mills GB, Chen K. Hotspot mutations delineating diverse mutational signatures and biological utilities across cancer types. BMC Genomics 17 Suppl 2:394, 2016. e-Pub 6/2016. PMCID: PMC4928158.
8.
Zhou W, Chen T, Chong Z, Rohrdanz MA, Melott JM, Wakefield C, Zeng J, Weinstein JN, Meric-Bernstam F, Mills GB, Chen K. TransVar: a multi-level variant annotator for precision genomics. Nat Methods 12(11):1002-3, 10/2015. PMID: 26513549.
9.
Sudmant PH, Rausch T, Gardner EJ, Handsaker RE, Abyzov A, Huddleston J, Zhang Y, Ye K, Jun G, Hsi-Yang Fritz M, Konkel MK, Malhotra A, Stütz AM, Shi X, Paolo Casale F, Chen J, Hormozdiari F, Dayama G, Chen K, Malig M, Chaisson MJ, Walter K, Meiers S, Kashin S, Garrison E, Auton A, Lam HY, Jasmine Mu X, Alkan C, Antaki D, Bae T, Cerveira E, Chines P, Chong Z, Clarke L, Dal E, Ding L, Emery S, Fan X, Gujral M, Kahveci F, Kidd JM, Kong Y, Lameijer EW, McCarthy S, Flicek P, Gibbs RA, Marth G, Mason CE, Menelaou A, Muzny DM, Nelson BJ, Noor A, Parrish NF, Pendleton M, Quitadamo A, Raeder B, Schadt EE, Romanovitch M, Schlattl A, Sebra R, Shabalin AA, Untergasser A, Walker JA, Wang M, Yu F, Zhang C, Zhang J, Zheng-Bradley X, Zhou W, Zichner T, Sebat J, Batzer MA, McCarroll SA, 1000 Genomes Project Consortium, Mills RE, Gerstein MB, Bashir A, Stegle O, Devine SE, Lee C, Eichler EE, Korbel JO. An integrated map of structural variation in 2,504 human genomes. Nature 526(7571):75-81, 9/2015. PMID: 26432246.
10.
Meric-Bernstam F, Johnson A, Holla V, Bailey AM, Brusco L, Chen K, Routbort M, Patel KP, Zeng J, Kopetz S, Davies MA, Piha-Paul SA, Hong DS, Eterovic AK, Tsimberidou AM, Broaddus R, Bernstam EV, Shaw KR, Mendelsohn J, Mills GB. A Decision Support Framework for Genomically Informed Investigational Cancer Therapy. J Natl Cancer Inst 107(7), 7/2015. e-Pub 4/2015. PMID: 25863335.
11.
Grubbs EG, Ng PK, Bui J, Busaidy NL, Chen K, Lee JE, Lu X, Lu H, Meric-Bernstam F, Mills GB, Palmer G, Perrier ND, Scott KL, Shaw KR, Waguespack SG, Williams MD, Yelensky R, Cote GJ. RET Fusion as a Novel Driver of Medullary Thyroid Carcinoma. J Clin Endocrinol Metab 100(3):788-93, 3/2015. e-Pub 12/2014. PMID: 25546157.
12.
Chen K, Meric-Bernstam F, Zhao H, Zhang Q, Ezzeddine N, Tang LY, Qi Y, Mao Y, Chen T, Chong Z, Zhou W, Zheng X, Johnson A, Aldape KD, Routbort MJ, Luthra R, Kopetz S, Davies MA, de Groot J, Moulder S, Vinod R, Farhangfar CJ, Mills Shaw K, Mendelsohn J, Mills GB, Karina Eterovic A. Clinical Actionability Enhanced through Deep Targeted Sequencing of Solid Tumors. Clin Chem. e-Pub 1/2015. PMID: 25626406.
13.
Abyzov A, Li S, Kim DR, Mohiyuddin M, Stütz AM, Parrish NF, Mu XJ, Clark W, Chen K, Hurles M, Korbel JO, Lam HY, Lee C, Gerstein MB. Analysis of deletion breakpoints from 1,092 humans reveals details of mutation mechanisms. Nat Commun 6:7256, 2015. e-Pub 6/2015. PMCID: PMC4451611.
14.
Zhou W, Zhao H, Chong Z, Mark RJ, Eterovic AK, Meric-Bernstam F, Chen K. ClinSeK: a targeted variant characterization framework for clinical sequencing. Genome Med 7(1):34, 2015. e-Pub 3/2015. PMID: 25918555.
15.
Wang Y, Waters J, Leung ML, Unruh A, Roh W, Shi X, Chen K, Scheet P, Vattathil S, Liang H, Multani A, Zhang H, Zhao R, Michor F, Meric-Bernstam F, Navin NE. Clonal evolution in breast cancer revealed by single nucleus genome sequencing. Nature. e-Pub 7/2014. PMID: 25079324.
16.
Zhou W, Chen T, Zhao H, Eterovic AK, Meric-Bernstam F, Mills GB, Chen K. Bias from removing read duplication in ultra-deep sequencing experiments. Bioinformatics. e-Pub 1/2014. PMID: 24389657.
17.
Fan X, Zhou W, Chong Z, Nakhleh L, Chen K. Towards accurate characterization of clonal heterogeneity based on structural variation. BMC Bioinformatics 15(299):299, 2014. e-Pub 9/2014. PMCID: PMC4165998.
18.
Chen K, Chen L, Fan X, Wallis J, Ding L, Weinstock G. TIGRA: A Targeted Iterative Graph Routing Assembler for breakpoint assembly. Genome Res. e-Pub 12/2013. PMID: 24307552.
19.
Chen K, Navin NE, Wang Y, Schmidt HK, Wallis JW, Niu B, Fan X, Zhao H, McLellan MD, Hoadley KA, Mardis ER, Ley TJ, Perou CM, Wilson RK, Ding L. BreakTrans: uncovering the genomic architecture of gene fusions. Genome Biol 14(8). e-Pub 8/2013. PMID: 23972288.
20.
Mao Y, Chen H, Liang H, Meric-Bernstam F, Mills GB, Chen K. CanDrA: Cancer-Specific Driver Missense Mutation Annotation with Optimized Features. PLoS One 8(10):e77945, 2013. e-Pub 10/2013. PMID: 24205039.
21.
Govindan R, Ding L, Griffith M, Subramanian J, Dees ND, Kanchi KL, Maher CA, Fulton R, Fulton L, Wallis J, Chen K, Walker J, McDonald S, Bose R, Ornitz D, Xiong D, You M, Dooling DJ, Watson M, Mardis ER, Wilson RK. Genomic landscape of non-small cell lung cancer in smokers and never-smokers. Cell 150(6):1121-34, 9/2012. PMCID: PMC3656590.
22.
Welch JS, Ley TJ, Link DC, Miller CA, Larson DE, Koboldt DC, Wartman LD, Lamprecht TL, Liu F, Xia J, Kandoth C, Fulton RS, McLellan MD, Dooling DJ, Wallis JW, Chen K, Harris CC, Schmidt HK, Kalicki-Veizer JM, Lu C, Zhang Q, Lin L, O'Laughlin MD, McMichael JF, Delehaunty KD, Fulton LA, Magrini VJ, McGrath SD, Demeter RT, Vickery TL, Hundal J, Cook LL, Swift GW, Reed JP, Alldredge PA, Wylie TN, Walker JR, Watson MA, Heath SE, Shannon WD, Varghese N, Nagarajan R, Payton JE, Baty JD, Kulkarni S, Klco JM, Tomasson MH, Westervelt P, Walter MJ, Graubert TA, Dipersio JF, Ding L, Mardis ER, Wilson RK. The origin and evolution of mutations in acute myeloid leukemia. Cell 150(2):264-78, 7/2012. PMCID: PMC3407563.
23.
Ellis MJ, Ding L, Shen D, Luo J, Suman VJ, Wallis JW, Van Tine BA, Hoog J, Goiffon RJ, Goldstein TC, Ng S, Lin L, Crowder R, Snider J, Ballman K, Weber J, Chen K, Koboldt DC, Kandoth C, Schierding WS, McMichael JF, Miller CA, Lu C, Harris CC, McLellan MD, Wendl MC, DeSchryver K, Allred DC, Esserman L, Unzeitig G, Margenthaler J, Babiera GV, Marcom PK, Guenther JM, Leitch M, Hunt K, Olson J, Tao Y, Maher CA, Fulton LL, Fulton RS, Harrison M, Oberkfell B, Du F, Demeter R, Vickery TL, Elhammali A, Piwnica-Worms H, McDonald S, Watson M, Dooling DJ, Ota D, Chang LW, Bose R, Ley TJ, Piwnica-Worms D, Stuart JM, Wilson RK, Mardis ER. Whole-genome analysis informs breast cancer response to aromatase inhibition. Nature 486(7403):353-60, 6/2012. e-Pub 6/2012. PMCID: PMC3383766.
24.
Young MA, Larson DE, Sun CW, George DR, Ding L, Miller CA, Lin L, Pawlik KM, Chen K, Fan X, Schmidt H, Kalicki-Veizer J, Cook LL, Swift GW, Demeter RT, Wendl MC, Sands MS, Mardis ER, Wilson RK, Townes TM, Ley TJ. Background mutations in parental cells account for most of the genetic heterogeneity of induced pluripotent stem cells. Cell Stem Cell 10(5):570-82, 5/2012. e-Pub 4/2012. PMCID: PMC3348423.
25.
Chen K, Wallis JW, Kandoth C, Kalicki-Veizer JM, Mungall KL, Mungall AJ, Jones SJ, Marra MA, Ley TJ, Mardis ER, Wilson RK, Weinstein JN, Ding L. BreakFusion: Targeted Assembly-based Identification of Gene Fusions in Whole Transcriptome Paired-end Sequencing Data. Bioinformatics. e-Pub 5/2012. PMCID: PMC3389765.
26.
Walter MJ, Shen D, Ding L, Shao J, Koboldt DC. Chen K, Larson DE, McLellan MD, Dooling D, Abbott R, Fulton R, Magrini V, Schmidt H, Kalicki-Veizer J, O'Laughlin M, Fan X, Grillot M, Witowski S, Heath S, Frater JL, Eades W, Tomasson M, Westervelt P, DiPersio JF, Link DC, Mardis ER, Ley TJ, Wilson RK and Graubert TA. Clonal architecture of secondary acute myeloid leukemia. N Engl J Med 366(12):1090-1098, 2012 Mar 22;366(12):1090-8. Epub 2012 Mar 14., 3/2012. PMCID: PMC3320218.
27.
Ding L, Ley T, Larson DE, Miller CA, Koboldt DC, Welch JS, Ritchey JK, Young MA, Lamprecht T, McLellan MD, McMichael JF, Wallis J, Lu C, Shen D, Harris CC, Dooling DJ, Fulton RS, Fulton LL, Chen K, Schmidt H, Kalicki-Veizer J, Magrini V, Cook L, McGrath SD, Vickery TL, Wendi MC, Heath S, Watson MA, Link DC, Tomasson MH, Shannon WD, Payton JE, Kulkarni S, Westervelt P, Walter MJ, Graubert TA, Mardis E, Wilson R and Dipersio JF. Clonal evolution in relapsed acute myeloid leukemia revealed by whole-genome sequencing. Nature 481, 1/2012. e-Pub 1/2012. PMCID: PMC3267864.
28.
Larson DE, Harris CC, Chen K, Koboldt DC, Abbott TE, Dooling DJ, Ley TJ, Mardis ER, Wilson RK, Ding L. SomaticSniper: Identification of somatic point mutations in whole genome sequencing data. Bioinformatics. e-Pub 12/2011. PMCID: PMC3268238.
29.
Welch JS, Westervelt P, Ding L, Larson DE, Klco JM, Kulkarni S, Wallis J, Chen K, Payton JE, Fulton RS, Veizer J, Schmidt H, Vickery TL, Heath S, Watson MA, Tomasson MH, Link DC, Graubert TA, DiPersio JF, Mardis ER, Ley TJ, Wilson RK. Use of whole-genome sequencing to diagnose a cryptic fusion oncogene. JAMA 305(15):1577-84, 4/2011. PMCID: PMC3156695.
30.
Mills RE, Walter K, Stewart C, Handsaker RE, Chen K, Alkan C, Abyzov A, Yoon SC, Ye K, Cheetham RK, Chinwalla A, Conrad DF, Fu Y, Grubert F, Hajirasouliha I, Hormozdiari F, Iakoucheva LM, Iqbal Z, Kang S, Kidd JM, Konkel MK, Korn J, Khurana E, Kural D, Lam HY, Leng J, Li R, Li Y, Lin CY, Luo R, Mu XJ, Nemesh J, Peckham HE, Rausch T, Scally A, Shi X, Stromberg MP, Stütz AM, Urban AE, Walker JA, Wu J, Zhang Y, Zhang ZD, Batzer MA, Ding L, Marth GT, McVean G, Sebat J, Snyder M, Wang J, Ye K, Eichler EE, Gerstein MB, Hurles ME, Lee C, McCarroll SA, Korbel JO, 1000 Genomes Project. Mapping copy number variation by population-scale genome sequencing. Nature 470(7332):59-65, 2/2011. PMCID: PMC3077050.
31.
Wang J, Mullighan CG, Easton J, Roberts S, Heatley SL, Ma J, Rusch MC, Chen K, Harris CC, Ding L, Holmfeldt L, Payne-Turner D, Fan X, Wei L, Zhao D, Obenauer JC, Naeve C, Mardis ER, Wilson RK, Downing JR, Zhang J. CREST maps somatic structural variation in cancer genomes with base-pair resolution. Nat Methods 8(8):652-4, 2011. e-Pub 6/2011. PMCID: PMC3527068.
32.
1000 Genomes Project Consortium. A map of human genome variation from population-scale sequencing. Nature 467(7319):1061-73, 10/2010. PMCID: PMC3042601.
33.
Chen K, Wallis JW, McLellan MD, Larson DE, Kalicki JM, Pohl CS, McGrath SD, Wendl MC, Zhang Q, Locke DP, Shi X, Fulton RS, Ley TJ, Wilson RK, Ding L, Mardis ER. BreakDancer: an algorithm for high-resolution mapping of genomic structural variation. Nat Methods 6(9):677-81, 9/2009. e-Pub 8/2009. PMCID: PMC3661775.
34.
Koboldt DC, Chen K, Wylie T, Larson DE, McLellan MD, Mardis ER, Weinstock GM, Wilson RK, Ding L. VarScan: variant detection in massively parallel sequencing of individual and pooled samples. Bioinformatics 25(17):2283-5, 9/2009. e-Pub 6/2009. PMCID: PMC2734323.
35.
Ley TJ, Mardis ER, Ding L, Fulton B, McLellan MD, Chen K, Dooling D, Dunford-Shore BH, McGrath S, Hickenbotham M, Cook L, Abbott R, Larson DE, Koboldt DC, Pohl C, Smith S, Hawkins A, Abbott S, Locke D, Hillier LW, Miner T, Fulton L, Magrini V, Wylie T, Glasscock J, Conyers J, Sander N, Shi X, Osborne JR, Minx P, Gordon D, Chinwalla A, Zhao Y, Ries RE, Payton JE, Westervelt P, Tomasson MH, Watson M, Baty J, Ivanovich J, Heath S, Shannon WD, Nagarajan R, Walter MJ, Link DC, Graubert TA, DiPersio JF, Wilson RK. DNA sequencing of a cytogenetically normal acute myeloid leukaemia genome. Nature 456(7218):66-72, 11/2008. PMCID: PMC2603574.
36.
Cancer Genome Atlas Research Network. Comprehensive genomic characterization defines human glioblastoma genes and core pathways. Nature 455(7216):1061-8, 10/2008. e-Pub 9/2008. PMCID: PMC2671642.
37.
Chen K, McLellan MD, Ding L, Wendl MC, Kasai Y, Wilson RK, Mardis ER. PolyScan: an automatic indel and SNP detection approach to the analysis of human resequencing data. Genome Res 17(5):659-66, 5/2007. e-Pub 4/2007. PMCID: PMC1855178.
38.
Hou T, Chen K, McLaughlin WA, Lu B, Wang W. Computational analysis and prediction of the binding motif and protein interacting partners of the Abl SH3 domain. PLoS Comput Biol 2(1):e1, 1/2006. e-Pub 1/2006. PMCID: PMC1356089.
39.
Chen K, Hasegawa-Johnson M, Cohen A, Borys S, Kim S, Cole J, Choi JY. Prosody dependent speech recognition on radio news corpus of American English. IEEE Transactions on Speech and Audio Processing 14(1):232-245, 2006.

Invited Articles

1.
Navin NE, Chen K. Genotyping tumor clones from single-cell data. Nat Methods 13(7):555-6, 6/2016. PMID: 27355792.
2.
Chen K, Meric-Bernstam F. Whole genome sequencing in cancer clinics. EBioMedicine 2(1):15-6, 1/2015. e-Pub 12/2014. PMCID: PMC4484824.
3.
Fan X, Abbott TE, Larson D, Chen K. BreakDancer: Identification of Genomic Structural Variation from Paired-End Read Mapping. Curr Protoc Bioinformatics 2014, 2014. PMCID: PMC4138716.
Grant & Contract Support
Title:
Informatics to Enable Routine Personalized Cancer Therapy
Funding Source:
NIH/NCI (Subcontract from the University of Texas Health Science Center)
Role:
Co-Investigator
Principal Investigator:
Elmer Bernstam
Duration:
9/1/2013 - 8/31/2016
Title:
An Integrative Analysis of Structural Variation for the 1000 Genomes Project (U41)
Funding Source:
NIH/NCI (Subaward with The Jackson Laboratory)
Role:
Principal Investigator-MDACC
Principal Investigator:
Charles Lee
Duration:
7/1/2013 - 8/31/2017
Title:
Delineating Heterogeneous Structural Complexity in Cancer Genomes (R01)
Funding Source:
NIH/NCI
Role:
Principal Investigator
Duration:
4/1/2013 - 3/31/2017
Title:
Applying the Cloud Computing resources to efficiently and comprehensively accomplish genomic analysis of TCGA/ICGC samples (R01 supplement)
Funding Source:
NIH/NCI
Role:
Principal Investigator
Duration:
4/1/2013 - 3/31/2017
Title:
Center for Clinical and Translational Research (PP-2)
Funding Source:
NIH/NCI Subcontract from the University of Texas Health Science Center-Houston
Role:
Collaborator
Principal Investigator:
David McPherson
Duration:
7/1/2012 - 6/30/2017