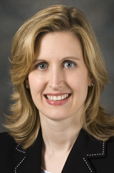 '
Kimberly Higginbotham Koenig, M.D.
Present Title & Affiliation
Primary Appointment
Assistant Professor, Department of Breast Medical Oncology, Division of Cancer Medicine, The University of Texas M. D. Anderson Cancer Center, Houston, TX
Education & Training
Degree-Granting Education

2002
The University of Texas Medical School, Houston, TX, MD, Medicine
1998
Trinity University, San Antonio, TX, BS, Magna Cum Laude, Biology

Postgraduate Training

7/2005-6/2008

Clinical Fellowship, Hematology and Oncology, The University of Texas MD Anderson Cancer Center, Houston, TX

7/2002-6/2005

Clinical Residency, Internal Medicine, Vanderbilt University Medical Center, Nashville, TN
Board Certifications
| | |
| --- | --- |
| 8/2005 | American Board of Internal Medicine |
Selected Publications
Peer-Reviewed Original Research Articles

1.
Esteva FJ, Moulder SL, Gonzalez-Angulo AM, Ensor J, Murray JL, Green MC, Koenig KB, Lee MH, Hortobagyi GN, Yeung SC. Phase I trial of exemestane in combination with metformin and rosiglitazone in nondiabetic obese postmenopausal women with hormone receptor-positive metastatic breast cancer. Cancer Chemother Pharmacol 71(1):63-72, 2013. PMID: 23053261.
2.
Iwamoto T, Booser D, Valero V, Murray JL, Koenig K, Esteva FJ, Ueno NT, Zhang J, Shi W, Qi Y, Matsuoka J, Yang EJ, Hortobagyi GN, Hatzis C, Symmans WF, Pusztai L. Estrogen receptor (ER) mRNA and ER-related gene expression in breast cancers that are 1% to 10% ER-positive by immunohistochemistry. J Clin Oncol 30(7):729-734, 2012. PMID: 22291085.
3.
Higginbotham, KB, Lozano R, Brown T, Patt YZ, Arima T, Abbruzzese JL, Thomas MB. A phase I/II trial of TAC-101, an oral synthetic retinoid, in patients with advanced hepatocellular carcinoma. J Cancer Res Clin Oncol 134(12):1325-1335, 2008. PMID: 18504614.

Abstracts

1.
Murthy RK, Varma A, Mishra P, Hess KR, Young EJ, Murray JL, Koenig KH, Greeen MC, Moulder SL, Melhem-Bertrandt A, Booser DJ, Valero V, Hortobagyi GN, Esteva FJ. Impact of adjuvant trastuzumab on outcomes of HER2-positive breast cancer patients treated with HER2-targeted therapy in the metastatic setting. J Clin Oncol 30(15S):13s (#527), 2012.
© 2014 The University of Texas MD Anderson Cancer Center