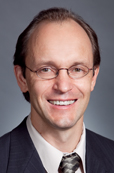 '
Konstantin V Sokolov, PhD
Present Title & Affiliation
Primary Appointment
Associate Professor, Department of Imaging Physics, Division of Diagnostic Imaging, The University of Texas MD Anderson Cancer Center, Houston, TX
Dual/Joint/Adjunct Appointment
Adjunct Associate Professor, The University of Texas at Austin, Austin, TX
Bio Statement
Dr. Sokolov received Diploma Degree in Physics in 1987 from the Moscow Engineering-Physics Institute, Russia, and Ph.D. in Biophysics in 1992 from Moscow State University, Russia. His Ph.D. thesis focused on biomedical applications of surface-enhanced Raman spectroscopy (SERS). Subsequently, he carried out research in the field of optical spectroscopy of biomolecules and bioanalytical chemistry as a postdoctoral fellow and a staff scientist at the Institute of Bioorganic Chemistry Russian Academy of Science, Moscow, Russia; the University of Reims, Reims, France; and the Department of Chemistry, Iowa State University, Ames, Iowa, U.S.A. Before joining the M.D. Anderson Cancer Center as a faculty member in 2002, Dr. Sokolov was a Research Scientist in Biomedical Engineering Program, the University of Texas at Austin. Currently, Dr. Sokolov is a Professor of Imaging Physics and the director of the Biomedical Optics and NanoDiagnostics (BOND) laboratory, which develops nanotechnology-based platforms and optical imaging/spectroscopy devices for early detection, diagnosis/prognosis, and treatment of cancer and cardiovascular diseases. Achieving these objectives requires synergy between fundamental, exploratory, and translational research. Therefore, Dr. Sokolov's approach to solving challenging biomedical problems is through fundamental studies leading to future clinical applications.
Dr. Sokolov has made seminal contributions to new directions of research in the field of bio-nanotechnology especially in the areas of ultra-sensitive biomolecular assays and molecular imaging that utilize unique physicochemical properties of plasmonic nanoparticles. Research and advanced-degree training in Dr. Sokolov's lab has been funded by major grants from NCI, NIBIB, NHLBI, NSF, and the Whitaker Foundation.
Research Interests
Smart biophotonic probes for molecular imaging; methodology and devices for in vivo imaging and spectroscopy with optical contrast; molecular and functional optical/photoacoustic imaging in vivo; image-guided therapy; diagnostic assays for efficient capture, detection and analysis of rare cells in the body
Clinical Interests
Education & Training
Degree-Granting Education

1992
Moscow State University, Moscow, Russia, PHD, Biophysics
1987
Moscow Engineering Physics Institute, Moscow, Russia, Diploma Degree, Summa Cum Laude, Physics

Postgraduate Training

1993

Postgraduate Training, Laboratory of Biomolecular Spectroscopy, Reims University, Reims, France
Honors and Awards
2013

General Chair,

OSA Topical Meeting: Optical Molecular Probes, Imaging, and Drug Delivery

2012

Plenary Speaker,

XVI International School on Optics, Laser Physics and Biophotonics, Saratov, Russia

2011

Chair,

OSA Topical Meeting: Optical Molecular Probes, Imaging, and Drug Delivery

2011

Chair,

III International Symposium on Topical Problems of Biophotonics

2008-2011

Chair,

The Molecular Probes and Nanobio-optics Technical Group of the Optical Society of America (OSA)

2008

Speaker, Lester Wolfe Workshop in Laser Biomedicine,

MIT and Harvard-MIT Division of Health Science and Technology

2000

Whitaker Foundation Award

1993

Outstanding Young Scientist Award,

Russian Academy of Sciences

1992-1993

Fellowship,

Centre National de la Recherché Scientifique (CNRS) France

1989

Young Scientist Award,

Shemyakin Institute of Bioorganic Chemistry USSR Academy of Sciences
Selected Publications
Peer-Reviewed Original Research Articles

1.
Wu CH, Cook J, Emelianov S, and Sokolov K. Multimodal Magneto-Plasmonic Nanoclusters for Biomedical Applications. Advanced Functional Materials, 9/2014. PMID: In process.
2.
Luke GP, Myers JN, Emelianov SY, Sokolov KV. Sentinel lymph node biopsy revisited: ultrasound-guided photoacoustic detection of micrometastases using molecularly targeted plasmonic nanosensors. Cancer Res. e-Pub 8/2014. PMID: 25106426.
3.
Stover RJ, Murthy AK, Nie GD, Gourisankar S, Dear BJ, Truskett TM, Sokolov KV, Johnston KP. Quenched Assembly of NIR-Active Gold Nanoclusters Capped with Strongly Bound Ligands by Tuning Particle Charge via pH and Salinity. J Phys Chem C Nanomater Interfaces 118(26):14291-14298, 7/2014. e-Pub 6/2014. PMCID: PMC4096191.
4.
Hoshino K, Joshi PP, Bhave G, Sokolov KV, Zhang X. Use of colloidal quantum dots as a digitally switched swept light source for gold nanoparticle based hyperspectral microscopy. Biomed Opt Express 5(5):1610-5, 5/2014. e-Pub 4/2014. PMCID: PMC4026901.
5.
Kuroda S, Tam J, Roth JA, Sokolov K, Ramesh R. EGFR-targeted plasmonic magnetic nanoparticles suppress lung tumor growth by abrogating G2/M cell-cycle arrest and inducing DNA damage. Int J Nanomedicine 9:3825-39, 2014. e-Pub 8/2014. PMCID: PMC4134185.
6.
Wu CH, Sokolov K. Synthesis of Immunotargeted Magneto-plasmonic Nanoclusters. J Vis Exp(90), 2014. e-Pub 8/2014. PMID: 25177973.
7.
Joshi PP, Yoon SJ, Hardin WG, Emelianov S, Sokolov KV. Conjugation of Antibodies to Gold Nanorods through Fc Portion: Synthesis and Molecular Specific Imaging. Bioconjugate Chem 24(6):878-888, 2013. PMID: 23631707.
8.
Wu CH, Huang YY, Chen P, Hoshino K, Liu H, Frenkel EP, Zhang JXJ, Sokolov KV. Versatile Immunomagnetic Nanocarrier Platform for Capturing Cancer Cells. ACS Nano, 2013. PMCID: PMC3846426.
9.
Larson TA, Joshi PP, Sokolov K. Preventing Protein Adsorption and Macrophage Uptake of Gold Nanoparticles via a Hydrophobic Shield. ACS Nano 6(10):9182-9190, 2012. PMCID: PMC3517292.
10.
Yokoyama T, Tam J, Kuroda S, Scott AW, Aaron J, Larson T, Shanker M, Correa AM, Kondo S, Roth JA, Sokolov K*, Ramesh R.*. EGFR-targeted hybrid plasmonic magnetic nanoparticles synergistically induce autophagy and apoptosis in non-small cell lung cancer cells,. PLoS ONE 6(11):e25507, 13 pages (*corresponding authors), 2011. PMCID: PMC3210119.
11.
Bayer CL, Chen Y-S, Kim S, Mallidi S, Sokolov K, Emelianov S. Multiplex photoacoustic molecular imaging using targeted silica-coated gold nanorods. Biomedical Optics Express 2(7):1828-1835, 2011. PMCID: PMC3130570.
12.
Tam JM, Tam JO, Murthy A, Ingram DR, Ma LL, Travis K, Johnston KP, Sokolov KV. Controlled assembly of biodegradable plasmonic nanoclusters for near-infrared imaging and therapeutic applications. ACS Nano 4((4)):2178-84, 4/2010. PMCID: PMC2862619.
13.
Nieman LT, Jakovljevic M, Sokolov KV. Compact Beveled Fiber Optic Probe Design for Enhanced Depth Discrimination in Epithelial Tissues. Optics Express 17(4):2780-2796, 2009. PMID: 19219183.
14.
Kumar S, Aaron J, Sokolov KV. Directional conjugation of antibodies to nanoparticles for synthesis of multiplexed optical contrast agents with both delivery and targeting moieties. Nature Protocols 3(2):314-320, 2008. PMID: 18274533.
15.
Aaron J, de la Rosa E, Travis K, Harrison N, Burt J, José-Yacamán M, Sokolov KV. Polarization Microscopy with Stellated Gold Nanoparticles for Robust, In-Situ Monitoring of Biomolecules. Optics Express 16(3):2153-2167, 2008.
16.
Nieman LT, Kan CW, Gillenwater A, Markey MK, Sokolov KV. Probing the local tissue changes in the oral cavity for the early detection of cancer using oblique polarized reflectance spectroscopy: a pilot clinical trial. J Biomedical Optics 13(2):024011, 2008. PMID: 18465974.
17.
Sokolov KV, Follen M, Aaron J, Pavlova I, Malpica A, Lotan R, Richards-Kortum R. Real-Time Vital Optical Imaging of Precancer Using Anti-Epidermal Growth Factor Receptor Antibodies Conjugated to Gold Nanoparticles. Cancer Res 63:1999-2004, 2003. PMID: 12727808.

Abstracts

1.
Murthy, A. K.; Tam, J. M.; Tam, J. O.; Ingram, D.; Schulze, M.; Robin, N.; Stover, R.; Schramm, R.; Ma, L.; Sokolov, K. V.; Johnston, K. P.,. Design of biodegradable gold nanoclusters for NIR optical imaging. Abstracts of Papers of the American Chemical Society 242, 2011.