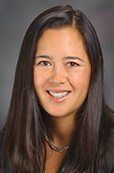 '
Larissa A. Meyer, MD, MPH, F.A.C.O.G.
Present Title & Affiliation
Primary Appointment
Assistant Professor, Department of Gynecologic Oncology and Reproductive Medicine, Division of Surgery, The University of Texas MD Anderson Cancer Center, Houston, TX
Bio Statement
Dr. Meyer is an Assistant Professor of Gynecologic Oncology. She cares for women with gynecologic malignancies in a compassionate and coordinated fashion by providing surgical care as well as chemotherapy. In addition to open surgery, Dr. Meyer perfoms specialized procedures in minimally invasive surgery, including robotic surgery, for appropriate patients with cervical, endometrial and ovarian cancer.
Her research interests include health services research, comparative effectiveness, cancer prevention, and quality improvement. Dr. Meyer has authored and co-authored numerous articles in peer-reviewed journals. Dr. Meyer is a member of the Amercian Society of Clinical Oncologists, the American College of Surgeons, the Society of Gynecologic Oncologists, and the European Society of Gynecologic Oncology. In addition, she serves as a reviewer for several journals.
Office Address
The University of Texas MD Anderson Cancer Center
1515 Holcombe Blvd.
Unit Number: 1362
Houston, TX 77030
Room Number: CPB6.3271
Education & Training
Degree-Granting Education

2002
Harvard Medical School, Boston, MA, MD, Honors in a Special Field, Medicine
1997
Pomona College, Claremont, CA, BA, Cum Laude, Anthropology

Postgraduate Training

7/2007-6/2011

Clinical Fellowship, Gynecologic Oncology, The University of Texas MD Anderson Cancer Center, Houston, TX

7/2002-6/2006

Residency, Obstetrics and Gynecology, Department of Obstetrics and Gynecology, New York Presbyterian Hospital, Columbia University, New York, NY
Board Certifications
| | |
| --- | --- |
| 11/2012 | American Board of Obstetrics and Gynecology |
Honors and Awards
2009

1st Place Bayer Healthcare Pharmaceuticals Inc. Award Population/Patient-Oriented Research.,

Trainee Research Day, The University of Texas MD Anderson Cancer Center

2009

ASCO Fellows Travel Grant

2008

ASCO/AACR Methods in Clinical Cancer Research Workship,

Vail, CO

2006

ACOG Shingo Exchange Program,

58th Annual Congress of the Japan Society of Obstetrics and Gynecology

2004

Organon Inc. Resident Research Award,

Columbia University

2000-2001

Sinclair Kennedy Traveling Fellowship,

Harvard University

1997

Ada May Fitts Award, awarded to the woman member of the graduating class for outstanding intellectual leadership and influence on other students at the college,

Pomona College

1997

Anthropology Department Senior Prize,

Pomona College for senior thesis

1997

Bessie Reiner Dill Award for a woman pursuing graduate studies in law, medicine or business,

Pomona College

1997

Dwight L. Ryerson Memorial Pre-Medical Award for the senior premedical student who best exemplifies the humanitarian and compassionate qualities of the dedicated physician,

Pomona College

1997

Mortar Board Honor Society,

Pomona College

1997

Phi Beta Kappa,

Pomona College

1996

Durfee Foundation Chinese Adventure Capital Program Grant,

Pomona College

1996

National Science Foundation Minority Scholarship in Anthropology,

Pomona College
Professional Memberships
American College of Surgeons, Council of the American College of Obstetrics and Gynecology
Resident Member, 5/2006-5/2009
American Congress of Obstetricians and Gynecologists
Fellow, 2012-present
Member, 2006-present
American Society of Clinical Oncology
Member, 2007-present
Society of Gynecologic Oncologists
Member, 2007-present
Society of Medical Decision Making
Member, 2013-present
Selected Publications
Peer-Reviewed Original Research Articles

1.
Zhang Q, Celestino J, Schmandt R, McCampbell AS, Urbauer DL, Meyer LA, Burzawa JK, Huang M, Yates MS, Iglesias D, Broaddus RR, Lu KH. Chemopreventive effects of metformin on obesity-associated endometrial proliferation. Am J Obstet Gynecol 209(1):24.e1-24.e12, 7/2013. PMID: 23500454.
2.
Abkevich V, Timms KM, Hennessy BT, Potter J, Carey MS, Meyer LA, Smith-McCune K, Broaddus R, Lu KH, Chen J, Tran TV, Williams D, Iliev D, Jammulapati S, FitzGerald LM, Krivak T, DeLoia JA, Gutin A, Mills GB, Lanchbury JS. Patterns of genomic loss of heterozygosity predict homologous recombination repair defects in epithelial ovarian cancer. Br J Cancer 107(10):1776-82, 11/2012. PMCID: PMC3493866.
3.
Wang LE, Ma H, Hale KS, Yin M, Meyer LA, Liu H, Li J, Lu KH, Hennessy BT, Li X, Spitz MR, Wei Q, Mills GB. Roles of genetic variants in the PI3K and RAS/RAF pathways in susceptibility to endometrial cancer and clinical outcomes. J Cancer Res Clin Oncol 138(3):377-85, 3/2012. PMCID: PMC3526101.
4.
Lacour RA, Westin SN, Meyer LA, Wingo SN, Schorge JO, Brooks R, Mutch D, Molina A, Sutphen R, Barnes M, Elder J, Teoh D, Powell CB, Choubey V, Blank S, Macdonald HR, Brady MF, Urbauer DL, Bodurka D, Gershenson DM, Lu KH. Improved survival in non-Ashkenazi Jewish ovarian cancer patients with BRCA1 and BRCA2 gene mutations. Gynecol Oncol 121(2):358-63, 5/2011. PMCID: PMC3310886.
5.
Burzawa JK, Schmeler KM, Soliman PT, Meyer LA, Bevers MW, Pustilnik TL, Anderson ML, Ramondetta LM, Tortolero-Luna G, Urbauer DL, Chang S, Gershenson DM, Brown J, Lu KH. Prospective evaluation of insulin resistance among endometrial cancer patients. Am J Obstet Gynecol 204(4):355.e1-7, 4/2011. PMID: 21324431.
6.
Yates MS, Meyer LA, Deavers MT, Daniels MS, Keeler ER, Mok SC, Gershenson DM, Lu KH. Microscopic and early-stage ovarian cancers in BRCA1/2 mutation carriers: building a model for early BRCA-associated tumorigenesis. Cancer Prev Res (Phila) 4(3):463-70, 3/2011. PMCID: PMC3048908.
7.
Yin J, Lu K, Lin J, Wu L, Hildebrandt MA, Chang DW, Meyer L, Wu X, Liang D. Genetic variants in TGF-β pathway are associated with ovarian cancer risk. PLoS One 6(9):e25559, 2011. PMCID: PMC3184159.
8.
Liang D, Meyer L, Chang DW, Lin J, Pu X, Ye Y, Gu J, Wu X, Lu K. Genetic variants in MicroRNA biosynthesis pathways and binding sites modify ovarian cancer risk, survival, and treatment response. Cancer Res 70(23):9765-76, 12/2010. e-Pub 11/2010. PMID: 21118967.
9.
Hennessy BT, Timms KM, Carey MS, Gutin A, Meyer LA, Flake DD, Abkevich V, Potter J, Pruss D, Glenn P, Li Y, Li J, Gonzalez-Angulo AM, McCune KS, Markman M, Broaddus RR, Lanchbury JS, Lu KH, Mills GB. Somatic mutations in BRCA1 and BRCA2 could expand the number of patients that benefit from poly (ADP ribose) polymerase inhibitors in ovarian cancer. J Clin Oncol 28(22):3570-6, 8/2010. PMCID: PMC2917312.
10.
Meyer LA, Anderson ME, Lacour RA, Suri A, Daniels MS, Urbauer DL, Nogueras-Gonzalez GM, Schmeler KM, Gershenson DM, Lu KH. Evaluating women with ovarian cancer for BRCA1 and BRCA2 mutations: missed opportunities. Obstet Gynecol 115(5):945-52, 5/2010. PMID: 20410767.
11.
Tung CS, Sun CC, Schlumbrecht MP, Meyer LA, Bodurka DC. Survival after intestinal perforation: can it be predicted? Gynecol Oncol 115(3):349-53, 12/2009. PMID: 19765809.
12.
Zhang Q, Shen Q, Celestino J, Milam MR, Westin SN, Lacour RA, Meyer LA, Shipley GL, Davies PJ, Deng L, McCampbell AS, Broaddus RR, Lu KH. Enhanced estrogen-induced proliferation in obese rat endometrium. Am J Obstet Gynecol 200(2):186.e1-8, 2/2009. PMCID: PMC2880878.
13.
Meyer LA, Broaddus RR, Lu KH. Endometrial cancer and Lynch syndrome: clinical and pathologic considerations. Cancer Control 16(1):14-22, 1/2009. PMCID: PMC3693757.
14.
Lacour RA, Daniels MS, Westin SN, Meyer LA, Burke CC, Burns KA, Kurian S, Webb NF, Pustilnik TB, Lu KH. What women with ovarian cancer think and know about genetic testing. Gynecol Oncol 111(1):132-6, 10/2008. PMCID: PMC3746752.
15.
Meyer LA, Westin SN, Lu KH, Milam MR. Genetic polymorphisms and endometrial cancer risk. Expert Rev Anticancer Ther 8(7):1159-67, 7/2008. PMID: 18588460.
16.
Meyer L, Ascher-Walsh CJ, Norman R, Idrissa A, Herbert H, Kimso O, Wilkinson J. Commonalities among women who experienced vesicovaginal fistulae as a result of obstetric trauma in Niger: results from a survey given at the National Hospital Fistula Center, Niamey, Niger. Am J Obstet Gynecol 197(1):90.e1-4, 7/2007. PMID: 17618772.
17.
Meyer L, Pothuri B. Decompressive percutaneous gastrostomy tube use in gynecologic malignancies. Curr Treat Options Oncol 7(2):111-20, 3/2006. PMID: 16455022.
18.
Frumovitz M, Singh DK, Meyer L, Smith DH, Wertheim I, Resnik E, Bodurka DC. Predictors of final histology in patients with endometrial cancer. Gynecol Oncol 95(3):463-8, 12/2004. PMID: 15581947.
19.
Pothuri B, Meyer L, Gerardi M, Barakat RR, Chi DS. Reoperation for palliation of recurrent malignant bowel obstruction in ovarian carcinoma. Gynecol Oncol 95(1):193-5, 10/2004. PMID: 15385131.
20.
Narayan G, Arias-Pulido H, Nandula SV, Basso K, Sugirtharaj DD, Vargas H, Mansukhani M, Villella J, Meyer L, Schneider A, Gissmann L, Dürst M, Pothuri B, Murty VV. Promoter hypermethylation of FANCF: disruption of Fanconi Anemia-BRCA pathway in cervical cancer. Cancer Res 64(9):2994-7, 5/2004. PMID: 15126331.
© 2014 The University of Texas MD Anderson Cancer Center