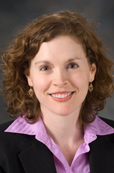 '
Larkin L. Strong, Ph.D., MPH
Present Title & Affiliation
Primary Appointment
Assistant Professor, Department of Health Disparities Research, Division of OVP, Cancer Prevention and Population Sciences, The University of Texas MD Anderson Cancer Center, Houston, TX
Bio Statement
Dr. Larkin Strong is an Assistant Professor in the Department of Health Disparities Research at the University of Texas MD Anderson Cancer Center in Houston, TX. A theme throughout her work is the recognition that health and health behaviors are embedded within social, physical, economic, and cultural contexts. Dr. Strong received her Ph.D. in Health Services at the University of Washington School of Public Health in 2006, where her research focused on understanding and reducing occupational and take-home exposures of pesticides in farmworkers and their families. She then completed a postdoctoral fellowship at the University of Michigan with the Kellogg Health Scholars program, a national postdoctoral program that emphasized skills in community-academic partnering as a meaningful approach for reducing racial, ethnic, and socioeconomic disparities in health. During this time, Dr. Strong worked in collaboration with community and academic partners in Detroit to develop, implement, and evaluate a neighborhood-based walking and social support program to promote healthy lifestyles among low-income residents.
Dr. Strong's current research aims to understand how social, cultural, and environmental influences help to shape patterns of cancer preventive behaviors in minority and underserved populations, with the ultimate objective of translating research findings into health promotion efforts that stimulate meaningful change in opportunities for and adoption of healthy lifestyles. Dr. Strong is the Principal Investigator of a Mentored Research Scholar Grant from the American Cancer Society that facilitates her training and research in the investigation of pathways linking physical and social environments to physical activity and sedentary behaviors in diverse samples of adults. She has also been awarded institutional funding to conduct a pilot intervention trial of a social support intervention that builds upon sedentary women's existing social networks and utilizes available smartphone technology to promote increased physical activity. She is also a co-Investigator on a Community Networks Program Center grant funded through the National Cancer Institute to reduce cancer-related disparities in Latinos across three regions of Texas through research, community outreach, and training of early stage investigators. Dr. Strong is also involved in research examining area-level disparities in access to safe opportunities for physical activity in the Houston area.
Office Address
The University of Texas MD Anderson Cancer Center
1400 Pressler Blvd, Unit 1440
Health Disparities Research
Unit Number: 1440
Houston, TX 77030
Room Number: FCT9.6100
Fax: 713-792-1152
Email: llstrong@mdanderson.org
Education & Training
Degree-Granting Education

2006
University of Washington, School of Public Health and Community Medicine, Seattle, WA, PHD, Health Services
2002
University of Washington, School of Public Health and Community Medicine, Seattle, WA, MPH, Social and Behavioral Sciences
1997
Brown University, Providence, RI, BA, Magna Cum Laude, Biology

Postgraduate Training

9/2006-8/2008

Postdoctoral Research Fellowship, Kellogg Health Scholars Program, University of Michigan, Ann Arbor, MI
Professional Memberships
Academy Health, Washington, DC
Member, 2004-2007
Society for Public Health Education, Washington, DC
Member, 2005-2009
Selected Publications
Peer-Reviewed Original Research Articles

1.
Strong LL, Anderson CB, Miranda PY, Bondy ML, Zhou R, Etzel C, Spitz M, Wilkinson AV. Gender differences in sociodemographic and behavioral influences of physical activity in Mexican-origin adolescents. J Phys Act Health 9(6):829-39, 8/2012. e-Pub 8/2011. PMCID: PMC3250565.
2.
Schulz AJ, Israel BA, Coombe CM, Gaines C, Reyes AG, Rowe Z, Sand SL, Strong LL, Weir S. A Community-Based Participatory Planning Process and Multilevel Intervention Design: Toward Eliminating Cardiovascular Health Disparities. Health Promot Pract 12(6):900-911, 11/2011. e-Pub 8/2011. PMCID: PMC3212629.
3.
Strong LL, Starks HE, Meischke H, Thompson B. Perspectives of Mothers in Farmworker Households on Reducing the Take-Home Pathway of Pesticide Exposure. Health Educ Behav 36(5):915-29, 10/2009. e-Pub 1/2009. PMID: 19136611.
4.
Strong LL, Thompson B, Koepsell TD, Meischke H, Coronado GD. Reducing the take-home pathway of pesticide exposure: behavioral outcomes from the para niños saludables study. J Occup Environ Med 51(8):922-33, 8/2009. PMCID: PMC3138476.
5.
Strong LL, Thompson B, Koepsell TD, Meischke H. Factors associated with pesticide safety practices in farmworkers. Am J Ind Med 51(1):69-81, 1/2008. PMID: 18033725.
6.
Strong LL, Von Korff M, Saunders K, Moore JE. Cost-effectiveness of two self-care interventions to reduce disability associated with back pain. Spine (Phila Pa 1976) 31(15):1639-45, 7/2006. PMID: 16816756.
7.
Strong LL, Zimmerman FJ. Occupational injury and absence from work among African American, Hispanic, and non-Hispanic White workers in the national longitudinal survey of youth. Am J Public Health 95(7):1226-32, 7/2005. PMCID: PMC1449344.
8.
Strong LL, Thompson B, Coronado GD, Griffith WC, Vigoren EM, Islas I. Health symptoms and exposure to organophosphate pesticides in farmworkers. Am J Ind Med 46(6):599-606, 12/2004. PMID: 15551369.
9.
Coronado GD, Thompson B, Strong L, Griffith WC, Islas I. Agricultural task and exposure to organophosphate pesticides among farmworkers. Environ Health Perspect 112(2):142-7, 2/2004. PMCID: PMC1241822.
10.
Pugatch D, Strong LL, Has P, Patterson D, Combs C, Reinert S, Rich JD, Flanigan T, Brown L. Heroin use in adolescents and young adults admitted for drug detoxification. J Subst Abuse 13(3):337-46, 2001. PMID: 11693456.
11.
Rich JD, Strong LL, Mehrotra M, Macalino G. Strategies to optimize the impact of needle exchange programs. AIDS Read 10(7):421-9, 7/2000. PMID: 10932846.
12.
Rich JD, Strong L, Towe CW, McKenzie M. Obstacles to needle exchange participation in Rhode Island. J Acquir Immune Defic Syndr 21(5):396-400, 8/1999. PMID: 10458620.
© 2010 The University of Texas M. D. Anderson Cancer Center