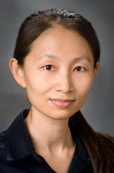 '
Li Ma, Ph.D.
Present Title & Affiliation
N/A
Research Interests
The overarching goal of my laboratory is to understand regulation of tumor invasion, metastasis, and epithelial-mesenchymal transition (EMT) by non-coding RNAs, and to design new therapeutic strategies. Metastasis, a multi-step process in which primary tumor cells disseminate to distant sites of the body and form secondary tumors, is the leading cause of cancer deaths and remains one of the most poorly understood pathological processes. New biomarkers of metastatic diseases and useful targets for therapeutic intervention, including proteins, microRNAs (miRNAs), and long non-coding RNAs (lncRNAs), continue to be highly sought. We and others have demonstrated the existence of metastasis-promoting and metastasis-suppressing miRNAs. The molecular mechanisms by which these individual miRNAs function in metastatic progression warrant further investigation. Currently, my lab is working on four projects related to this topic: 1) We are dissecting the role of miR-10b in malignant progression using genetically engineered mouse models. 2) We are identifying the functional targets of metastasis-promoting miRNAs. 3) We are identifying and characterizing new epithelial-mesenchymal transition (EMT)-regulating miRNAs. 4) We are identifying lncRNAs that regulate EMT and metastasis. Collectively, the knowledge gained from these studies will fundamentally advance our current understanding of how miRNAs and lncRNAs regulate metastasis and EMT and may have important clinical implications.
Office Address
The University of Texas MD Anderson Cancer Center
Experimental Radiation Oncology-Unit 1052
6565 MD Anderson Blvd
Unit Number: 0066
Houston, TX 77030-4009
Room Number: Z7.3032
Phone: 713-792-6590
Fax: 713-794-5369
Email: lma4@mdanderson.org
Education & Training
Degree-Granting Education

2006
Sloan-Kettering Institute, Weill Graduate School of Medical Sciences, Cornell University, New York, NY, PHD, Cancer Biology and Genetics
2001
Peking University, Beijing, China, BS, Biology

Postgraduate Training

2006-2010

Postdoctoral, Cancer Biology, Whitehead Institute for Biomedical Research, Cambridge, MA, Dr. Robert A. Weinberg
Experience/Service
Academic Appointments
Assistant Professor, Department of Experimental Radiation Oncology, Division of Radiation Oncology, The University of Texas MD Anderson Cancer Center, Houston, TX, 9/2010-8/2015
Honors and Awards
2008

Margaret and Herman Sokol Award,

Margaret and Herman Sokol

2007-2010

Life Sciences Research Foundation Postdoctoral Fellowship Award,

Life Sciences Research Foundation

2005

Julian Rachele Prize,

Julian Rachele

2000

Panasonic Scholarship,

Panasonic and Peking University (Beijing)
Professional Memberships
American Association for Cancer Research
Member, 2005-present
Selected Publications
Peer-Reviewed Original Research Articles

1.
Zhang P, Wei Y, Wang L, Debeb BG, Yuan Y, Zhang J, Yuan J, Wang M, Chen D, Sun Y, Woodward WA, Liu Y, Dean DC, Liang H, Hu Y, Ang KK, Hung MC, Chen J, Ma L. ATM-mediated stabilization of ZEB1 promotes DNA damage response and radioresistance through CHK1. Nat Cell Biol 16(9):864-75, 9/2014. e-Pub 8/3/2014. PMCID: PMC4150825.
2.
Chen D, Sun Y, Yuan Y, Han Z, Zhang P, Zhang J, You MJ, Teruya-Feldstein J, Wang M, Gupta S, Hung MC, Liang H, Ma L. miR-100 induces epithelial-mesenchymal transition but suppresses tumorigenesis, migration and invasion. PLoS Genet 10(2):e1004177, 2/2014. e-Pub 2/27/2014. PMCID: PMC3937226.
3.
Zhang P, Wang L, Rodriguez-Aguayo C, Yuan Y, Debeb BG, Chen D, Sun Y, You MJ, Liu Y, Dean DC, Woodward WA, Liang H, Yang X, Lopez-Berestein G, Sood AK, Hu Y, Ang KK, Chen J, Ma L. miR-205 acts as a tumour radiosensitizer by targeting ZEB1 and Ubc13. Nat Commun 5:5671, 2014. e-Pub 12/2014. PMID: 25476932.
4.
Chen D, Sun Y, Wei Y, Zhang P, Rezaeian AH, Teruya-Feldstein J, Gupta S, Liang H, Lin HK, Hung MC, Ma L. LIFR is a breast cancer metastasis suppressor upstream of the Hippo-YAP pathway and a prognostic marker. Nat Med 18(10):1511-7, 9/2012. e-Pub 9/2012. PMID: 23001183.
5.
Ma L, Reinhardt F, Pan E, Soutschek J, Bhat B, Marcusson EG, Teruya-Feldstein J, Bell GW, Weinberg RA. Therapeutic silencing of miR-10b inhibits metastasis in a mouse mammary tumor model. Nat Biotechnol 28(4):341-7, 4/2010. e-Pub 3/2010. PMCID: PMC2852471.
6.
Ma L, Young J, Prabhala H, Pan E, Mestdagh P, Muth D, Teruya-Feldstein J, Reinhardt F, Onder TT, Valastyan S, Westermann F, Speleman F, Vandesompele J, Weinberg RA. miR-9, a MYC/MYCN-activated microRNA, regulates E-cadherin and cancer metastasis. Nat Cell Biol 12(3):247-56, 3/2010. e-Pub 2/2010. PMCID: PMC2845545.
7.
Distefano G, Boca M, Rowe I, Wodarczyk C, Ma L, Piontek KB, Germino GG, Pandolfi PP, Boletta A. Polycystin-1 regulates extracellular signal-regulated kinase-dependent phosphorylation of tuberin to control cell size through mTOR and its downstream effectors S6K and 4EBP1. Mol Cell Biol 29(9):2359-71, 5/2009. e-Pub 3/2009. PMCID: PMC2668371.
8.
Carracedo A, Ma L, Teruya-Feldstein J, Rojo F, Salmena L, Alimonti A, Egia A, Sasaki AT, Thomas G, Kozma SC, Papa A, Nardella C, Cantley LC, Baselga J, Pandolfi PP. Inhibition of mTORC1 leads to MAPK pathway activation through a PI3K-dependent feedback loop in human cancer. J Clin Invest 118(9):3065-74, 9/2008. PMCID: PMC2518073.
9.
Ma L, Teruya-Feldstein J, Weinberg RA. Tumour invasion and metastasis initiated by microRNA-10b in breast cancer. Nature 449(7163):682-688, 10/2007. PMID: 17898713.
10.
Ma L, Teruya-Feldstein J, Bonner P, Bernardi R, Franz DN, Witte D, Cordon-Cardo C, Pandolfi PP. Identification of S664 TSC2 phosphorylation as a marker for extracellular signal-regulated kinase mediated mTOR activation in tuberous sclerosis and human cancer. Cancer Research 67(15):7106-7112, 8/2007. PMID: 17671177.
11.
Hernando E, Charytonowicz E, Dudas ME, Menendez S, Matushansky I, Mills J, Socci ND, Behrendt N, Ma L, Maki RG, Pandolfi PP, Cordon-Cardo C. The AKT-mTOR pathway plays a critical role in the development of leiomyosarcomas. Nat Med 13(6):748-753, 6/2007. e-Pub 5/2007. PMID: 17496901.
12.
Ma L, Teruya-Feldstein J, Behrendt N, Chen Z, Noda T, Hino O, Cordon-Cardo C, Pandolfi PP. Genetic analysis of Pten and Tsc2 functional interactions in the mouse reveals asymmetrical haploinsufficiency in tumor suppression. Genes & Development 19(15):1779-1786, 8/2005. PMCID: PMC1182340.
13.
Ma L, Chen Z, Erdjument-Bromage H, Tempst P, Pandolfi PP. Phosphorylation and functional inactivation of TSC2 by Erk implications for tuberous sclerosis and cancer pathogenesis. Cell 121(2):179-193, 4/2005. PMID: 15851026.
14.
Ruggero D, Montanaro L, Ma L, Xu W, Londei P, Cordon-Cardo C, Pandolfi PP. The translation factor eIF-4E promotes tumor formation and cooperates with c-Myc in lymphomagenesis. Nature Medicine 10(5):484-486, 5/2004. PMID: 15098029.

Invited Articles

1.
Sun Y, Ma L. The emerging molecular machinery and therapeutic targets of metastasis. Trends Pharmacol Sci 36(6):349-59, 6/2015. e-Pub 5/2015. PMCID: PMC4461477.
2.
Zhang J, Ma L. MicroRNA control of epithelial-mesenchymal transition and metastasis. Cancer Metastasis Rev 31(3-4):653-62, 12/2012. e-Pub 6/2012. PMID: 22684369.
3.
Piao HL, Ma L. Non-coding RNAs as regulators of mammary development and breast cancer. J Mammary Gland Biol Neoplasia 17(1):33-42, 3/2012. e-Pub 2/17/2012. PMID: 22350981.
4.
Ma L. Role of miR-10b in breast cancer metastasis. Breast Cancer Res 26(12):210, 2010. e-Pub 10/2010. PMCID: PMC3096969.
5.
Ma L, Weinberg RA. Micromanagers of malignancy: role of microRNAs in regulating metastasis. Trends Genet 24(9):448-456, 9/2008. e-Pub 7/2008. PMID: 18674843.
6.
Ma L, Weinberg RA. MicroRNAs in malignant progression. Cell Cycle 7(5):570-572, 3/2008. e-Pub 12/2007. PMID: 18256538.
Grant & Contract Support
Title:
Regulation of metastasis and epithelial-mesenchymal transition by microRNAs
Funding Source:
NIH/NCI
Role:
Principal Investigator
Duration:
7/1/2012 - 5/31/2017
Title:
Recruitment of First-Time, Tenure-Track Faculty Members
Funding Source:
Cancer Prevention and Research Institute of Texas
Role:
Principal Investigator
Duration:
9/1/2010 - 1/31/2015
Title:
Role of microRNAs in malignant progression
Funding Source:
NIH/NCI
Role:
Principal Investigator
Duration:
9/1/2010 - 6/30/2014
Title:
Science and Technology Acquisition and Retention
Funding Source:
University of Texas STARS Program
Role:
Principal Investigator
Duration:
9/1/2010 - 3/31/2012
Title:
Cancer Center Support Grant - Faculty Development Award
Funding Source:
NIH/NCI
Role:
Investigator
Principal Investigator:
Ronald DePinho
Duration:
9/1/2010 - 3/31/2012
Title:
Role of microRNAs in malignant progression
Funding Source:
NIH/NCI
Role:
Principal Investigator
Duration:
7/1/2009 - 6/30/2011
Title:
Role of microRNAs in mammary tumorigenesis and metastasis
Funding Source:
Life Sciences Research Foundation
Role:
Principal Investigator
Duration:
7/1/2007 - 6/30/2010