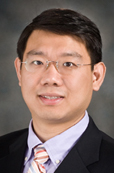 '
Han Liang, Ph.D.
Present Title & Affiliation
Primary Appointment
Assistant Professor, Department of Bioinformatics and Computational Biology, Division of Quantitative Sciences, The University of Texas M. D. Anderson Cancer Center, Houston, TX
Bio Statement
Dr. Liang received Ph.D. training from the Quantitative and Computational Biology program at Princeton University, which provides graduate education in the interface of biology, the physical sciences, and computational science. His PhD thesis is about RNA informatics on translation termination and alternative splicing. As a postdoctoral researcher, Dr. Liang completed three years of research on computational and evolutionary genomics at the University of Chicago, where his research was about microRNA regulation and gene duplication. Currently, Dr. Liang's research interests include the analysis of next-generation sequencing data, the integration of cancer genomics data, microRNA regulation, and the evolutionary process of tumor cells. More information is available at http://odin.mdacc.tmc.edu/~hliang1/.
Office Address
The University of Texas MD Anderson Cancer Center
1400 Pressler Street
Unit Number: 1410
Houston, TX 77030
Phone: 713-745-9815
Fax: 713-563-4242
Education & Training
Degree-Granting Education

2006
Princeton University, Princeton, NJ, PHD, Quantitative and Computational Biology
2001
Peking University, Beijing, China, BS, Chemistry
Experience/Service
Academic Appointments
Postdoctoral Research Scholar, Ecology and Evolution, The University of Chicago, Chicago, IL, 5/2006-6/2009
Honors and Awards
2012

NIH/NCI Uterine SPORE Career Development Award

2011

UT MD Anderson Cancer Center Nominee for Mary Kay Research Fund 2012 Competition

2008

SMBE Travel Award,

SMBE Society

2007

RNA Conference Travel Fellowship,

RNA Society

2006

Branco Weiss Fellowship Shortlist,

Society in Science, Zurich

2005

Association of Princeton Graduate Alumnae Travel Fellowship,

Princeton University

2001

Best Senior Thesis Award,

Peking University, China

2000

Outstanding Student Award,

Peking University, China

1998

Dupont Fellowship,

Peking University, China
Selected Publications
Peer-Reviewed Original Research Articles

1.
Omberg L, Ellrott K, Yuan Y, Kandoth C, Wong C, Kellen MR, Friend SH, Stuart J, Liang H, Margolin AA. Enabling transparent and collaborative computational analysis of 12 tumor types within The Cancer Genome Atlas. Nat Genet 45(10):1121-6, 9/2013. PMID: 24071850.
2.
Li J, Lu Y, Akbani R, Ju Z, Roebuck PL, Liu W, Yang JY, Broom BM, Verhaak RG, Kane DW, Wakefield C, Weinstein JN, Mills GB, Liang H. TCPA: A Resource for Cancer Functional Proteomics Data. Nat Methods 10(11). e-Pub 9/2013. PMID: 24037243.
3.
Cancer Genome Atlas Research Network (including Liang H as a key contributor). Integrated Genomic Characterization of Endometrial Carcinoma. Nature 497(7447):67-73, 5/2013. PMCID: PMC3704730.
4.
Li Y, Zhang L, Ball RL, Liang X, Li J, Lin Z, Liang H. Comparative analysis of somatic copy-number alterations across different human cancer types reveals two distinct classes of breakpoint hotspots. Hum Mol Genet 21(22):4957-65, 11/2012. e-Pub 8/2012. PMID: 22899649.
5.
Liang H*, Cheung LW, Li J, Ju Z, Yu S, Stemke-Hale K, Dogruluk T, Lu Y, Liu X, Gu C, Guo W, Scherer SE, Carter H, Westin SN, Dyer MD, Verhaak RG, Zhang F, Karchin R, Liu CG, Lu KH, Broaddus RR, Scott KL, Hennessy BT, Mills GB. Whole-exome sequencing combined with functional genomics reveals novel candidate driver cancer genes in endometrial cancer. Genome Res 22(11):2120-9, 11/2012. e-Pub 10/2012. PMCID: PMC3483541 (*corresponding author).
6.
Chen D, Sun Y, Wei Y, Zhang P, Rezaeian AH, Teruya-Feldstein J, Gupta S, Liang H, Lin HK, Hung MC, Ma L. LIFR is a Breast Cancer Metastasis Suppressor Upstream of the Hippo-YAP Pathway and a Prognostic Marker. Nat Med 18(10):1511-7, 9/2012. e-Pub 9/2012. PMID: 23001183.
7.
Kim YH*, Liang H*, Liu X, Lee JS, Cho JY, Cheong JH, Kim H, Li M, Downey TJ, Dyer MD, Sun Y, Sun J, Beasley EM, Chung HC, Noh SH, Weinstein JN, Liu CG, Powis G. AMPKα modulation in cancer progression: multilayer integrative transcriptome analysis in Asian gastric cancer. Cancer Res 72(10):2512-21, 5/2012. e-Pub 3/2012. PMCID: PMC(* co-first and co-corresponding author).
8.
Yuan Y, Xu Y, Xu J, Ball RL, Liang H. Predicting the lethal phenotype of the knockout mouse by integrating comprehensive genomic data. Bioinformatics 28(9):1246-52, 5/2012. e-Pub 3/2012. PMCID: PMC3338016.
9.
Li J, Roebuck P, Grünewald S, Liang H. SurvNet: a web server for identifying network-based biomarkers that most correlate with patient survival data. Nucleic Acids Res 40(W):W123-126, 5/2012. e-Pub 5/2012. PMID: 22570412.
10.
Ji Y, Xu Y, Zhang Q, Tsui KW, Yuan Y, Norris C, Liang S, Liang H. BM-Map: Bayesian Mapping of Multireads for Next-Generation Sequencing Data. Biometrics 67(4):1215-24, 12/2011. e-Pub 4/2011. PMCID: PMC3190637.
11.
Cheung LW, Hennessy BT, Li J, Yu S, Myers AP, Djordjevic B, Lu Y, Stemke-Hale K, Zhang F, Ju Z, Cantley LC, Scherer SE, Liang H, Lu KH, Broaddus RR, Mills GB. High Frequency of PIK3R1 and PIK3R2 Mutations in Endometrial Cancer Elucidates a Novel Mechanism for Regulation of PTEN Protein Stability. Cancer Discov 1(2):170-185, 7/2011. PMCID: PMC3187555.
12.
Yun J, Frankenberger CA, Kuo WL, Boelens MC, Eves EM, Cheng N, Liang H, Li WH, Ishwaran H, Minn AJ, Rosner MR. Signalling pathway for RKIP and Let-7 regulates and predicts metastatic breast cancer. EMBO J 30(21):4500-14, 2011. e-Pub 8/2011. PMID: 21873975.
13.
Liang H, Li WH. Functional Compensation by Duplicated Genes in Mouse. Trends Genet 25(10):441-2, 10/2009. e-Pub 9/2009. PMCID: PMC2764834.
14.
Liang H, Li WH. Lowly Expressed Human MicroRNA Genes Evolve Rapidly. Mol Biol Evol 26(6):1195-1198, 6/2009. e-Pub 3/2009. PMCID: PMC2727378.
15.
Liang H, Lin YS, Li WH. Fast Evolution of Core Promoters in Primate Genomes. Mol Biol Evol 25(6):1239-1244, 6/2008. e-Pub 3/2008. PMID: 18367463.
16.
Liang H, Li WH. MicroRNA Regulation of Human Protein-Protein interaction Network. RNA 13(9):1402-1408, 9/2007. e-Pub 7/2007. PMCID: PMC1950750.
17.
Liang H, Li WH. Gene essentiality, gene duplicability and protein connectivity in human and mouse. Trends Genet 23(8):375-8, 8/2007. e-Pub 5/2007. PMID: 17512629.
18.
Saunders MA*, Liang H*, Li WH. Human Polymorphism at MicroRNAs and MicroRNA Target Sites. Proc Natl Acad Sci U S A 104(9):3300-3305, 2/2007. e-Pub 2/2007. PMCID: PMC1805605 (*co-first authors).
19.
Liang H, Zhou W, Landweber LF. SWAKK: a Web Server for Detecting Positive Selection in Proteins Using a Sliding Window Substitution Rate Analysis. Nucleic Acids Res 34(W):382-384, 7/2006. e-Pub 2006. PMCID: PMC1538794.
20.
Liang H, Landweber LF. A Genome-wide Study of Dual Coding Regions in Human Alternatively Spliced Genes. Genome Res 7(2):198-199, 2/2006. e-Pub 12/2005. PMCID: PMC1361714.
21.
Chang WJ, Bryson PD, Liang H, Shin MK, Landweber LF. The Evolutionary Origin of a Complex Scrambled Gene. Proc Natl Acad Sci U S A 102(42):15149-15154, 10/2005. e-Pub 10/2005. PMCID: PMC1257744.
22.
Liang H, Cavalcanti AR, Landweber LF. Conservation of Tandem Stop Codons in Yeasts. Genome Biol 6(4):R31, 2005. e-Pub 3/2005. PMCID: PMC1088959.

Invited Articles

1.
Liang H, Kim YH. Identifying molecular drivers of gastric cancer through next-generation sequencing. Cancer Lett. e-Pub 11/2012. PMID: 23178814.
2.
Liang H. Decoding the Dual-coding Region: Key Factors Influencing the Translational Potential of a Two-ORF-containing Transcript. Cell Res 20(5):508-9, 5/2010. PMID: 20436511.
3.
Liang H, Fernandez A. Evolutionary Constraints Imposed by Gene Dosage Balance. Front Biosci 13:4373-4378, 2008. PMID: 18508516.
Grant & Contract Support
Title:
Functional Genomics of Ovarian Cancer
Funding Source:
Adelson Medical Research Foundation (AMRF)
Role:
Co-Investigator
Principal Investigator:
Gordon Mills
Duration:
9/1/2012 - 8/31/2014
Title:
The Role of RNA Editing in Endometrial Tumorgenesis
Funding Source:
UTMDACC Gynecologic SPORE in Uterine Cancers Career Development Award
Role:
Principal Investigator
Duration:
9/1/2012 - 8/31/2014
Title:
MD Anderson Cancer Center Bioinformatics Gift - The Lorraine Dell Program in Bioinformatics for Personalization of Cancer Medicine (Core Projects: Breast Cancer, Lung Cancer)
Funding Source:
Michael and Susan Dell Foundation
Role:
Co-Investigator
Principal Investigator:
John Weinstein
Duration:
4/25/2011 - 3/31/2014
Title:
An Integrative Pipeline for Analysis & Translational Application of TCGA Data (GDAC)
Funding Source:
NIH/NCI
Role:
Investigator
Principal Investigator:
John Weinstein
Duration:
9/29/2009 - 7/31/2014
© 2010 The University of Texas M. D. Anderson Cancer Center