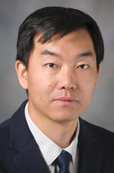 '
Liuqing Yang
Present Title & Affiliation
Primary Appointment
Assistant Professor, Department of Molecular and Cellular Oncology, The University of Texas MD Anderson Cancer Center, Houston, TX
Dual/Joint/Adjunct Appointment
Assistant Professor, Graduate School of Biomedical Sciences (GSBS), The University of Texas Health Science Center, Houston, TX
Office Address
The University of Texas MD Anderson Cancer Center
1515 Holcombe BLVD
Department of Molecular & Cellular Oncology
Unit Number: 108
Houston, TX 77030
Room Number: Y8. 6081
Education & Training
Degree-Granting Education

2006
Georgia State University, Atlanta, GA, PHD, Biological Science
1998
Xinjiang University,, Urumqi, China, BS, Biology

Postgraduate Training

10/2006-2/2013

Postdoctoral fellow, University of California, San Diego, La Jolla, CA, Michael G. Rosenfeld
Selected Publications
Peer-Reviewed Original Research Articles

1.
Yang L, Lin C, Jin C, Yang JC, Tanasa B, Li W, Merkurjev D, Ohgi KA, Meng D, Zhang J, Evans CP, Rosenfeld MG. lncRNA-dependent mechanisms of androgen-receptor-regulated gene activation programs. Nature 500(7464):598-602, 8/29/2013. e-Pub 8/14/2013. PMID: 23945587.
2.
Yang L, Lin C, Liu W, Zhang J, Ohgi KA, Grinstein JD, Dorrestein PC, Rosenfeld MG. ncRNA- and Pc2 methylation-dependent gene relocation between nuclear structures mediates gene activation programs. Cell 147(4):773-88, 11/2011. PMCID: PMC3297197.
3.
Carter CL, Lin C, Liu CY, Yang L, Liu ZR. Phosphorylated p68 RNA helicase activates Snail1 transcription by promoting HDAC1 dissociation from the Snail1 promoter. Oncogene 29(39):5427-36, 9/30/2010. e-Pub 8/2/2010. PMCID: PMC2948064.
4.
Lin C, Yang L, Tanasa B, Hutt K, Ju BG, Ohgi K, Zhang J, Rose DW, Fu XD, Glass CK, Rosenfeld MG. Nuclear receptor-induced chromosomal proximity and DNA breaks underlie specific translocations in cancer. Cell 139(6):1069-83, 2009. PMCID: PMC2812435.
5.
Yang L, Lin C, Sun SY, Zhao S, Liu ZR. A double tyrosine phosphorylation of P68 RNA helicase confers resistance to TRAIL-induced apoptosis. Oncogene 26(41):6082-92, 9/2007. e-Pub 3/2007. PMID: 17384675.
6.
Yang L, Lin C, Zhao S, Wang H, Liu ZR. Phosphorylation of p68 RNA helicase plays a role in platelet-derived growth factor-induced cell proliferation by up-regulating cyclin D1 and c-Myc expression. J Biol Chem 282(23):16811-9, 6/2007. e-Pub 4/2007. PMID: 17412694.
7.
Yang L, Lin C, Liu ZR. P68 RNA helicase mediates PDGF-induced epithelial mesenchymal transition by displacing Axin from beta-catenin. Cell 127(1):139-55, 10/2006. PMID: 17018282.
8.
Yang L, Lin C, Liu ZR. Signaling to the DEAD box--regulation of DEAD-box p68 RNA helicase by protein phosphorylations. Cell Signal 17(12):1495-504, 12/2005. PMID: 15927448.
9.
Lin C, Yang L, Yang JJ, Huang Y, Liu ZR. ATPase/helicase activities of p68 RNA helicase are required for pre-mRNA splicing but not for assembly of the spliceosome. Mol Cell Biol 25(17):7484-93, 9/2005. PMCID: PMC1190289.
10.
Yang L, Lin C, Liu ZR. Phosphorylations of DEAD box p68 RNA helicase are associated with cancer development and cell proliferation. Mol Cancer Res 3(6):355-63, 6/2005. PMID: 15972854.
11.
Yang L, Liu ZR. Bacterially expressed recombinant p68 RNA helicase is phosphorylated on serine, threonine, and tyrosine residues. Protein Expr Purif 35(2):327-33, 6/2004. PMID: 15135410.
12.
Yang L, Yang J, Huang Y, Liu ZR. Phosphorylation of p68 RNA helicase regulates RNA binding by the C-terminal domain of the protein. Biochem Biophys Res Commun 314(2):622-30, 2/6/2004. PMID: 14733953.

Invited Articles

1.
Yang L, Lin C, Rosenfeld MG. A lincRNA switch for embryonic stem cell fate. Cell Res 21(12):1646-8, 12/2011. e-Pub 10/25/2011. PMCID: PMC3357988.

Book Chapters

1.
Lin C, Yang L, Rosenfeld MG. Molecular logic underlying chromosomal translocations, random or non-random? In: Adv Cancer Res. 113, 241-79, 2012. ISBN: 22429857.