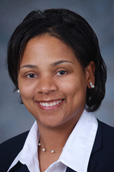 '
Lonzetta L. Newman, MD, FACP
Present Title & Affiliation
Primary Appointment
Associate Professor, Department of Clinical Cancer Prevention, Division of OVP, Cancer Prevention and Population Sciences, The University of Texas MD Anderson Cancer Center, Houston, TX
Dual/Joint/Adjunct Appointment
Volunteer Faculty, Department of General Internal Medicine, The University of Texas Health Science Center, Houston, TX
Bio Statement
Dr. Lonzetta L. Newman, MD, FACP is an associate professor of medicine in the Department of Clinical Cancer Prevention, Division of Cancer Prevention and Population Sciences of The University of Texas MD Anderson Cancer Center.
As a board certified internist, Dr. Newman performs her clinical duties in both the Cancer Prevention Center and the Undiagnosed Breast Clinic. In each arena, she is committed to a multidisciplinary approach to assisting patients and their families. This includes screening and diagnostic procedures for predominantly breast, cervical, and prostate cancers. Dr. Newman exemplifies excellence in the practice of medicine and was elected to fellowship into the American College of Physicians, the national organization of internists.
Dr. Newman serves as a voluntary faculty member of The University of Texas School of Medicine at the Health Science Center. She precepts our future physicians both through the medical school and via the statewide General Internal Medicine preceptorship program, sponsored by the Texas Medical Association. Not only does she educate medical students, she extends this knowledge to a host of other clinical providers in training, including advanced nurse practitioners, residents, and fellows. Dr. Lonzetta L. Newman has led the expansion of education in her department. She has established a Cancer Prevention module for the Academic Tuesday session for the institutionís medical oncology fellowship program. Dr. Newman has also developed a two week elective as part of the training for medical oncology fellows at UTMDACC.
Dr. Newman helps achieve the mission of making cancer history by serving on a number of institutional committees. Some of which include the National Cancer Expansion Steering Committee and Credentialing Committee for Medical Staff. Her institutional service commitment enables integration of the knowledge obtained from the different centers within the institution, which helps to facilitate better communication and operations. As an institutional ambassador, she actively communicates MD Anderson Cancer Centerís research/science/clinical endeavors to the community.
Research Interests
Cancer Prevention
Obesity
Body Mass Index
Insulin Resistance
Office Address
The University of Texas MD Anderson Cancer Center
1155 Herman Pressler
Unit Number: 1360
Houston, TX 77030-3721
Room Number: CPB6.3544
Phone: 713-563-5755
Fax: 713-563-5746
Email: lnewman@mdanderson.org
Education & Training
Degree-Granting Education

1997
UCLA/Drew School of Medicine, Los Angeles, CA, MD, Medicine
1993
Xavier University of Louisiana, New Orleans, LA, BS, Magna Cum Laude, Biology Premed

Postgraduate Training

7/1998-6/2000

Internship/Residency, Internal Medicine, The University of Texas Health Science Center, Houston, TX
Experience/Service
Academic Appointments
Assistant Professor, Department of Clinical Cancer Prevention, Division of OVP, Cancer Prevention and Population Sciences, The University of Texas MD Anderson Cancer Center, Houston, TX, 9/2008-8/2010
Other Appointments/Responsibilities
Representative, Texas Chapter of the American College of Physicians, Physician Oncology Education Program Steering Committee, Austin, TX, 2009-present
Member, Board of Directors, Blessed-2-Serve, Inc., Houston, TX, 1/2003-1/2004
Member, Advisory Council, My Place-A Woman's Resource Center, Inc., Houston, TX, 1/2001-1/2004
Honors and Awards
2008

Elected Membership,

Texas Club of Internists

2008

Selected,

Early Career Women Faculty Professional Development Seminar, Association of the American Medical Colleges

2007

Fellowship,

American College of Physicians

1996

Minority Medical Student Research Award,

Pfizer/Drew

1995-1996

First Star Research Program,

UCLA School of Medicine

1995-1996

Minority Supplemental Research Grant Award,

NIH National Heart, Lung, and Blood Institute

1994

Center of Excellence Urban Summer Fellowship,

UCLA

1992

Summer Honors Undergraduate Research Program,

Harvard Medical School

1991

Early Identification Program,

Brown University

1990

Baylor/Rice Honors Premedical Academy,

University of Baylor/Rice
Selected Publications
Peer-Reviewed Original Research Articles

1.
Watson KE, Abrolat ML, Malone LL, Hoeg JM, Demer LL. Active Serum Vitamin D Levels are Inversely Correlated with Coronary calcification. Circulation 96(6):1755-1760, 1997.
2.
Santos-Ocampo CD, Sadaniantz A, Elion JL, Garber CE, Malone LL, Parisi AF. Echocardiographic Assessment of the Cardiac Anatomy in Patients with Multi-focal atrial Tachycardia: A comparison with Atrial Fibrillation. The Am J Med Sci 307(4):264-268, 1994.
Grant & Contract Support
| | |
| --- | --- |
| Title: | Engaging Racial/Ethnic Populations in a Model to Understand the Genetic, Biological, Environmental and Social Determinants of Early Onset Breast Cancer |
| Funding Source: | NIH/NCI |
| Role: | Investigator |
| Principal Investigator: | Lovell Jones |
| Duration: | 12/1/2010 - 11/30/2015 |