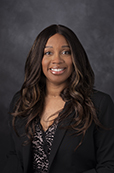 '
Lorna Haughton McNeill, PhD, MPH
Present Title & Affiliation
Primary Appointment
Associate Professor, Department of Health Disparities Research, Division of OVP, Cancer Prevention and Population Sciences, The University of Texas MD Anderson Cancer Center, Houston, TX
Bio Statement
Lorna H. McNeill, PhD, MPH, is an associate professor of health disparities research in the Department of Health Disparities at the University of Texas MD Anderson Cancer Center. Dr. McNeill's research is on the elimination of cancer-related health disparities in minority populations. Her research has particular emphasis on understanding the influence of social contextual determinants of cancer in minorities, with a special focus of the role of physical activity as a key preventive behavior. Her research takes place in minority and underserved communities such as public housing developments, black churches, community-based clinics and low-income neighborhoods-communities with excess cancer death rates. She is PI of several community-based studies, primarily working with African American churches. One is a longitudinal cohort study of 2100 African American adults designed to examine the role of lifestyle/behavioral, social, and environmental factors on health and cancer-related disparities over time. Another study is focused on designing a peer-delivered motivational interviewing intervention to increase physical activity among sedentary African American women. The final recently funded study is designed to evaluate the efficacy of a culturally-tailored motivational intervening intervention for improving diet and physical activity among sedentary African Americans. She is also PI of a mhealth intervention using state-of-the-art ecological momentary assessment designed to understand individual, social, and environmental detenninants of physical activity among African American and Latino adults. Dr. McNeill is co-director of the Center for Community-Engaged Translational Research (CCETR) at MD Anderson. CCETR serves as a divisional and institutional resource focused on changing public health and clinical practice through the development, evaluation, implementation and dissemination of new interventions and diagnostic tests in community and population-based settings.
Office Address
The University of Texas MD Anderson Cancer Center
1400 Pressler Street
Unit Number: 1440
Houston, TX 77030
Room Number: FCT9.6058
Education & Training
Degree-Granting Education

2004
Saint Louis University, Saint Louis, MO, PhD, Public Health Studies - Behavioral Science
1999
University of North Carolina at Chapel Hill, Chapel Hill, NC, MPH, Health Behavior and Health Education
1995
University of North Carolina at Chapel Hill, Chapel Hill, NC, BA, Afro-American Studies and Industrial Relations

Postgraduate Training

2004-2006

Postdoctoral Fellowship, Harvard University School of Public Health, Boston, MA, Mentors: Karen Emmons, PhD and Nancy Krieger, PhD
Experience/Service
Academic Appointments
Assistant Professor, Department of Health Disparities Research, Division of OVP, Cancer Prevention and Population Sciences, The University of Texas MD Anderson Cancer Center, Houston, TX, 9/2006-8/2012
Administrative Appointments/Responsibilities
Co-Director, Center for Community-Engaged Translational Research, Houston, TX, 3/2010-present
Institutional Committee Activities
Co-Chair, Health Disparities Research Faculty Search Committee, 9/2012-8/2013
Shared and videotaped personal experiences and/or advice for viewers of the online companion for new faculty, Faculty Companion, 2/2011
Senator (departmental representative), University of Texas MD Anderson Cancer Ctr. Faculty Senate Committee, 2011-present
Member, Psychosocial, Behavioral, and Health Services Research Committee (PBHSRC), 9/2007-8/2010
Honors and Awards
2011

2011 NIH Training Institute for Dissemination and Implementation Research in Health,

NIH (Competitively Selected)

2011

The 2011 Julie and Ben Rogers Award for Excellence (Competitively Awarded),

The University of Texas M. D. Anderson Cancer Center

2008-2009

Excellent Review Award,

M.D. Anderson Cancer Center

2006

Fellow, Physical Activity and Public Health Research Course,

University of South Carolina Prevention Research Center and the Centers for Disease Control and Prevention (Competitively Awarded)

2005-2007

Scholar, National Center on Minority Health and Health Disparities,

NIH loan repayment program for Health Disparities Research (Competitively Awarded)

2005

Fellow, Cancer Culture and Literacy Institute,

H. Lee Moffitt Cancer Center and Research Institute, NCI (Competitively Selected)

2004

Inducted into Delta Omega, the Honorary Public Health Society, Alpha Delta Chapter,

Saint Louis University

2000-2003

Traineeship, Eliminating Health Disparities,

Saint Louis University
Professional Memberships
American College of Sports Medicine
Member, 2007
American Public Health Association (APHA)
Member, 2000-present
American Society of Preventive Oncology
Member, 2005-present
Selected Publications
Peer-Reviewed Original Research Articles

1.
Lee RE, Mama SK, Medina AV, Reese-Smith JY, Banda JA, Layne CS, Baxter M, O'Connor DP, McNeill L, Estabrooks PA. Multiple Measures of Physical Activity, Dietary Habits and Weight Status in African American and Hispanic or Latina Women. J Community Health 36(6):1011-23, 12/2011. e-Pub 4/2011. PMID: 21519867.
2.
Lee RE, Mama SK, Medina A, Orlando Edwards R, McNeill L. SALSA : SAving Lives Staying Active to Promote Physical Activity and Healthy Eating. J Obes 2011:436509, 2011. e-Pub 12/2010. PMCID: PMC3018638.
3.
Emmons K, Puleo E, McNeill LH, Bennett G, Chan S, Syngal S. Colorectal Cancer Screening Awareness and Intentions Among Low Income, Sociodemographically-Diverse Adults Under Age 50. Cancer Causes Control 19(10):1031-41, 12/2008. e-Pub 5/14/2008. PMCID: PMC2756999.
4.
Bennett GG, McNeill LH, Wolin KY, Duncan DT, Puleo E, Emmons KM. Safe To Walk? Neighborhood Safety and Physical Activity Among Public Housing Residents. PLoS Med 4(10):e306, 10/2007. PMCID: PMC2039759.
5.
McNeill LH, Puleo E, Bennett GG, Emmons KM. Exploring social contextual correlates of computer ownership and frequency of use among urban, low-income, public housing adult residents. J Med Internet Res 9(4):e35, 2007. e-Pub 12/13/2007. PMCID: PMC2223187.
6.
McNeill LH, Kreuter MW, Subramanian SV. Social environment and physical activity: a review of concepts and evidence. Soc Sci Med 63(4)(4):1011-1022, 8/2006. e-Pub 5/2/2006. PMID: 16650513.
7.
McNeill LH, Wyrwich KW, Brownson RC, Clark EM, Kreuter MW. Individual, social environmental, and physical environmental influences on physical activity among black and white adults: a structural equation analysis. Ann Behav Med 31(1)(1):36-44, 2/2006. PMID: 16472037.
Grant & Contract Support
Title:
NIH National Center for Research Resources Clinical and Translational Sciences Award (CTSA): Center for Clinical and Translational Sciences – Community Engagement
Funding Source:
NIH/NCATS
Role:
Co-Investigator
Principal Investigator:
David McPherson
Duration:
7/1/2012 - 8/31/2017
Title:
Peer Support for Colorectal Cancer Screening Among African Americans
Funding Source:
American Cancer Society (ACS)
Role:
Principal Investigator
Duration:
7/1/2012 - 6/30/2017
Title:
Biological, Environmental and Social Determinants of Early-Onset Breast Cancer
Funding Source:
Cancer Prevention & Research Institute of Texas (CPRIT)
Role:
Co-Investigator
Principal Investigator:
Lovell Jones
Duration:
4/1/2012 - 3/31/2017
Title:
Peer Support for Cancer Screening Among African Americans
Funding Source:
Cancer Prevention & Research Institute of Texas (CPRIT)
Role:
Principal Investigator
Duration:
8/1/2011 - 7/31/2013
Title:
National Children's Study - Formative Research in Anthropometrics: Measurement of the ulnar and other measures in mothers and their offspring
Funding Source:
NIH/NICHD/Baylor College of Medicine
Role:
Co-Investigator
Principal Investigator:
Michele Forman
Duration:
10/4/2010 - 10/3/2011
Title:
National Children's Study - Formative research in diet in mothers with 11 -12 month old infants
Funding Source:
NIH/NICHD/Baylor College of Medicine
Role:
Co-Investigator
Principal Investigator:
Michele Forman
Duration:
10/4/2010 - 10/3/2011
Title:
Building capacity in food bank organizations for obesity prevention programs
Funding Source:
NIH/NCI
Role:
Co-Investigator
Principal Investigator:
Dr. Jayna Dave
Duration:
9/21/2010 - 8/31/2012
Title:
Obesity: Cancer risk among African Americans (Healthy Habits)
Funding Source:
Houston Endowment, Inc.
Role:
Co-Principal Investigator
Duration:
2/1/2010 - 1/31/2013
Title:
Social contextual determinants of physical activity in black and Latino adults (iMove)
Funding Source:
NIH/NINR
Role:
Principal Investigator
Duration:
7/22/2009 - 6/30/2014
Title:
Peer-support motivational interviewing PA intervention for African American women (Project Sister Active)
Funding Source:
NIH/NCI
Role:
Principal Investigator-MDACC
Duration:
9/1/2008 - 8/30/2011
Title:
The SALSA Study (Saving Lives, Staying Active)
Funding Source:
University of Houston
Role:
Co-Investigator
Principal Investigator:
Rebecca Lee, PhD
Duration:
8/2008 - 8/2009
Title:
Walking Trails
Funding Source:
MDACC
Role:
Principal Investigator
Duration:
4/2008 - 4/2010
Title:
African American Cancer Prevention Project (Project CHURCH)
Funding Source:
University Cancer Foundation
Role:
Principal Investigator
Duration:
2/2008 - present
Title:
Perceptions of school, recreation, and transportation environments among African American families in public housing (Project Family Voice)
Funding Source:
Robert Wood Johnson Foundation
Role:
Principal Investigator-MDACC
Duration:
1/1/2008 - 8/31/2010
Title:
For Good Measure: Home-based measures of physical activity and body composition
Funding Source:
M. D. Anderson
Role:
Co-Investigator
Principal Investigator:
Karen Basen-Engquist, PhD
Duration:
4/2007 - 12/31/2009
© 2014 The University of Texas MD Anderson Cancer Center