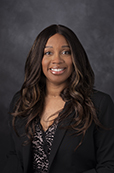 '
Lorna Haughton McNeill, PhD, MPH
Present Title & Affiliation
Primary Appointment
Associate Professor, Department of Health Disparities Research, Division of OVP, Cancer Prevention and Population Sciences, The University of Texas MD Anderson Cancer Center, Houston, TX
Bio Statement
Lorna H. McNeill, PhD, MPH, is an associate professor of health disparities research in the Department of Health Disparities at the University of Texas MD Anderson Cancer Center. Dr. McNeill's research is on the elimination of cancer-related health disparities in minority populations. Her research has particular emphasis on understanding the influence of social contextual determinants of cancer in minorities, with a special focus of the role of physical activity as a key preventive behavior. Her research takes place in minority and underserved communities such as public housing developments, black churches, community-based clinics and low-income neighborhoods-communities with excess cancer death rates. She is PI of several community-based studies, primarily working with African American churches. One is a longitudinal cohort study of 2100 African American adults designed to examine the role of lifestyle/behavioral, social, and environmental factors on health and cancer-related disparities over time. Another study is focused on designing a peer-delivered motivational interviewing intervention to increase physical activity among sedentary African American women. The final recently funded study is designed to evaluate the efficacy of a culturally-tailored motivational intervening intervention for improving diet and physical activity among sedentary African Americans. She is also PI of a mhealth intervention using state-of-the-art ecological momentary assessment designed to understand individual, social, and environmental detenninants of physical activity among African American and Latino adults. Dr. McNeill is co-director of the Center for Community-Engaged Translational Research (CCETR) at MD Anderson. CCETR serves as a divisional and institutional resource focused on changing public health and clinical practice through the development, evaluation, implementation and dissemination of new interventions and diagnostic tests in community and population-based settings.
Office Address
The University of Texas MD Anderson Cancer Center
1400 Pressler Street
Unit Number: 1440
Houston, TX 77030
Room Number: FCT9.6058
Education & Training
Degree-Granting Education

2004
Saint Louis University, Saint Louis, MO, PhD, Public Health Studies - Behavioral Science
1999
University of North Carolina at Chapel Hill, Chapel Hill, NC, MPH, Health Behavior and Health Education
1995
University of North Carolina at Chapel Hill, Chapel Hill, NC, BA, Afro-American Studies and Industrial Relations

Postgraduate Training

2004-2006

Postdoctoral Fellowship, Harvard University School of Public Health, Boston, MA, Mentors: Karen Emmons, PhD and Nancy Krieger, PhD
Experience/Service
Academic Appointments
Assistant Professor, Department of Health Disparities Research, Division of OVP, Cancer Prevention and Population Sciences, The University of Texas MD Anderson Cancer Center, Houston, TX, 9/2006-8/2012
Administrative Appointments/Responsibilities
Co-Director, Division of OVP, Cancer Prevention and Population Sciences, Center for Community-Engaged Translational Research, Houston, TX, 3/2010-present
Institutional Committee Activities
Co-Chair, Health Disparities Research Faculty Search Committee, 9/2012-8/2013
Shared and videotaped personal experiences and/or advice for viewers of the online companion for new faculty, Faculty Companion, 2/2011
Senator (departmental representative), University of Texas MD Anderson Cancer Ctr. Faculty Senate Committee, 2011-present
Member, Psychosocial, Behavioral, and Health Services Research Committee (PBHSRC), 9/2007-8/2010
Honors and Awards
2011

2011 NIH Training Institute for Dissemination and Implementation Research in Health,

NIH (Competitively Selected)

2011

The 2011 Julie and Ben Rogers Award for Excellence (Competitively Awarded),

The University of Texas M. D. Anderson Cancer Center

2008-2009

Excellent Review Award,

M.D. Anderson Cancer Center

2006

Fellow, Physical Activity and Public Health Research Course,

University of South Carolina Prevention Research Center and the Centers for Disease Control and Prevention (Competitively Awarded)

2005-2007

Scholar, National Center on Minority Health and Health Disparities,

NIH loan repayment program for Health Disparities Research (Competitively Awarded)

2005

Fellow, Cancer Culture and Literacy Institute,

H. Lee Moffitt Cancer Center and Research Institute, NCI (Competitively Selected)

2004

Inducted into Delta Omega, the Honorary Public Health Society, Alpha Delta Chapter,

Saint Louis University

2000-2003

Traineeship, Eliminating Health Disparities,

Saint Louis University
Professional Memberships
American College of Sports Medicine
Member, 2007
American Public Health Association (APHA)
Member, 2000-present
American Society of Preventive Oncology
Member, 2005-present
Selected Publications
Peer-Reviewed Original Research Articles

1.
Stewart DW, Vidrine JI, Shete S, Spears CA, Cano MA, Correa-Fernández V, Wetter DW, McNeill LH. Health literacy, smoking, and health indicators in African American adults. Journal of Health Communication. In Press.
2.
Watkins KL, Reitzel LR, Wetter DW, McNeill LH. HPV Awareness, Knowledge and Attitudes among Older African-American Women. Am J Health Behav 39(2):205-211, 3/2015. PMID: 25564833.
3.
Mama SK, McNeill LH, McCurdy SA, Evans AE, Diamond PM, Adamus-Leach HJ, Lee RE. Psychosocial factors and theory in physical activity studies in minorities. Am J Health Behav 39(1):68-76, 1/2015. PMID: 25290599.
4.
Jauregui E, Pacheco AM, Soltero EG, O'Connor TM, Castro CM, Estabrooks PA, McNeill LH, Lee RE. Using the RE-AIM framework to evaluate physical activity public health programs in México. BMC Public Health 15:162, 2015. e-Pub 2/2015. PMCID: PMC4358862.
5.
Wang Z, Zhu B, Zhang M, Parikh H, Jia J, Chung CC, Sampson JN, Hoskins JW, Hutchinson A, Burdette L, Ibrahim A, Hautman C, Raj PS, Abnet CC, Adjei AA, Ahlbom A, Albanes D, Allen NE, Ambrosone CB, Aldrich M, Amiano P, Amos C, Andersson U, Andriole G, Andrulis IL, Arici C, Arslan AA, Austin MA, Baris D, Barkauskas DA, Bassig BA, Beane Freeman LE, Berg CD, Berndt SI, Bertazzi PA, Biritwum RB, Black A, Blot W, Boeing H, Boffetta P, Bolton K, Boutron-Ruault MC, Bracci PM, Brennan P, Brinton LA, Brotzman M, Bueno-de-Mesquita HB, Buring JE, Butler MA, Cai Q, Cancel-Tassin G, Canzian F, Cao G, Caporaso NE, Carrato A, Carreon T, Carta A, Chang GC, Chang IS, Chang-Claude J, Che X, Chen CJ, Chen CY, Chen CH, Chen C, Chen KY, Chen YM, Chokkalingam AP, Chu LW, Clavel-Chapelon F, Colditz GA, Colt JS, Conti D, Cook MB, Cortessis VK, Crawford ED, Cussenot O, Davis FG, De Vivo I, Deng X, Ding T, Dinney CP, Di Stefano AL, Diver WR, Duell EJ, Elena JW, Fan JH, Feigelson HS, Feychting M, Figueroa JD, Flanagan AM, Fraumeni JF, Freedman ND, Fridley BL, Fuchs CS, Gago-Dominguez M, Gallinger S, Gao YT, Gapstur SM, Garcia-Closas M, Garcia-Closas R, Gastier-Foster JM, Gaziano JM, Gerhard DS, Giffen CA, Giles GG, Gillanders EM, Giovannucci EL, Goggins M, Gokgoz N, Goldstein AM, Gonzalez C, Gorlick R, Greene MH, Gross M, Grossman HB, Grubb R, Gu J, Guan P, Haiman CA, Hallmans G, Hankinson SE, Harris CC, Hartge P, Hattinger C, Hayes RB, He Q, Helman L, Henderson BE, Henriksson R, Hoffman-Bolton J, Hohensee C, Holly EA, Hong YC, Hoover RN, Hosgood HD, Hsiao CF, Hsing AW, Hsiung CA, Hu N, Hu W, Hu Z, Huang MS, Hunter DJ, Inskip PD, Ito H, Jacobs EJ, Jacobs KB, Jenab M, Ji BT, Johansen C, Johansson M, Johnson A, Kaaks R, Kamat AM, Kamineni A, Karagas M, Khanna C, Khaw KT, Kim C, Kim IS, Kim JH, Kim YH, Kim YC, Kim YT, Kang CH, Jung YJ, Kitahara CM, Klein AP, Klein R, Kogevinas M, Koh WP, Kohno T, Kolonel LN, Kooperberg C, Kratz CP, Krogh V, Kunitoh H, Kurtz RC, Kurucu N, Lan Q, Lathrop M, Lau CC,. Imputation and subset-based association analysis across different cancer types identifies multiple independent risk loci in the TERT-CLPTM1L region on chromosome 5p15.33. Hum Mol Genet 23(24):6616-33, 12/2014. e-Pub 7/2014. PMCID: PMC4240198.
6.
Bhatia G, Tandon A, Patterson N, Aldrich MC, Ambrosone CB, Amos C, Bandera EV, Berndt SI, Bernstein L, Blot WJ, Bock CH, Caporaso N, Casey G, Deming SL, Diver WR, Gapstur SM, Gillanders EM, Harris CC, Henderson BE, Ingles SA, Isaacs W, De Jager PL, John EM, Kittles RA, Larkin E, McNeill LH, Millikan RC, Murphy A, Neslund-Dudas C, Nyante S, Press MF, Rodriguez-Gil JL, Rybicki BA, Schwartz AG, Signorello LB, Spitz M, Strom SS, Tucker MA, Wiencke JK, Witte JS, Wu X, Yamamura Y, Zanetti KA, Zheng W, Ziegler RG, Chanock SJ, Haiman CA, Reich D, Price AL. Genome-wide scan of 29,141 African Americans finds no evidence of directional selection since admixture. Am J Hum Genet 95(4):437-44, 10/2/2014. e-Pub 9/18/2014. PMCID: PMC4185117.
7.
McNeill LH, Murguiaa K, Nguyen N, Taylor WC. Walking trail use among a sample of black, white, Hispanic and Asian adult walkers. J Phys Act Health. e-Pub 8/22/2014. PMID: 25155909.
8.
Fisher FD, Reitzel LR, Nguyen N, Savoy EJ, Advani PS, Cuevas AG, Vidrine JI, Wetter DW, McNeill LH. Loneliness and Self-rated Health among Church-Attending African Americans. Am J Health Behav 38(4):481-91, 7/2014. PMID: 24636110.
9.
Advani PS, Reitzel LR, Nguyen NT, Fisher FD, Savoy EJ, Cuevas AG, Wetter DW, McNeill LH. Financial Strain and Cancer Risk Behaviors among African Americans. Cancer Epidemiol Biomarkers Prev 23(6):967-75, 6/2014. e-Pub 4/2014. PMCID: PMC4047153.
10.
Savoy EJ, Reitzel LR, Nguyen N, Advani PS, Fisher FD, Wetter DW, Cuevas AG, McNeill LH. Financial strain and self-rated health among black adults. Am J Health Behav 38(3):340-50, 5/2014. PMID: 24636030.
11.
Reitzel LR, Regan SD, Nguyen N, Cromley EK, Strong LL, Wetter DW, McNeill LH. Density and proximity of fast food restaurants and body mass index among African-Americans. Am J Public Health 104(1):110-6, 1/2014. e-Pub 5/2013. PMID: 23678913.
12.
Cuevas AG, Reitzel LR, Adams CE, Cao Y, Nguyen N, Wetter DW, Watkins KL, Regan SD, McNeill LH. Discrimination, affect, and cancer risk factors among African Americans. Am J Health Behav 38(1):31-41, 1/2014. PMCID: PMC3775007.
13.
Taylor WC, Kimbro R, Evans G, McNeill LH, Barnes AS. Sedentary behavior, body mass index, and weight loss maintenance among African American women. Ethnicity & Disease 25(1), 2014.
14.
Hernandez DC, Reitzel LR, Wetter DW, McNeill LH. Social support and cardiovascular risk factors among black adults. Ethn Dis 24(4):444-50, 2014. PMID: 25417427.
15.
Cuevas AG, Reitzel LR, Cao Y, Nguyen N, Wetter DW, Adams CE, Watkins KL, Regan SD, McNeill LH. Mediators of discrimination and self-rated health among African Americans. Am J Health Behav 37(6):745-54, 11/2013. PMCID: PMC3763512.
16.
Strong LL, Reitzel LR, Wetter DW, McNeill LH. Associations of perceived neighborhood physical and social environments with physical activity and television viewing in African American men and women. Am J Health Promot 27(6):401-9, Jul-Aug, 7/2013. e-Pub 2/2013. PMCID: PMC3880192.
17.
Monda KL, Chen GK, Taylor KC, Palmer C, Edwards TL, Lange LA, Ng MC, Adeyemo AA, Allison MA, Bielak LF, Chen G, Graff M, Irvin MR, Rhie SK, Li G, Liu Y, Liu Y, Lu Y, Nalls MA, Sun YV, Wojczynski MK, Yanek LR, Aldrich MC, Ademola A, Amos CI, Bandera EV, Bock CH, Britton A, Broeckel U, Cai Q, Caporaso NE, Carlson CS, Carpten J, Casey G, Chen WM, Chen F, Chen YD, Chiang CW, Coetzee GA, Demerath E, Deming-Halverson SL, Driver RW, Dubbert P, Feitosa MF, Feng Y, Freedman BI, Gillanders EM, Gottesman O, Guo X, Haritunians T, Harris T, Harris CC, Hennis AJ, Hernandez DG, McNeill LH, Howard TD, Howard BV, Howard VJ, Johnson KC, Kang SJ, Keating BJ, Kolb S, Kuller LH, Kutlar A, Langefeld CD, Lettre G, Lohman K, Lotay V, Lyon H, Manson JE, Maixner W, Meng YA, Monroe KR, Morhason-Bello I, Murphy AB, Mychaleckyj JC, Nadukuru R, Nathanson KL, Nayak U, N'diaye A, Nemesure B, Wu SY, Leske MC, Neslund-Dudas C, Neuhouser M, Nyante S, Ochs-Balcom H, Ogunniyi A, Ogundiran TO, Ojengbede O, Olopade OI, Palmer JR, Ruiz-Narvaez EA, Palmer ND, Press MF, Rampersaud E, Rasmussen-Torvik LJ, Rodriguez-Gil JL, Salako B, Schadt EE, Schwartz AG, Shriner DA, Siscovick D, Smith SB, Wassertheil-Smoller S, Speliotes EK, Spitz MR, Sucheston L, Taylor H, Tayo BO, Tucker MA, Van Den Berg DJ, Edwards DR, Wang Z, Wiencke JK, Winkler TW, Witte JS, Wrensch M, Wu X, Yang JJ, Levin AM, Young TR, Zakai NA, Cushman M, Zanetti KA, Zhao JH, Zhao W, Zheng Y, Zhou J, Ziegler RG, Zmuda JM, Fernandes JK, Gilkeson GS, Kamen DL, Hunt KJ, Spruill IJ, Ambrosone CB, Ambs S, Arnett DK, Atwood L, Becker DM, Berndt SI, Bernstein L, Blot WJ, Borecki IB, Bottinger EP, Bowden DW, Burke G, Chanock SJ, Cooper RS, Ding J, Duggan D, Evans MK, Fox C, Garvey WT, Bradfield JP, Hakonarson H, Grant SF, Hsing A, Chu L, Hu JJ, Huo D, Ingles SA, John EM, Jordan JM, Kabagambe EK, Kardia SL, Kittles RA, Goodman PJ, Klein EA, Kolonel LN, Le Marchand L, Liu S, McKnight B, Millikan RC, Mosley TH, Padhukasahasram B, Williams LK, Patel SR, Peters. A meta-analysis identifies new loci associated with body mass index in individuals of African ancestry. Nat Genet 45(6):690-6, 6/2013. e-Pub 4/2013. PMCID: PMC3694490.
18.
Reitzel LR, Nguyen N, Strong LL, Wetter DW, McNeill LH. Subjective social status and health behaviors among African Americans. Am J Health Behav 37(1):104-11, 1/2013. PMCID: PMC3433853.
19.
Lee RE, Soltero EG, Mama SK, Saavedra F, Ledoux TA, McNeill L. Developing a transcultural academic-community partnership to arrest obesity. Int Q Community Health Educ 34(3):215-33, 2013. PMID: 25030103.
20.
Lee RE, Mama SK, Medina AV, Reese-Smith JY, Banda JA, Layne CS, Baxter M, O'Connor DP, McNeill L, Estabrooks PA. Multiple Measures of Physical Activity, Dietary Habits and Weight Status in African American and Hispanic or Latina Women. J Community Health 36(6):1011-23, 12/2011. e-Pub 4/2011. PMID: 21519867.
21.
Lee RE, Mama SK, Medina A, Orlando Edwards R, McNeill L. SALSA : SAving Lives Staying Active to Promote Physical Activity and Healthy Eating. J Obes 2011:436509, 2011. e-Pub 12/2010. PMCID: PMC3018638.
22.
Emmons K, Puleo E, McNeill LH, Bennett G, Chan S, Syngal S. Colorectal Cancer Screening Awareness and Intentions Among Low Income, Sociodemographically-Diverse Adults Under Age 50. Cancer Causes Control 19(10):1031-41, 12/2008. e-Pub 5/14/2008. PMCID: PMC2756999.
23.
Bennett GG, McNeill LH, Wolin KY, Duncan DT, Puleo E, Emmons KM. Safe To Walk? Neighborhood Safety and Physical Activity Among Public Housing Residents. PLoS Med 4(10):e306, 10/2007. PMCID: PMC2039759.
24.
McNeill LH, Puleo E, Bennett GG, Emmons KM. Exploring social contextual correlates of computer ownership and frequency of use among urban, low-income, public housing adult residents. J Med Internet Res 9(4):e35, 2007. e-Pub 12/13/2007. PMCID: PMC2223187.
25.
McNeill LH, Kreuter MW, Subramanian SV. Social environment and physical activity: a review of concepts and evidence. Soc Sci Med 63(4)(4):1011-1022, 8/2006. e-Pub 5/2/2006. PMID: 16650513.
26.
McNeill LH, Wyrwich KW, Brownson RC, Clark EM, Kreuter MW. Individual, social environmental, and physical environmental influences on physical activity among black and white adults: a structural equation analysis. Ann Behav Med 31(1)(1):36-44, 2/2006. PMID: 16472037.
27.
Mama SK, Diamond PM, McCurdy SA, Evans AE, McNeill LH, Lee RE. Ecologic correlates of physical activity in ethnic minority women. Submitted.
28.
Mama SK, McNeill LH, Soltero EG, Edwards RO, Lee RE. Improving physical activity and psychosocial factors among women of color in SALSA. Submitted.
29.
Mama SK, Basen-Engquist K, Lee RE, Thompson D, Wetter D, Nguyen N, Reitzel LR, McNeill LH. Mechanisms linking the social enviornment to health in African Americans. Submitted.
Grant & Contract Support
Title:
Food Deserts in Houston? Increasing Fruit and Vegetable Consumption to Reduce Cancer Risk
Funding Source:
Duncan Family Institute
Role:
Principal Investigator-MDACC
Duration:
11/1/2014 - 10/31/2016
Title:
A Faith-Based Partnership to Address Obesity in African American families
Funding Source:
NIH-CHHD
Role:
Principal Investigator-MDACC
Duration:
10/1/2014 - 9/30/2017
Title:
Implement innovative evidence-based strategies to reduce and prevent obesity in children and adolescents: Implement WeCan Obesity Prevention in Clinics
Funding Source:
Centers for Medicaid & CHIP Services
Role:
Principal Investigator-MDACC
Duration:
4/30/2014 - 3/31/2017
Title:
The Houston home-based integrated intervention targeting better asthma control for African Americans
Funding Source:
Patient-Centered Outcomes Research Institute (PCORI)
Role:
Co-Investigator
Principal Investigator:
Winifred Hamilton
Duration:
1/1/2014 - 12/31/2016
Title:
NIH National Center for Research Resources Clinical and Translational Sciences Award (CTSA): Center for Clinical and Translational Sciences – Community Engagement
Funding Source:
NIH/NCATS
Role:
Co-Investigator
Principal Investigator:
David McPherson
Duration:
7/1/2012 - 8/31/2017
Title:
Peer Support for Colorectal Cancer Screening Among African Americans
Funding Source:
American Cancer Society (ACS)
Role:
Principal Investigator
Duration:
7/1/2012 - 6/30/2017
Title:
Biological, Environmental and Social Determinants of Early-Onset Breast Cancer
Funding Source:
Cancer Prevention & Research Institute of Texas (CPRIT)
Role:
Co-Investigator
Principal Investigator:
Lovell Jones
Duration:
4/1/2012 - 3/31/2017
Title:
Peer Support for Cancer Screening Among African Americans
Funding Source:
Cancer Prevention & Research Institute of Texas (CPRIT)
Role:
Principal Investigator
Duration:
8/1/2011 - 7/31/2013
Title:
National Children's Study - Formative Research in Anthropometrics: Measurement of the ulnar and other measures in mothers and their offspring
Funding Source:
NIH/NICHD/Baylor College of Medicine
Role:
Co-Investigator
Principal Investigator:
Michele Forman
Duration:
10/4/2010 - 10/3/2011
Title:
National Children's Study - Formative research in diet in mothers with 11 -12 month old infants
Funding Source:
NIH/NICHD/Baylor College of Medicine
Role:
Co-Investigator
Principal Investigator:
Michele Forman
Duration:
10/4/2010 - 10/3/2011
Title:
Building capacity in food bank organizations for obesity prevention programs
Funding Source:
NIH/NCI
Role:
Co-Investigator
Principal Investigator:
Dr. Jayna Dave
Duration:
9/21/2010 - 8/31/2012
Title:
Obesity: Cancer risk among African Americans (Healthy Habits)
Funding Source:
Houston Endowment, Inc.
Role:
Co-Principal Investigator
Duration:
2/1/2010 - 1/31/2013
Title:
Social contextual determinants of physical activity in black and Latino adults (iMove)
Funding Source:
NIH/NINR
Role:
Principal Investigator
Duration:
7/22/2009 - 12/31/2014
Title:
Peer-support motivational interviewing PA intervention for African American women (Project Sister Active)
Funding Source:
NIH/NCI
Role:
Principal Investigator-MDACC
Duration:
9/1/2008 - 8/30/2011
Title:
The SALSA Study (Saving Lives, Staying Active)
Funding Source:
University of Houston
Role:
Co-Investigator
Principal Investigator:
Rebecca Lee, PhD
Duration:
8/2008 - 8/2009
Title:
Walking Trails
Funding Source:
MDACC
Role:
Principal Investigator
Duration:
4/2008 - 4/2010
Title:
African American Cancer Prevention Project (Project CHURCH)
Funding Source:
University Cancer Foundation
Role:
Principal Investigator
Duration:
2/2008 - present
Title:
Perceptions of school, recreation, and transportation environments among African American families in public housing (Project Family Voice)
Funding Source:
Robert Wood Johnson Foundation
Role:
Principal Investigator-MDACC
Duration:
1/1/2008 - 8/31/2010
Title:
For Good Measure: Home-based measures of physical activity and body composition
Funding Source:
M. D. Anderson
Role:
Co-Investigator
Principal Investigator:
Karen Basen-Engquist, PhD
Duration:
4/2007 - 12/31/2009