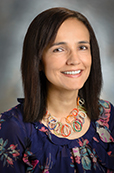 '
Margarida Almeida Santos, PhD
Present Title & Affiliation
Primary Appointment
Assistant Professor, Department of Epigenetics and Molecular Carcinogenesis, Division of Basic Science Research, The University of Texas MD Anderson Cancer Center, Houston, TX
Dual/Joint/Adjunct Appointment
Faculty Member, Graduate School of Biomedical Sciences (GSBS), The University of Texas Health Science Center, Houston, TX
Research Interests
My scientific interests are focused on replicative stress/DNA damage response and epigenetic regulators in stem cell cancer. Current studies in my laboratory focus on the hematopoietic system, since 1) it is a well-established system for adult stem cells studies and 2) the dynamic nature of the hematopoietic system places it in a vulnerable position with respect to genomic damage during DNA replication. Replicative stress can be defined as a slowing or stalling of replication fork progression and a source of spontaneous DNA lesions that drives genomic instability. "Oncogene-induced" replicative stress is a major driving force of hematological cancers. Aberrant oncogene expression induces precocious entry into S phase and perturbs replication fork progression, triggering the DNA damage response. The classical view of the DNA damage response (DDR) postulates that DDR is a crucial tumorigenesis barrier in early stages of cancer development, and a selective pressure that favors malignant clones with defects in DNA repair factors. My recent work showed that DNA damage induces the differentiation of leukemic stem-like cells in acute myeloid leukemia (AML) harboring the MLL-AF9 oncogene, thus uncovering an unexpected tumor-promoting role of genome guardians in enforcing the oncogene-induced differentiation blockade in AML (Santos et al., Nature 2014).

Current studies in my laboratory explore the concept of "DNA damage-induced differentiation of stem-like cancer cells" in AML and other aggressive hematological malignancies using mouse models, next generation sequencing and various DNA damage treatments and assays. Elucidating which DNA damage response proteins should be targeted in order to promote effective differentiation of leukemic stem cells is the next important step in designing new therapies against these cancers.

Office Address
The University of Texas MD Anderson Cancer Center
1515 Holcombe Blvd.
Unit Number: 1000
Houston, TX 77030
Room Number: S9.8116A
Phone: 713.834.6262
Email: mialmeidasantos@mdanderson.org
Education & Training
Degree-Granting Education

2007
University of Lisbon Medical School and Gulbenkian Institute, Lisbon, Portugal, PHD, Biomedical Sciences-Immunology
1999
University of Lisbon School of Sciences, Lisbon, Portugal, BS, MS, Molecular Biology and Genetics

Postgraduate Training

2008-2015

Postdoctoral Fellow, Genome Integrity, NIH, Bethesda, MD, Dr. Andre Nussenzweig

2007-2008

Visiting Fellow, Abramson Family Cancer Research Institute, University of Pennsylvania, Philadelphia, PA, Dr. Warren Pear
Honors and Awards
2016

Kimmel Scholar Award,

Sidney Kimmel Foundation

2015

First Time, Tenure-Track Faculty Recruitment Award,

Cancer Prevention and Research Institute of Texas (CPRIT)

2015

New Faculty Award, Cancer Center Support Grant (CCSG),

NCI
Selected Publications
Peer-Reviewed Original Research Articles

1.
Starnes LM, Su D, Pikkupeura LM, Weinert BT, Santos MA, Mund A, Soria R, Cho YW, Pozdnyakova I, Kubec Hřjfeldt M, Vala A, Yang W, López-Méndez B, Lee JE, Peng W, Yuan J, Ge K, Montoya G, Nussenzweig A, Choudhary C, Daniel JA. A PTIP-PA1 subcomplex promotes transcription for IgH class switching independently from the associated MLL3/MLL4 methyltransferase complex. Genes Dev 30(2):149-63, 1/2016. e-Pub 1/2016. PMCID: PMC4719306.
2.
Santos MA, Faryabi RB, Ergen AV, Day AM, Malhowski A, Canela A, Onozawa M, Lee JE, Callen E, Gutierrez-Martinez P, Chen HT, Wong N, Finkel N, Deshpande A, Sharrow S, Rossi DJ, Ito K, Ge K, Aplan PD, Armstrong SA, Nussenzweig A. DNA-damage-induced differentiation of leukaemic cells as an anti-cancer barrier. Nature 514(7520):107-11, 10/2014. e-Pub 7/2014. PMCID: PMC4410707.
3.
Santos MA, John S, Nussenzweig A. Tumor promoting role of the DNA damage response. Cell Cycle 13(18):2807-8, 2014. PMCID: PMC4615049.
4.
Callen E, Di Virgilio M, Kruhlak MJ, Nieto-Soler M, Wong N, Chen HT, Faryabi RB, Polato F, Santos M, Starnes LM, Wesemann DR, Lee JE, Tubbs A, Sleckman BP, Daniel JA, Ge K, Alt FW, Fernandez-Capetillo O, Nussenzweig MC, Nussenzweig A. 53BP1 mediates productive and mutagenic DNA repair through distinct phosphoprotein interactions. Cell 153(6):1266-80, 6/2013. e-Pub 5/2013. PMCID: PMC3713552.
5.
Daniel JA, Santos MA, Wang Z, Zang C, Schwab KR, Jankovic M, Filsuf D, Chen HT, Gazumyan A, Yamane A, Cho YW, Sun HW, Ge K, Peng W, Nussenzweig MC, Casellas R, Dressler GR, Zhao K, Nussenzweig A. PTIP promotes chromatin changes critical for immunoglobulin class switch recombination. Science 329(5994):917-23, 8/2010. e-Pub 7/2010. PMCID: PMC3008398.
6.
Santos MA, Huen MS, Jankovic M, Chen HT, López-Contreras AJ, Klein IA, Wong N, Barbancho JL, Fernandez-Capetillo O, Nussenzweig MC, Chen J, Nussenzweig A. Class switching and meiotic defects in mice lacking the E3 ubiquitin ligase RNF8. J Exp Med 207(5):973-81, 5/2010. e-Pub 4/2010. PMCID: PMC2867275.
7.
Santos MA, Sarmento LM, Rebelo M, Doce AA, Maillard I, Dumortier A, Neves H, Radtke F, Pear WS, Parreira L, Demengeot J. Notch1 engagement by Delta-like-1 promotes differentiation of B lymphocytes to antibody-secreting cells. Proc Natl Acad Sci U S A 104(39):15454-9, 9/2007. e-Pub 9/2007. PMCID: PMC2000509.
Grant & Contract Support
Title:
Targeting Protein Arginine Methylation in MLL-fusion AML
Funding Source:
Sidney Kimmel Foundation-Kimmel Scholar Award
Role:
Principal Investigator
Duration:
7/1/2016 - 6/30/2018
Title:
Recruitment of First-time, Tenure-Track Faculty - Dr. Margarida Santos
Funding Source:
Cancer Prevention & Research Institute of Texas (CPRIT)
Role:
Principal Investigator-MDACC
Duration:
6/1/2015 - 5/31/2019