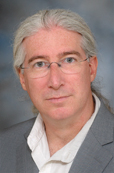 '
Mark T. Bedford, Ph.D.
Present Title & Affiliation
Primary Appointment
Professor, Department of Molecular Carcinogenesis, The University of Texas MD Anderson Cancer Center, Smithville, TX
Research Interests
We study the intersection between epigenetics and cancer with a specific focus on one class of epigenetic mark - arginine methylation. To better understand the biological roles of arginine methylation, our research group uses a number of different biological approaches to interrogate PRMT function. These include mouse gain- and loss-of-function PRMT models, protein microarrays screens for methyl-binding proteins, biochemical screens for PRMT substrates, and screens for chemical inhibitors of PRMT family members.We have generated targeted disruptions of a number of arginine methyltransferase genes in mice in the hopes of unmasking cellular and tissue-specific roles for this post-translational modification. In-hand we currently have CARM1, PRMT3 and PRMT6 null mice. We are performing transcriptome analysis (RNA-seq) and ChIP-seq on these null mice to identify the repertoire of genes that they regulate. We are also performing double knockouts to investigate redundancy between the different PRMTs.We are also generating gain-of-function transgenic mouse models to determine the effects of PRMT overexpression in vivo. These are transgenic mice that can be activated by crossing to a tissue-specific cre line. The Cre expression removes a lox/STOP/los cassette and activates expression of the PRMT. We have already generated PRMT6 gain-of-function mice using this approach. We are currently producing CARM1, PRMT1, PRMT5 and TDRD3 transgenic mice using the same approach.
Office Address
Email: mtbedford@mdanderson.org
Education & Training
Degree-Granting Education

1996
Weizmann Institute of Science, Israel, PHD, Developmental Biology
1989
University of Stellenbosch, South Africa, MS, Medical Biochemistry
1986
University of Stellenbosch, South Africa, BS, Honors in Biochemistry
1985
University of Stellenbosch, South Africa, BS

Postgraduate Training

1996-2000

Postdoctoral Fellowship, Harvard Medical School, Boston, MA, Dr. Philip Leder
Experience/Service
Academic Appointments
Associate Professor, Department of Molecular Carcinogenesis, Science Park, The University of Texas MD Anderson Cancer Center, Smithville, TX, 2006-2011
Selected Publications
Peer-Reviewed Original Research Articles

1.
Li J, Zhao Z, Carter C, Ehrlich LI, Bedford MT*, Richie ER*. (*Corresponding authors). Coactivator-associated arginine methyltransferase 1 regulates fetal hematopoiesis and thymocyte development. J Immunol 190(2):597-604, 2013. PMCID: PMC3538901.
2.
James LI, Barsyte-Lovejoy D, Zhong N, Krichesvky L, Korboukh VK, Herold JM, MacNevin CJ, Norris JL, Sagum CC, Tempel W, Marcon E, Guo H, Gao C, Huang XP, Duan S, Emili A, Greenblatt JF, Kireev DB, Jin J, Janzen WP, Brown PJ, Bedford MT, Arrowsmith CH, Frye SV. Discovery of a chemical probe for the L3MBTL3 methyllysine reader domain. Nat Chem Biol 9(3):184-91, 2013. PMCID: PMC3577944.
3.
Dhar S, Vemulapalli V, Patananan AN, Huang G, DiLorenzo A, Richard S, Comb MJ, Guo A, Clarke SG, Bedford MT. Loss of the major Type I arginine methyltransferase PRMT1 causes substrate scavenging by other PRMTs. Sci Rep 3:1311, 2013. PMCID: PMC3575585.
4.
Badeaux AI, Yang Y, Cardenas K, Vemulapalli V, Chen K, Kusewitt D, Richie E, Li W, Bedford MT. Loss of the methyl lysine effector protein PHF20 impacts the expression of genes regulated by the lysine acetyltransferase MOF. J Biol Chem 287(1):429-37, 1/2012. PMCID: PMC3249094.
5.
Cui G, Park S, Badeaux AI, Kim D, Lee J, Thompson JR, Yan F, Kaneko S, Yuan Z, Botuyan MV, Bedford MT*, Cheng JQ*, Mer G*. (*Corresponding Authors). PHF20 is an effector protein of p53 double lysine methylation that stabilizes and activates p53. Nat Struct Mol Biol 19(9):916-24, 2012. PMCID: PMC3454513.
6.
Spannhoff A, Kim YK, Raynal NJ, Gharibyan V, Su MB, Zhou YY, Li J, Castellano S, Sbardella G, Issa JP, Bedford MT. Histone deacetylase inhibitor activity in royal jelly might facilitate caste switching in bees. EMBO Rep 12(3):238-43, 2011. PMCID: PMC3059907.
7.
Yang Y, Lu Y, Espejo A, Wu J, Xu W, Liang S, Bedford MT. TDRD3 is an effector molecule for arginine-methylated histone marks. Mol Cell 40(6):1016-23, 2010. PMCID: PMC3090733.

Invited Articles

1.
Yang Y, Bedford MT. Protein arginine methyltransferases and cancer. Nat Rev Cancer 13(1):37-50, 2013. PMID: 23235912.
2.
Yang Y, Bedford MT. Titivated for destruction: the methyl degron. Mol Cell 48(4):487-8, 1/2012. PMID: 23200121.
3.
Bedford MT, Clarke SG. Protein arginine methylation in mammals: Who, what, and why. Mol Cell 33(1):1-13, 1/2009. NIHMSID: NIHMS92204.

Book Chapters

1.
Cheng D, Vemulapalli V, Bedford MT. Methods applied to the study of protein arginine methylation. In: Methods Enzymol. 512, 71-92, 2012. ISBN: 22910203.
© 2010 The University of Texas M. D. Anderson Cancer Center